We have a date with San Diego.  Specifically the super-popular Chula Vista RV Resort.  This is one of the campgrounds on our trip that is a destination itself rather than just being a place for us to park and explore an area.  We made reservations back in September for a Jan 20 2017 arrival.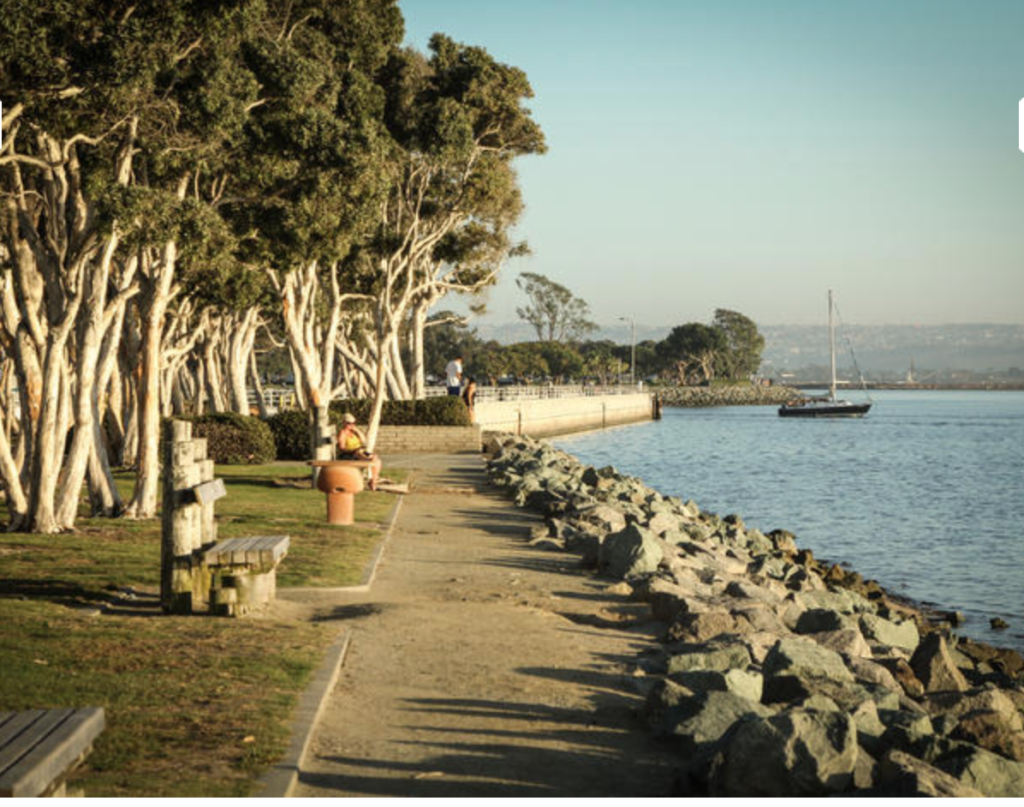 Now, the problem with making reservations 4 months in advance is that it pretty well locks us into a date and also a route with all sorts of possible trip interruptions in between.    It is hard enough to predict what will happen tomorrow, let alone months into the future.
Booking campgrounds is one of the delicate balances we strike with living MoHo – booking ahead enough to assure we have a place to sleep (that isn't a truck stop parking lot) but not locking ourselves into a schedule that really limits our flexibility.  Normally, we don't book this far in advance, but for this particular location we need to make reservations to avoid the "sorry, we're full" conversation.
Yes, we could scrap the reservation if we wanted to lose our $400 deposit. But we don't want to loose our $400 deposit. Plus, we really want to stay at this place.  Not only is is a cool spot but its one of the places where we cross paths with my full-time RV parents and it will be good to see them!
Fortunately, we planned our route pretty well and our location in Mesa AZ is just a short(ish) hop over to San Diego.
According to Google, the overall drive is about 5.5 hours.  Never believe the Google map time estimate when driving an RV.  Not only does traffic and construction heavily influence the real drive time – especially in California – once our wheels cross the CA state line our maximum speed is limited to 55mph.
It would be interesting to compare accident statistics from Texas where RVs towing can drive 80mph to California where they are limited to 55mph.  I bet there isn't much difference in the accident rates.
Anyway, we decided it might be nice to break the trip into 2 parts.  According to the map there aren't many options.  However, sitting right in the middle is Yuma Arizona.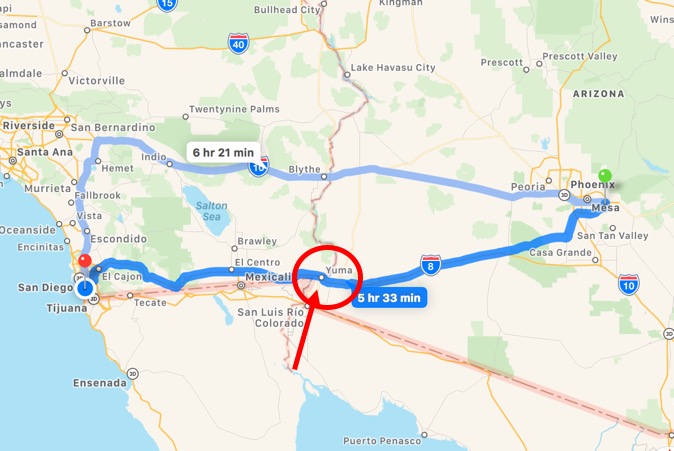 Prior to this, I only knew of Yuma for two reasons.  First, it was the fictional city that Rusty used for his fake drivers license in the movie Vegas Vacation. Rusty – aka Nick Pappagiorgio from Yuma AZ – uses the fake license to hit the tables. Of course he wins big time.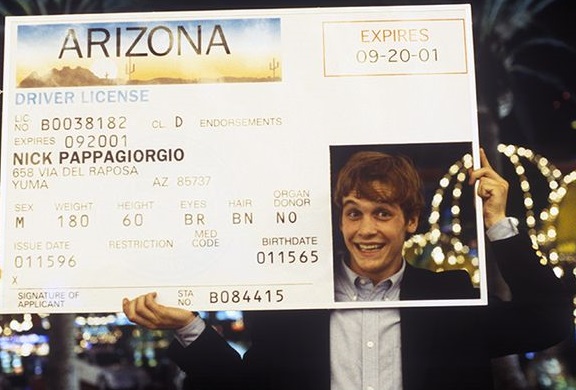 The other reason was that our MoHo was in Yuma at the La Mesa dealer when we made the final decision to buy it.  I paid $2,300 to have someone drive it from Yuma to Davis so it could join us on this adventure!  The irony was that we had actually seen this exact Fleetwood Discovery in Davis a few months earlier and so it was just coming home!
RV dealerships in northern areas often send RVs to Arizona in the winter months. There is a better chance of selling them in AZ in January than in Davis CA.
In any case, our MoHo was going to revisit the spot where it came to join our little Moho family!
What I did not know is that 85,000 people, most of whom appear to be Canadian, call Yuma their winter home. We had some of the same challenges finding an under 55 campground that we had in Phoenix. Fortunately, we found what appeared to be a decent place just off the freeway where we could stay for a night.
When we arrived, we saw that the RV campground was 80% trailers and park models with a section up front for RVs.  The theme of beer drinking monkey yard art that we saw in Mesa was alive and well.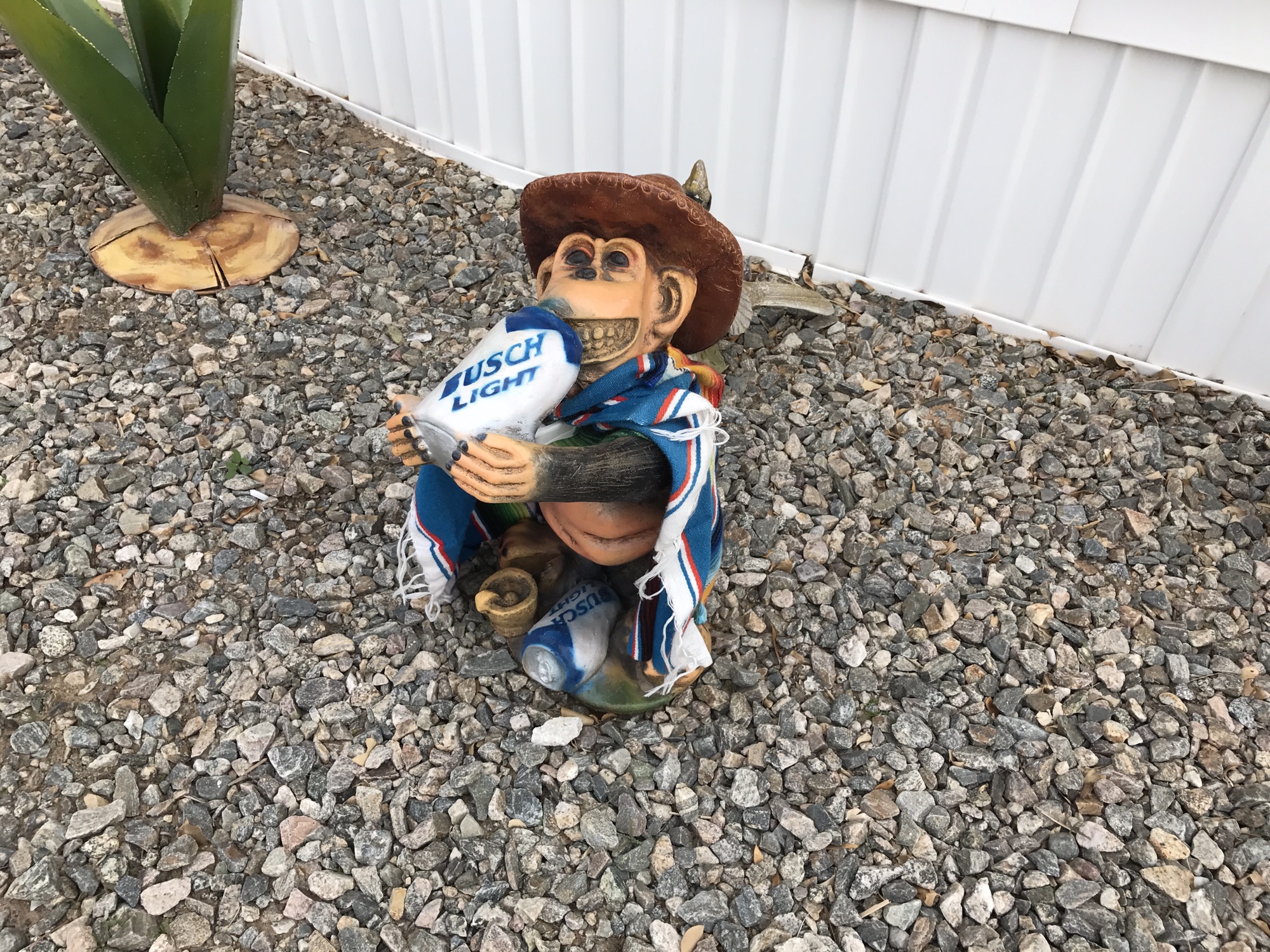 Weather was forecast to be nasty.  A series of storms coming off the Pacific were working their way through the area.
Particularly of concern was the high wind warning. Rain doesn't bother me that much when driving, but high winds definitely create cause-for-pause.  After reviewing this alert from the National Weather System, we decided to stay an extra night in Yuma and "shelter in place," then make a dash for San Diego in between storms.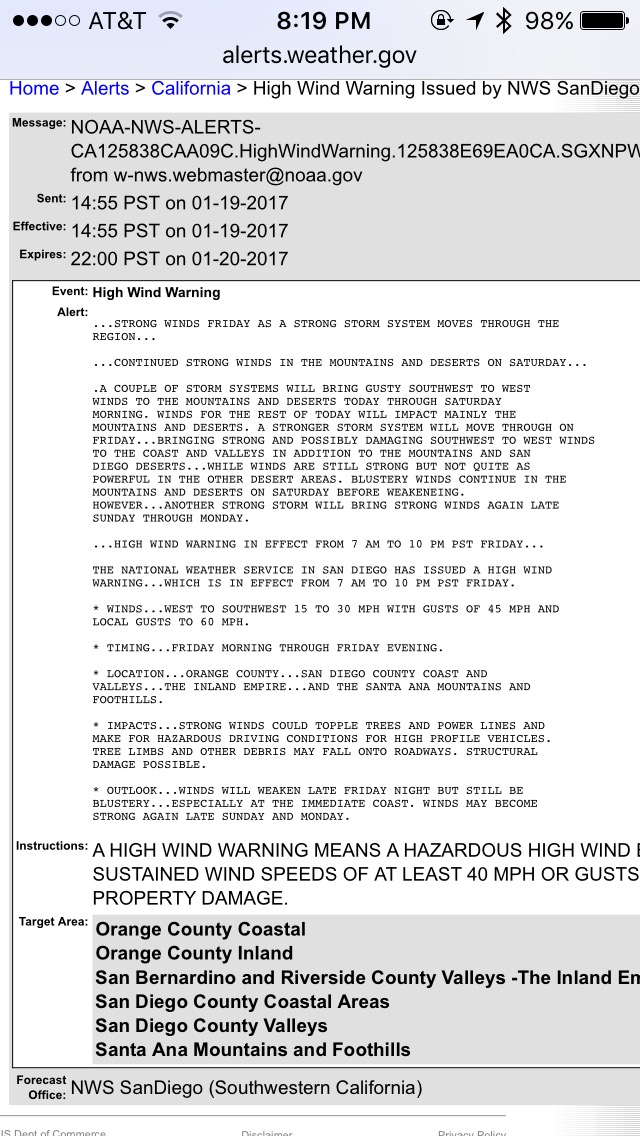 Surprisingly, the Chula Vista RV resort moved our arrival date back one day without an penalty – yah!This gave us time to checkout Yuma.
The sign at the entrance to downtown Yuma was promising!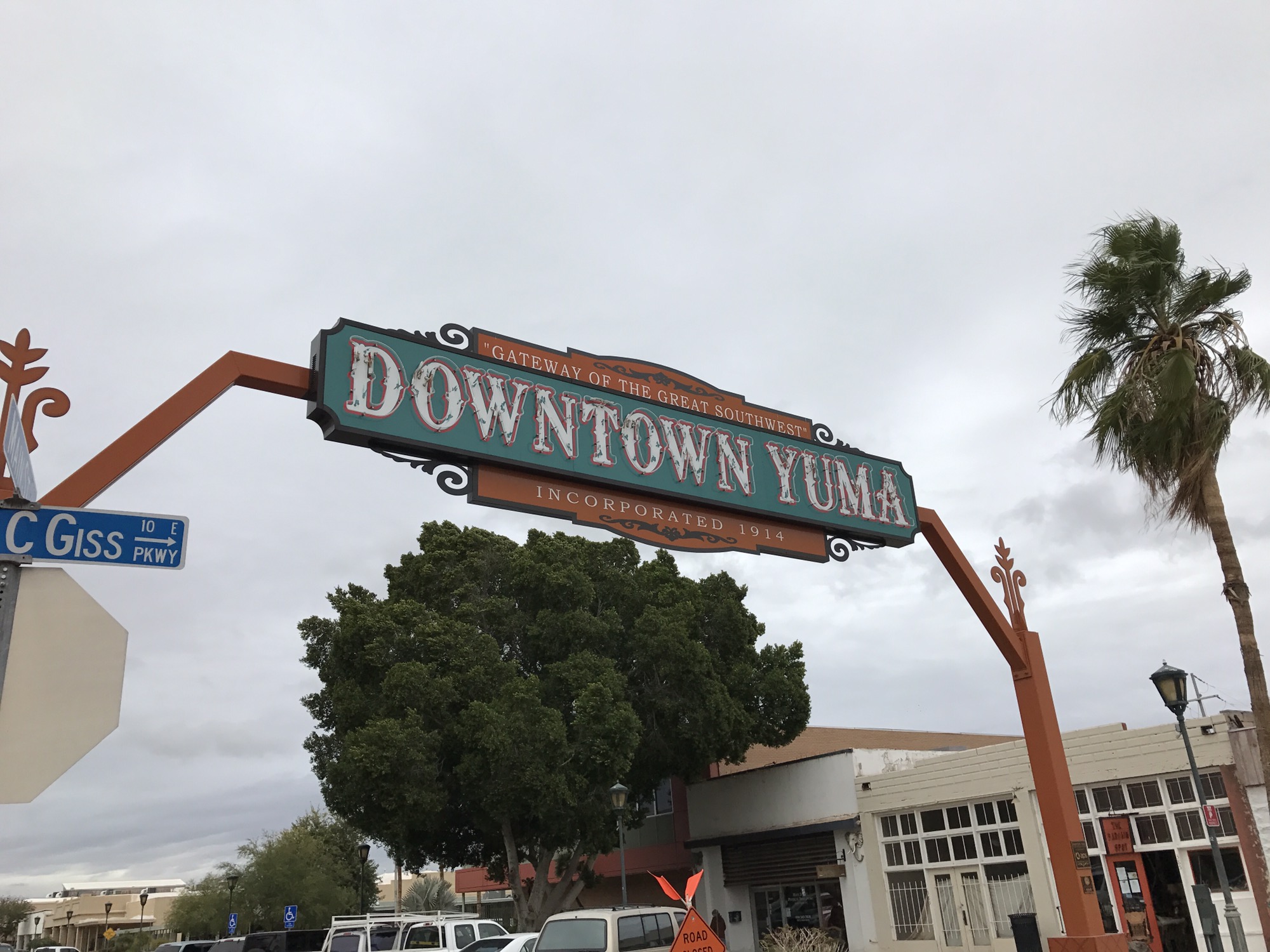 The promise fizzled pretty fast though. At least 1/3 of the shops were empty and abandoned.  I snapped a few pictures but there were plenty of these empty storefronts.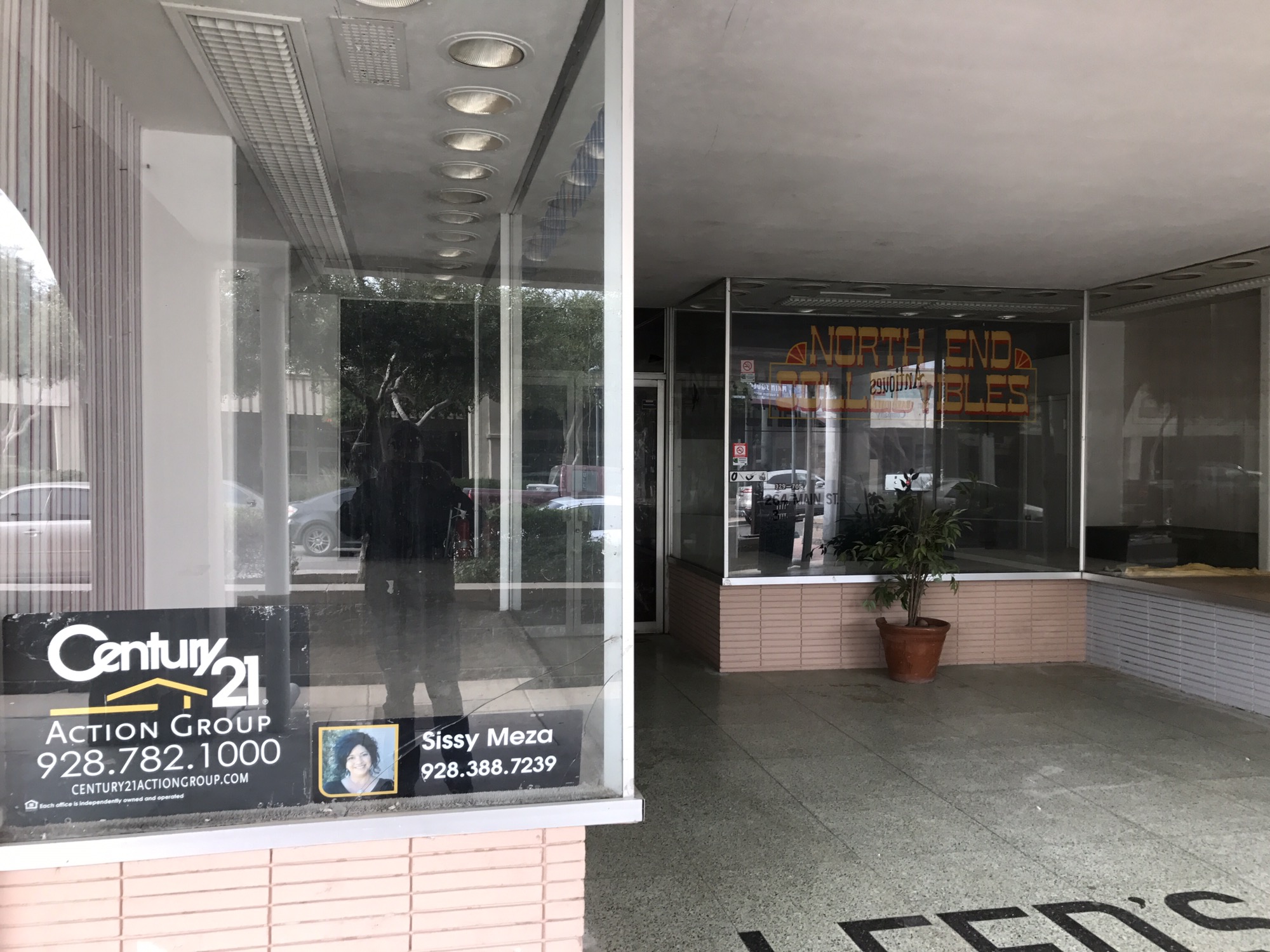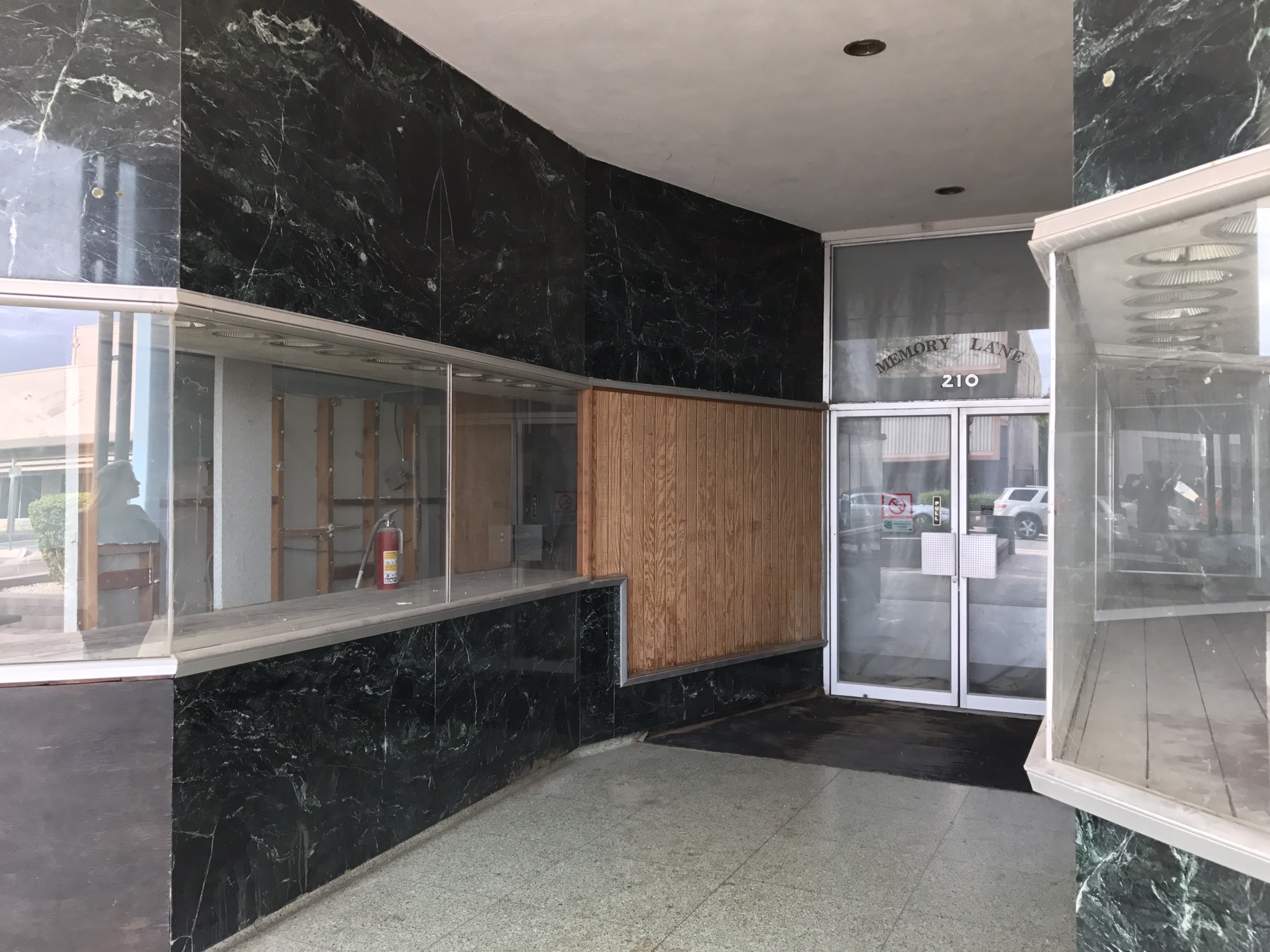 This photo was supposed to be of the empty window but the shutter lag on iPhone 7 turned it into a blurry shot of the sidewalk. This happens far too often on iPhone 7, and not just to me.  The Interwebs are full of people reporting the same issue.  I'm not sure what's happening but it is very annoying.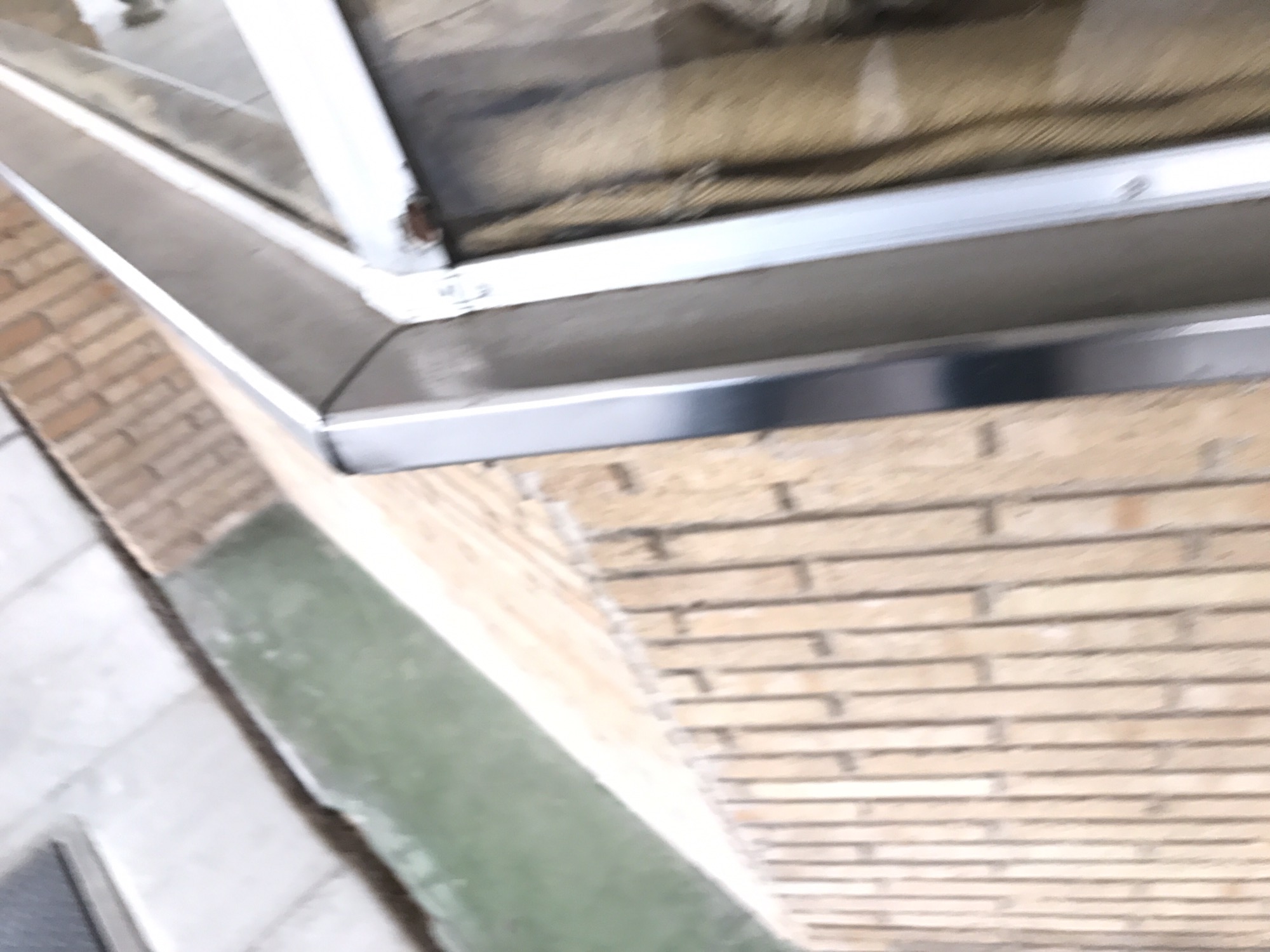 Empty storefronts are not that unusual in small towns we've seen.  Generally, the businesses that do move in are sort of "B" and "C" level independents.  Lots of junk shops, yoga studios, local art displays, holistic food/vitamin stores, etc.
That's very true of Yuma.
A shop called "Treasures" had a sign in its window making it clear the junk inside was for sale.  I don't know how "junk" and "treasures" became synonymous but here ya go.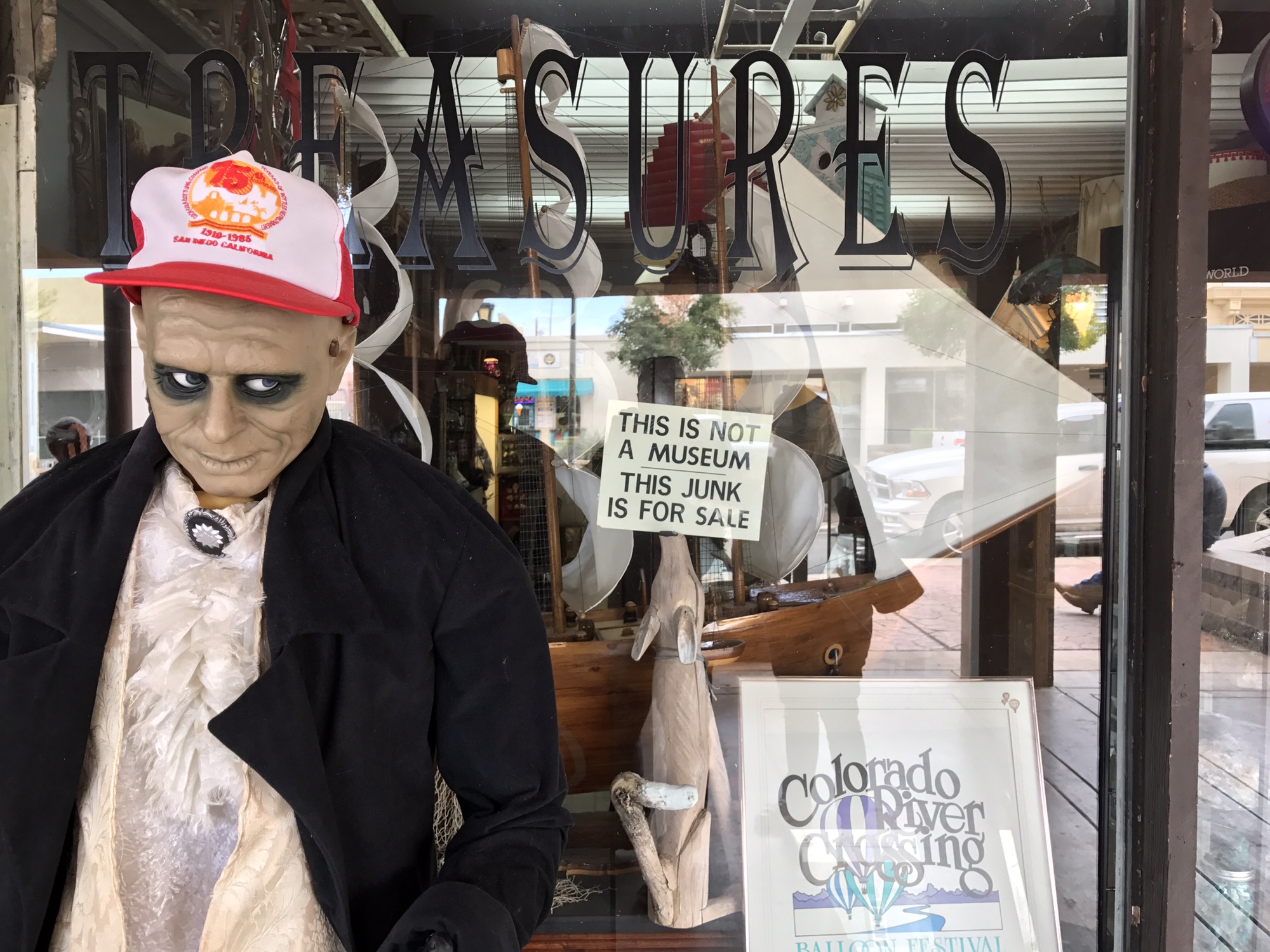 A paint-your-own-painting-and-drink-wine shop had moved into one of the stores.  The name said it all.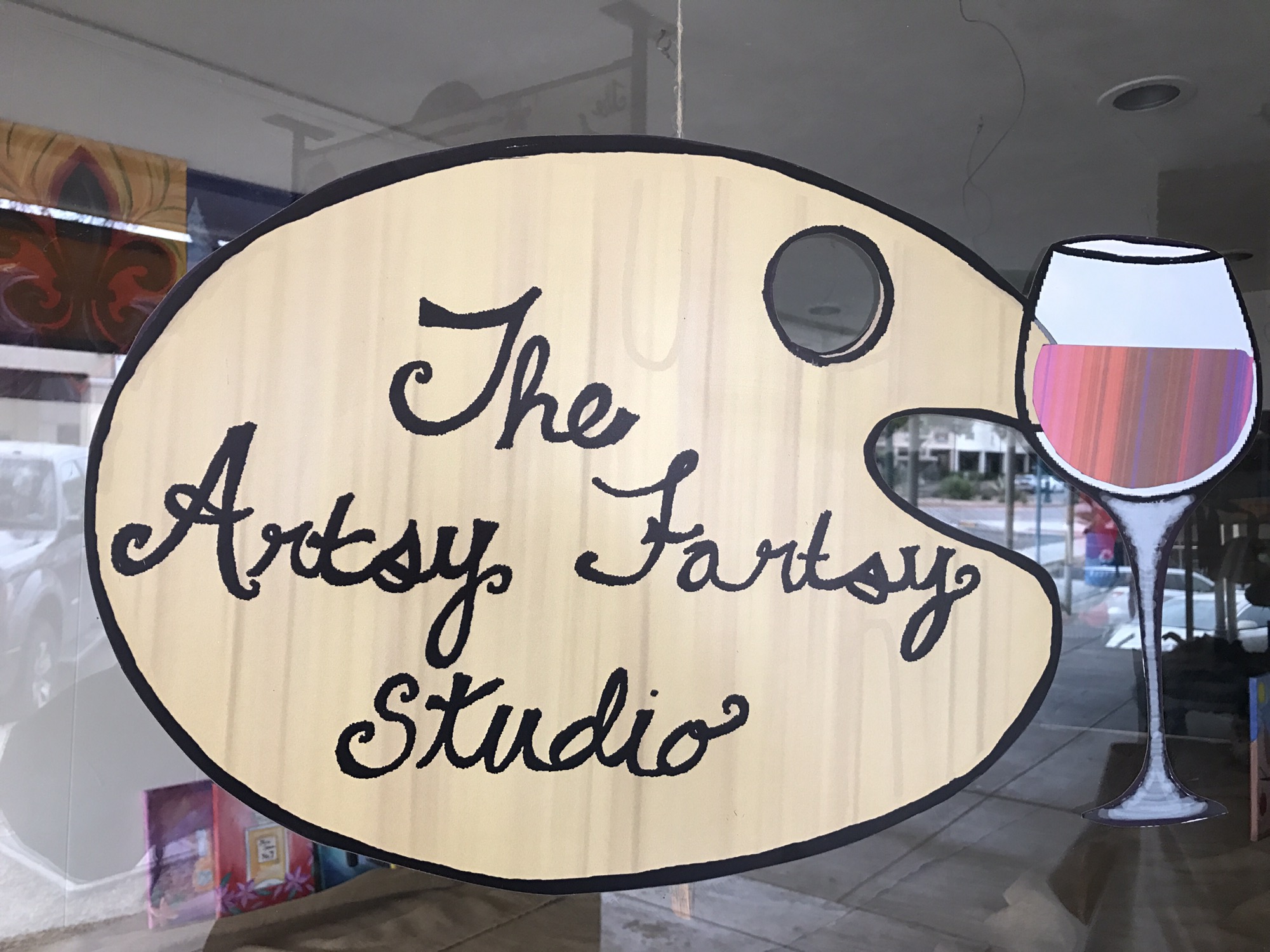 A very modern and impressive building was located mid-strip, purporting to be an art gallery. We went inside and while the building IS very impressive – like ODDLY big and impressive -there isn't any real art to speak of.  The multi-story exhibit hall was empty except for large colored poster boards mounted on the walls.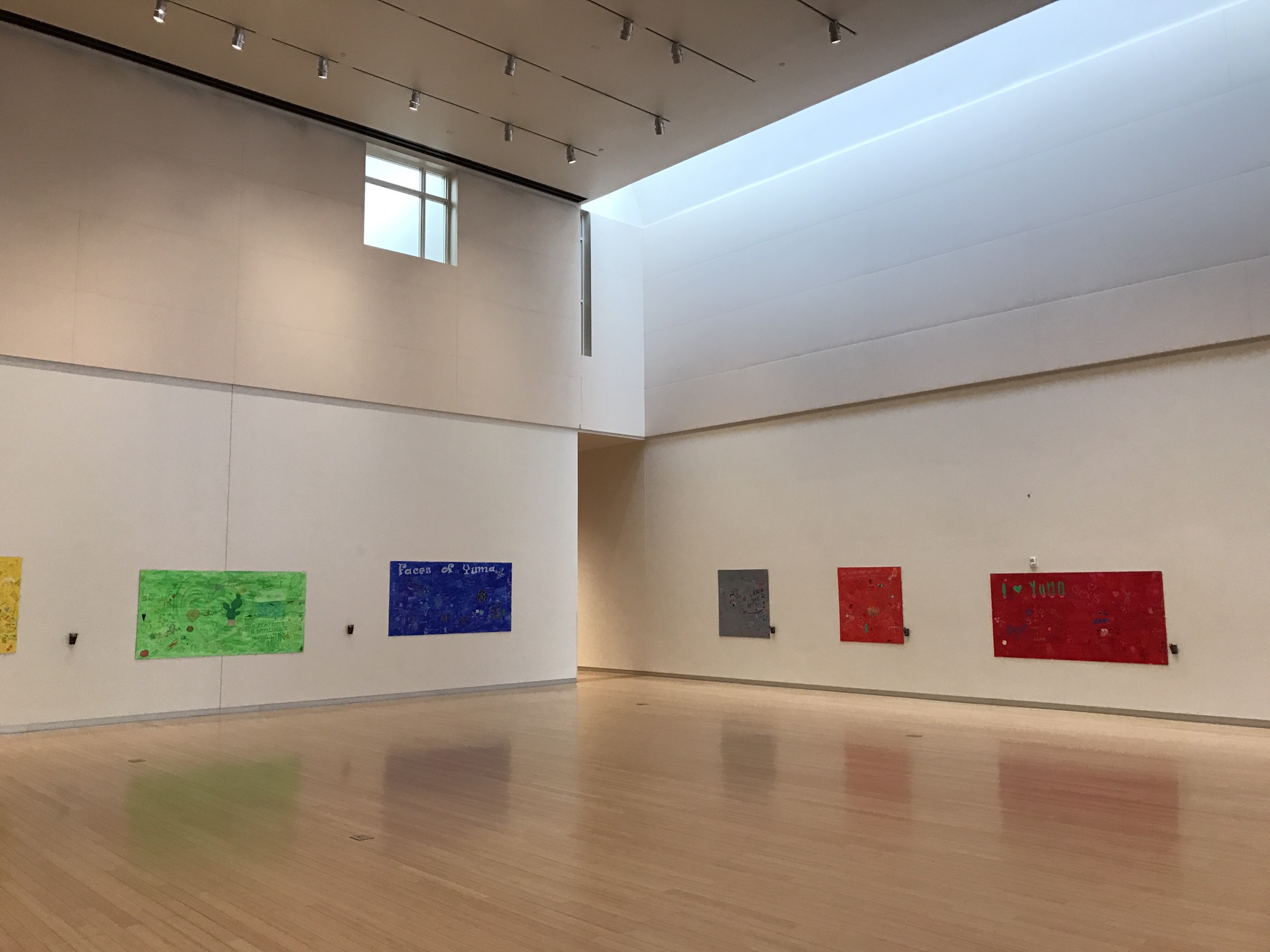 Upon closer inspection each poster board was setup for the public to use to draw or write something about art. It was an interesting idea, but really was something that would be seen at an elementary or middle school.
It was kind of sad to see all the abandoned businesses, like this restaurant which must have been quite a place to eat in its heyday. Now it waits for a new owner to revive it.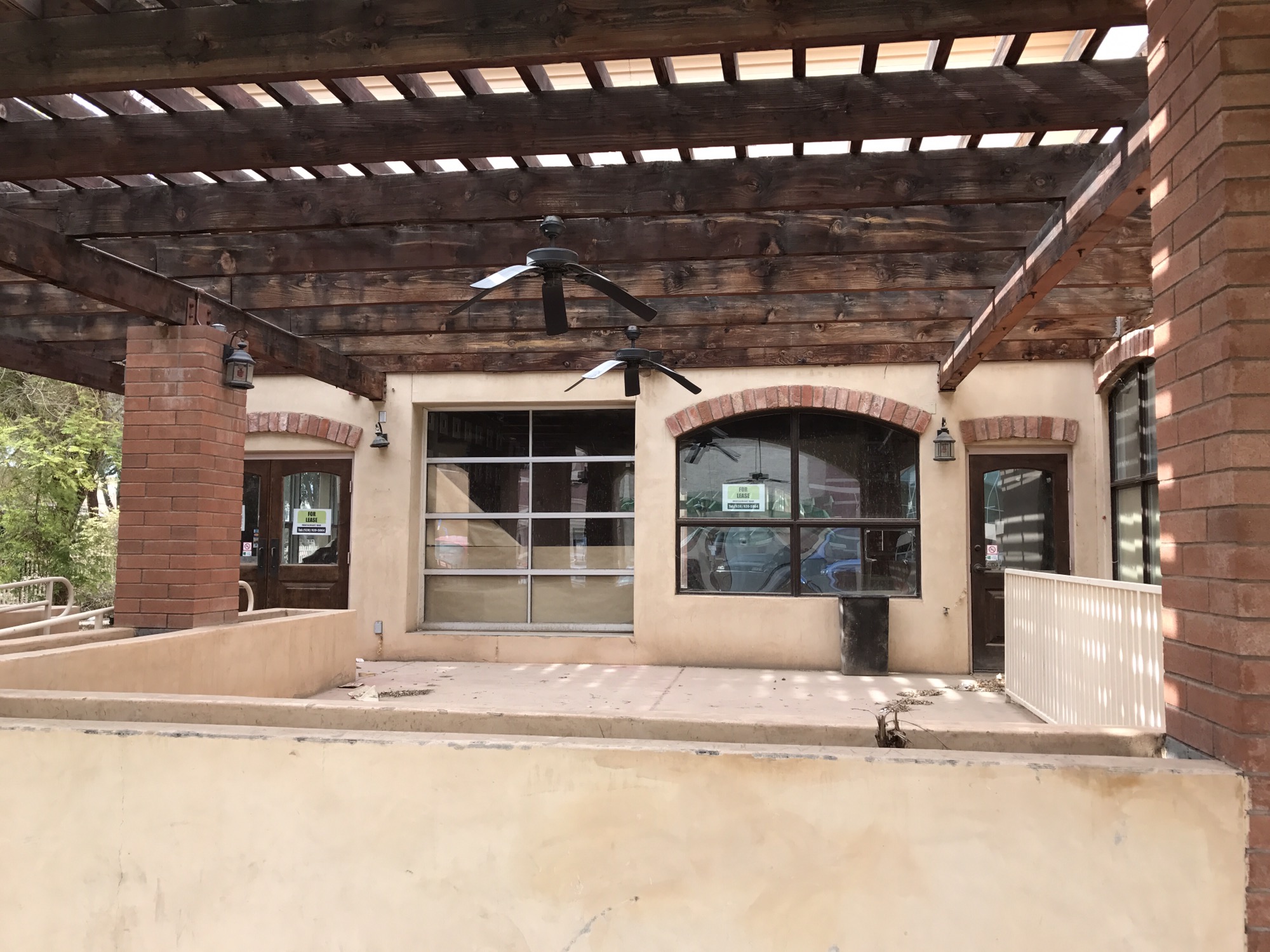 Very close to the art "museum" was the Mexican consulate. I bet they are having a field day with the new President. The Mexican border is very close to Yuma, and I think quite a few people cross the boarder to shop, get prescriptions, and have dental work done.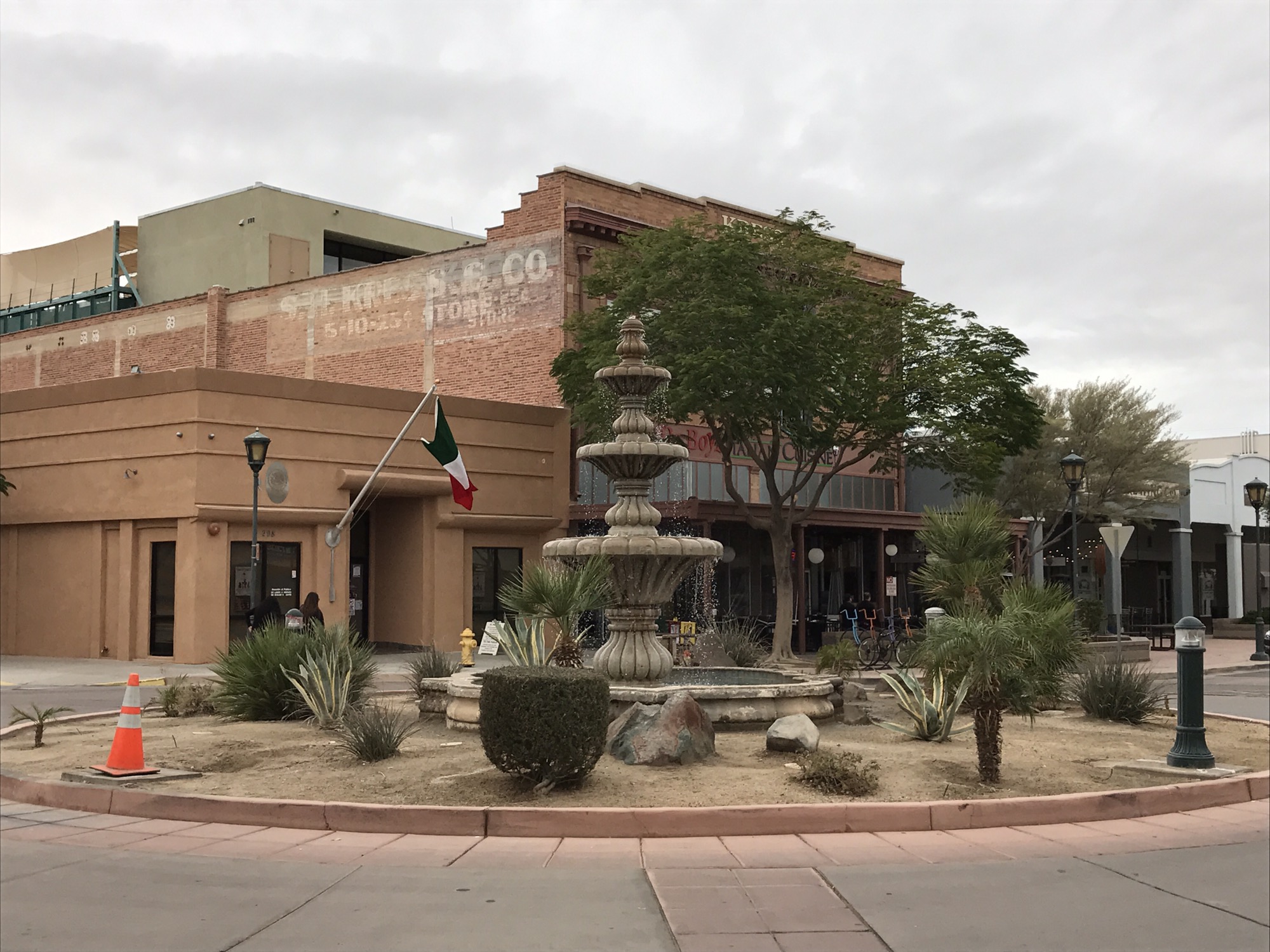 We had just about given up on downtown Yuma when we spotted a brewpub called Prison Hill Brewing Co.  It looked like a potential bright spot and we had nothing else to do so we went it. Good choice!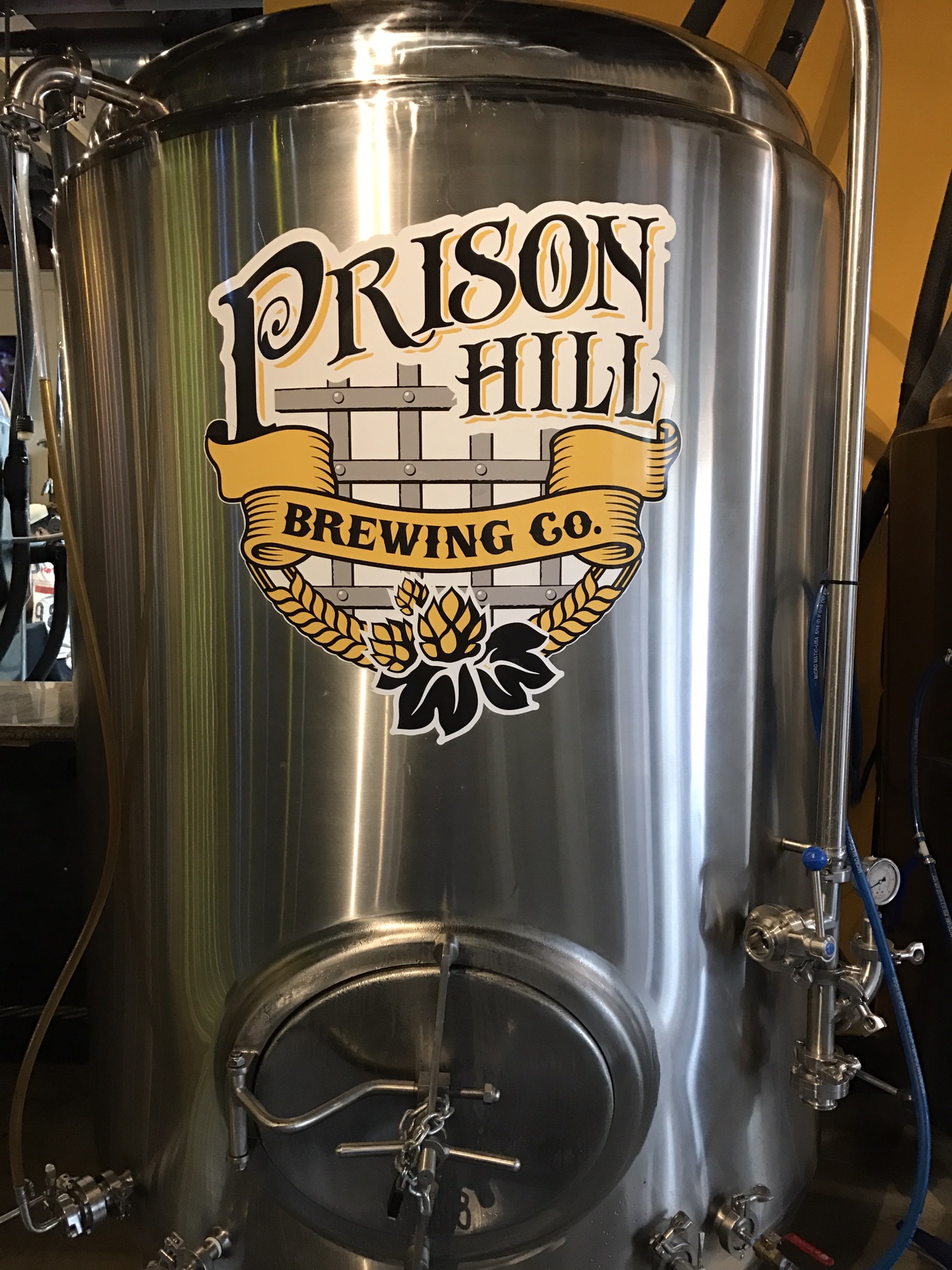 Prison Hill Brewing Company turned out to have great food and over 20 beers on tap, most of which were brewed on site.  We tried a couple of sample flights and enjoyed a few appetizers.  My favorite was a pineapple wheat beer (that really should have been called a shandy).  Delicious!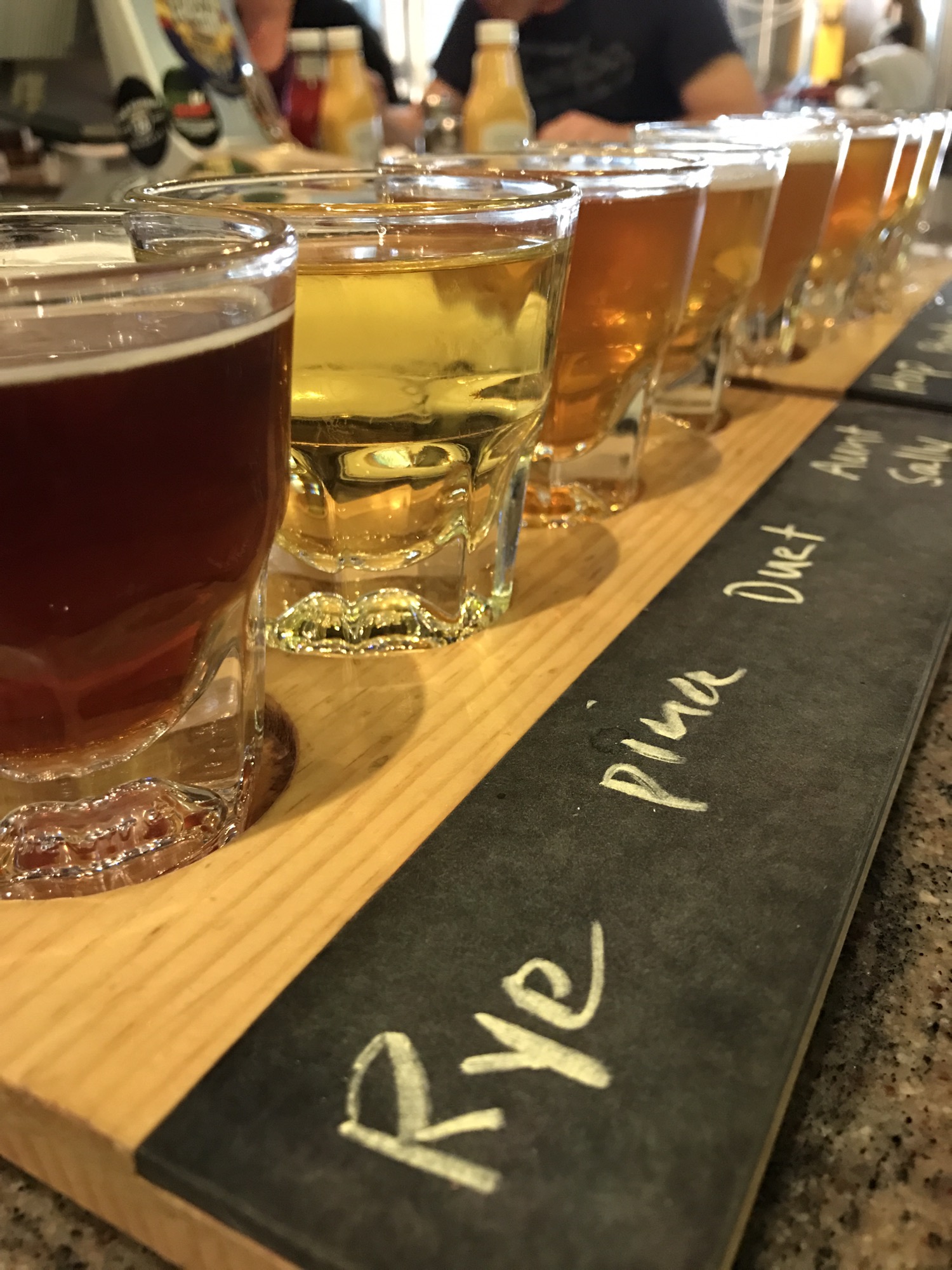 After the brewpub we walked back toward our Jeep.  A large mural on one of the buildings summed up downtown Yuma pretty well. Sleepy.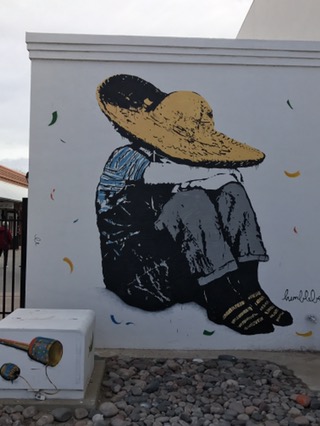 We headed back toward the RV campground.  Winds had started to really pickup and the air was turning a dusty shade of tan.  Gusts blew dirt across the road like snow in a blizzard.  Mountains in the distance were barely visible because of all the dirt.
The only positive I could find was that I now get to use the word "haboob" in a sentence.  Haboob.  Haboob!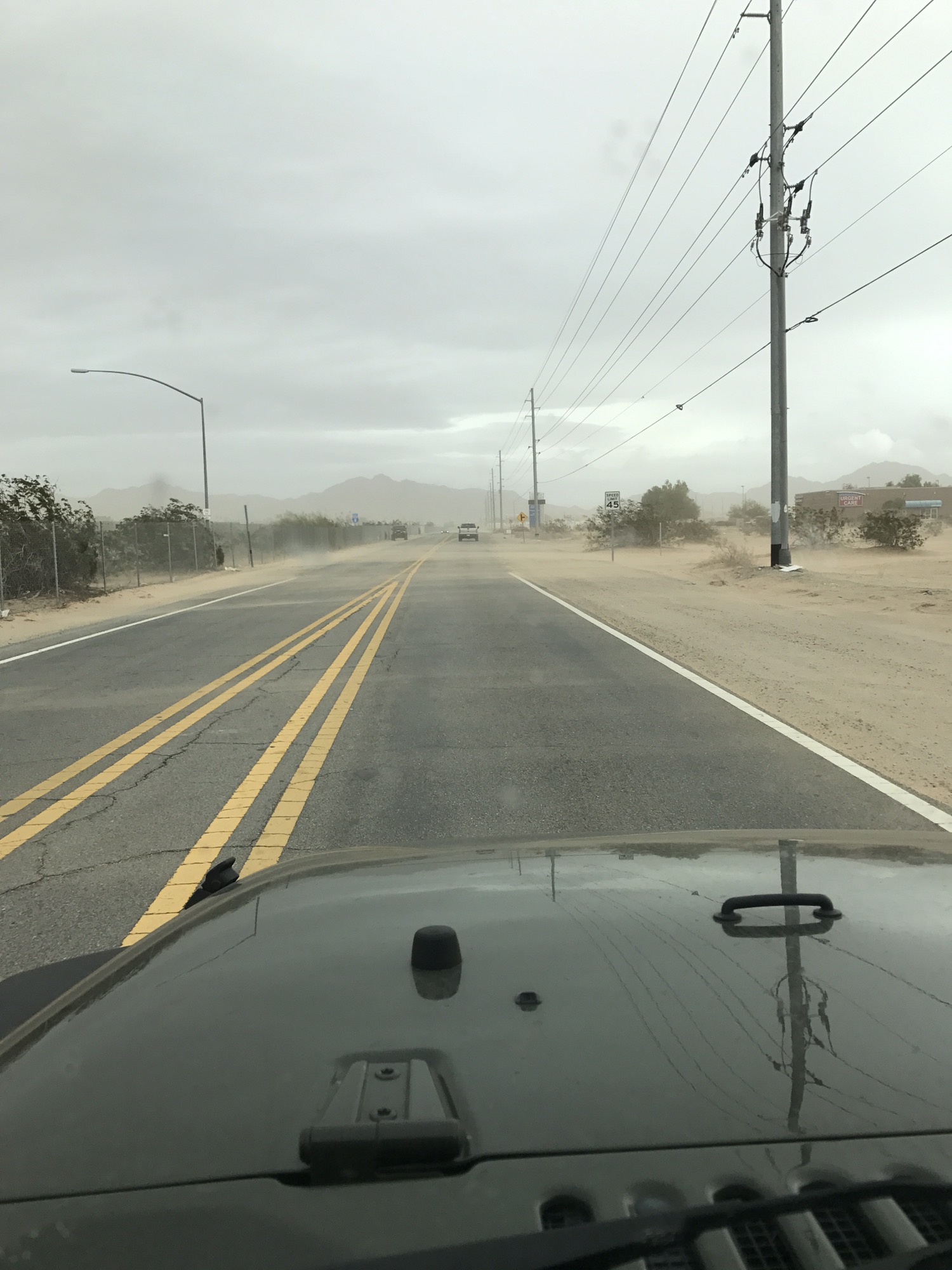 I was glad that we decided not to drive in this intense wind, although I know we will be in for strong winds tomorrow when we head toward California. Hopefully they won't be as bad as today.  Meanwhile, I was left wondering why people would come to Yuma for the winter?  It must be price related, because the Phoenix area seems to have a lot more to offer than Yuma.