We moved into our MoHo on March 28th, 2016.  One year ago.
We parked at CalExpo RV campground for 5 days and then we moved to Beals Point State Park alongside Folsom Lake.  90% of our possessions were sold or donated. 5% were in a small storage unit. 5% were in the RV.
We had massively downsized and were ready for a massively upsized adventure!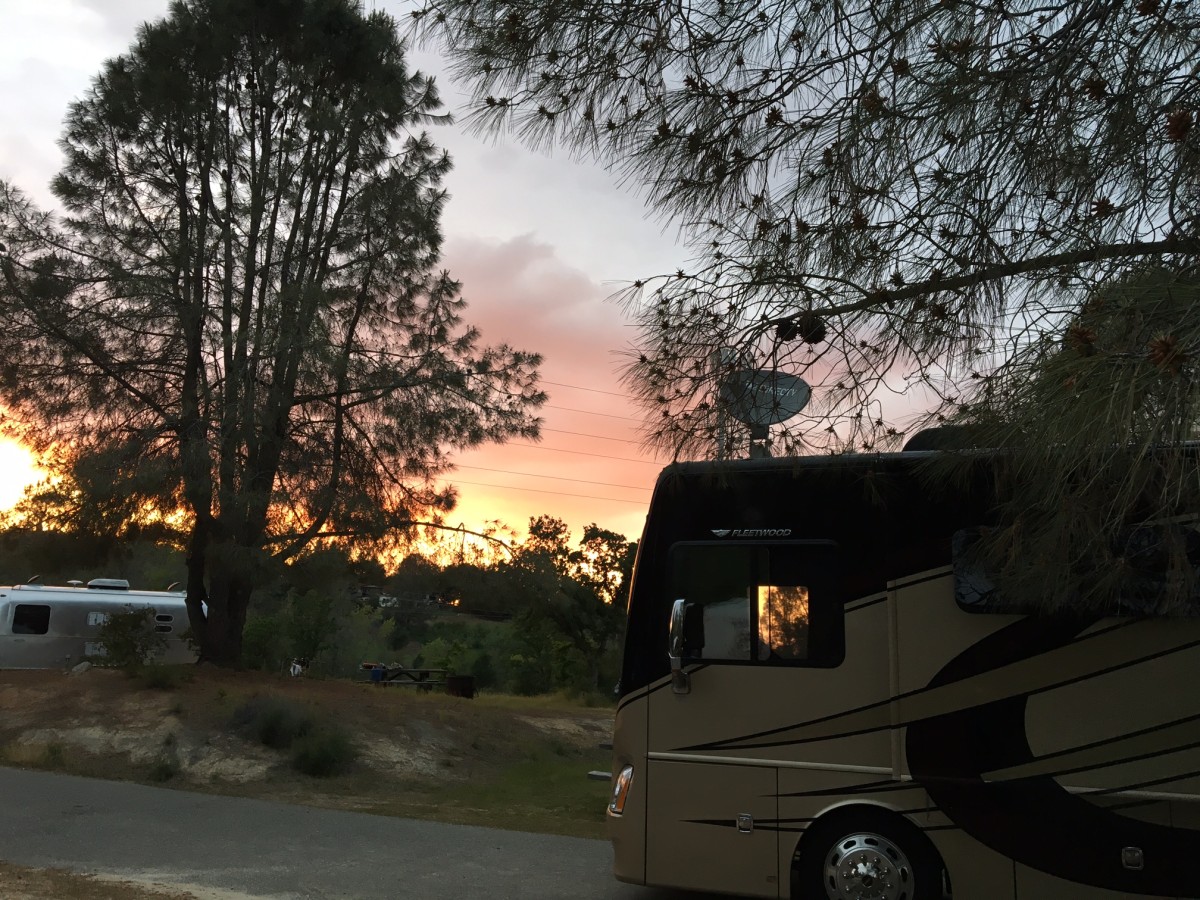 Those last days were full of endless trips, especially to Home Depot.  At one point, I swore I would go crazy if I had to go to Home Depot one more time.  And then I went again.
Leaving Folsom took another 2 weeks, mostly final work getting the house ready to sell. Those of you who have sold a home know what I mean.  I had lived there for 11 years, the longest I have lived any single place since I was a kid.  It went on the market just a few days before we rolled out of town for parts unknown.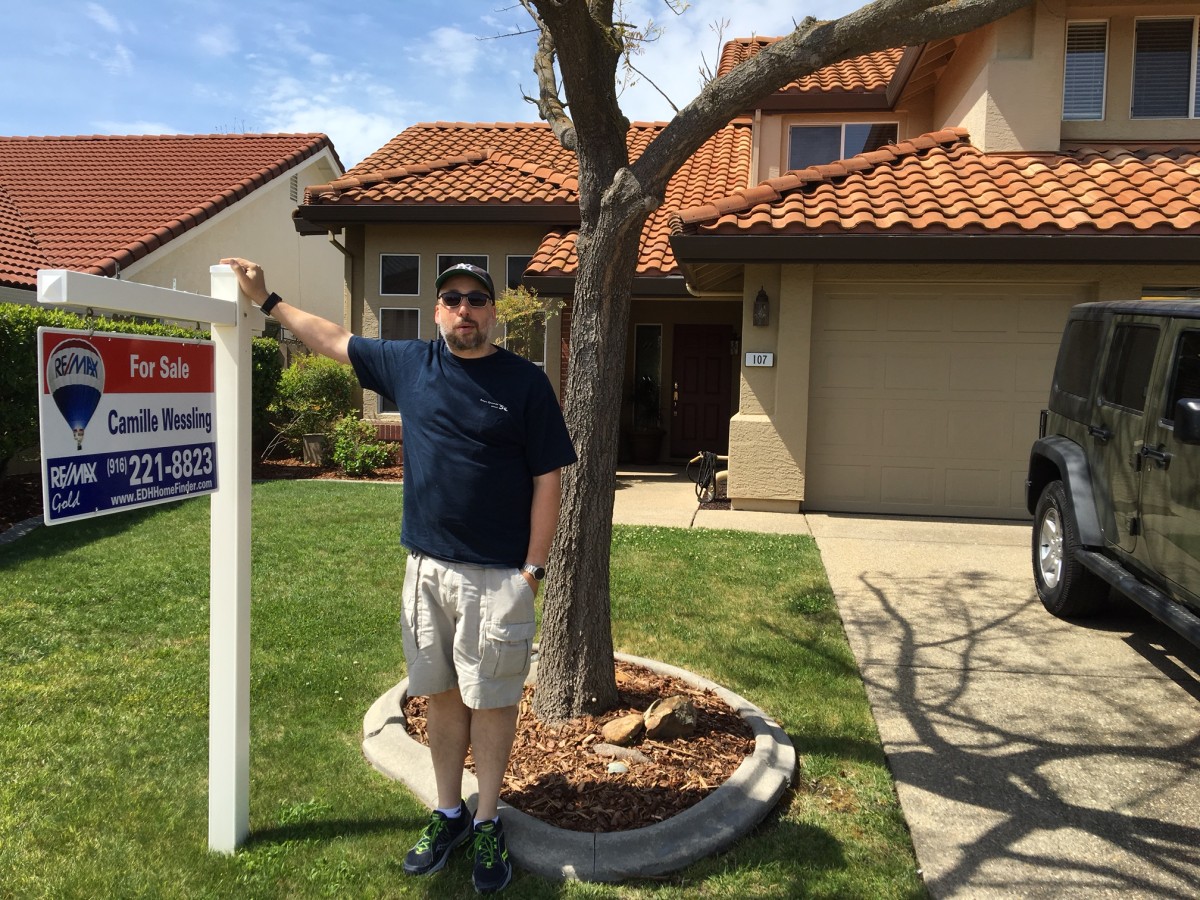 We had no idea where we would end up or what we would see along the way.  Our only commitment was to take at least a year.  What happened after the year we would figure out later.
The trip took us through 26 states and two countries.  Well, Canada, so one-and-a-half countries. We have stayed in 60 campgrounds.  The longest by far was 2 months at Chula Vista RV Resort.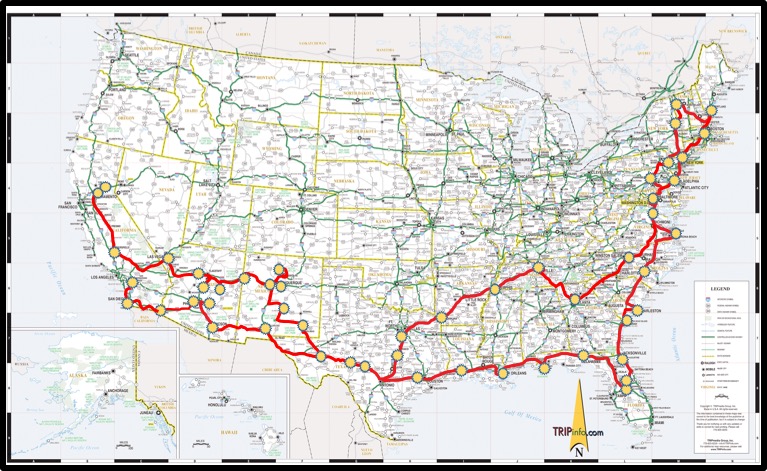 Q4 was the first time we really slowed our pace. Before this we were in full-on sightseeing mode and we covered a lot of ground (over 11,000 miles in the Moho and another 15,000 in the Jeep). Most people who have starting full-time RV living report the same thing – they slow their pace after a while.
Having data on a full year of costs is very helpful for planning.  Here are the totals for some of the biggest categories. Two things really stick out when comparing Q4 to Q3 – the drop in diesel costs and the drop in entertainment costs.  Moving more slowly means less miles (700 in Q4 vs. about 3,500 in Q3) and it also means less days have a "tourist" destination in their agenda.
| | | | | | |
| --- | --- | --- | --- | --- | --- |
| Category | Q1 | Q2 | Q3 | Q4 | Full Year |
| Nightly campground fees | $42.88 | $52.59 | $47.93 | $52.46 | $48.62 |
| Average daily cost of diesel | $9.46 | $8.40 | $13.25 | $2.62 | $8.68 |
| Daily "entertainment" | $22.24 | $34.79 | $15.10 | $10.27 | $21.48 |
| Supplies | $6.74 | $3.96 | $5.08 | $2.08 | $4.52 |
| Food | $52.88 | $64.58 | $47.32 | $49.67 | $53.81 |
| Vehicle (includes 6mo service in Q1 and 1year service in Q3) | $36.38 | $2.45 | 15.04 | $6.15 | $15.19 |
Speaking of money, the idea of making any via Google Ads and Amazon Marketplace links requires a LOT more traffic than I expected. According to WordPress Analytics, I have had:
Total Page Hits: 4311 / Total Unique Visitors : 2109
I started enabling Google Ads about midway through the trip.  Since then I have made – wait for it – $7.81 in advertising fees. Total.  To add insult to injury, Google won't pay until the fees reach $10.  Basically, $10 a year is what I'd expect to make.  Considering that I have written 168 blog posts, each of which takes an average of 3 hours to write, that's 504 hours of labor.  Which is low, and doesn't count the total effort.  But let's go with that.  My hourly earning rate is $0.02/hour.  That's right. About 2 cents an hour.
I guess each blog really is my 2 cents worth.   hahahahaha
Our Fleetwood also seems to be settling in – no significant issues to report. The window leak which was fixed at the REV Factory Service Center in Alvarado TX remains fixed. I sometimes think one-year-old RVs are the best value.  Still new but all the big bugs are worked out.
It has seen days over 100 degrees and days at 15 degrees.  It has weathered severe winds, floods, dust storms, downpours, and even hail.  It tackled savagely bumpy roads, bad pavement, dips, construction zones, dirt roads, and potholes. And it kept right on rolling!
It has been a good home for us over the past year.  Never once have I felt constrained on space or comfort.
Our Favorite places on the trip:
Burlington and Vermont overall.  Beautiful scenery, great hiking, friendly people, local food, local beer and wine, and wonderful New England buildings.  RV campgrounds in several places including the one we used in Colchester.
Philadelphia.  So much history, incredibly museums, amazing architecture, good food scene, and proximity to so much.  RV campground in an old loading dock makes the entire city quickly accessible.
Portland ME.  Reminded me of a smaller-scale NYC.  Potato donuts are a must-try.  More microbreweries per capita than any other city.  Amazing views of the bay.  Killer food scene.  Overall good vibe.
Washington DC.  Same comments as Philly just amplified. RV campground at the end of the Green Line metro makes exploring the city painless.
Savannah GA.  Beautiful southern town with picturesque town squares, gorgeous buildings, good food, and nice beaches. Let down a bit by campground proximity (i.e. there aren't any centrally located campgrounds)
Hill country Texas – delightful area of rolling hills, oak trees, wineries, white limestone buildings, and hill country cooking.  Kerrville and Fredericksburg.
Santa Fe NM.  Incredible architecture in one of America's oldest cities.  Good food (not just New Mexican), art, and culture.
Pensacola – Navarre.  Best beaches we've ever seen (pure white fluffy sand), warm turquoise water, laid-back pace, one of our favorite campgrounds (Santa Rosa), pink sunsets, and frequent practice sessions of the Blue Angels.
Best Unexpected Gems:
Montpelier VT – home of the only state capitol without a McDonald's and likely the only state capitol where anyone can just walk inside unimpeded.
Greensville SC – between the amazing downtown area and the equally amazing park next to downtown, this town really surprised us.
Navarre Beach – all of the Destin to Pensacola beaches are nice, but this beach is huge, pristine, and uncrowded.
Mansions of Newport – amazing Gilded Age mansions along the cliff in Newport RI.
Low Rider exhibit in Santa Fe – New museum opened in Santa Fe with much history of the area.  The special low rider exhibit really opened my eyes on this form of auto modification and gave me a new appreciation for the art.
Kennedy Space Center – Ok, this one we expected to be awesome, and it did not disappoint.
The Grand Ole Opry and Opryland hotel. I'm not a regular viewer of Opry but I have to admit this was really neat.
Carlsbad caverns – Way more impressive than I expected.  This might be the single top attraction of the entire trip.
The WWII Pacific museum in Fredericksburg TX.
Best food on the Trip
Pig and Swig – best BBQ of the entire trip.  Who knew Charleston would turn out such an impressive feat of BBQ?  Runner up, Terry Black's BBQ in Austin.
The Real Pierre Maspero's – New Orleans (shrimp and grits)
The Royal House Oyster Bar – Also New Orleans. Try the 3 bowl special (jambalaya, gumbo, and etoufee)
Billie Gene's Hill Country Kitchen – Kerrville Texas.  Chicken fried chicken and okra? Yes please.
Grocery store lobster – Wells Beach Maine. Fresh off the lobster boats and only $6.99/lb.  We ate a LOT.
The Shed – REAL New Mexican cuisine in a 400 year old adobe building in Santa Fe.  Green Chile stew will haunt my dreams.
Biggest flops – there weren't many
The homogenization of America.  It is remarkable how much every town increasingly looks like every other town with the same strip malls, same stores, and even same developments.
Massachusetts – sorry big MA, you aren't the vacation paradise we hoped for. Sure Boston is full of neat things to see, but otherwise traffic is awful, drivers are rude, the geography isn't very interesting, the weather is fickle, and everything looks worn out.
Driving from Bellingham MA to Philadelphia.  I don't know how the long-haul truckers do it, but I have new respect for them. This stretch of mostly I-95 would be a handful in a car, but in a 57-foot RV+toad, it is terrifying.
West Texas and South eastern NM.  Desolate, dry, post-industrial wasteland.  Good only for making people feel better about where they live. Unless they live in West Texas.
Biggest Learnings
Managing temperatures with pets inside can be challenging. RVs are more like cars than houses and they get cooler in cold temps and hotter in the sun than a house. Many days we had to carefully switch from heat to air conditioning and back again.  This proved to be a lot more management than we expected.
Propane lasts a long time, unless it is really cold.  We used 3 gallons of propane a day when temps fell into the teens. Also, managing moisture inside the MoHo becomes a challenge as the temperatures fall.
Driving is mostly easy with a few moments of pure terror. And driving in the Northeast is as bad as everyone says.
Data remained a big challenge for us.  Campground wifi rarely works and when it does it is never fast. We were able to supplement with mobile internet from our cellular providers at very high cost.
The satellite dish was pretty useless as we got west of Louisiana.  By the time we were on the east coast, it rarely worked due to trees.
We didn't miss a dishwasher, but we were sure happy to have a washer and a dryer on board!  As a full-timer, washer/dryer is one option I can wholeheartedly recommend.
Planning full-time RV travel, especially at a faster pace, requires a lot more planning than many people think. It is not the carefree "I'll decide where to go when I get up tomorrow morning" kind of life.  Campground reservations, especially around holidays, are important. I suggest using a tool like rvtripwizard to help with planning.
We have seen so many incredible places, eaten many incredible meals, and seen so many friends (old and new) along the way. Overall, this has been an amazing year and we feel very fortunate to have had the opportunity to do what most people only dream of!
So now that we are at the one-year mark, what comes next?  Amazingly, the next step presented itself almost like magic!  You can read about that in the next post.