After the mania and exhaustion that is Orlando, we were ready to turn northward toward St. Augustine and leave the Happiest Place on Earth to the next crop of soon-to-be-exhausted fun seekers.  One quick detour though.  We needed to stop midway at La Mesa in Sanford to have another go at repairing our water leak.
We tried to leave early – like wheels rolling at 7:05am early – but it didn't matter. I don't think 4am would have been early enough.  Orlando traffic was going to have its surly way with us one more time.  Traffic on I-4 was, unsurprisingly, awful.  Since our appointment with La Mesa  was early, the traffic was doubly annoying.  What should have been a one hour drive took almost 2 hours.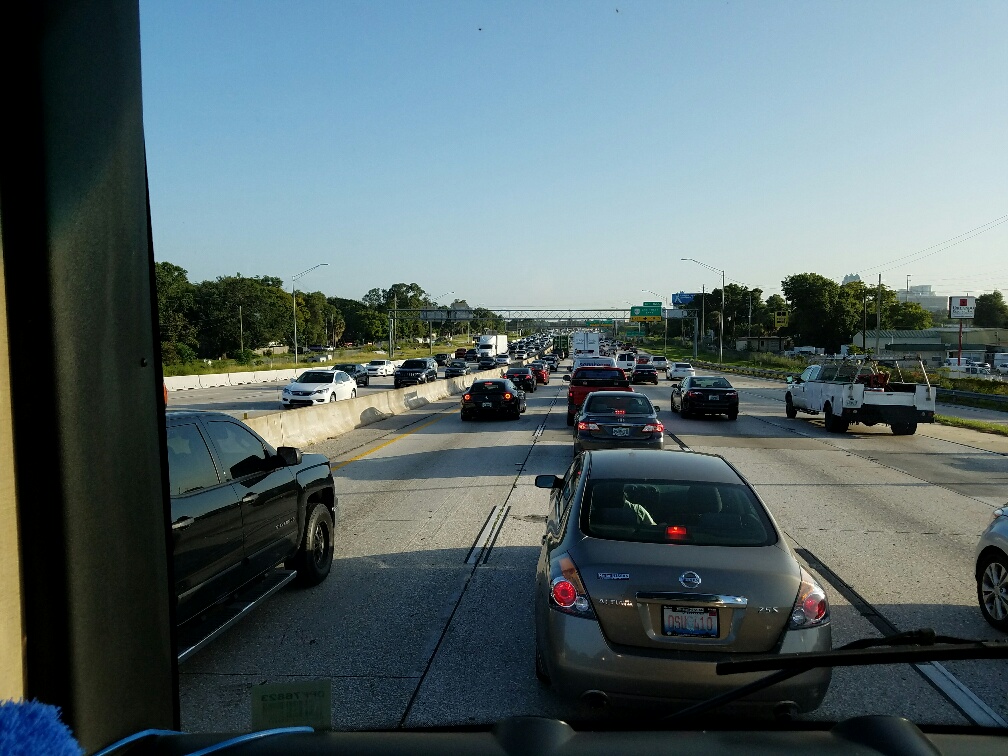 We finally made it to La Mesa at around 9:00am.
Spoiler alert: I already posted that La Mesa fixed the leak this time!!
Leak finally resolved, we headed up to St. Augustine.  We were doubly excited to see St. Augustine!  First, because it looks like a very interesting place.  Second, because we would be meeting up with Skip Gilbert and his wife Jeannie!
Sean left a day earlier for St. Augustine.  He's taking the shortcut to the Florida Keys through St. Augustine.  Nah, not really.  He was also looking forward to meeting up with the Skipper!
We worked with Skip almost 15 years ago on a project for the Duval County Public Schools (Jacksonville), and under the withering deadlines and deliverables of that assignment we all bonded.  Skip was on the front lines of the project and handled it like a pro.  But more on that later.
We arrived in St. Augustine mid-afternoon and after setting up the MoHo we plugged downtown into the GPS and headed down there to see what we could see.  We had dinner reservations at 7:00 that night so there were a few hours we could go exploring.
Sean had been down there most of the day already, and between the heat and the heat (with some extra heat thrown in) he was ready for a bit of a break.
Parking in Old St. Augustine is pretty much impossible. The oldest part of the town has no parking to speak of except for a few random parking lots behind some of the restaurants.  And the oldest part of town is OLD. St. Augustine is America's oldest city.  Take that Santa Fe.
Fortunately, the city built a parking garage just a few blocks from the old downtown.  $12 for all-day covered parking. Yay shade!
Like any self-respecting old outpost city, St. Augustine has an impressive fort. The Castillo de San Marcos, specifically.  It is now a National Monument, so that USA Parks pass we bought all the way back in New Mexico got us in at no extra charge.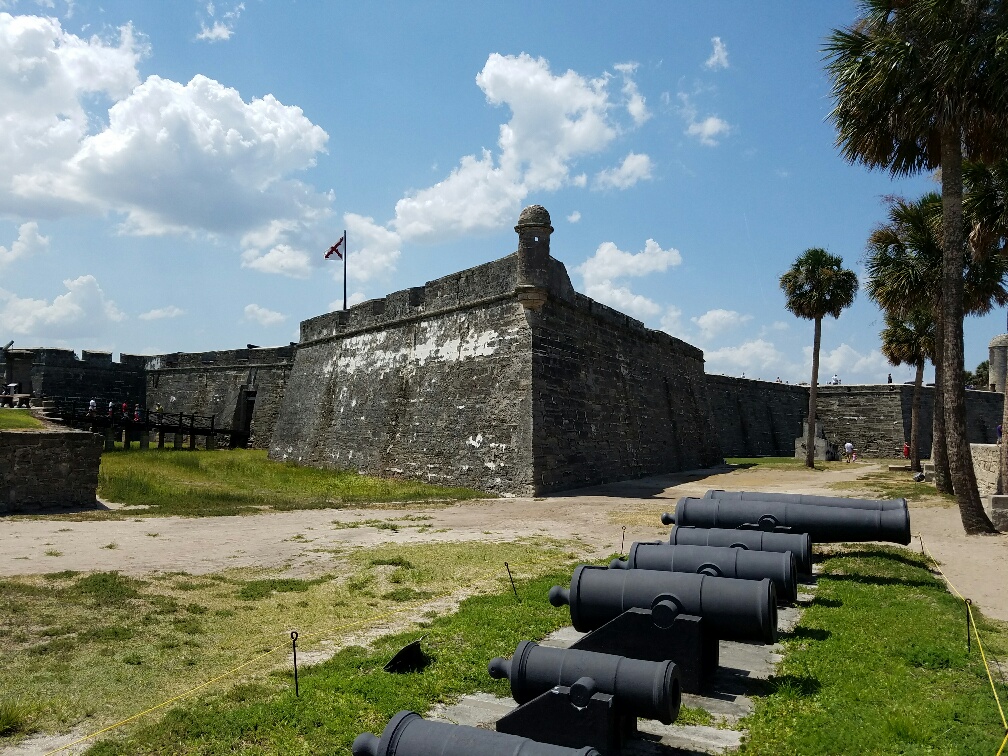 The Castillo de San Marcos was built in the late 1600s by Spain to protect the Northern border of its La Florida territory from the English and French. Americans hadn't yet carved off their own country to add their name to the list of foreign powers.
The Castillo is in fact the only surviving military post in the USA from the 17th century.  It is in remarkably good condition too!  Much of that condition is owed to the construction materials.
Yes, the fort is stone which we all know has staying power.  But the Castillo has a trick up its sleeve!  Upon closer inspection, the stone is unlike anything that we have seen before.
It appears to be made of millions of tiny shells all smashed together.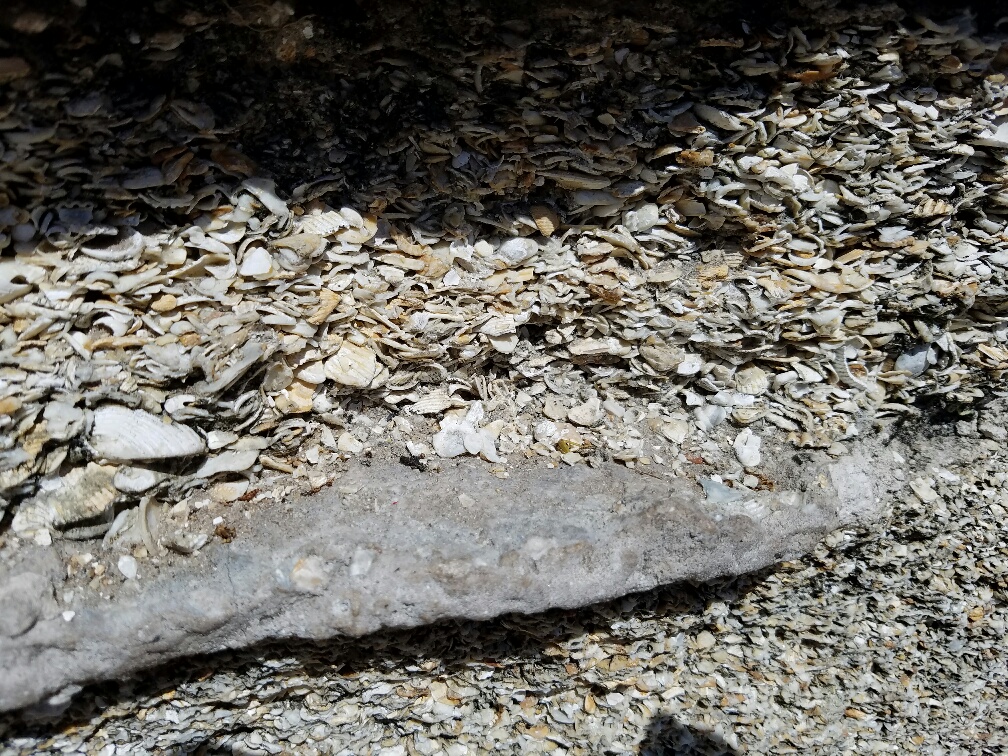 It appears this way because that is exactly what it is.  The stone is called "coquina" and is the remains of millions upon millions of sea creatures whose shells sunk to the bottom of the sea and were compressed over time.
Coquina is actually quite soft, and was quarried from nearby Anastasia Island using hand axes to chop it right out of the ground. This softness is why the Castillo has endured.  Unlike most stone fortresses which were demolished by cannon fire, conquino simply absorbed the cannon shots without shattering the way a harder stone would.  The Castillo was sieged several times, notably by the British, who watched in amazement as their cannon balls simply stuck into the walls of the fortress causing almost no damage!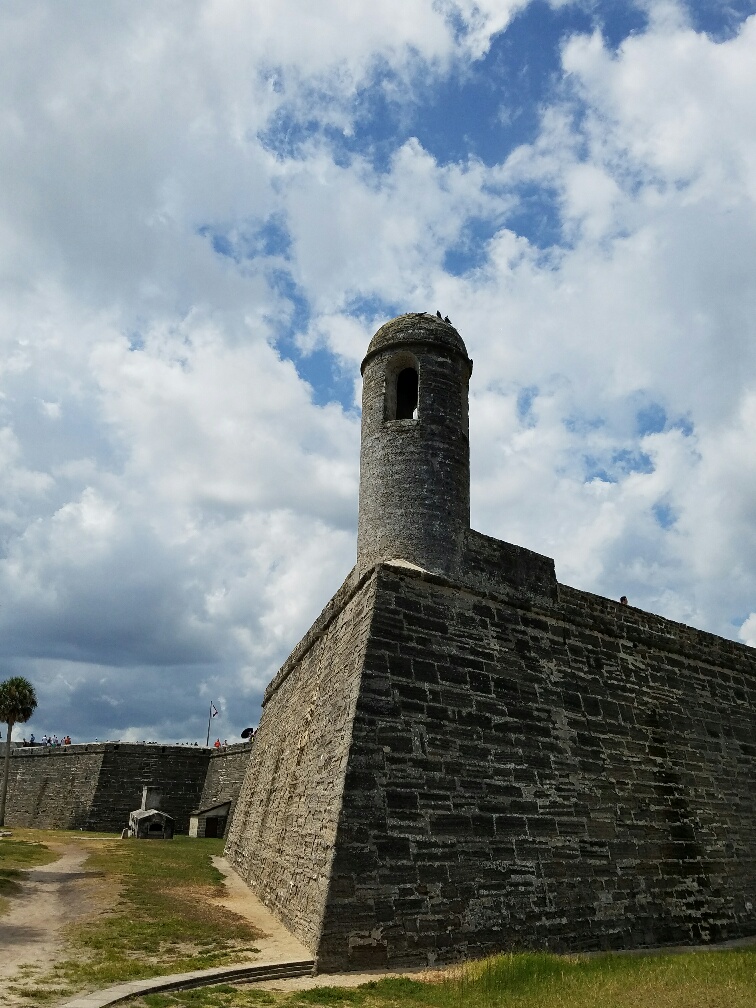 Because the fort survived its attacks essentially intact, it survived long enough to be handed over between colonial powers and the newly formed USA depending on what was happening at the time.  Florida was not one of the original 13 English colonies which rebelled against the UK and as such has a slightly different history than most of us are familiar with.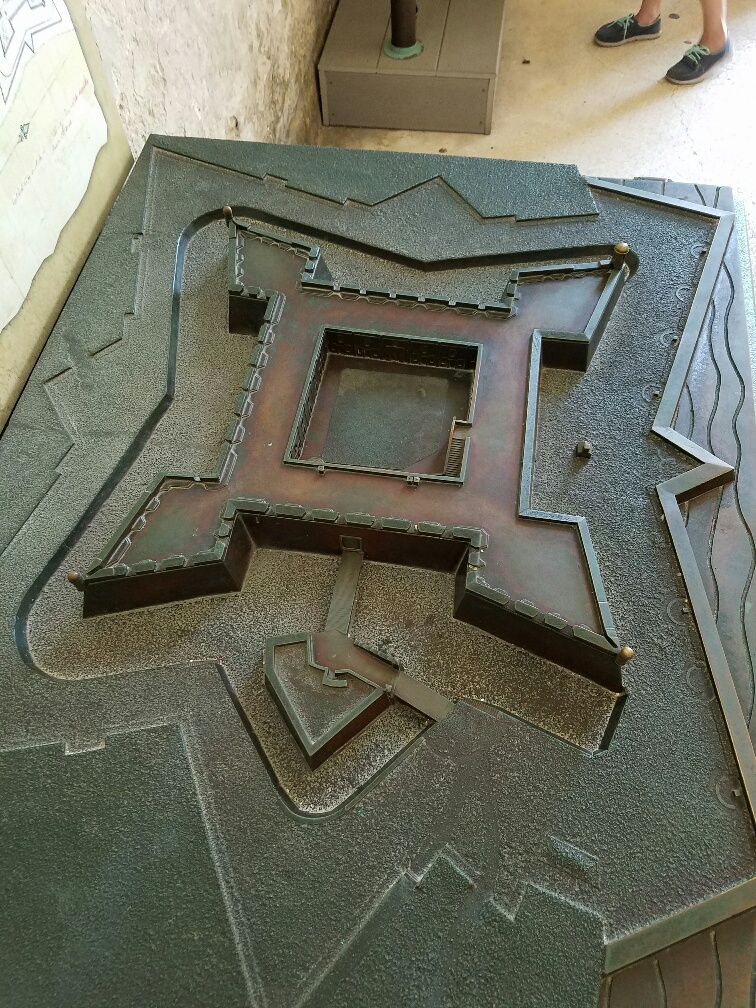 Castillo de San Marcos was built in a star-shaped formation.  That was the height of fortified technology at the time.  The design proved battle-worthy and (in addition to the coquina stone), resulted in a fort that was never overtaken in combat.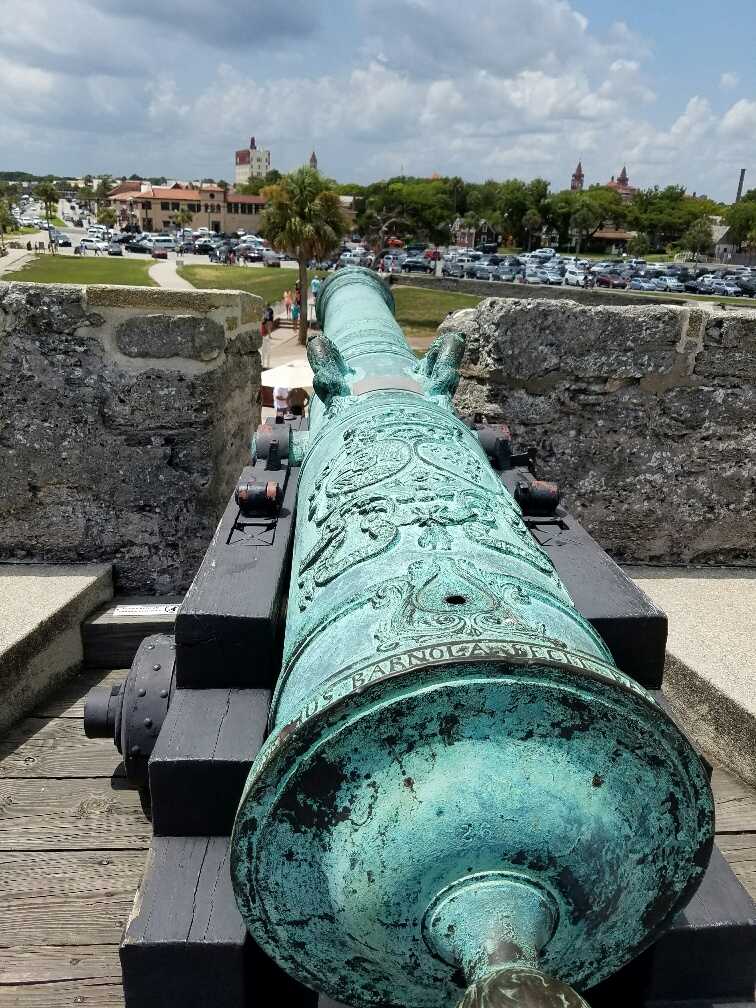 Cannons could be brought to bear in what is called "interlocking fields of fire" which is a military way of saying "we will rain fire down on your head until you wish you weren't born."  The cannons are a reminder of a time when everything was handmade.  No factory churned out these cannons, they were handmade by a cannon-maker who put his name on the cannon along with some very ornate designs.
There were a number of cannons and mortars, like the one below, all extremely well-preserved.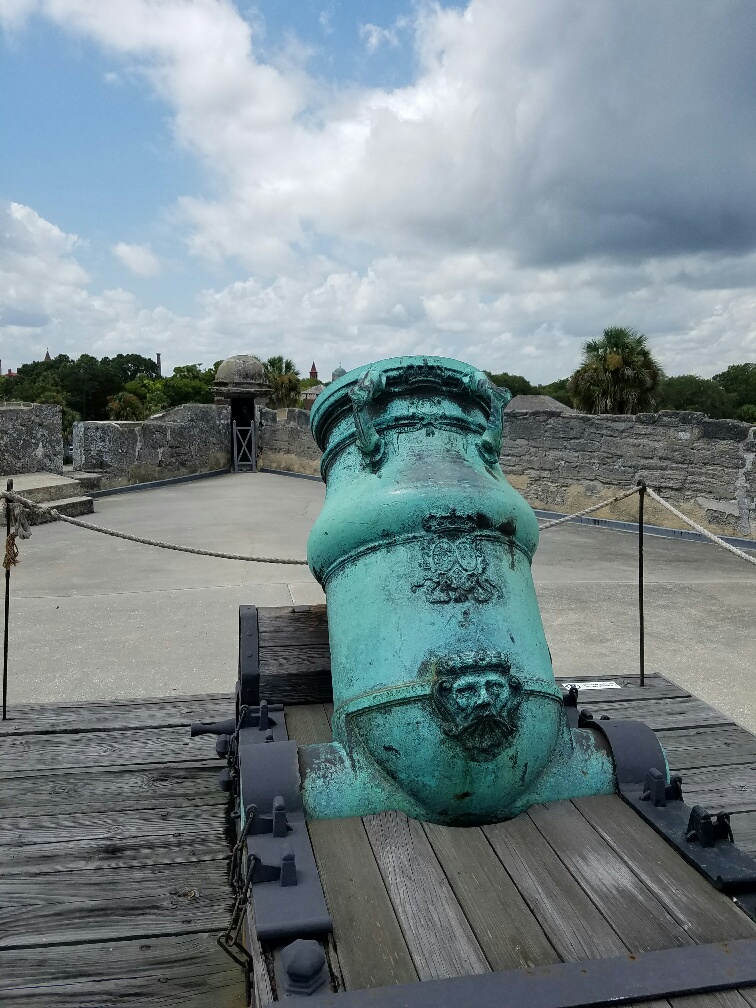 The interior of the fort is open for exploration.  In spite of the thick stone walls the temperature inside wasn't much lower than outside.  As we walked through one of the rooms which served as barracks for soldiers on watch, I couldn't help but imagine what life must have been like 300 years ago.  It was easy to imagine I was just like them. Then I got out my smartphone to take a photo so I could post it on Facebook.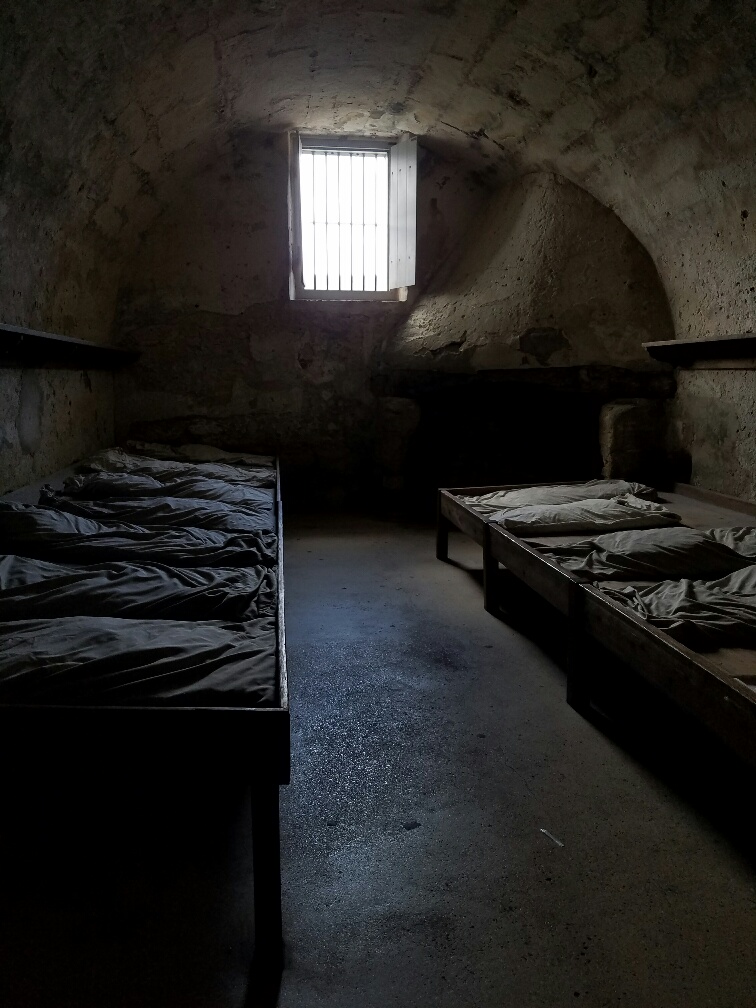 Across the street from the Castillo is the historic old town.  It is remarkably well preserved.  It is a mix of tourist shops (t-shirts and magnets), restaurants, and art galleries. It is incredibly charming!
In spite of the Spanish origins, Old St. Augustine looks more Caribbean than anything else.  Certainly it does not look like Santa Fe in any way, even thought the two cities are similar in age.  Even the more modern buildings, built in the late 1800s or early 1900s retain that distinctive style.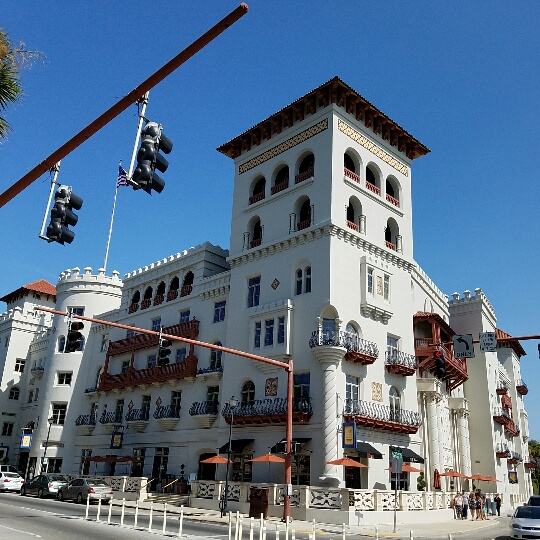 One of the most interesting is the Flagler College, founded in 1968 on the site of the old Ponce de Leon Hotel.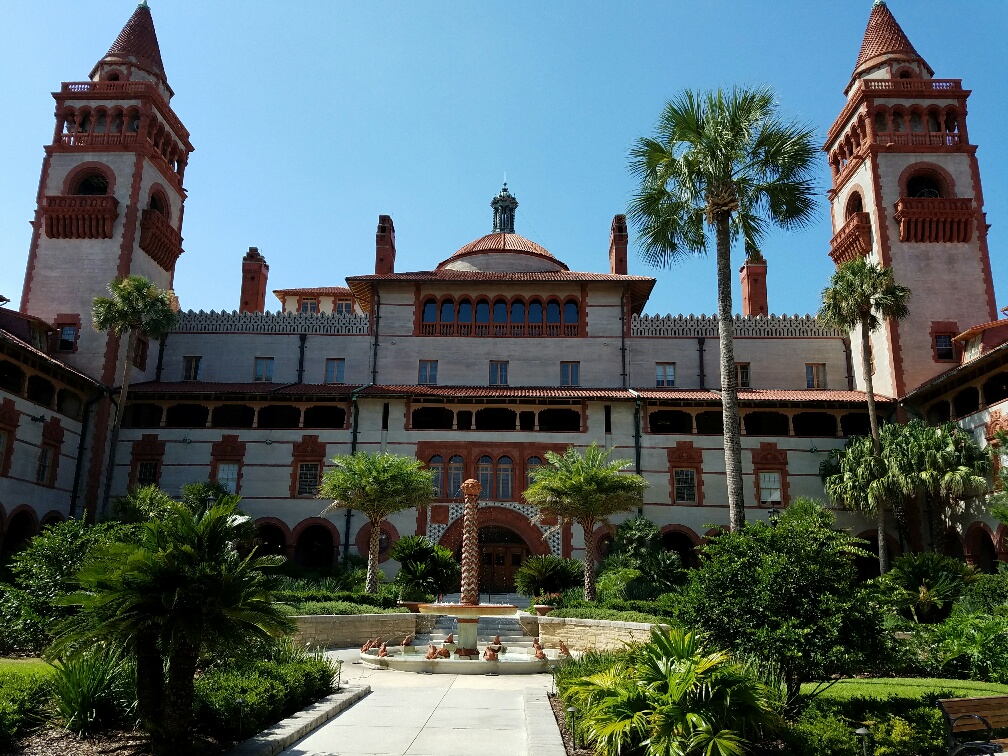 The architecture is incredibly ornate and stylized.  It reminded me of Oxford if Oxford was built in Spain.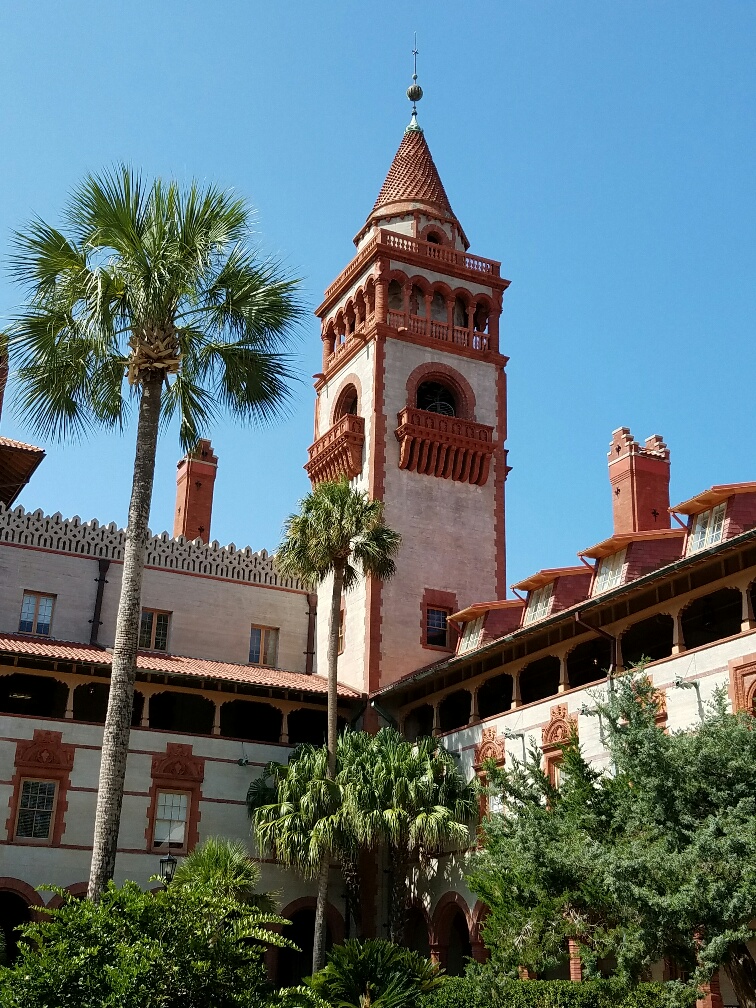 Even the entry gate is detailed and inspiring!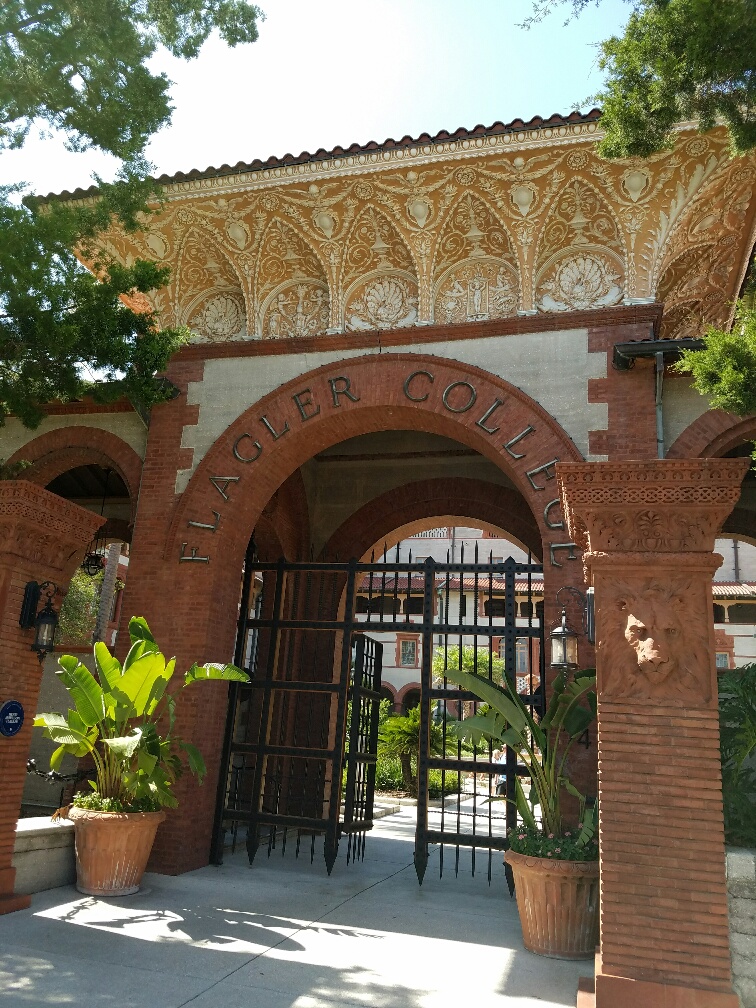 Tours are offered of Flagler college, but we didn't have time to take one as supper with the Skipper was approaching!
I first met Skip at his breakfast interview for the Duval project.  I was barely half awake having flown in on an almost-red-eye flight the night before from California. Fortunately, I got to know him much better over the next year.
I had moved from Wyoming to California just a year or so earlier, and one of the first things I remember about Skip was that he drove a Mercedes SUV, a Porsche Boxster, and had a yacht.  Which made him the richest guy I knew!
The yacht was really just a large sailboat, but no less impressive.  To me it was a yacht. One day, I told myself I would be like Skip!  Sure enough, I eventually owned a Porsche Boxster, a Mercedes SUV, and a sailboat.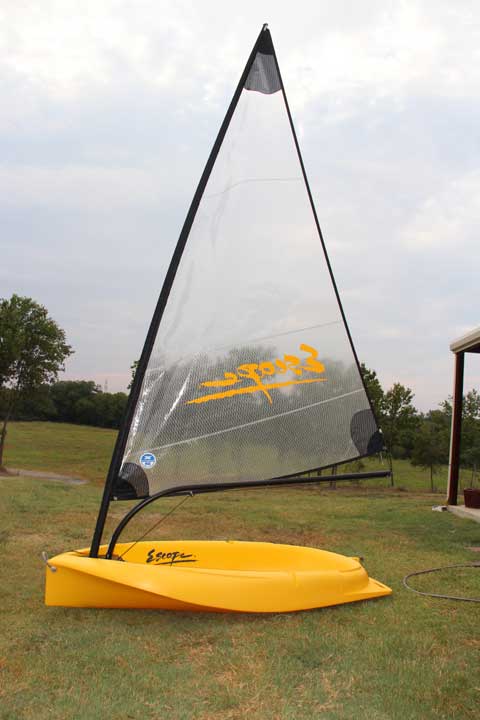 Admittedly, my sailboat was not quite as impressive as his, but hey, it was something!  Years later I sold that sailboat to a friend whose kids got good use out of it!
We arrived at the restaurant and saw Skipper waiting for us with his wife Jeannie.  He hadn't changed a bit.  In fact, I think he was wearing the same shirt I remembered from 15 years ago, complete with "I have a serious day job" pens in his pocket.  I suspect his day of actual work was tougher than my day of actual sightseeing.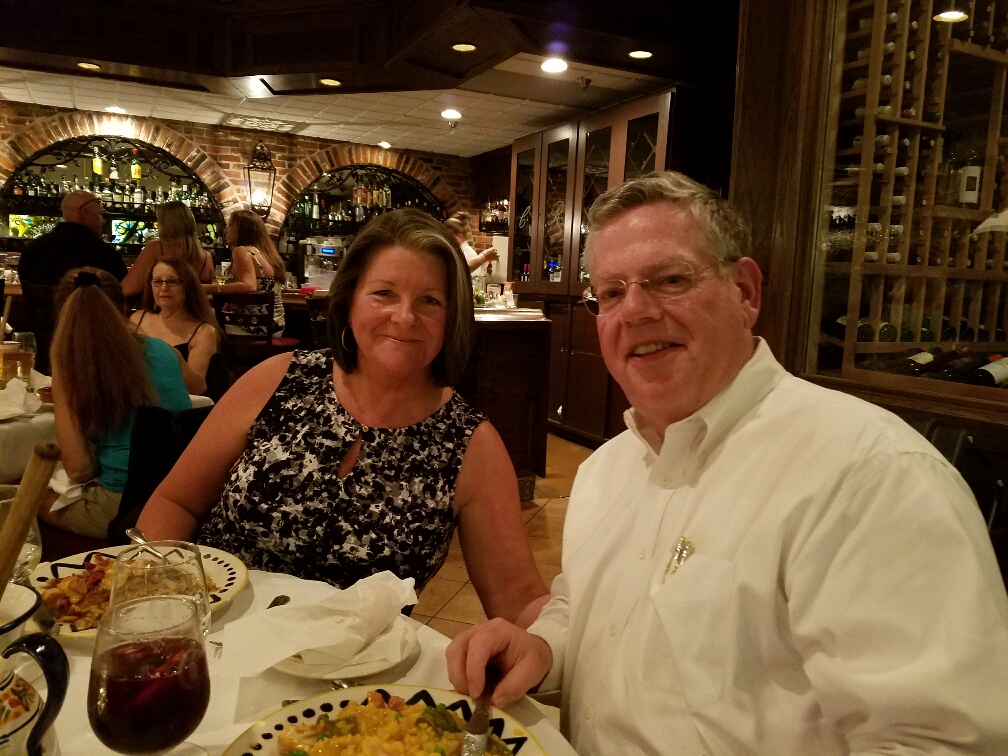 Skip and Jeannie had also been on a trip in their RV recently.  It sounds like they are itching to take the next step and live MoHo!
If either of you are reading this, I have just two words for you:  Diesel Pusher.  There.  You have been advised.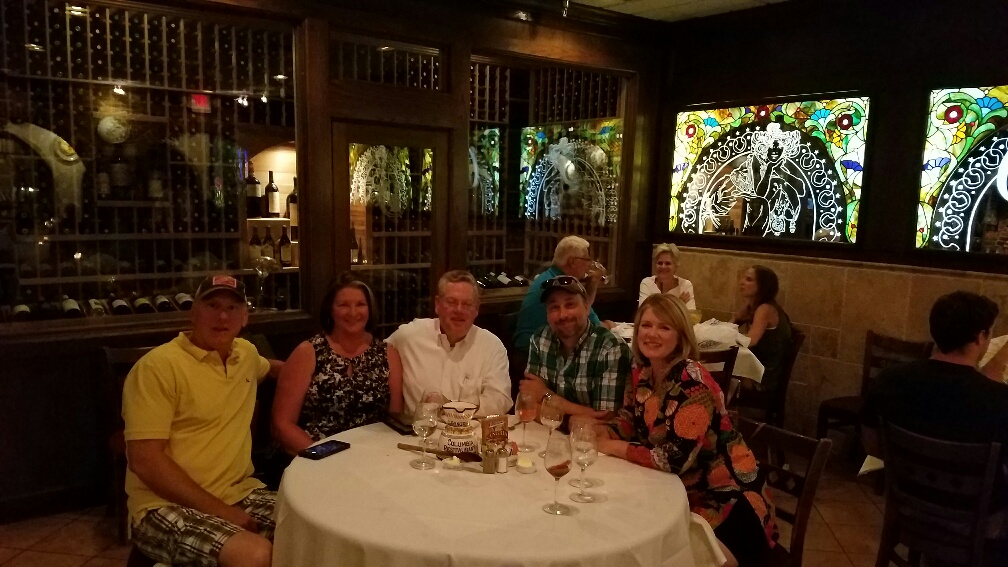 We scarfed down some Cuban food and Sangria made right at the table and talked about the old times.  Then we realized the old times weren't as interesting as looking ahead to new fun times.
Jeannie, two words.  Diesel Pusher.
After dinner, which lasted well into the night, we made our way back to the Stagecoach RV park.
The next day we said bon voyage to Sean who turned back south and headed for the Florida keys.  One day, we'll head that far south and check them out.  Hopefully after Sean does a complete report from his scouting party visit.
We made our way back to the downtown area to see more of the sights.  The Lightner Museum was across from Flagler College.  It is in the old historic Alcazar Hotel which was built in 1888 by Henry Flagler.  The building also serves as the location of City Hall.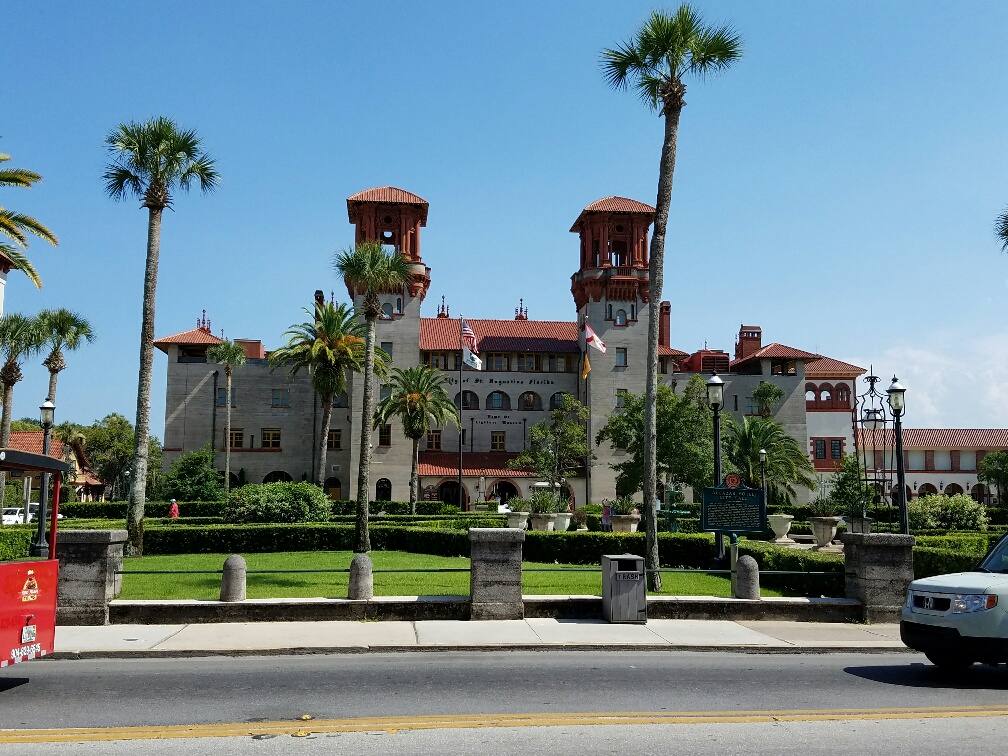 We really had no idea what to expect from the Lightner Museum.  Which is good, because I would have had a hard time describing it. The interior of the building alone is worth a visit.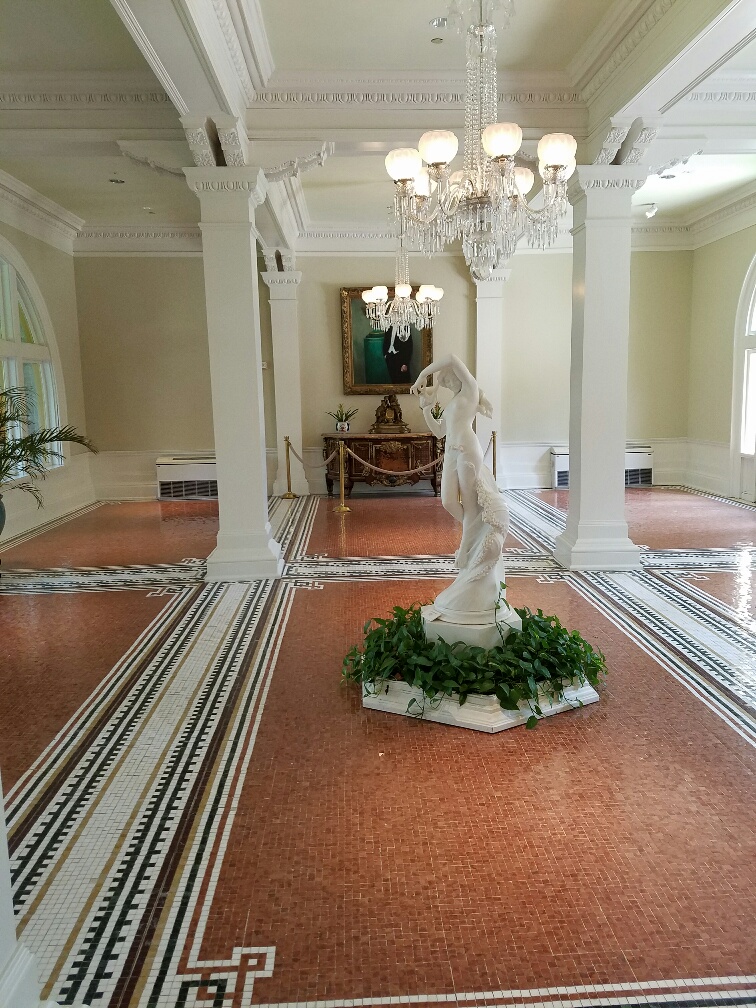 It is very ornate and highly decorated. The museum part of the experience is, shall we say, different.  Remember when the auto museum in Tallahasee ended up being a collection of collections?  Well, Lightner takes that to a whole new level.
There is a natural history section, but its a collection of weird natural history.  Like this shrunken head.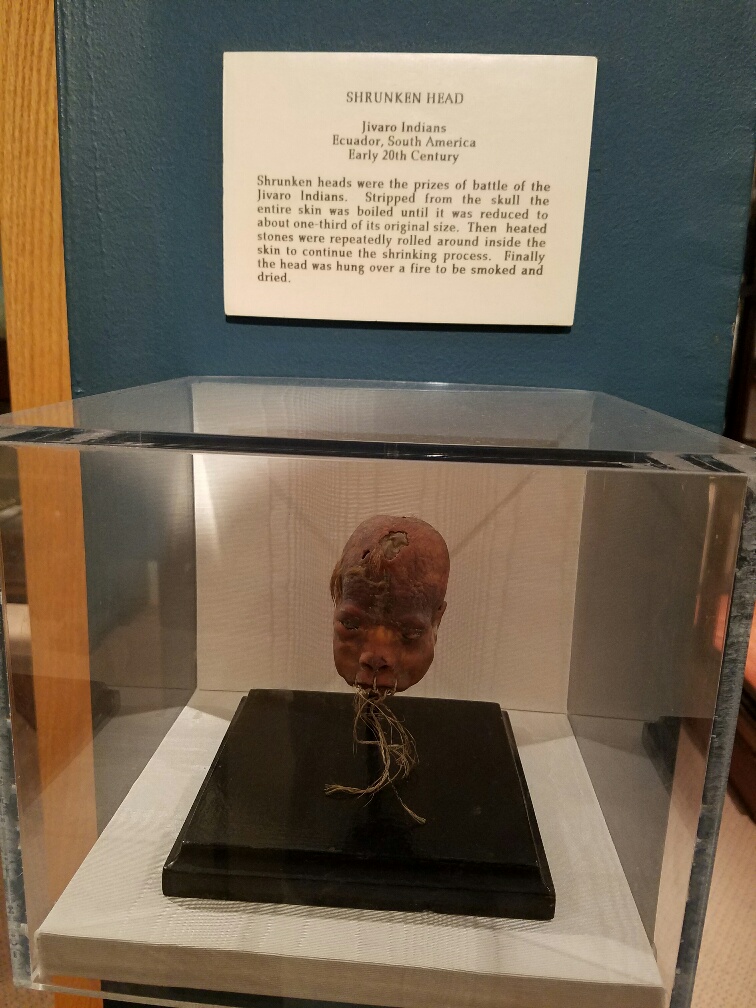 Upstairs is a mix of collections. For example, the toaster case. Next time you think about throwing that old toaster away, instead think of Leonard H. Baer and his toaster collection!  You too could be immortalized if only your scavenging skills are up to par.
Toasters not your thing?  How about spoons?  Or buttons?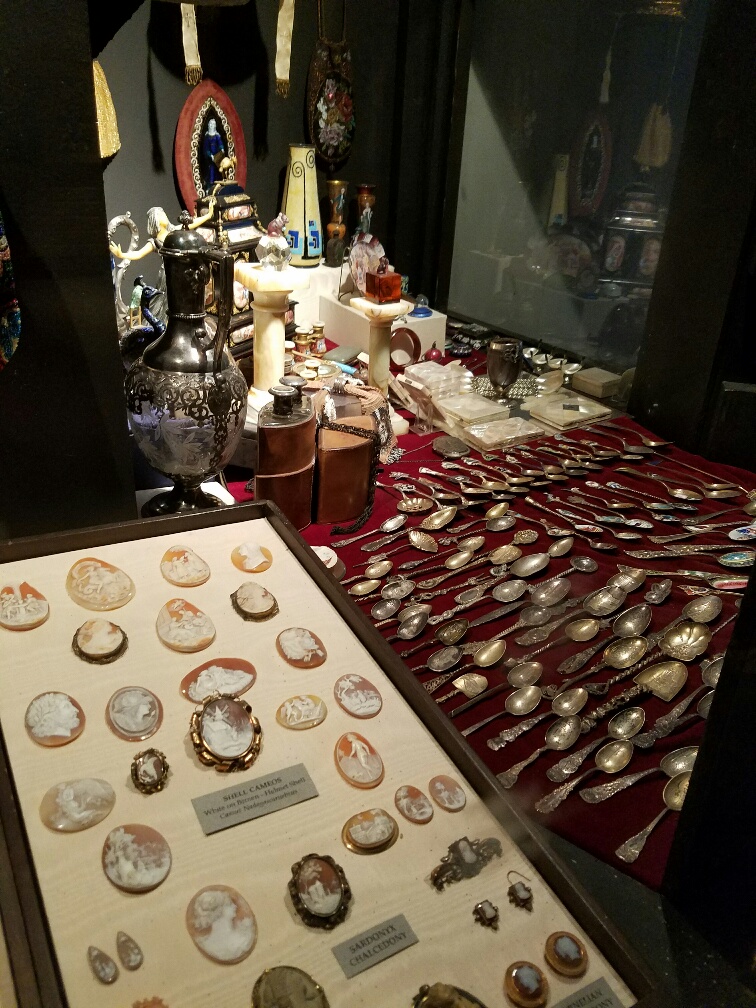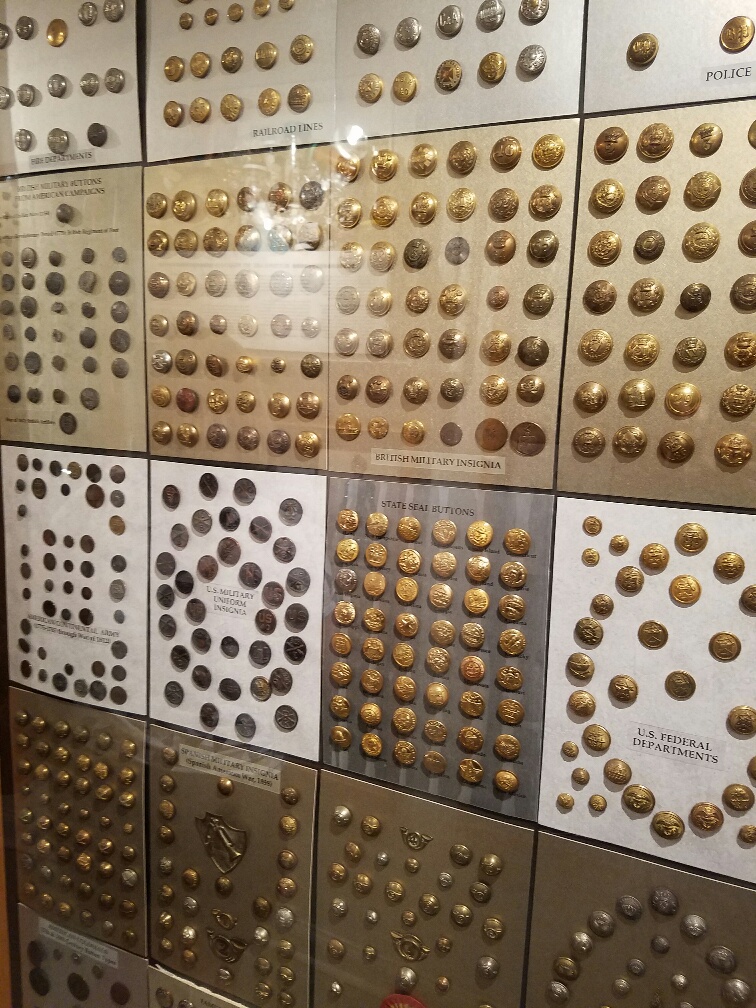 Perhaps in keeping with the kitchen theme you find crystal glass more to your liking?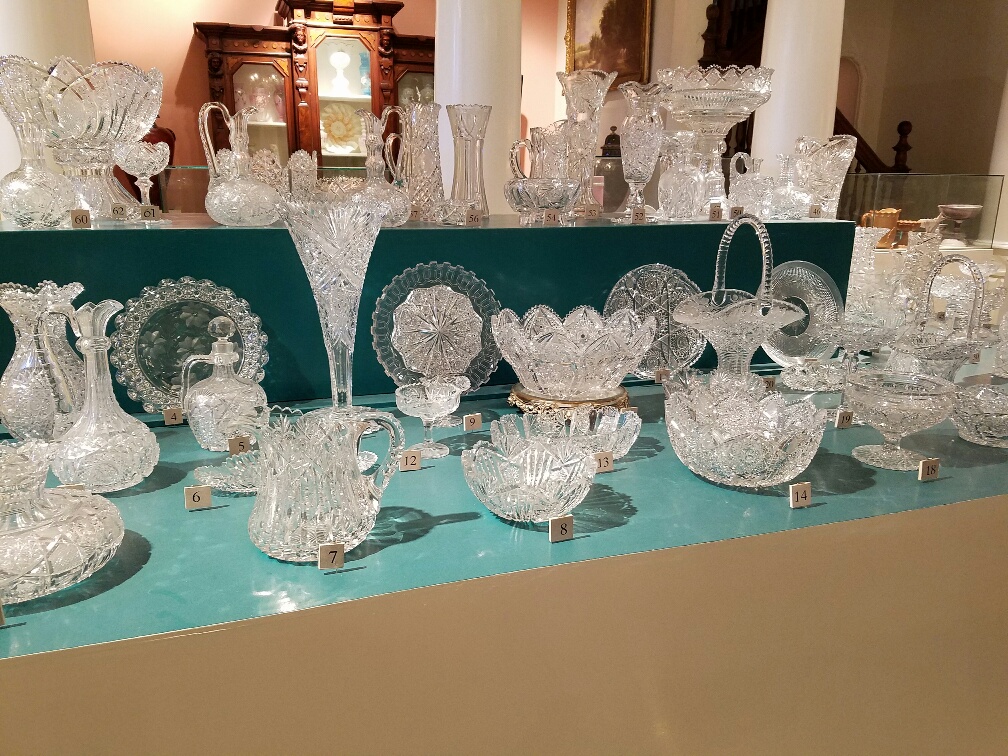 Crystal glass too obscure?  Well how about something more mainstream.  Something that is easier to collect. Like Asian-themed porcelain monkeys.  What house couldn't use a few of those?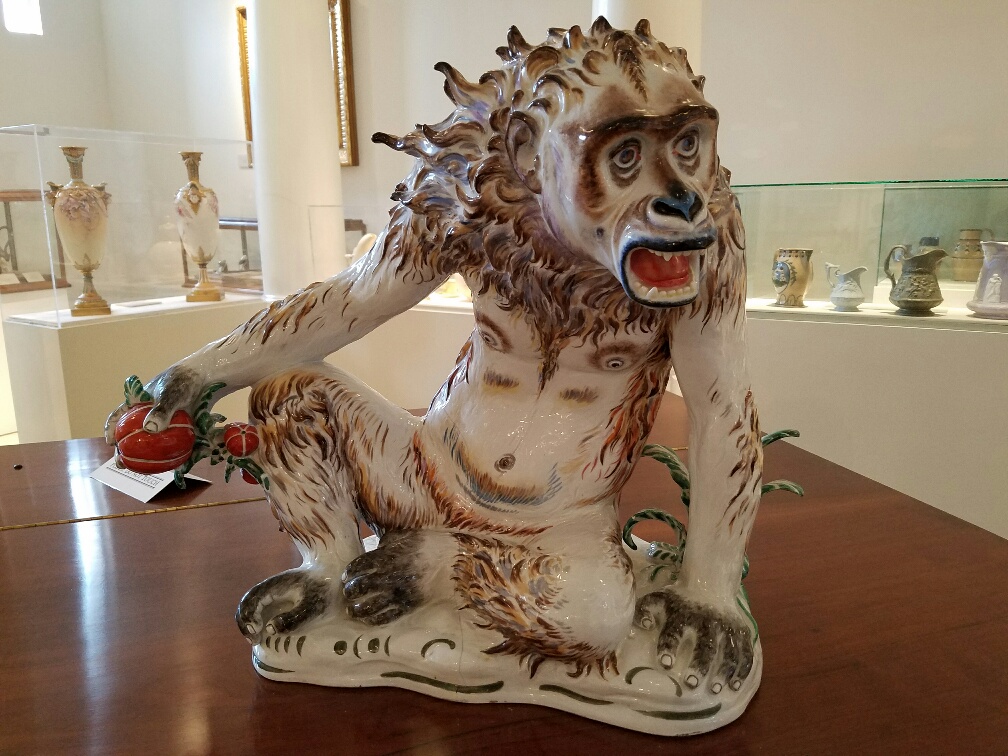 I bet the furniture is more of your style.  Take this chair and end table, for example, which I call "The Trevino."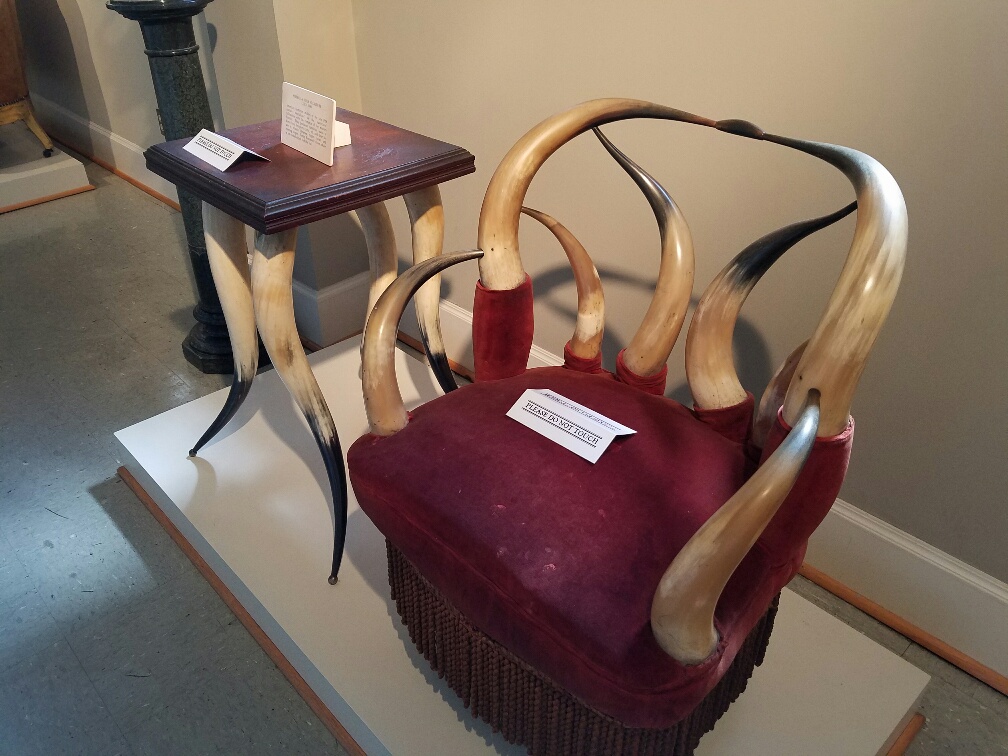 There are flower arrangements made of tiny shells, under glass.  A LOT of them.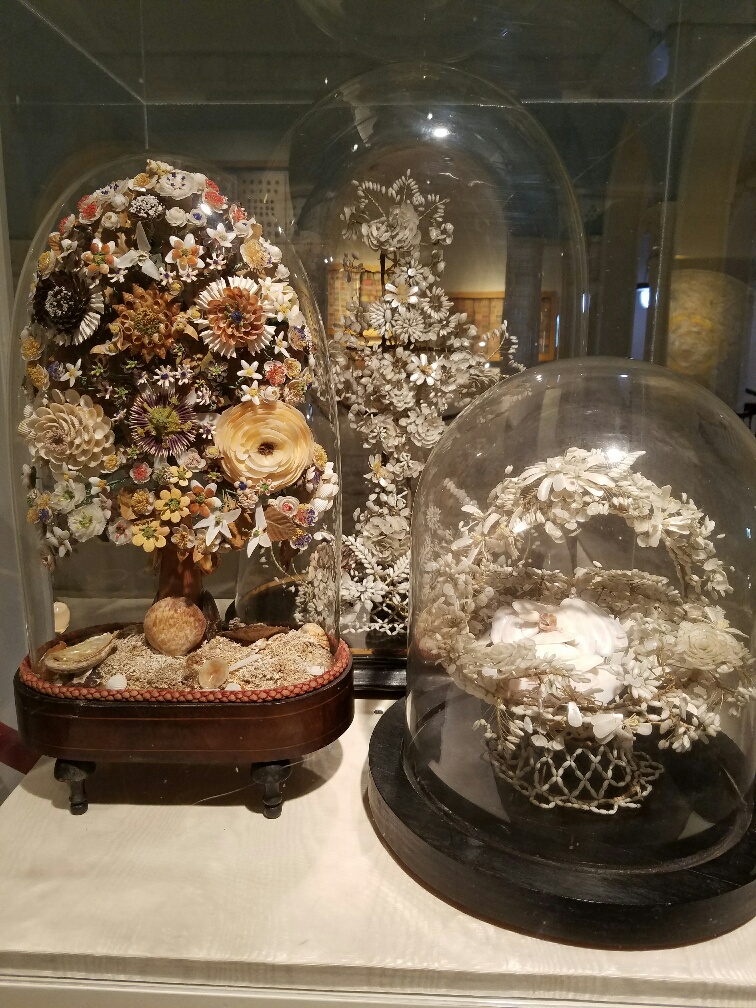 There is a stained glass window collection.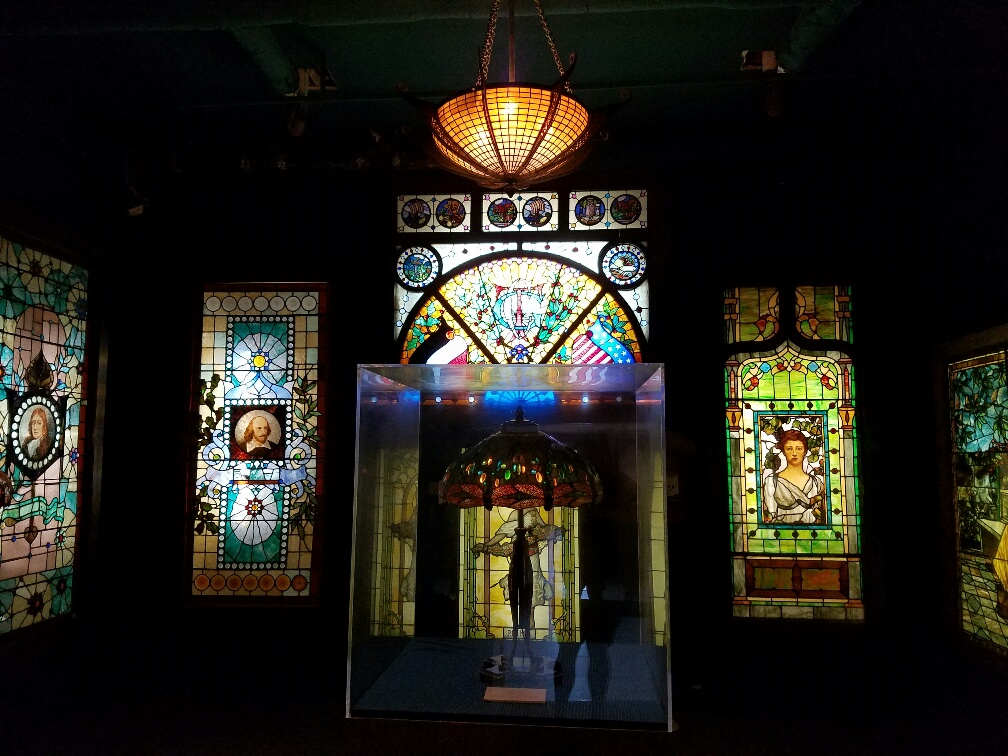 Without a doubt, the Lightner veered into the crazy-cat-lady category with the beer bottle label collection.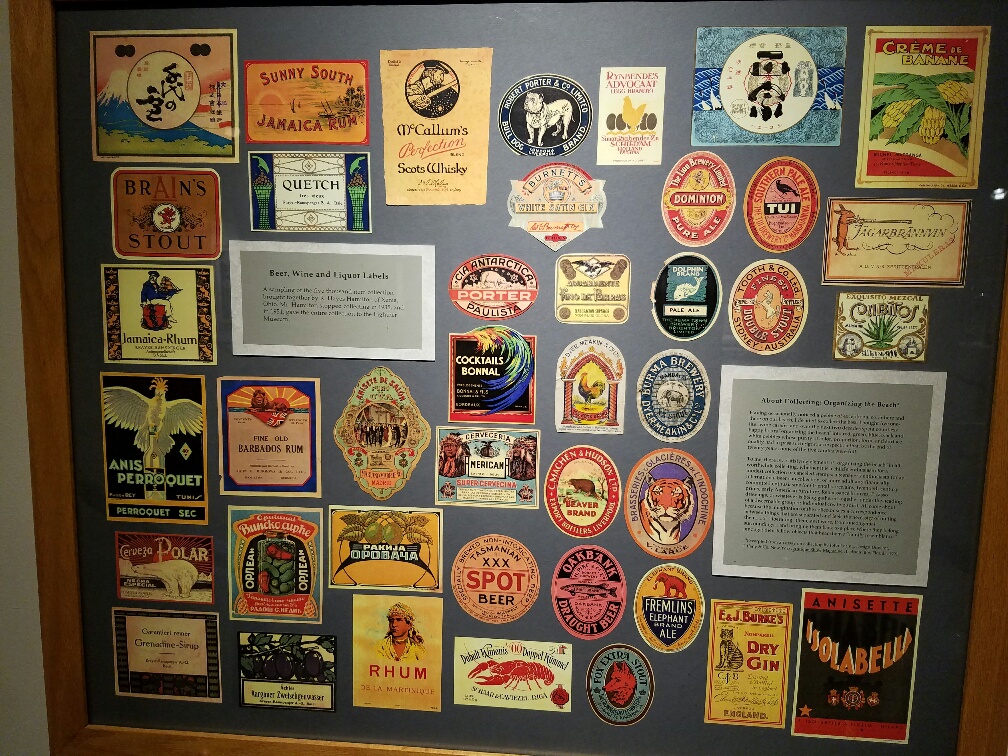 So its a super random collection of collections. The building though, is still as magnificent as it ever was as the Alcazar Hotel.  One highlight is the converted pool.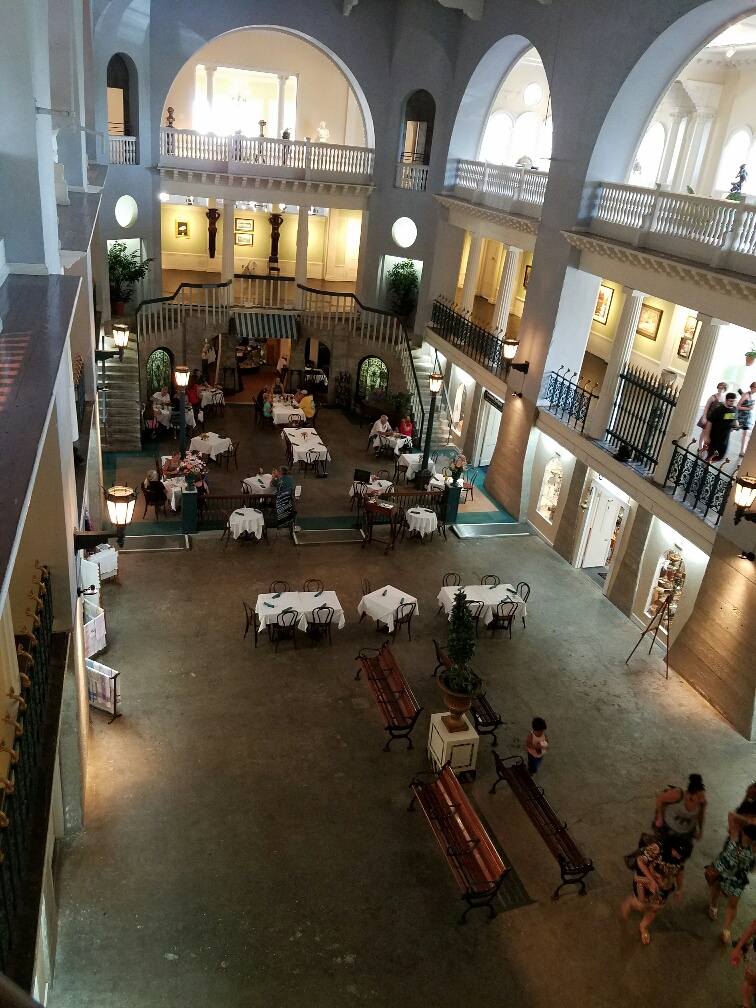 The Alcazar once boasted the largest indoor Hotel swimming pool in the entire country!  Today, that pool has been drained and replaced with a shopping concours and dining area.  We looked down at it from the observation deck.  The floor still slopes, a reminder of its first life as a swimming pool.
After all that art and architecture, it was time to head for the outdoors.  First up – the beach!
We weren't really dressed for a beach day, but we definitely wanted to check it out and see how it compared to the current gold standard beach – Navarre!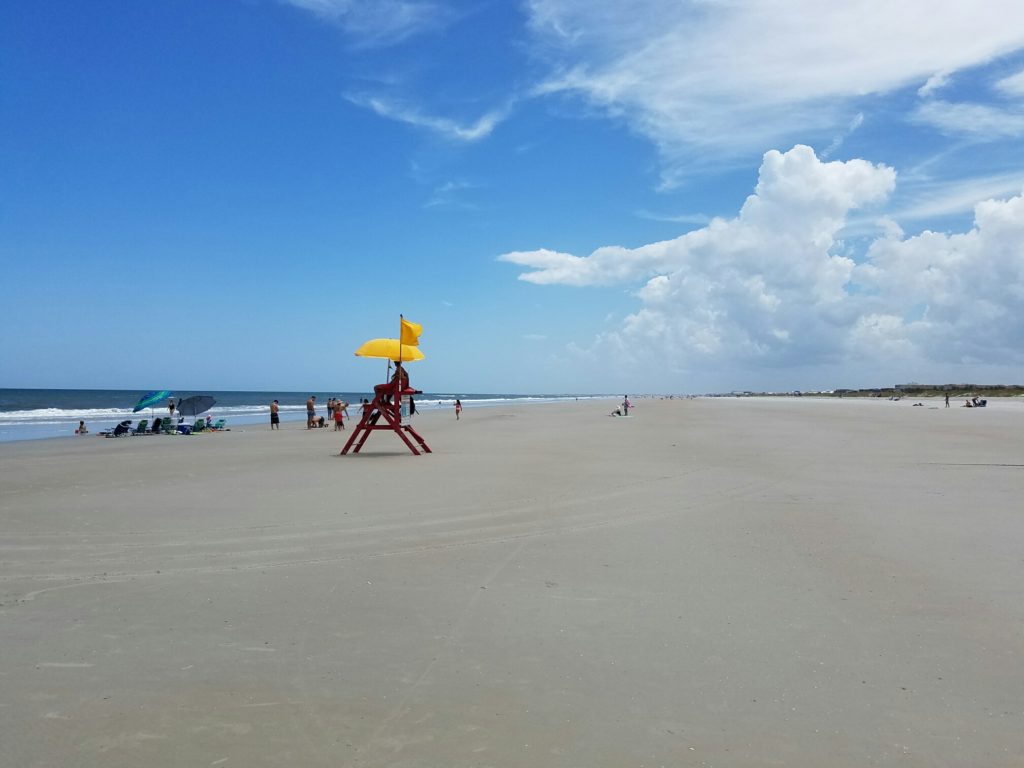 The beach is YUGE!  Probably the widest beach I have ever seen!  It is at least 100 yards from water to dunes over a flat area.  The tide was out a bit but that's not the sole reason. The sand was fairly hard even 100 feet from the waterline, not powdery soft like Navarre.  Not a lot of shells or rocks though, so good for walking.
As we walked to the beach, we saw a sign at a small toll booth that said "4 x 4 Only."  Huh?  I had to check that out.  The guy staffing the booth told us that cars are allowed on the beach but since the sand is so soft and deep that only 4×4 are allowed.
Wahoo!  We had to try that!
He asked if we had a "real" 4×4 and I kind of smiled when I said, "what's a real 4×4?"
He said, "like a Jeep" with a voice full of suspicion.  Like I might have a RAV4 or Honda CRV or something.
When I said we had a Wrangler he completely changed his tone and said we'd be just fine!
We pulled onto the sand, which quickly became deep ruts just like they warned about.  A car could have gone about 1000 feet and then would have been badly stuck.  But not us!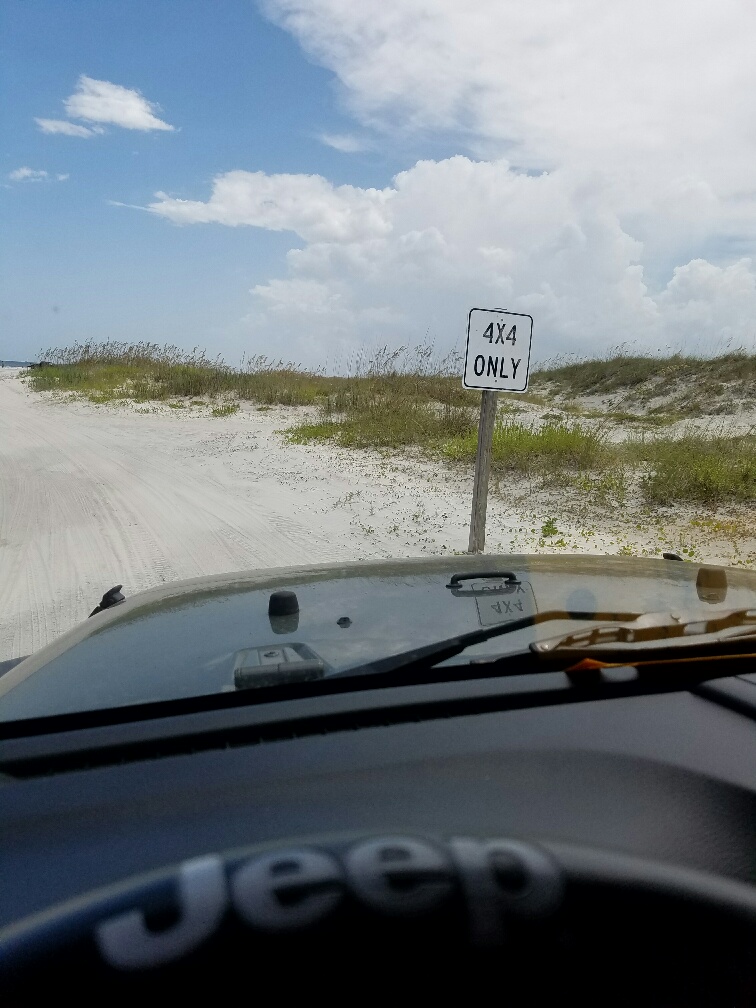 It turns out there are 12 miles of beach trails that we could drive.  We could pack a beach kit, head up the beach in our Jeep, and basically get our own private spot.  Cool!
Since we didn't have our beach kit though, and having scratched our off-roading itch, we decided to head back to pavement.  We were advised to "see the lighthouse."  So that's where we headed.
The St. Augustine lighthouse was built in 1874 and remains an active lighthouse. It is built on the site of an older lighthouse that was erected in 1824. Which was in turn built on the site of a Spanish wooden watchtower dating from the late 1500s.  The wooden watchtower saw the attack on St. Augustine by Sir Francis Drake.  Basically then, some sort of lighthouse has stood on this site as long as Europeans have been sailing ships past St. Augustine.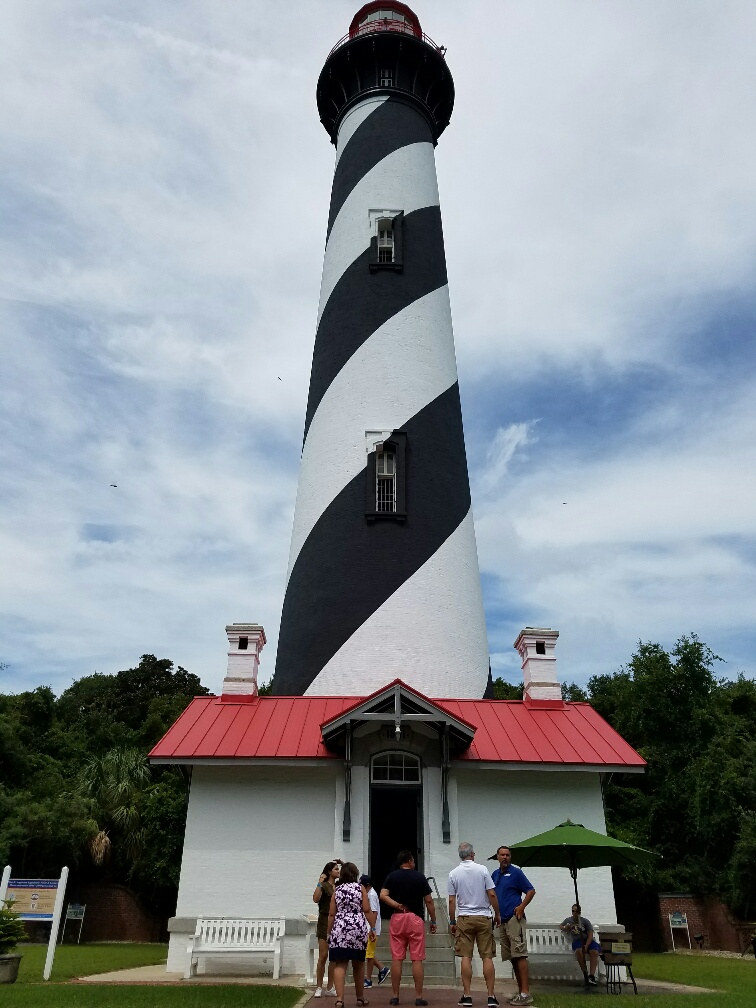 Hiking up to the top is both a good workout and a thrilling experience.  The spiral staircase is made of cast iron and winds its way up the interior curve of the lighthouse.  The steps are easily seen through, meaning it is very obvious how high up we were.  We just had to keep telling ourselves that they were still safe!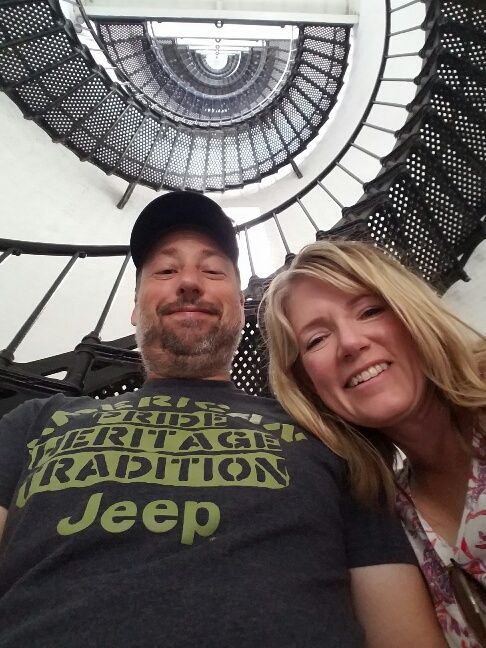 Midway up the 165′ tower, the vertigo starts to kick in.  By the top, the spirals are tight and it is very clearly a LONG way down.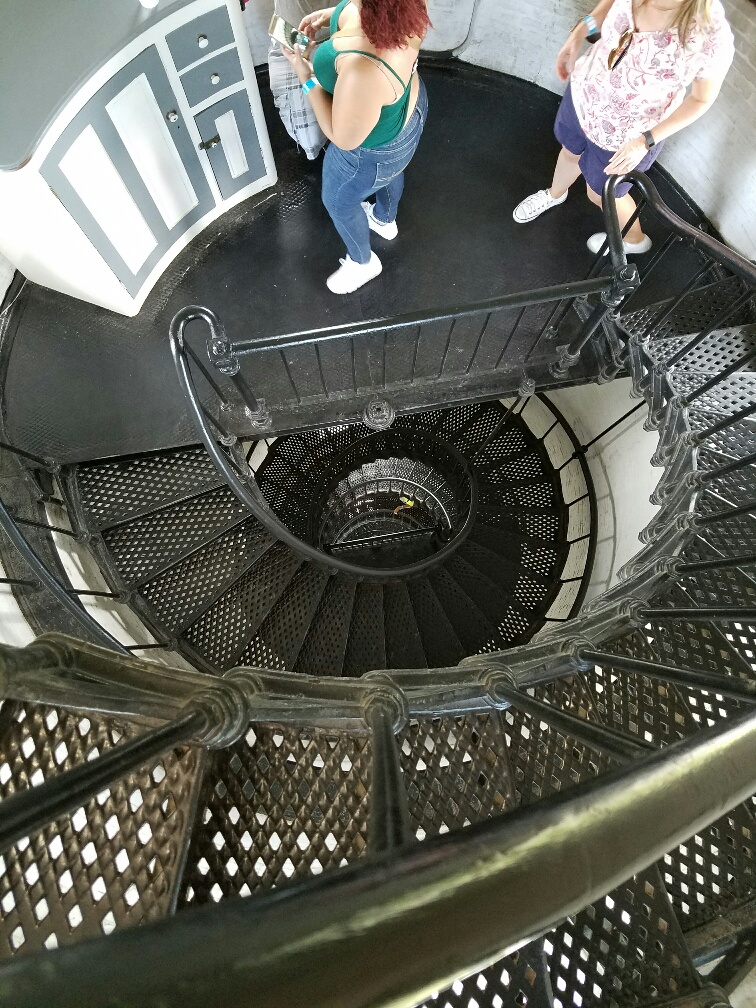 Looking down, I had just one thought:  Jeannie – Diesel Pusher!
The brick structure is cracking as the lighthouse settles.  To put our minds at ease, by which I mean increasing the Tower of Terror effect – measurement gauges are positioned throughout the structure, like this one. I'm glad the engineers are keeping an eye on it!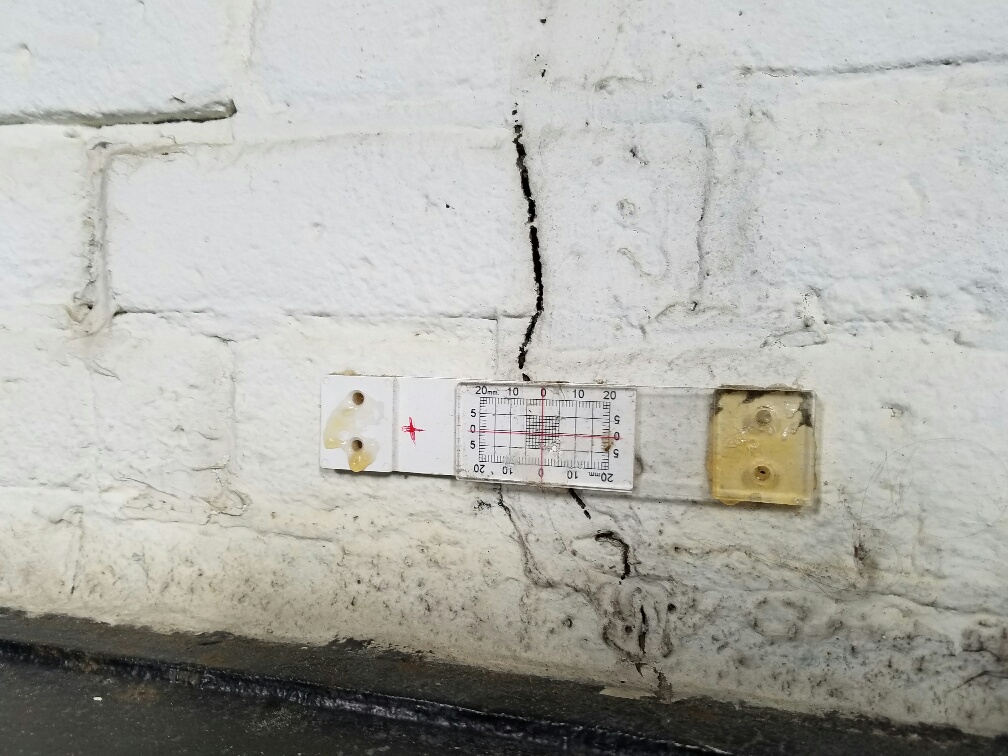 The hike up is worthwhile because the views are incredible!  360 degree views of Anastasia Island and St. Augustine were ours!  The platform was empty too.  Few people make the trek all the way to the top.  Half are too overcome with fear of heights that they turn back on the stairs before reaching the top.  Quite a few make it to the top but won't step out onto the observation platform.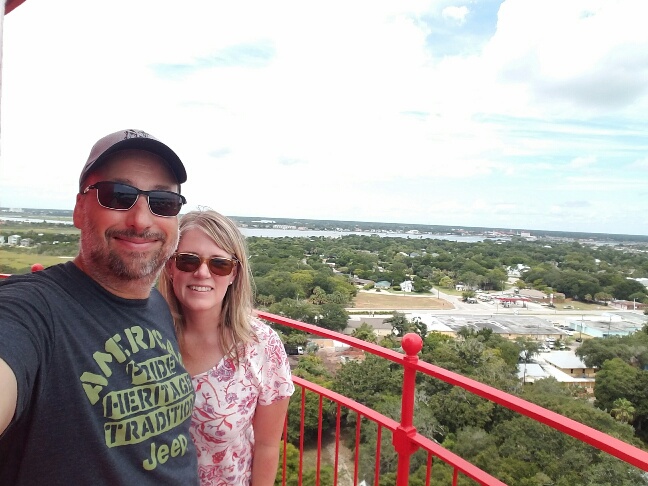 I can understand both.  It is a very exposed climb to the top and even more exposed on the platform. But hey, its only cracked a little and I'm sure that iron work isn't rusty anywhere.  Its only 140 years old after all, and not like its right next to the salty ocean or anything.
The giant Fresnel lens at the top is a masterpiece!  Each of the handmade lenses focuses light from the bulb to intensify the lighthouse beam.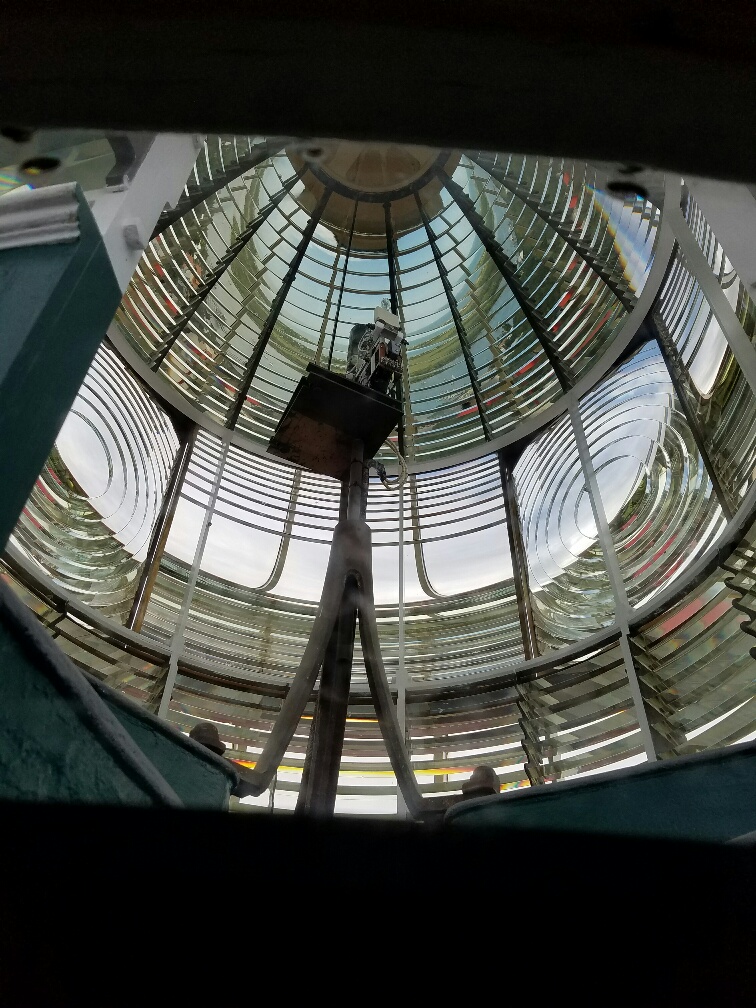 After walking back down the surprisingly solid steps, we though we would do something safer.  Like look at alligators.
Fortunately, the Alligator Zoo is basically right across the main street from the lighthouse.  We arrived right at feeding time!
I took a 2 minute video of the feeding.  They threw out alligator pellets as well as full-size adult rats.  Ew.
The American Alligator pond was up front near the entrance.  The Asian alligator pond was 3x the size and in back.  Guests could buy handfuls of alligator chow, which looked a lot like dog chow, for $0.25 and throw it to the gators from a raised walkway.  Alligators are pretty stupid, but they know a free meal when they see it.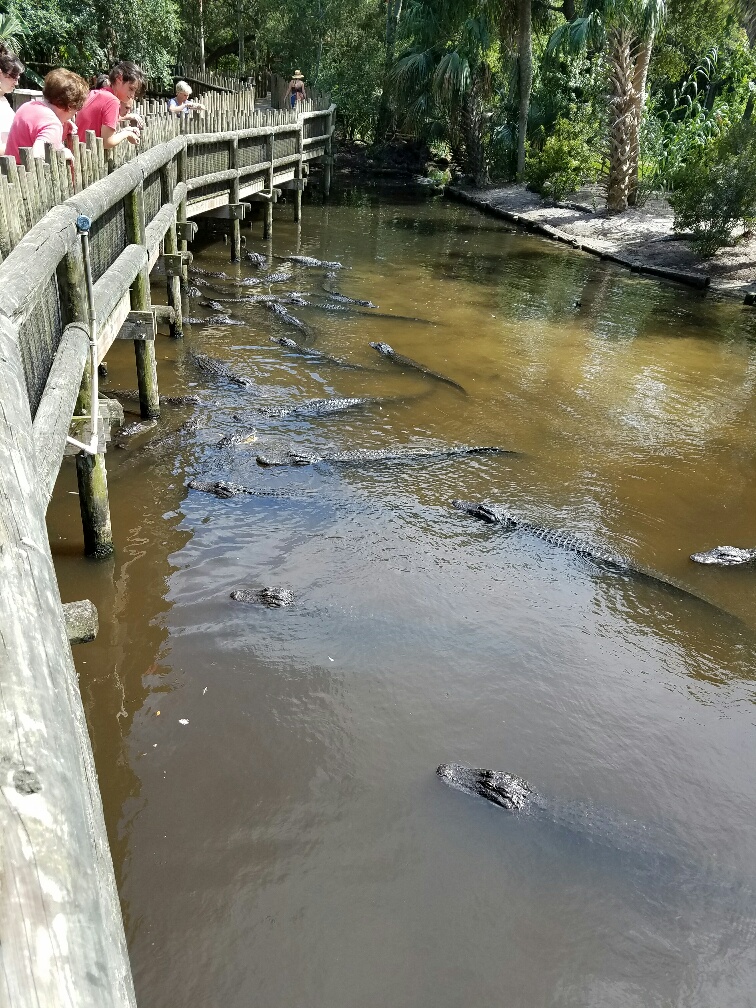 The zoo had just about every species of alligator and crocodile, including some rare albino alligators. These are a beautiful white color which really stands out!  Of course, albino alligators wouldn't survive in the wild.  With that bright white skin, they would be eaten by predators long before they ever grew to this size.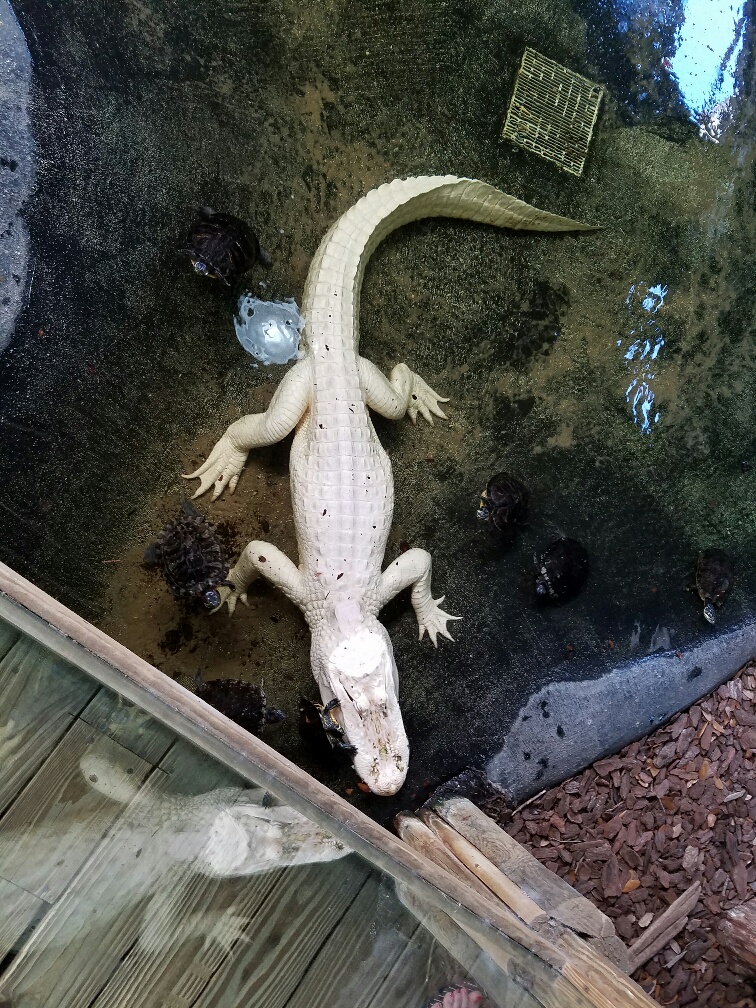 There was a very extensive ropes course at the Alligator Zoo. Over 40 different stations on the full course!!  All right above the mouths of hundreds of hungry alligators.  We totally would have done that if we had time.  Next trip.
All along this journey, we have encountered a lot of interesting places.  Most come and go and get a mention in the blog.  Some really stick with us, like Carlsbad Cavers (The caverns are as awesome as Carlsbad is awful).  St. Augustine is one of those rare places that, to us anyway, just felt really good.  It has a nice vibe, a combination of ultra old-school downtown with ultra-modern factory outlet malls.  Beach town but also sophisticated with Flagler College and lots of art galleries.
We certainly plan to return and spend more time; there was a lot we didn't get to see and plenty more that we would see again!  In the end, I would have to say, thinking about all we did and all we saw that:
Jeannie – Diesel Pusher!