We continue to enjoy our view.  Our RV campground is right next to San Diego Bay.  Well, technically there is a small strip of park between us and the Bay, but close enough!  Out our left window, we see Tijuana.  Straight ahead we see the Silver Strand.  To the Right is Coronado.  Far right is downtown San Diego.
Not too shabby.
The only downside of this place is that those parking spots ahead of us seem to attract a surprising number of Californians enjoying their newly-legalized marijuana rights.  Only nobody told them it is still illegal to smoke in a public place.  At least twice a day we have to shut all the windows to avoid being choked by fumes.
They pull in, blaze up for 15 minutes, and then…..they drive off!!!!  I hope I don't encounter them on the road!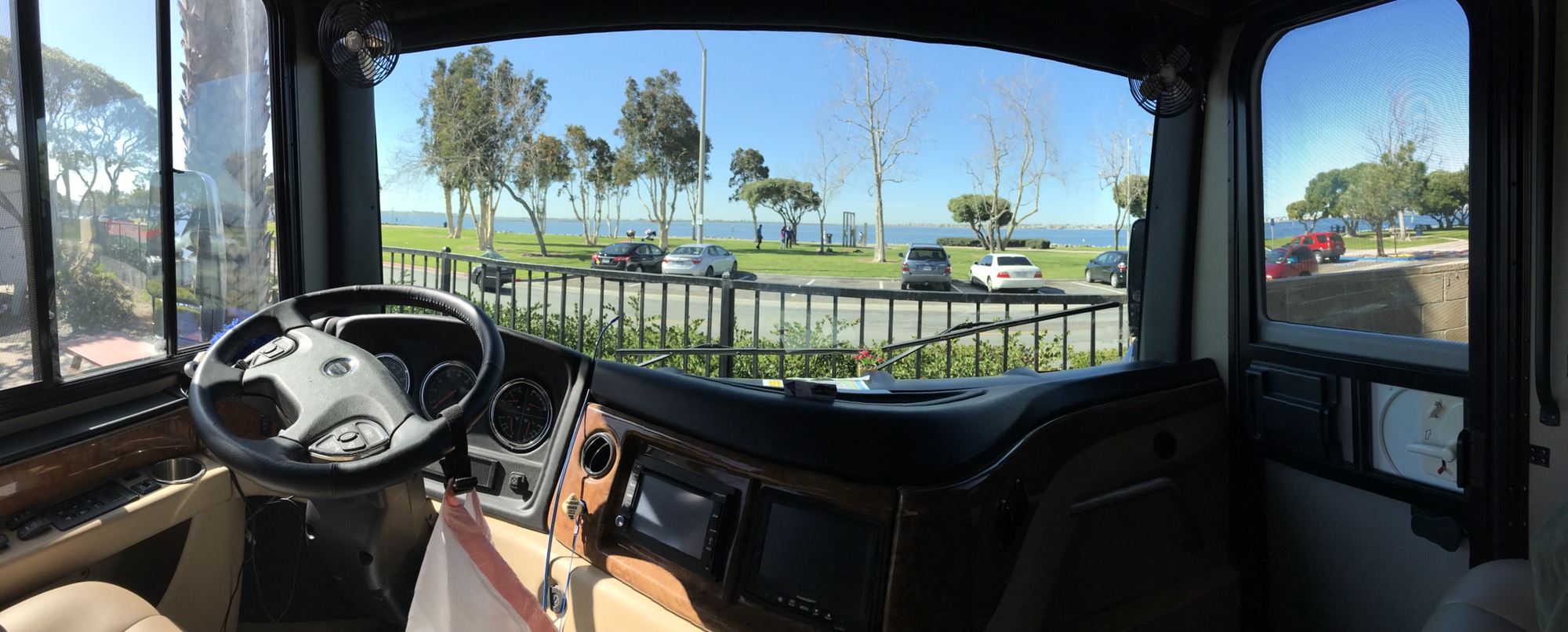 Sunsets are even more spectacular.  The sun settles down for the night in its Westernly bed, putting on a show for us.  Well, not actually every night.  At least half of the nights a dense marine layer/fogbank settles in and we don't get to see that sunset. But the nights we DO see make up for it.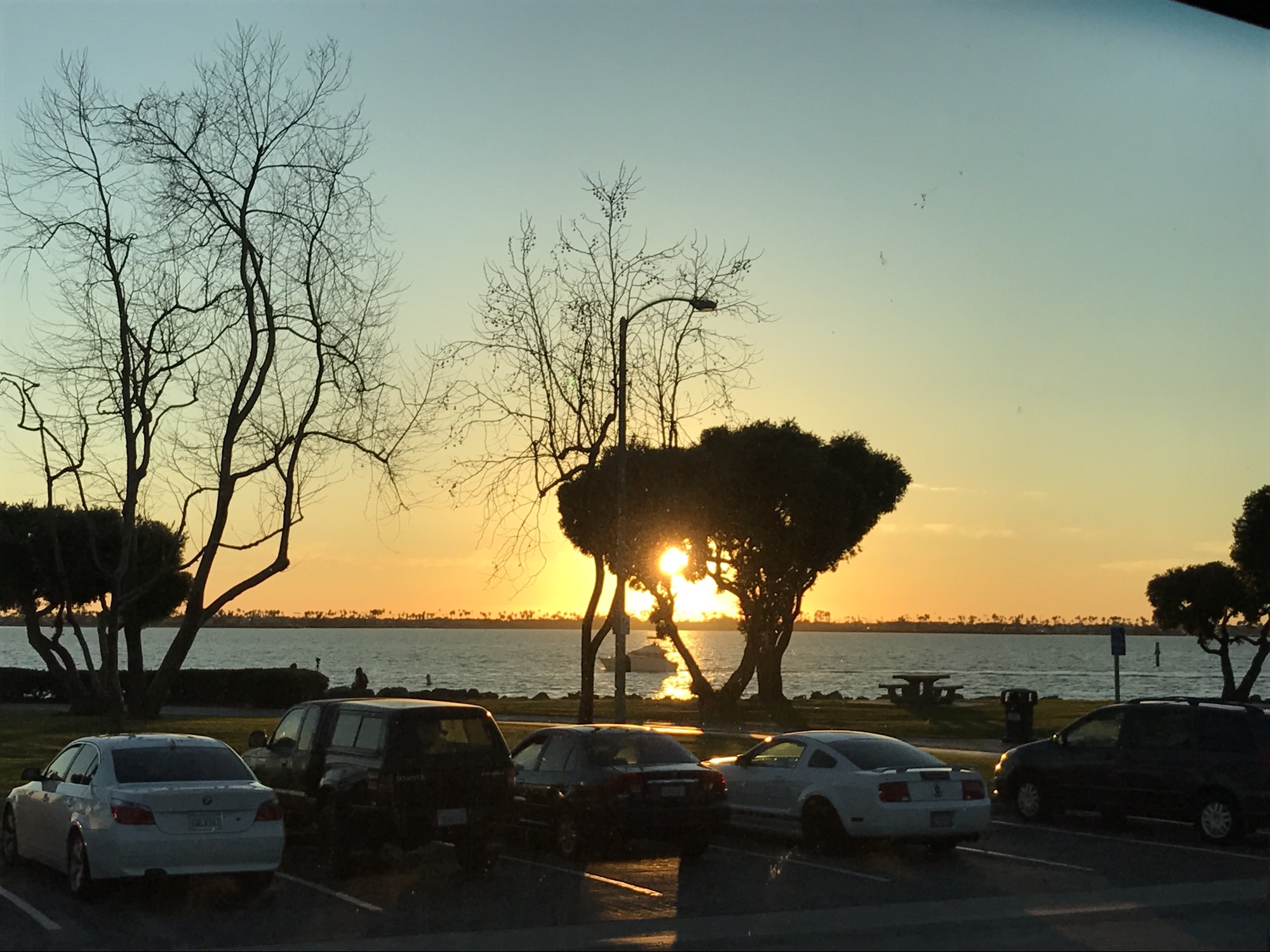 One big change we made was jumping on the T-Mobile bandwagon.  Anyone who reads this blog knows the constant challenge we have to get bandwidth. Campground WiFi rarely works and when it does, it is typically very slow. Only 3 campgrounds on the entire trip  – out of 57 – could claim to sustain WiFi speeds over 5mb/sec.
Our wireless options were barely sufficient, giving us a combined 50GB of bandwidth per month. We had enough for general use like app updates, photo backups, web surfing, e-mail, and the occasional Youtube, but not enough to stream movies. At a total cost of $315 per month!!
Enter T-Mobile.
T-Mobile has a new plan that gives us 2 lines with unlimited data for $100.  Including all the taxes and fees.  They even threw in a 3rd line completely free.  Each line has unlimited data but may get speed reduced after using 28 GB (they upped it to 30GB two weeks after we joined).  Each line also has 10gb to use as a mobile hotspot at full speed.  After 10gb the mobile hotspot WILL get slowed.
So that's 90 gb of high-speed data plus 30GB of mobile high speed hotspot and unlimited after that.  For $100. That's a game changer!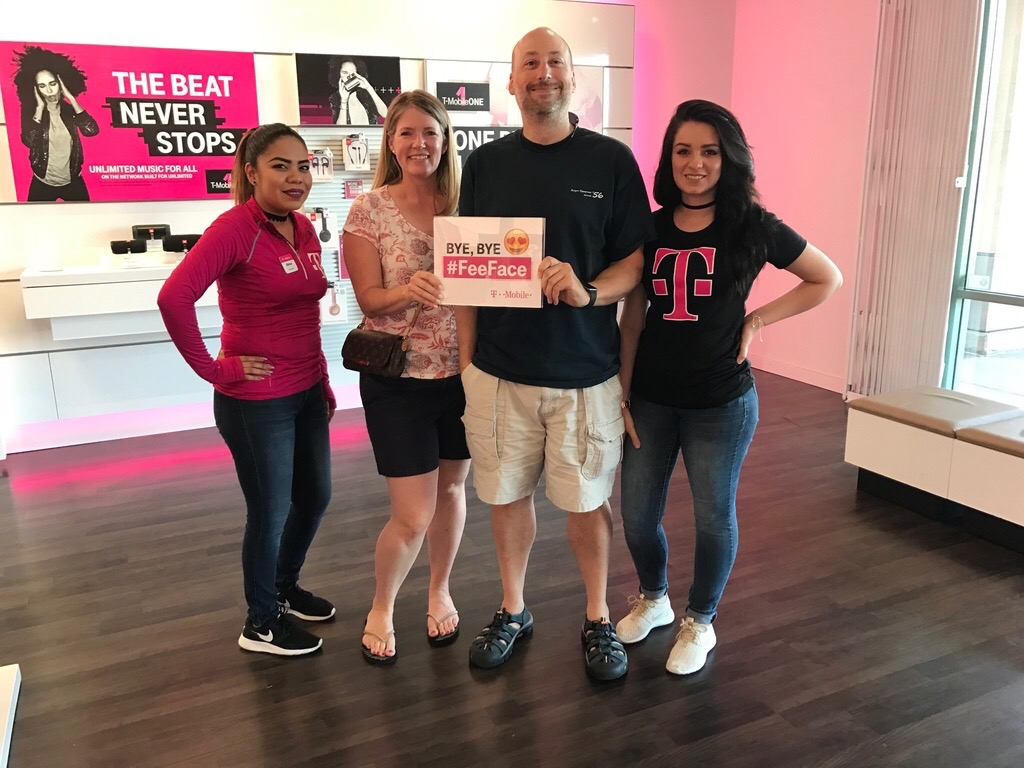 This is huge for us!  Suddenly, we can actually stream media.  We rediscovered the joys of on-demand video from Amazon Prime and Netflix.  Amazon Prime offers a choice of quality levels, with its "good" level being 0.6gb/hour. That means we can watch 50 hours of video per line before we even have the chance of getting speed reduced!  We bought the Lightning-to-HDMI adapter and plugged it into our TV.  Presto!! Instant Streaming!
Of course the speed isn't so great at our campground on either Verizon or T-Mobile so I wouldn't say its a perfect test.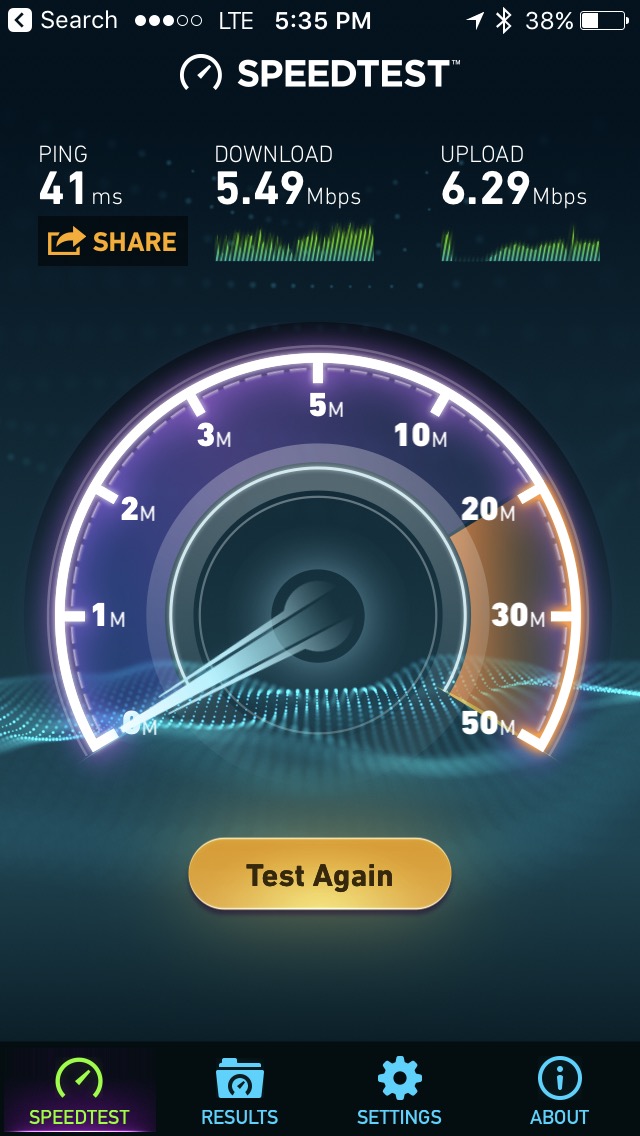 However, Amazon Prime lets movies be downloaded and watched later!  Boom!  Download the entire series overnight, and binge watch over the next week!  PS. Schitt's Creek is pretty funny!
Considering that we pay DirecTV $150/month and often can't use it due to trees or wind, T-Mobile is a breath of fresh air!  Even if T-Mobile doesn't work consistently, it is really not any worse than the dish.  I'm eager to see what our experience is as we move around.
In any case, we're getting closer to being able to enjoy data like we used to when we weren't living MoHo.
A friend tipped us off to a speakeasy in Little Italy.  Only this is not your typical speakeasy.  It is a full-throated no-small-things Tiki Bar!!
The entrance is through the freezer in Craft and Commerce, a gastropub with the best hamburger in the USA.  Sorry. Wait a minute. Let me say that again:
THE BEST HAMBURGER IN THE USA.
I'm not making that up.  I have never had a better burger. Anywhere.  And it is $13 with a huge side of fries. The fries are also delicious, but that burger is fricken amazing!
In addition to the burger, Craft and Commerce has reinvented restroom entertainment. Via the overhead speakers, the staff read one-star Yelp reviews in mocking tones and they are an absolute riot!
"What kind of place serves chicken wings but no ranch dressing'?  THIS place.  One star!"
Anyway, when it is our turn to enter the Tiki Room, the hostess takes us into the freezer.  Inside are crates of fruits and food for the restaurant, plus a few skulls in glass jars!  In the very back of the freezer is a second door, which leads to False Idol!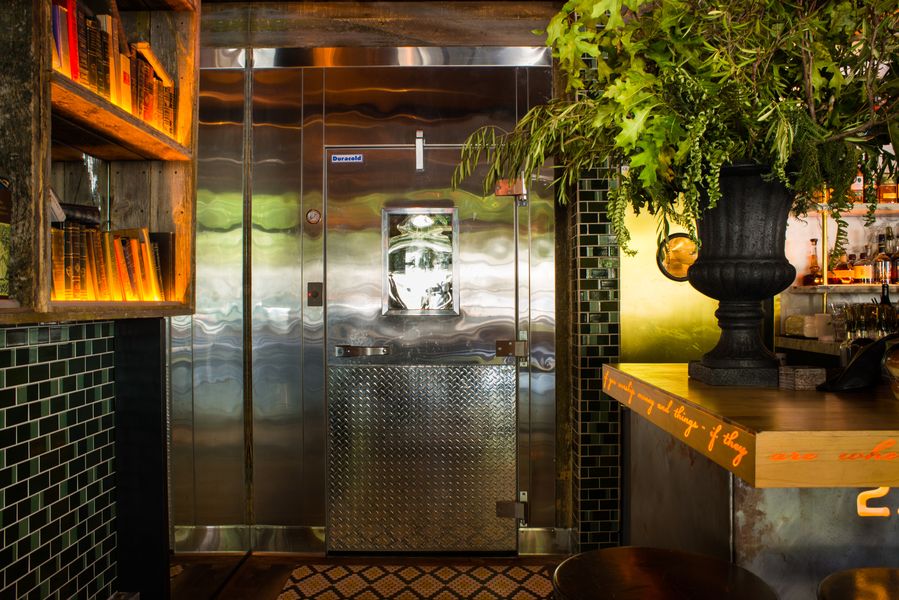 Inside is the most lavishly decorated Tiki bar I have ever seen.  Disney would be proud to call this their own.  It is like getting drinks in a cargo-cult bar in Polynesia!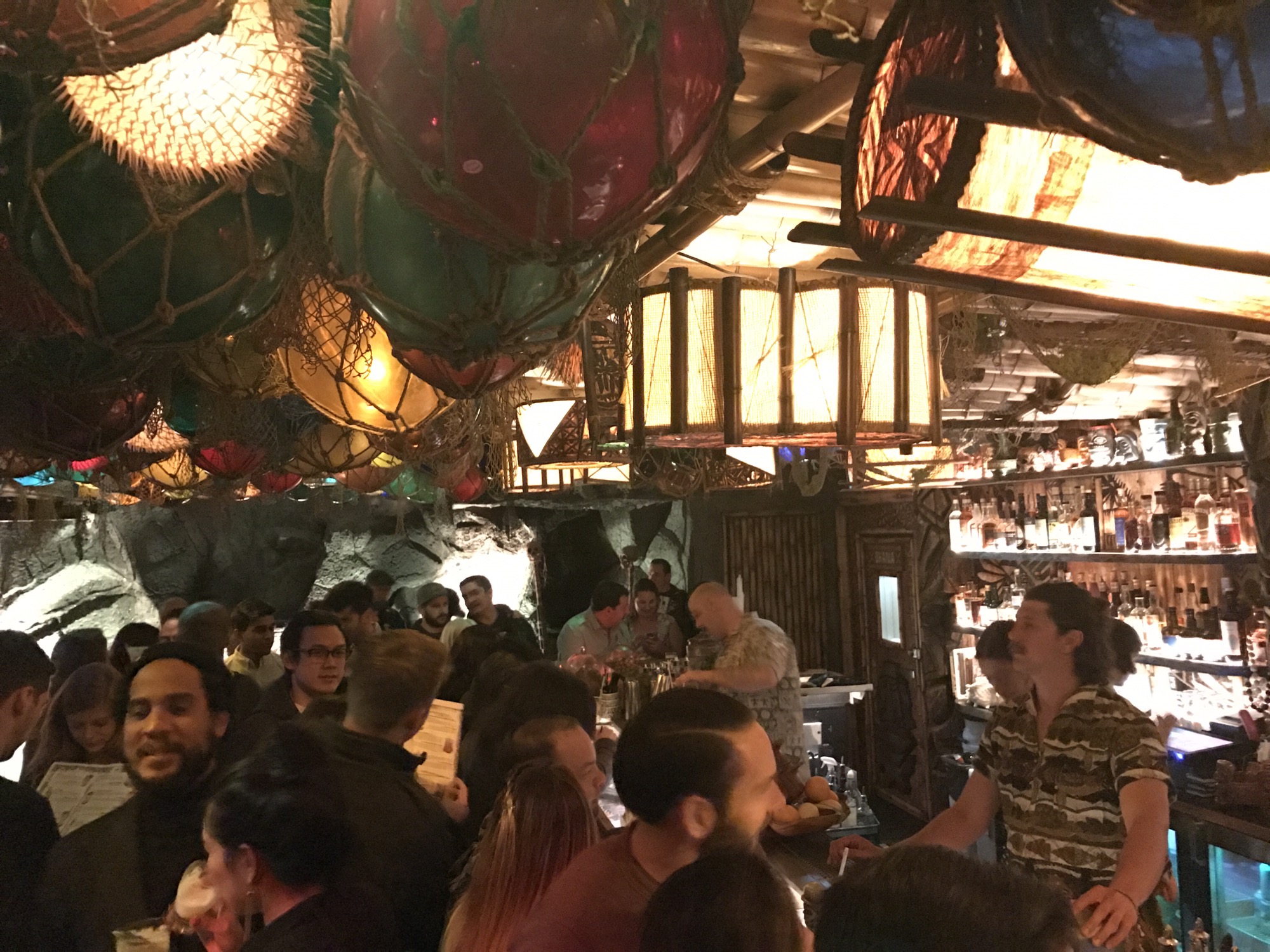 False Idol specializes in high-end rum-based drinks that graced the menu of other beach bars in San Diego, Hawaii, and elsewhere. Each drink is super fresh and comes with a pedigree saying which bar used it as their signature.  Many of these bars have long since closed, so False Idol is now the only place the drink can be tasted.
You know its good when an entire page of the menu is dedicated to "potent" drinks.  Two of these and you're done for the evening!
False Idol also features a thunderstorm every 30-45 minutes.  The lights flicker, the thunder rolls, and lightning crashes overhead.  Patrons seated in the benches along the perimeter are treated to a 4D shaking that has the unprepared jumping right out of their seats!
An entire wall is a waterfall.  Complete with skulls on bamboo pikes.  Because….well…Because!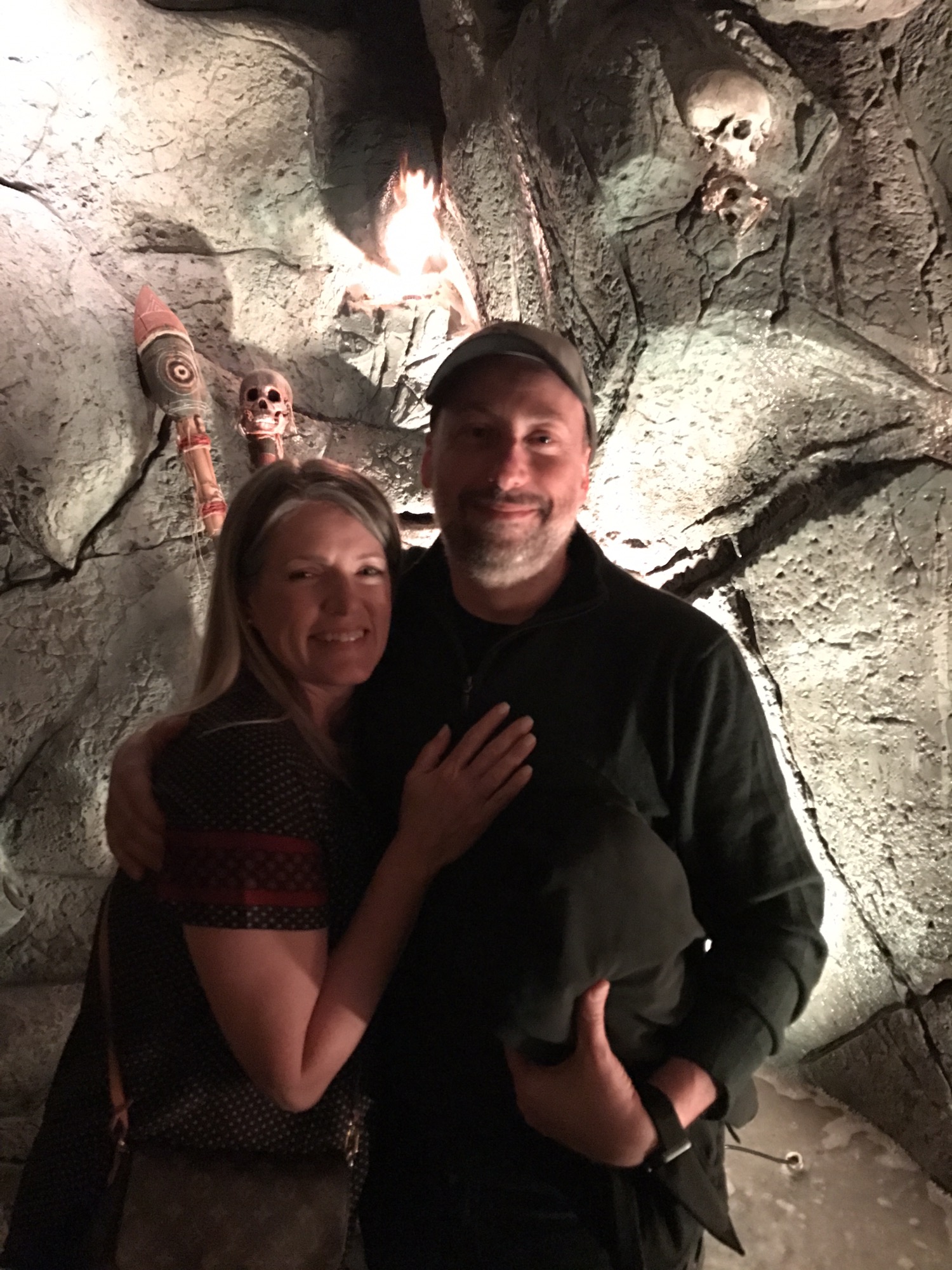 I can't think of many evenings more fun than Craft and Commerce for dinner – try the Man Hands or the Hoochie Mama cocktails – and then a few drinks at False Idol!  I don't know how secret False Idol is, but I know a few San Diegan locals and THEY had not heard of it.  Or had heard of it but didn't know where it was.
Pro Tip: if you want to get into the Tiki bar, make a reservation a few weeks early OR go at 6pm when they open. Otherwise, you won't get in.  Consistent with its semi-secret nature, you cannot find it from OpenTable.  You have to go to the False Idol website and get referred to OpenTable.
San Diego is full of interesting places.  Balboa Park is certainly one.  Old Town San Diego is another. San Diego is one of the oldest towns in the US, and the original old town is still here and still mostly preserved.  Although I feel like the original town probably had a few less T-Shirt shops.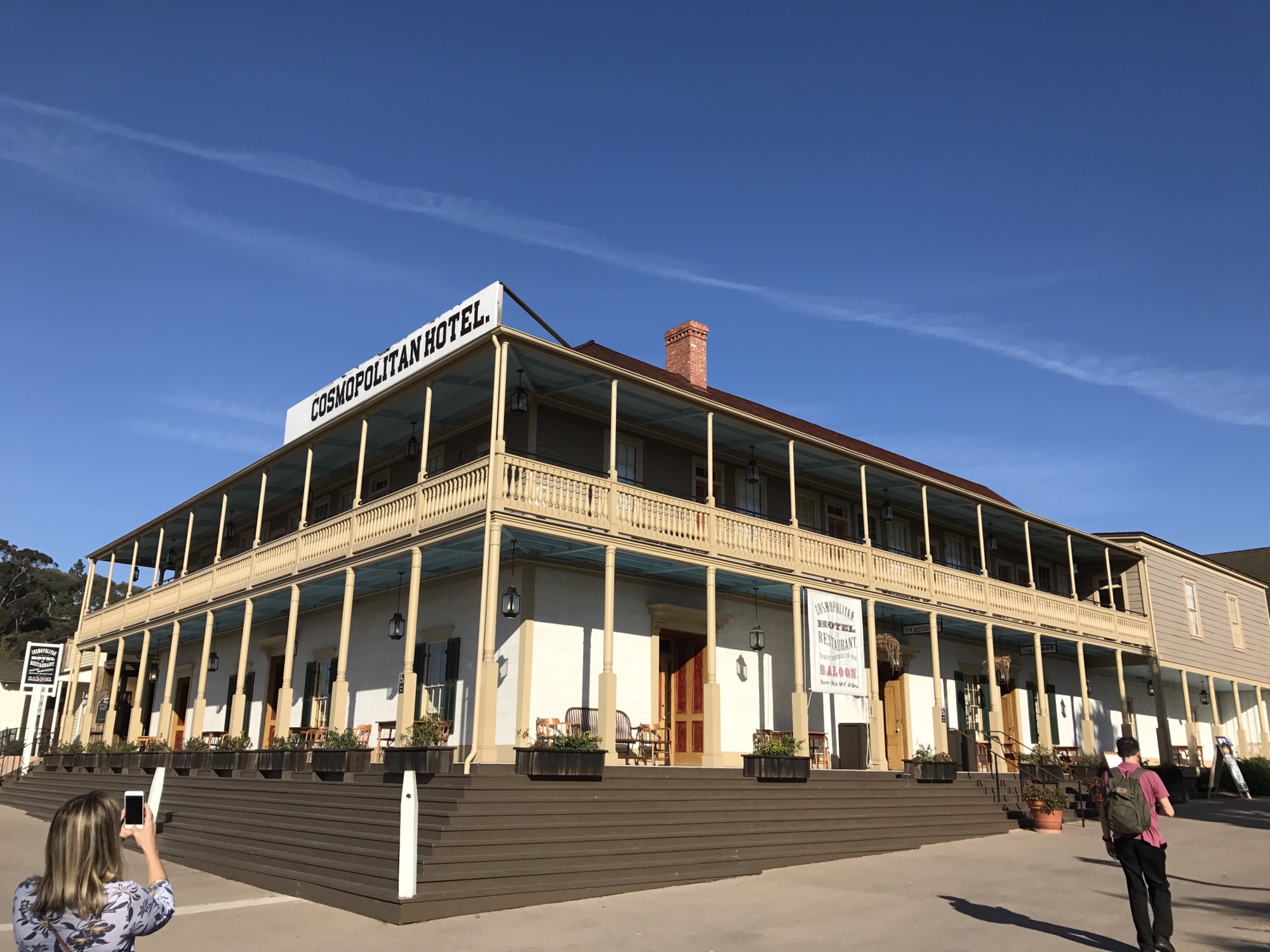 Old buildings are set around several squares.  The typical blacksmith shop, old bank, old dentist, etc. buildings are all here. It is a fun, but very touristy, way to spend an afternoon.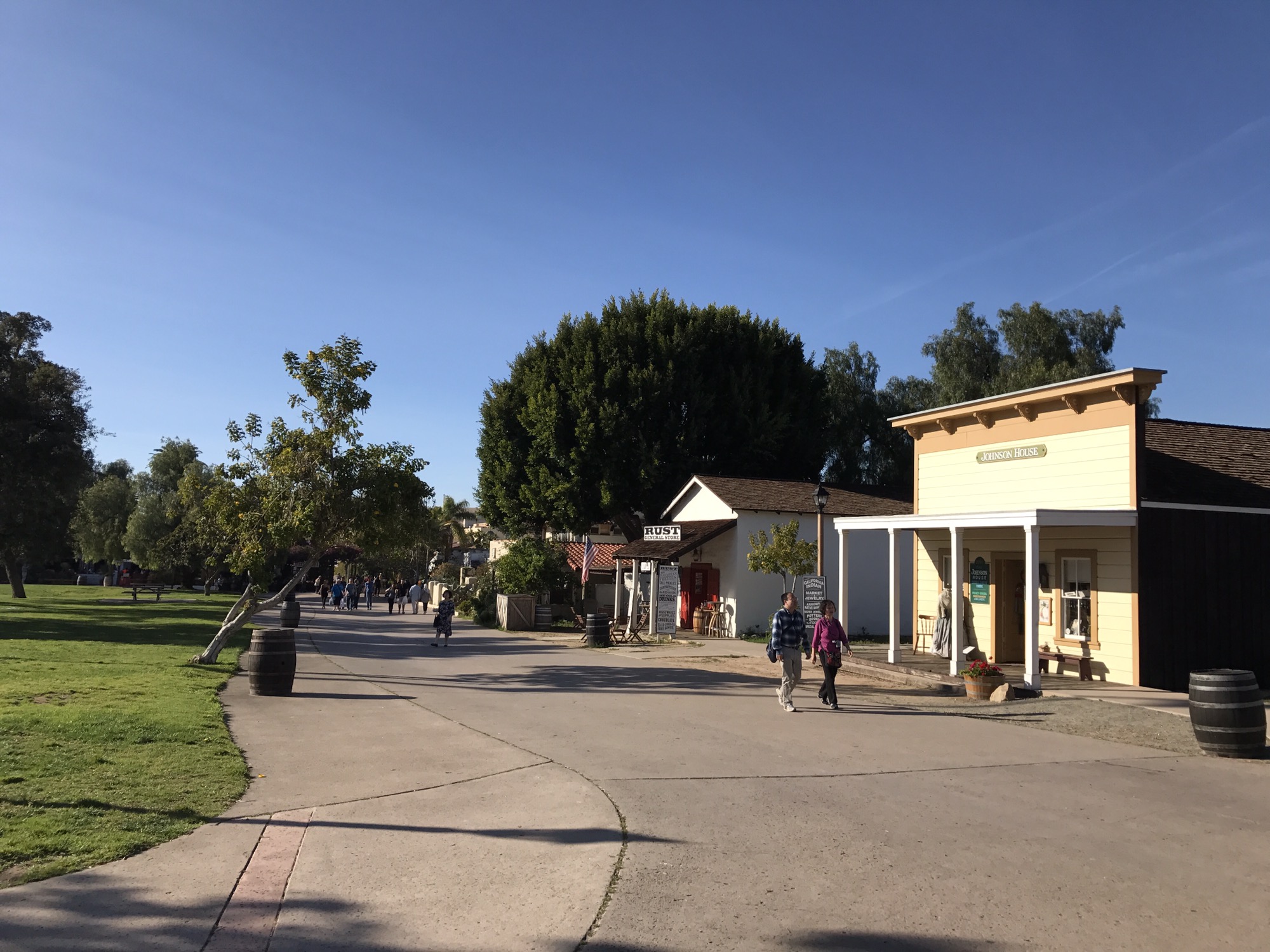 There are a number of Mexican restaurants in Old Town.  Most of them have similar menus and most of them get the same reviews on Yelp. A perennial favorite, Casa de Bandini has moved elsewhere but several others are here and ready to serve up a margarita and some street tacos.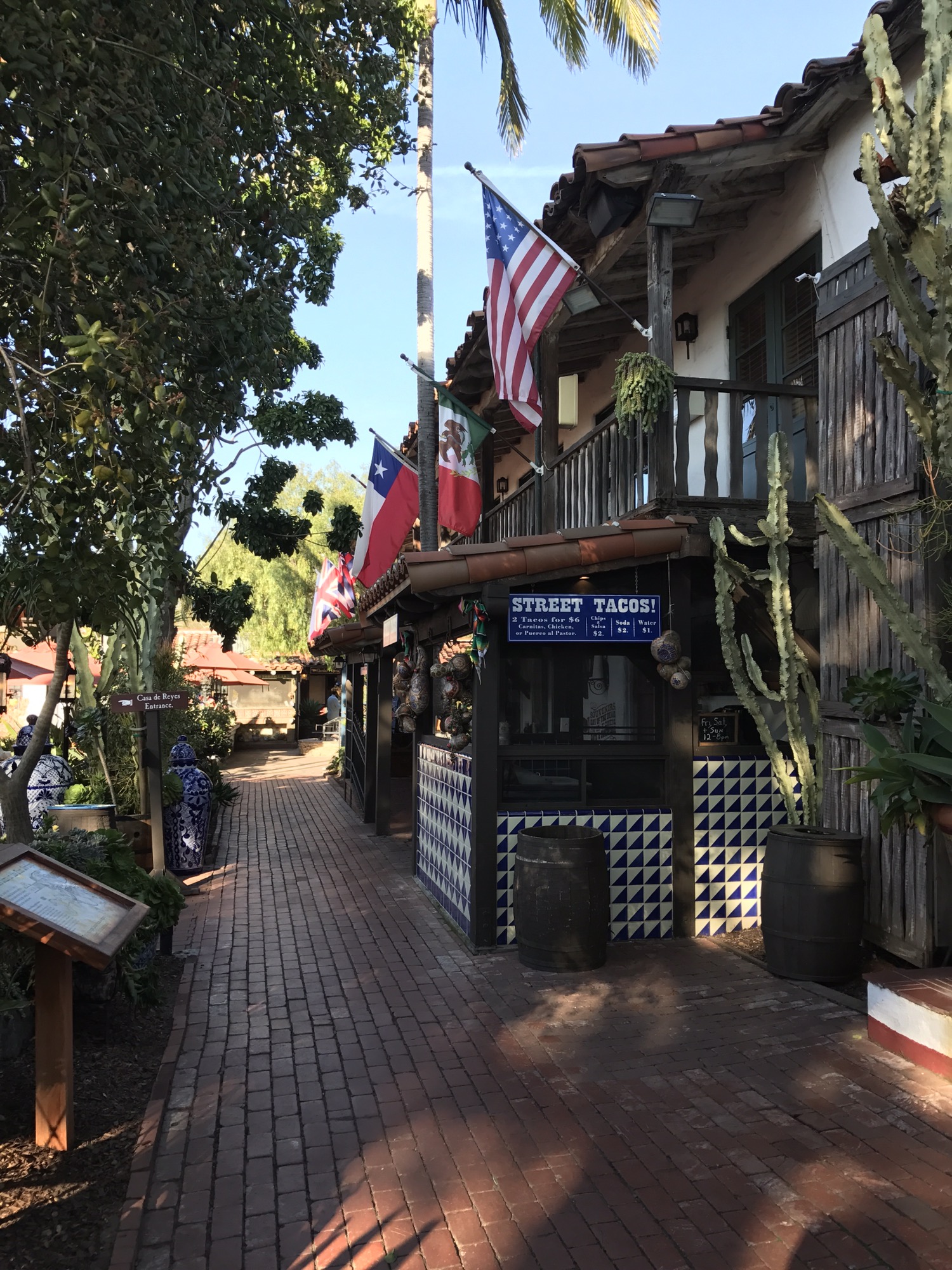 Old town is just off the I-5 freeway, but it feels much further away.  Walking around the old squares with their trees and lush growth really makes a person think they are back in the 1800s in Old Mexico. Especially if one visits on a weekday.  Sure it is touristy, but somehow it manages to still hold onto a great deal of historic charm.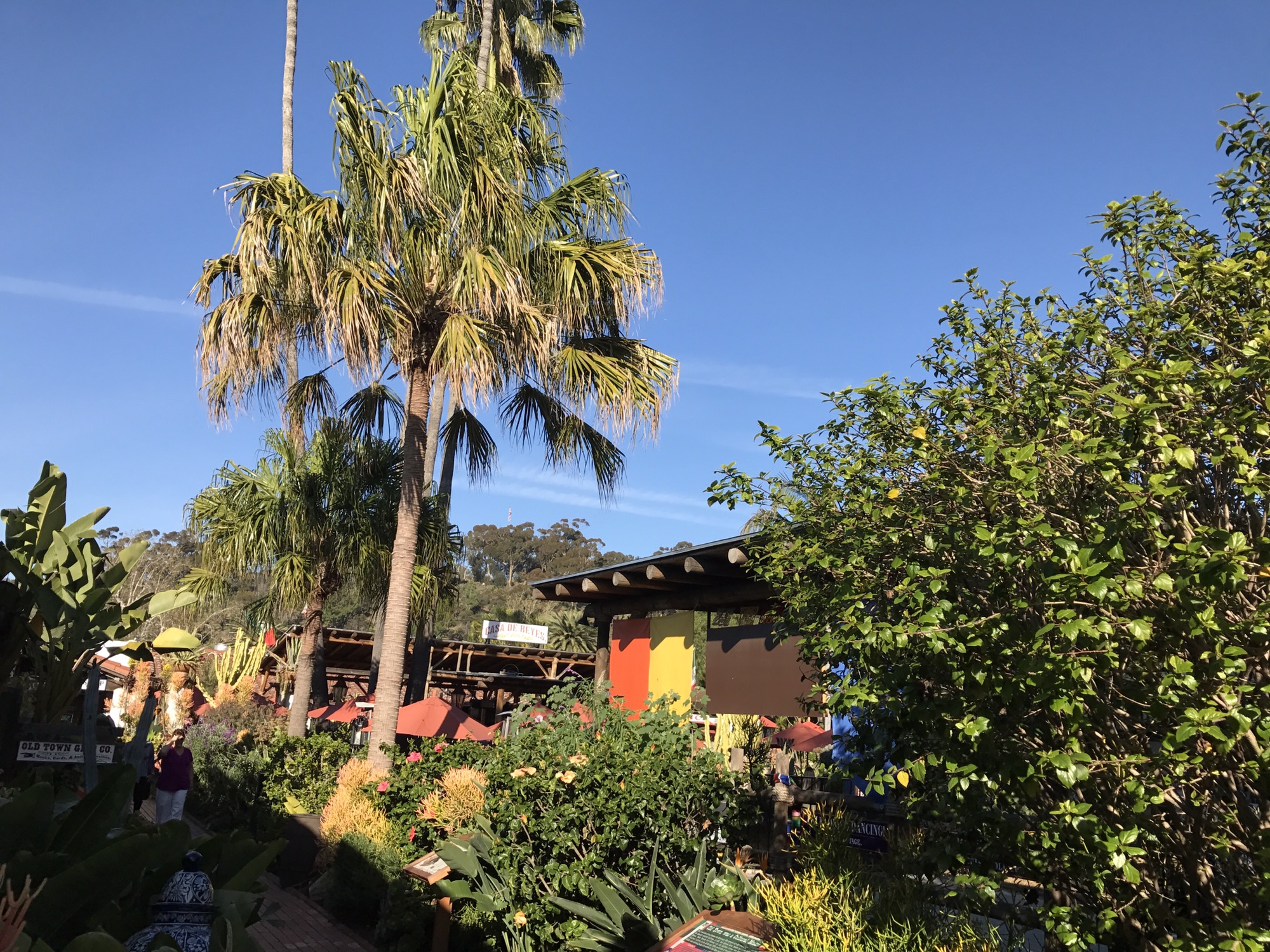 We headed back up to Balboa Park to check out more of the buildings.
We had heard of the Alcazar garden and set out to see it.  Frankly, it was not that impressive. I think it was partly due to the time of year, so not much was planted.  Still, the architecture around the garden was more impressive than the garden itself.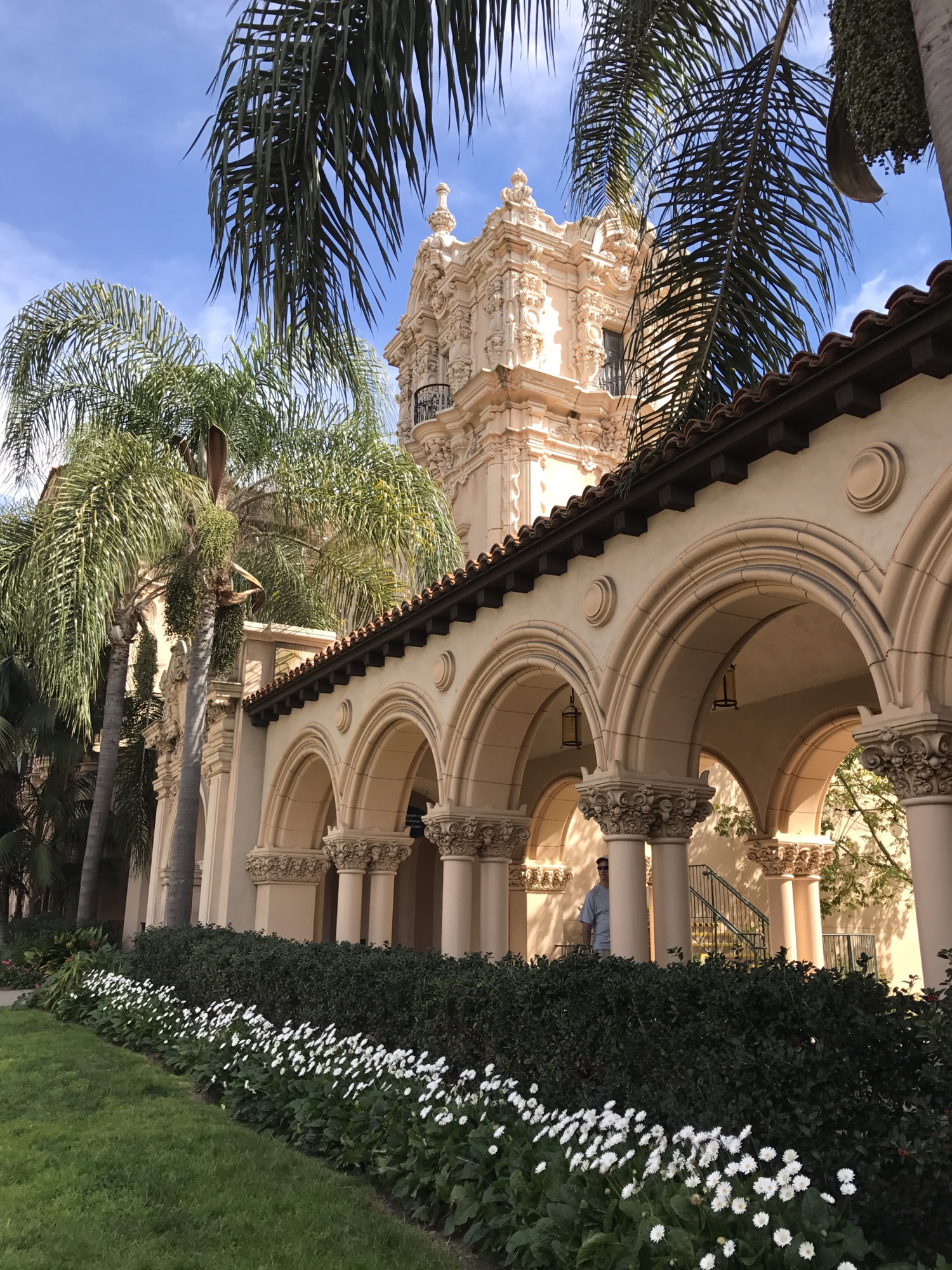 Possibly the most picturesque is the building housing the California Museum of Man. It was build in 1915 as the showpiece to the worlds fair and has been well-preserved ever since.  Even though it is more than 100 years old, it still looks fantastic.  The museum itself is not exactly first rate, seeming a bit confused about its focus.  But the building is cool.
The tower, called the California Tower, just opened after 80 years of being closed to the public.  Climb the steps for a spectacular view!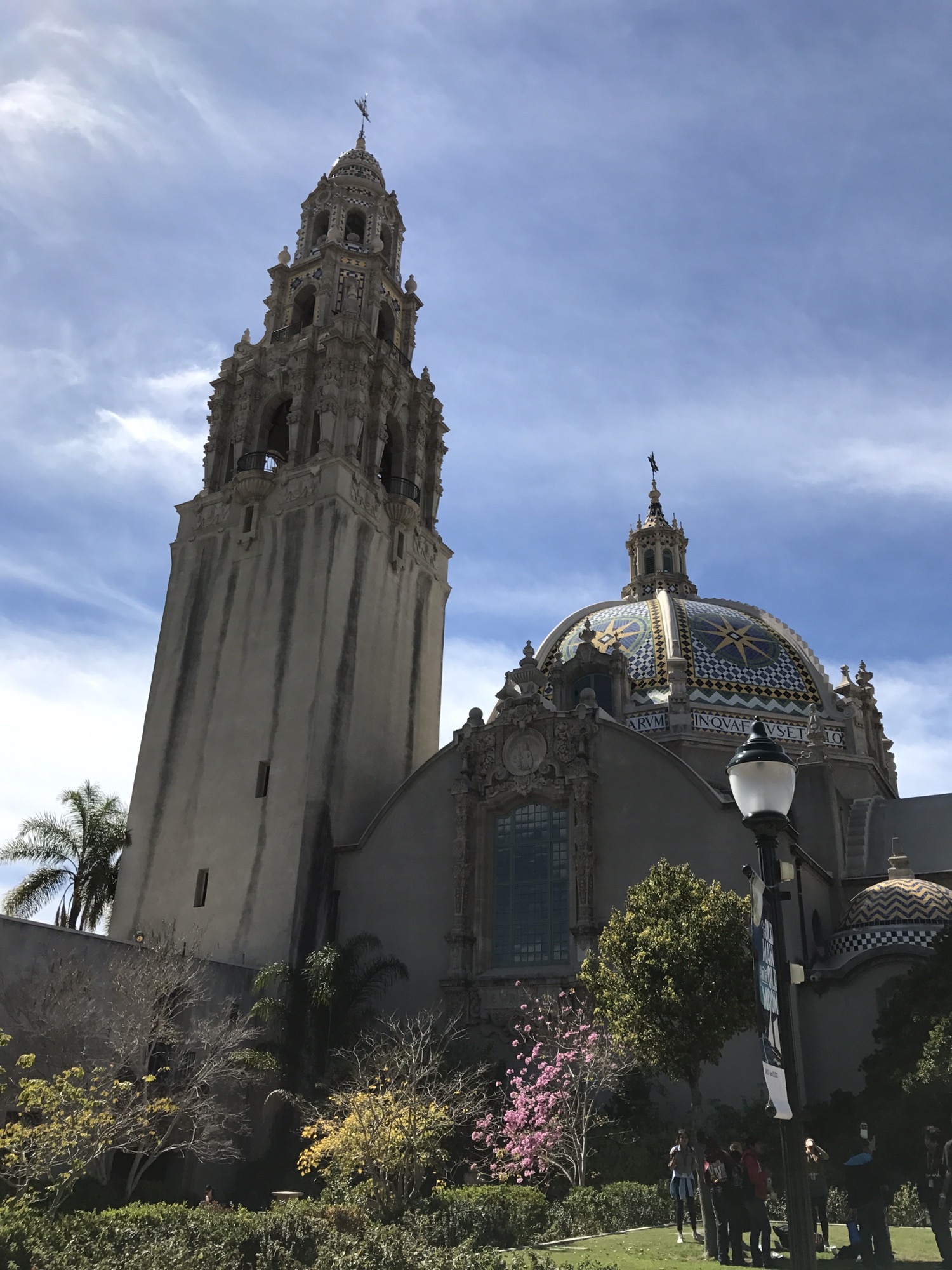 We walked back to this vantage point to check out the Old Globe, a replica of the original replica of the original Old Globe theater in London. Having been to the theatre in London, I can tell you the inside of the San Diego version is MUCH nicer.
The play being presented was "Picasso at the Lapin Agile" a play written by Steve Martin (yes, THAT Steve Martin) and it explores the impact of science and art on the 20th century as viewed through the chance encounter of Picasso and Einstein at the Lapin Agile bar in Paris in the early 1900s before either of them had achieved their fame.
Only a few tickets were left, but we grabbed two of them and planned to return that night.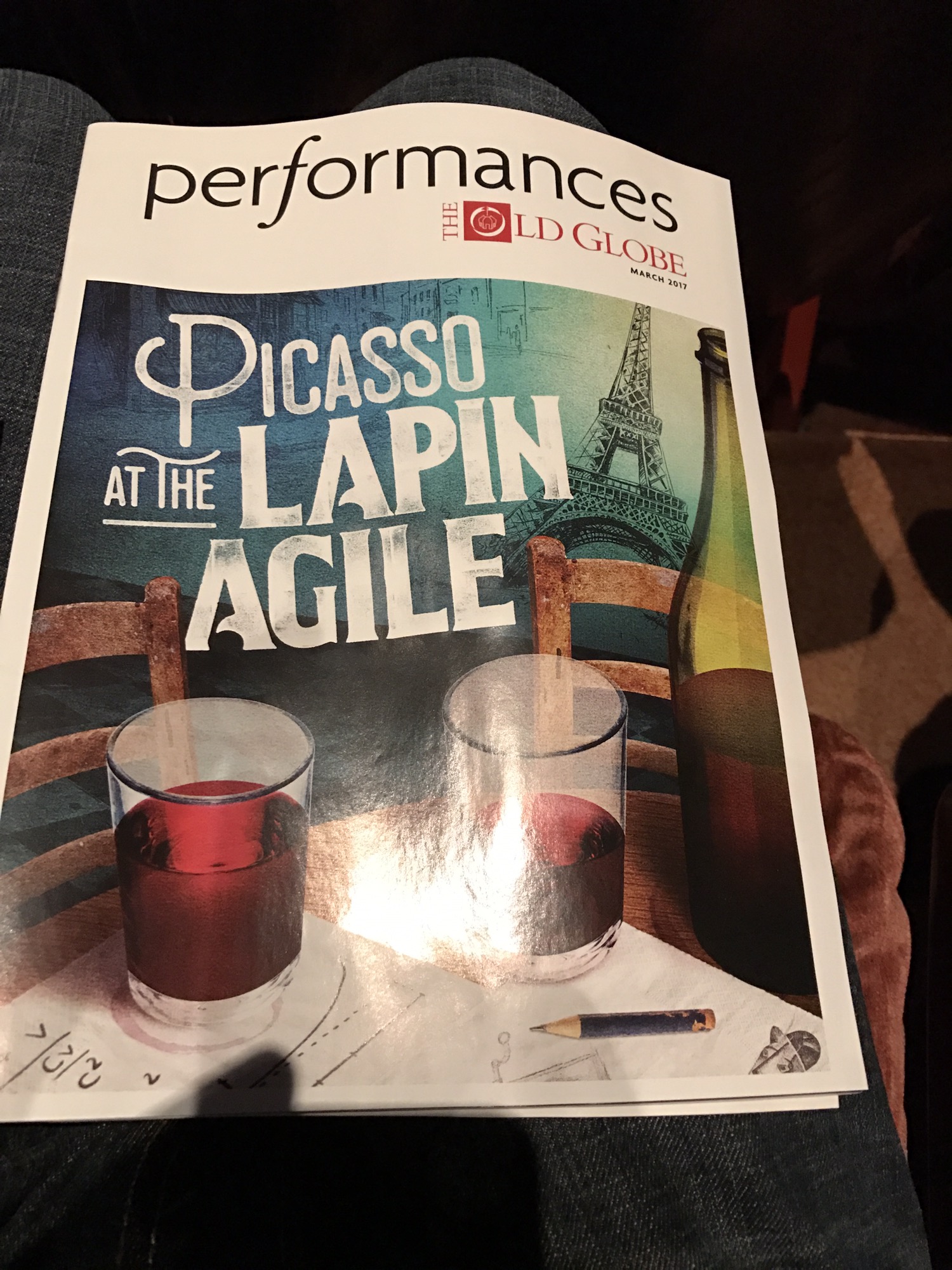 When we returned, we felt the excitement building!  We hadn't seen a play like this since our time in New York and we both realized we missed the theatre!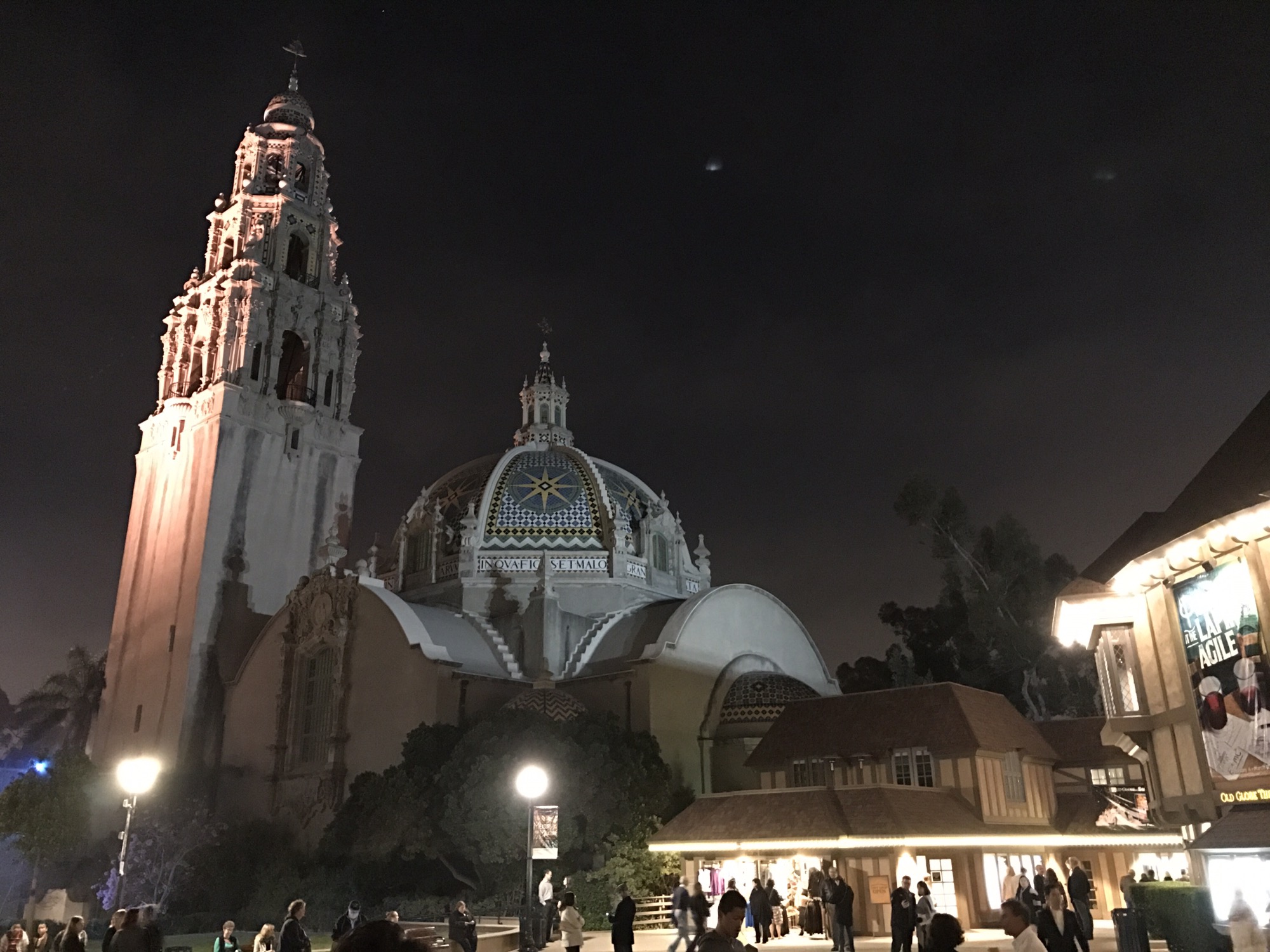 The cast was strong.  Justin Long (the Mac guy) played Einstein.  Donald Faison (Dr. Turk from Scrubs) played the Lapin Agile owner. Hal linden (Hill Street Blues) played an old guy.  It was a very entertaining production and nobody missed a line in 90 minutes of pure dialog!
The next day, we headed to Chipotle to enjoy our free chips and guac, courtesy of "T-Mobile Tuesday."  Every Tuesday, T-Mobile gives away free stuff. This Tuesday was chips and guac.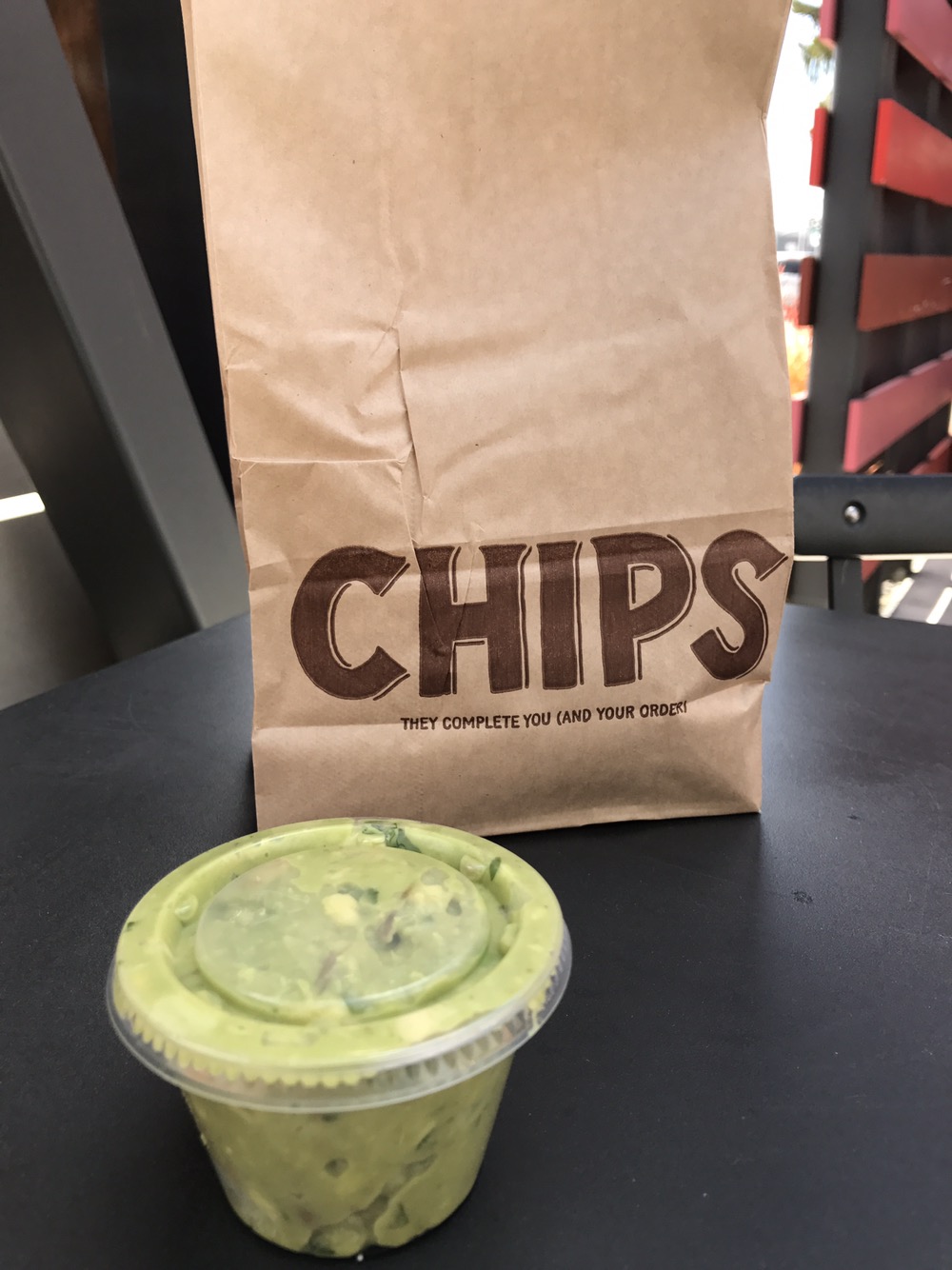 Not every day is a winner.  At least not for this guy.  I'm not sure what happened, but when your MoHo has to be dragged out of the campground, your day is not going that well.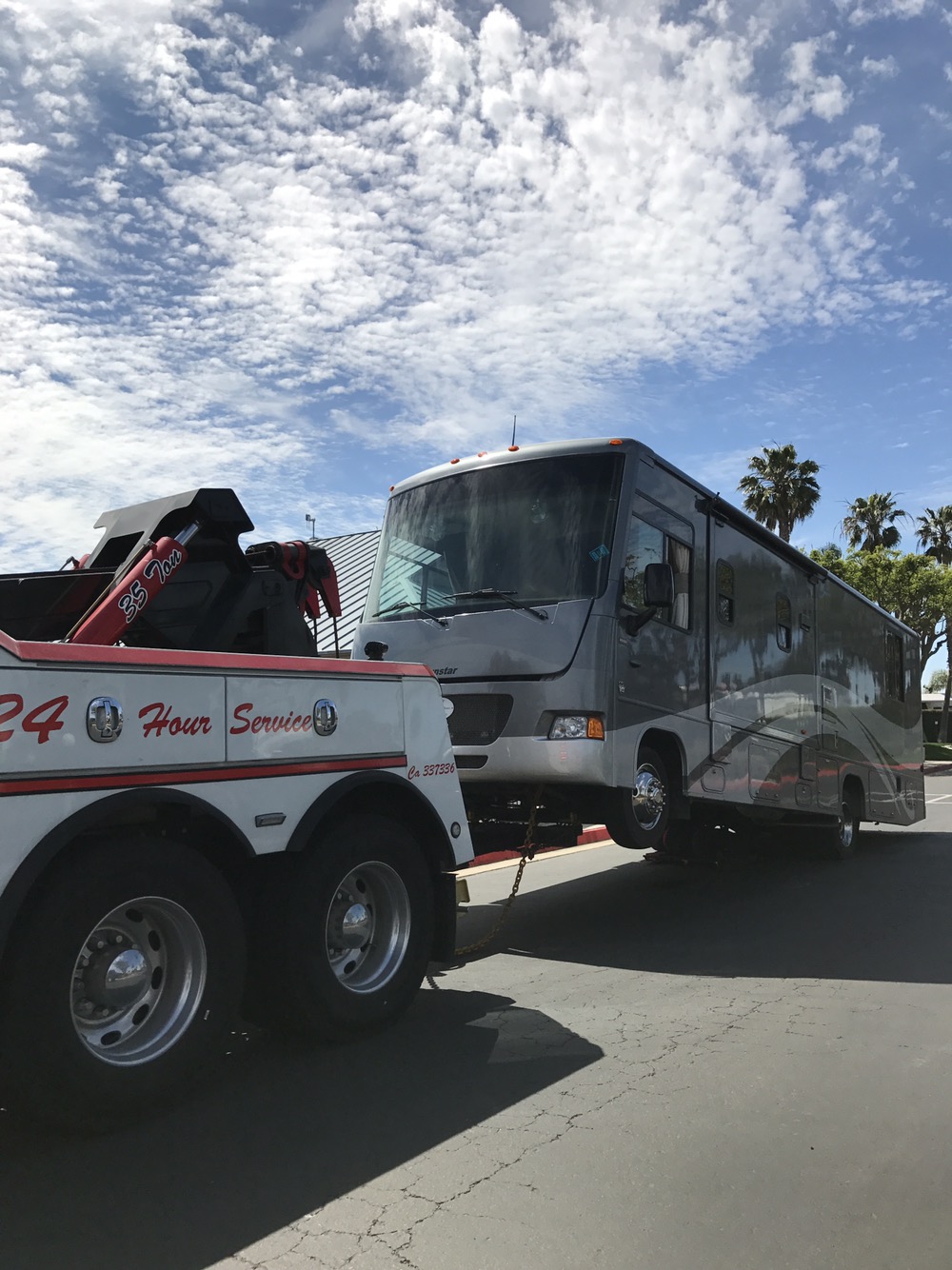 We decided to head north to Laguna Beach.  Stunning views of the beach along a mountainous shoreline!  Some of the beaches in Laguna are good for swimming while others are rocky.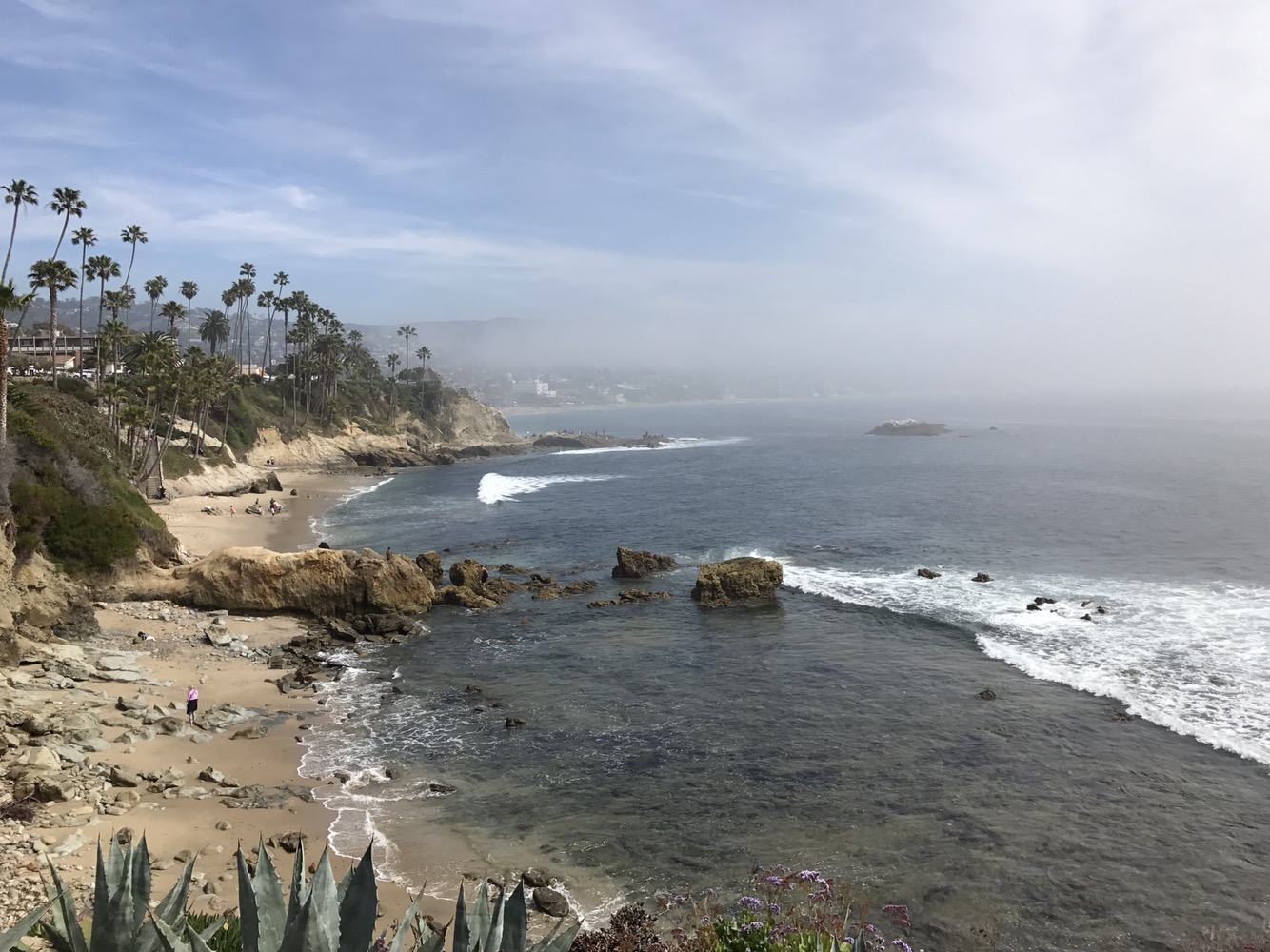 Of course, no stop in Laguna Beach would be complete without a drink on the rooftop deck above K'ya.  It is a wonderful place to take in the sunset and the view!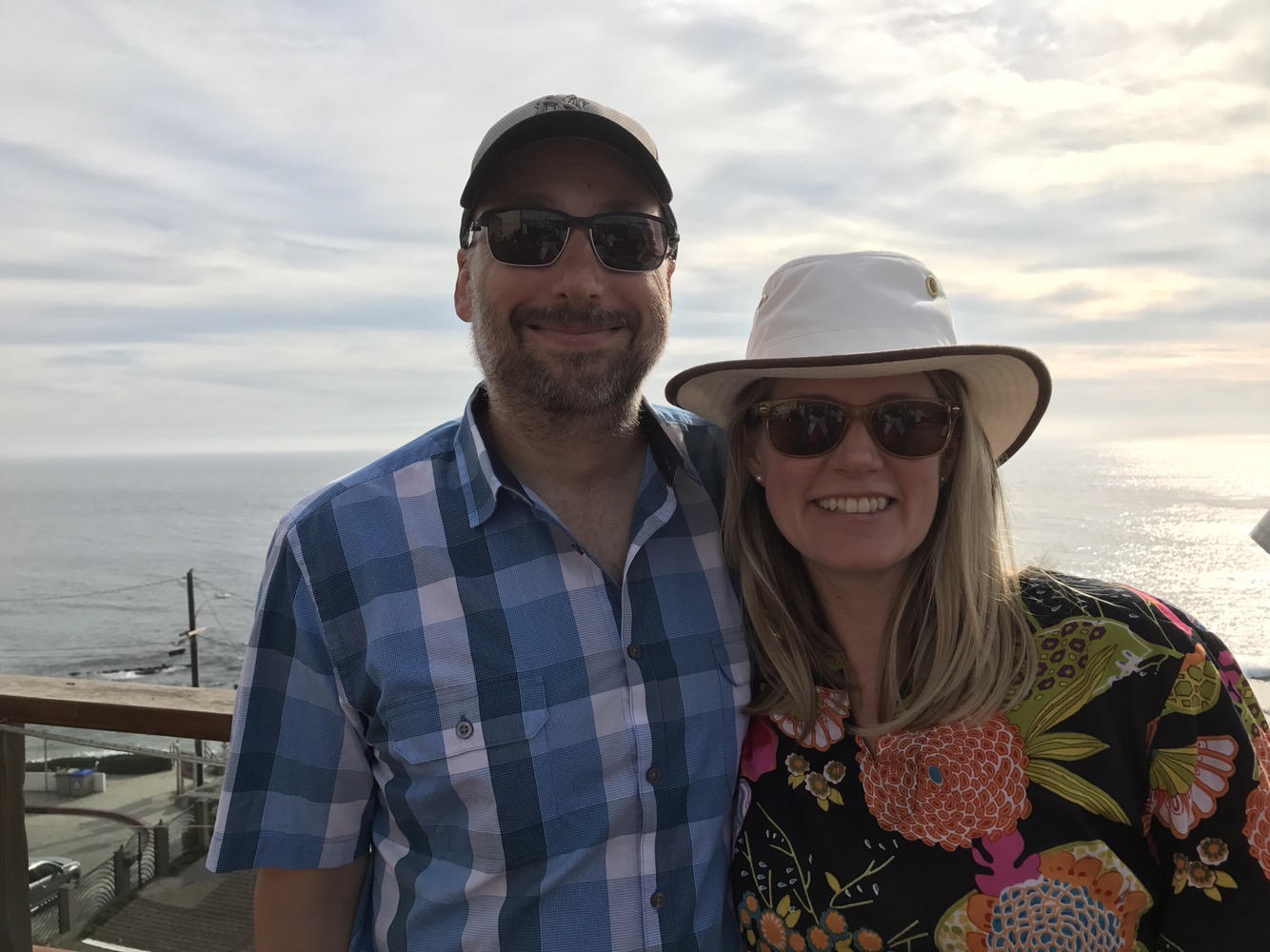 We returned from Laguna beach full of sun and sand. Our time in San Diego is starting to shorten, so we headed to downtown to walk around.
The first think I will say is that San Diego eclipses San Francisco as the city with the most homeless people I have ever seen. However, unlike San Francisco, San Diego's homeless seem to be much less aggressive.
We walked around Horton Plaza, and at the upper end in the plaza across from the famous U.S. Grant Hotel, we saw this interesting fountain.  But something was odd…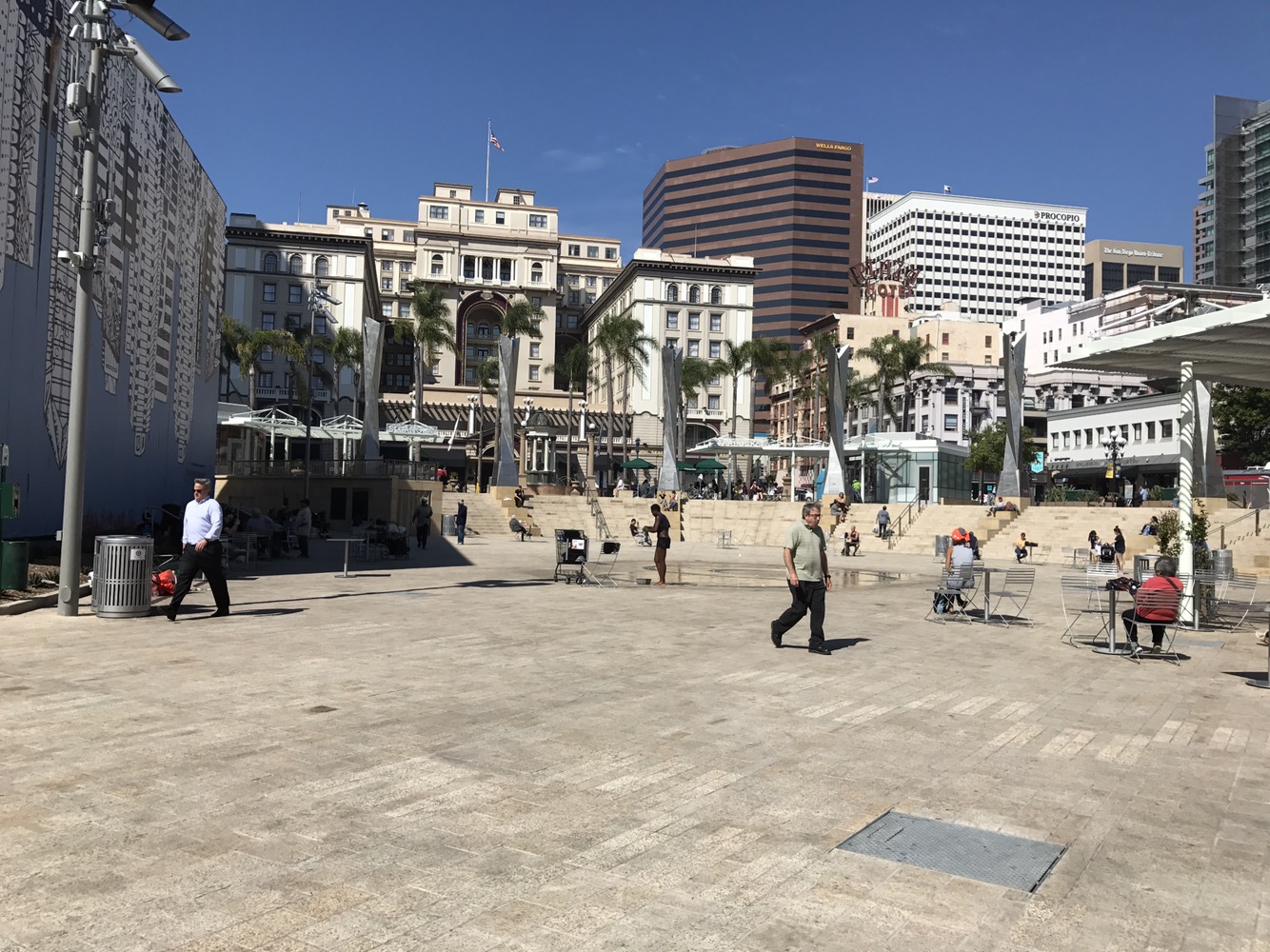 Oh, right.  The homeless guy using the water feature as a washing machine.  Yep. That's right.  He is doing his laundry in the fountain. I guess it is as good a place as any.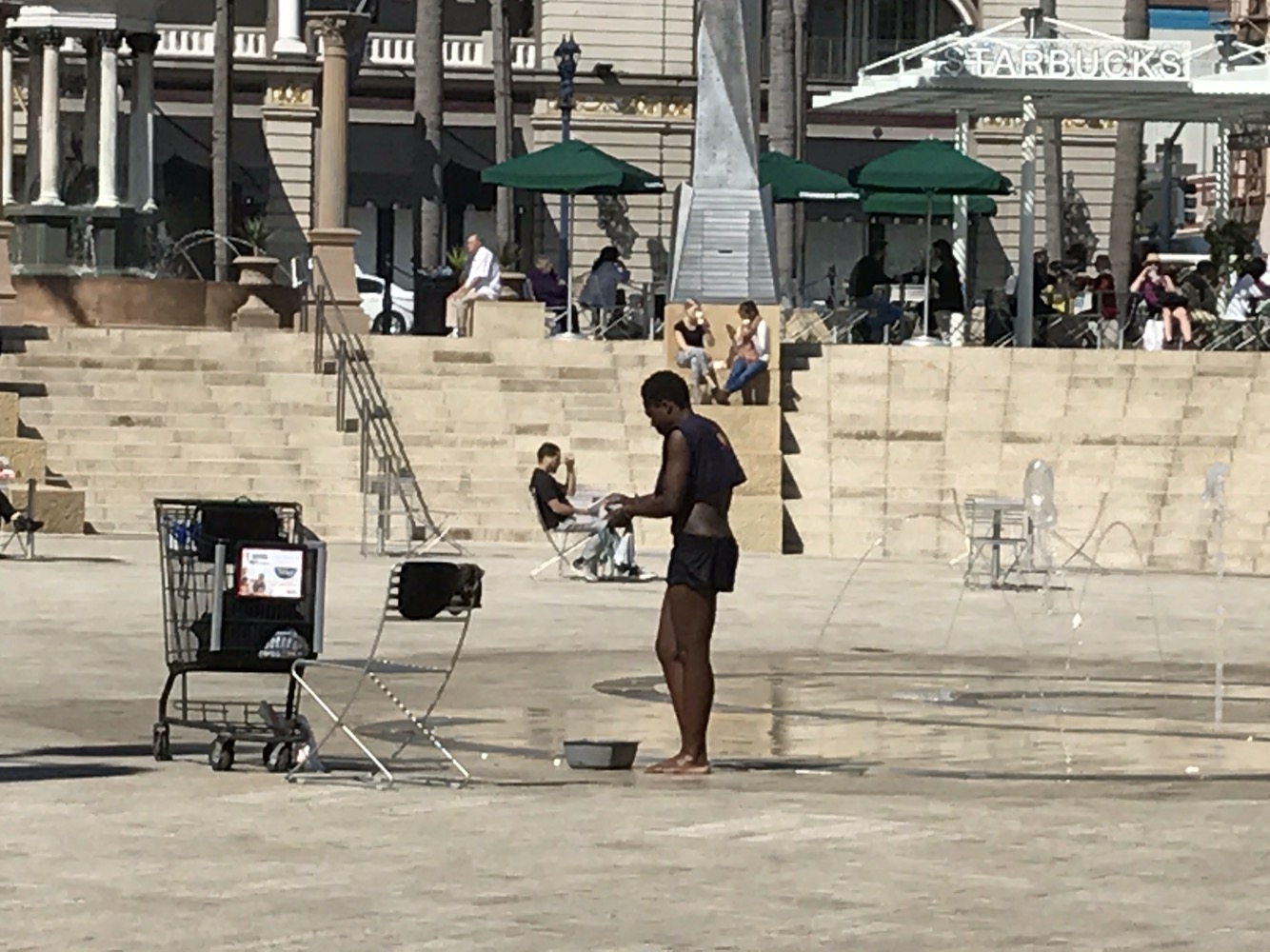 On our last day in San Diego we decided to visit the Mission. Mission Basillica San Diego de Alcala was the first Spanish mission in Alta California.  Founded in 1769 by Father Junipero Serra, the Mission marked the start of 21 missions up the Camino Real (King's Road). Many of these became famous missions including Santa Barbara, San Juan Capistrano, San Luis Obispo, San Jose, San Francisco, and Carmel.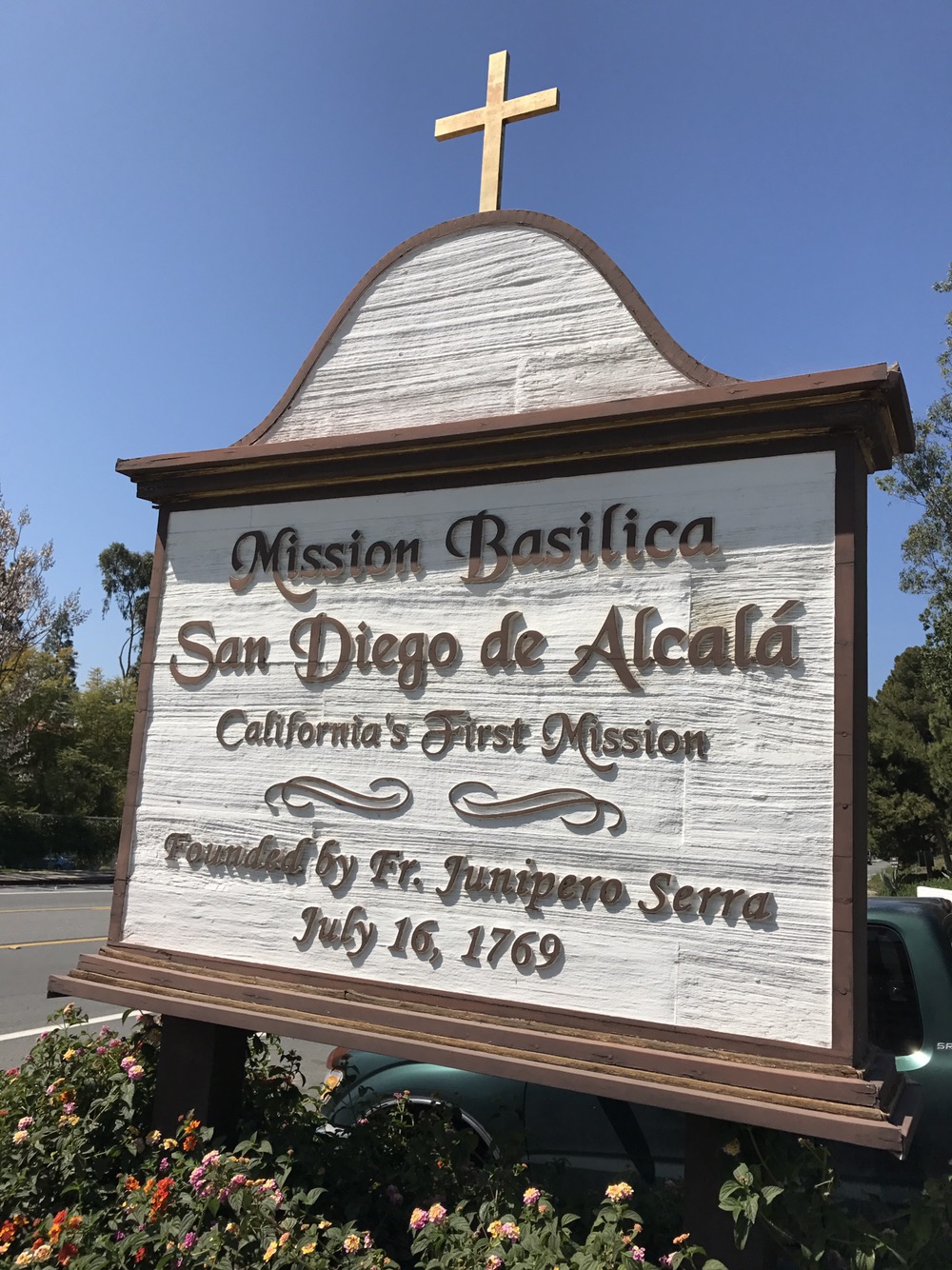 The whitewashed adobe structure was rescued from near ruin in the 1930s by a forward-thinking group of volunteers who sought to preserve these historic buildings.  Although much damage had occurred, the volunteers were able to reconstruct the mission using authentic materials and methods.
I thought the bell tower was especially nice, gleaming in the sun behind a field of native flowers.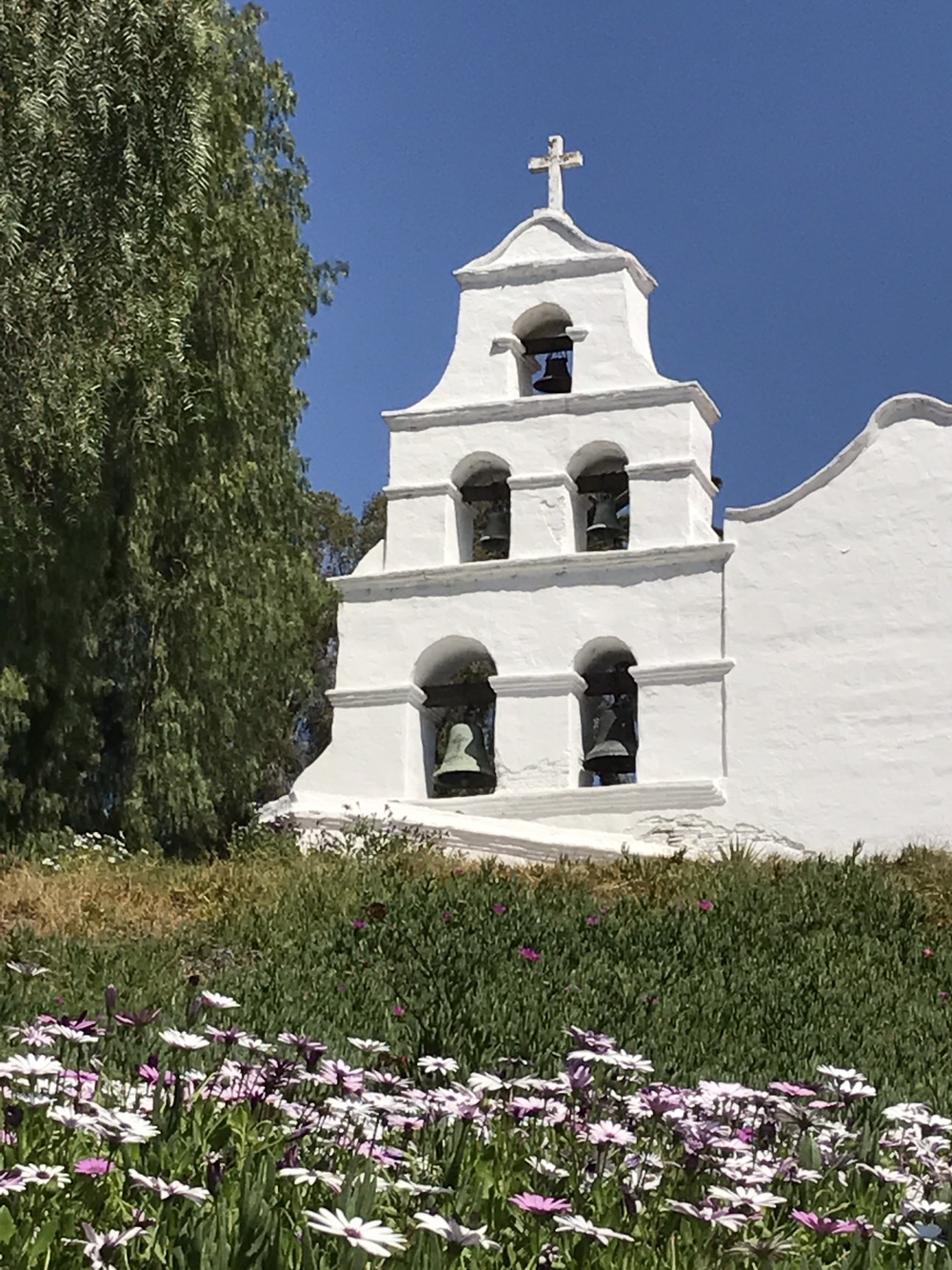 The interior of the mission is not as impressive as other missions, like Carmel (Fr. Serra's favorite).  It does have a nice fountain, but also has been made over with many asphalt parking spaces.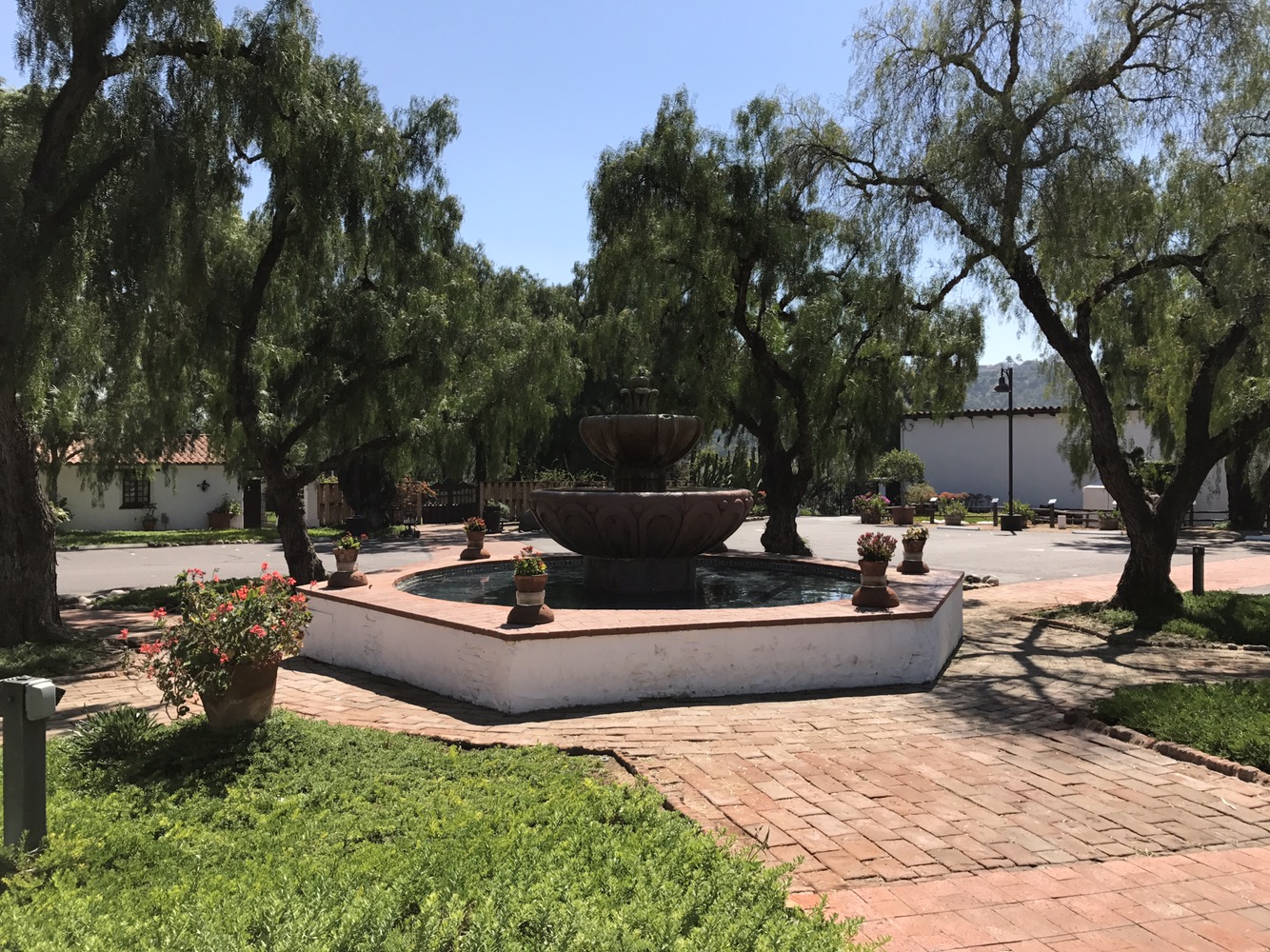 The main chapel in the mission has been painstakingly restored and is an active Catholic Church which offers regular services. The walls are made of adobe 3 to 5 feet thick.  Unlike the massive and ornate stone temples in Europe and larger US cities, this chapel is simple and reflects a very Spanish theme.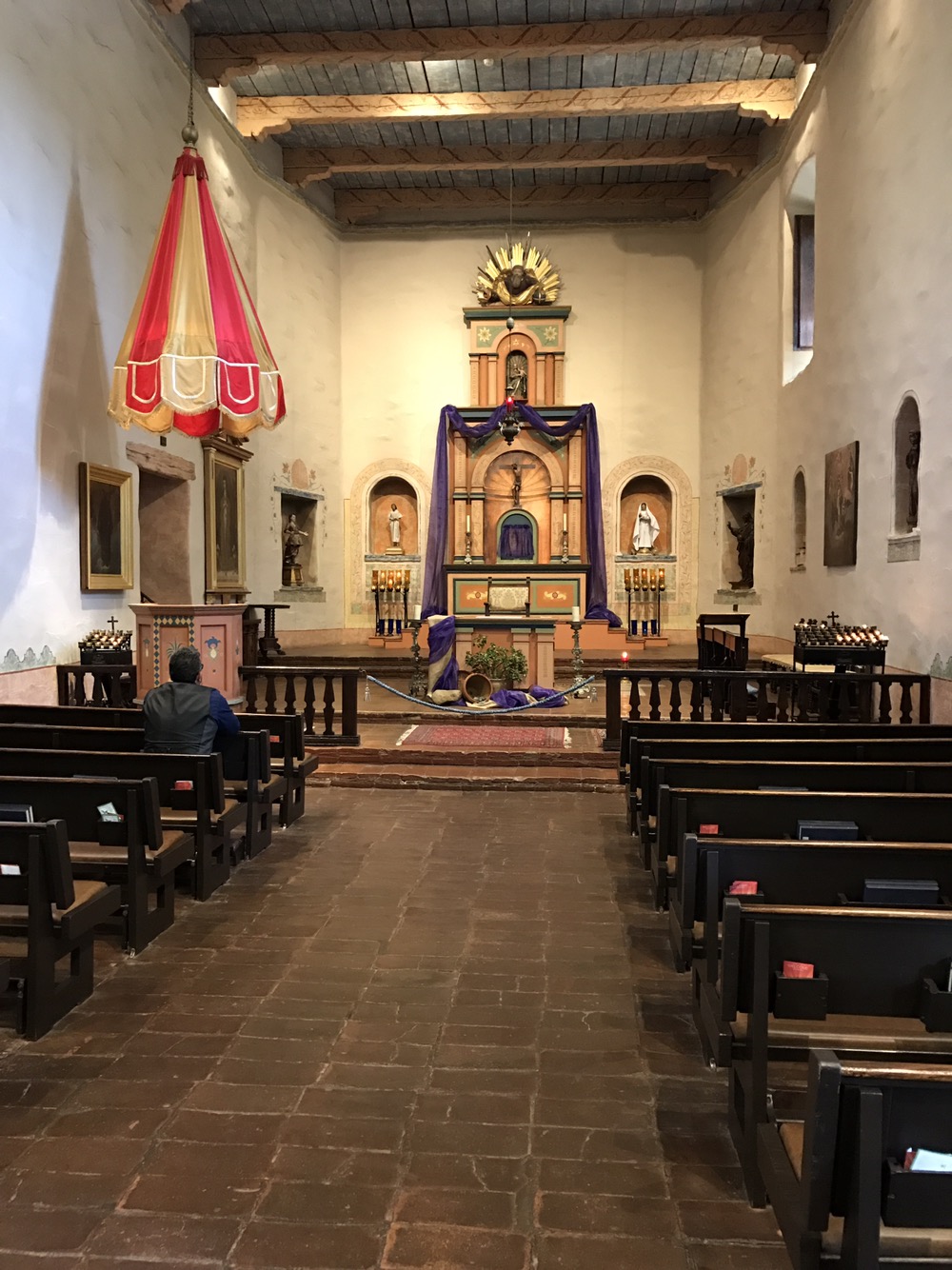 The chapel garden are equally modest. Not particularly large and not particularly scenic.  More appropriate for a working church, which the Mission de Alcala is to this day.  An hour here is enough time to see the grounds.  Make note, this is a bit of a drive from downtown San Diego and traffic is usually very thick.
We returned home to see the poppies starting to bloom along the oceanside trail.  We will definitely miss Chula Vista and the daily walks along the beach and marina, but are eager to head to our next destination.  Temecula!