January 15 – Quarter 3 update
I can't believe another quarter has gone by!  This quarter marks the end our 9th month of life on the road.  I noted in quarter 2 that we were starting to settle into the new life, and I definitely feel that by the end of Q3 we are really starting to feel like we know what we are doing.
We have been through more of everything – good and bad.  Handling the unexpected is less, well, unexpected than it was before.  We have been through severe weather, hot weather, cold weather, and windy weather. We have stayed in all manner of campgrounds from resorts to dumps.
We encountered –by far – the worst driving conditions and now feel like anything else will be easier than what we have successfully navigated.  Q2 marked the high (low) point of our driving experience with the tough driving in the Northeast.  I wrote about this in my Q2 report, but I should have checked the calendar a bit better because that drive happened in Q3.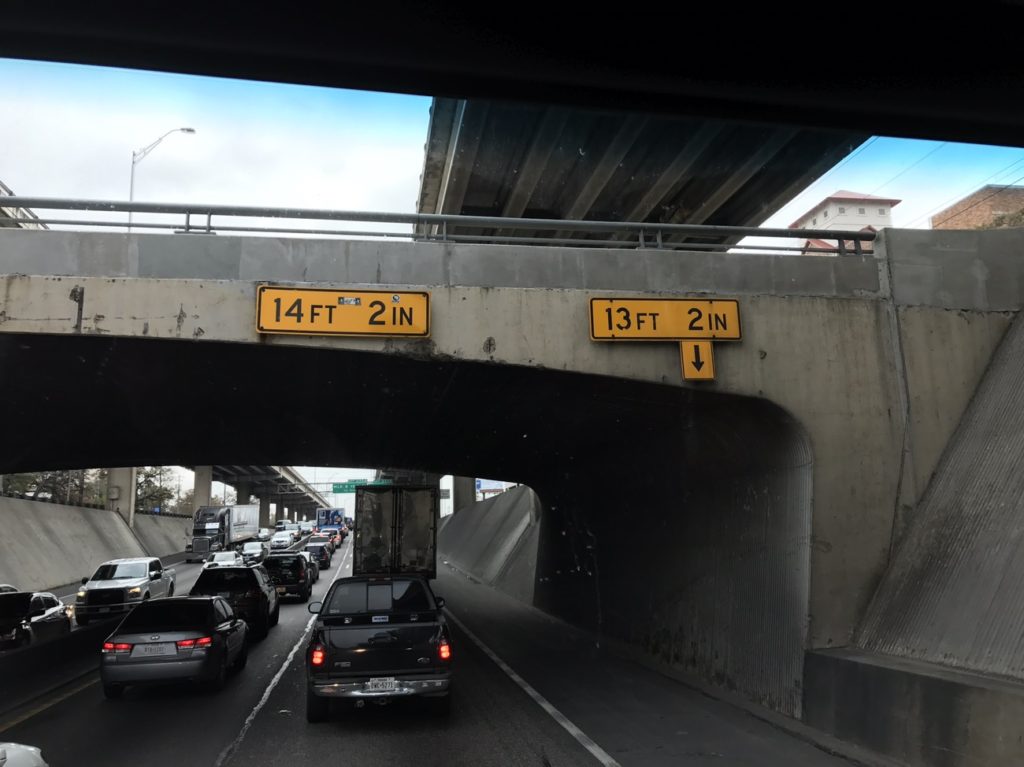 The Q2 report also highlighted our worst stay – Bellingham MA – and our least favorite area of the trip so far. Our time in Bellingham straddled Q2 and Q3, so I get to reminisce about it twice. Q3 trip started in Bellingham MA and ended in Tuscon AZ.
That's a hell of a drive. According to the Google it is 3,250 miles.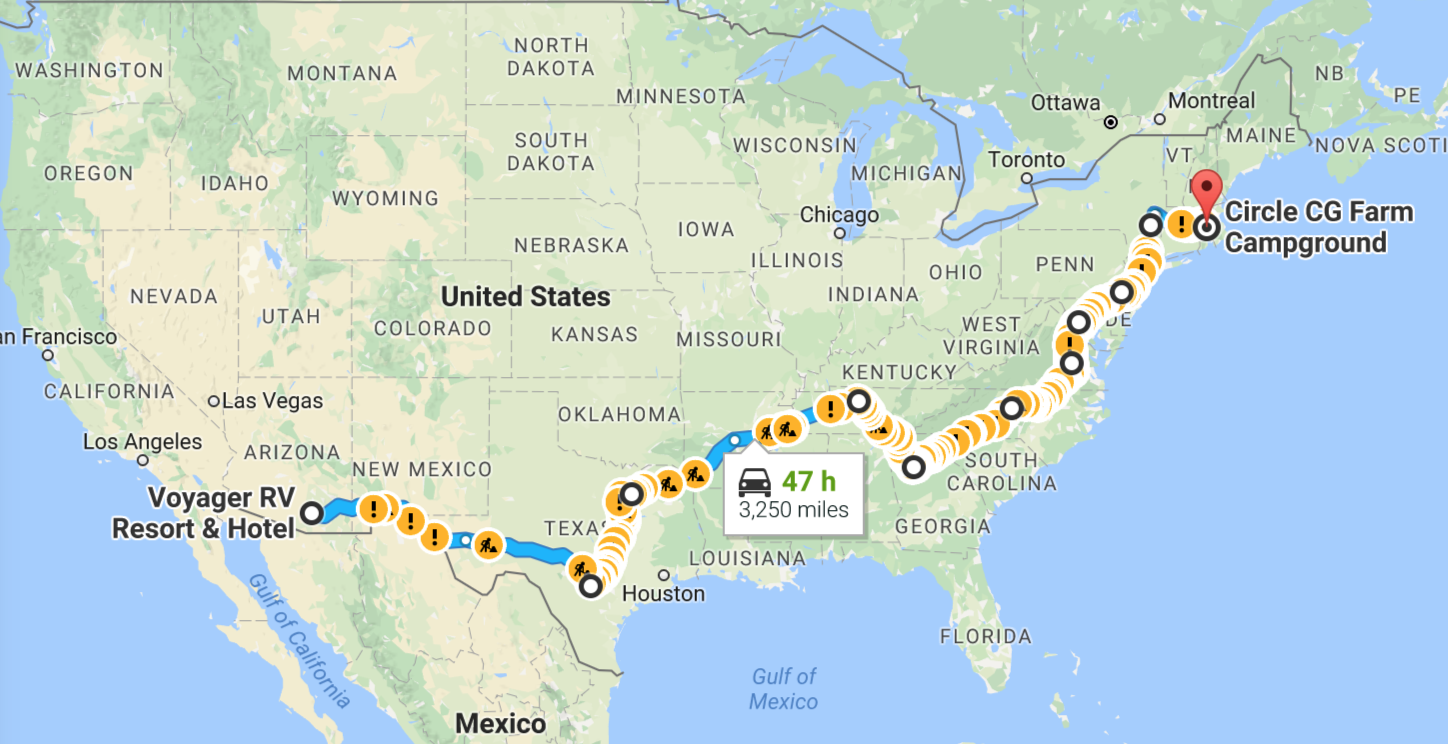 Our odometer says we actually drove over 3,500 (mostly due to detours, fuel stops, service appointments, and campground locations).
Q3 – the last 2 months of it anyway – saw a return to more "normal" driving as we turned south and then west away from New England and the Eastern Seaboard. In fact, once we cleared the Virginia state line headed south (one month into Q3), traffic quickly became much more MoHo-friendly.  There were some pockets of tough driving, like Dallas, Austin, and Phoenix that were a little more intense, but nothing like the non-stop onslaught in the Northeast.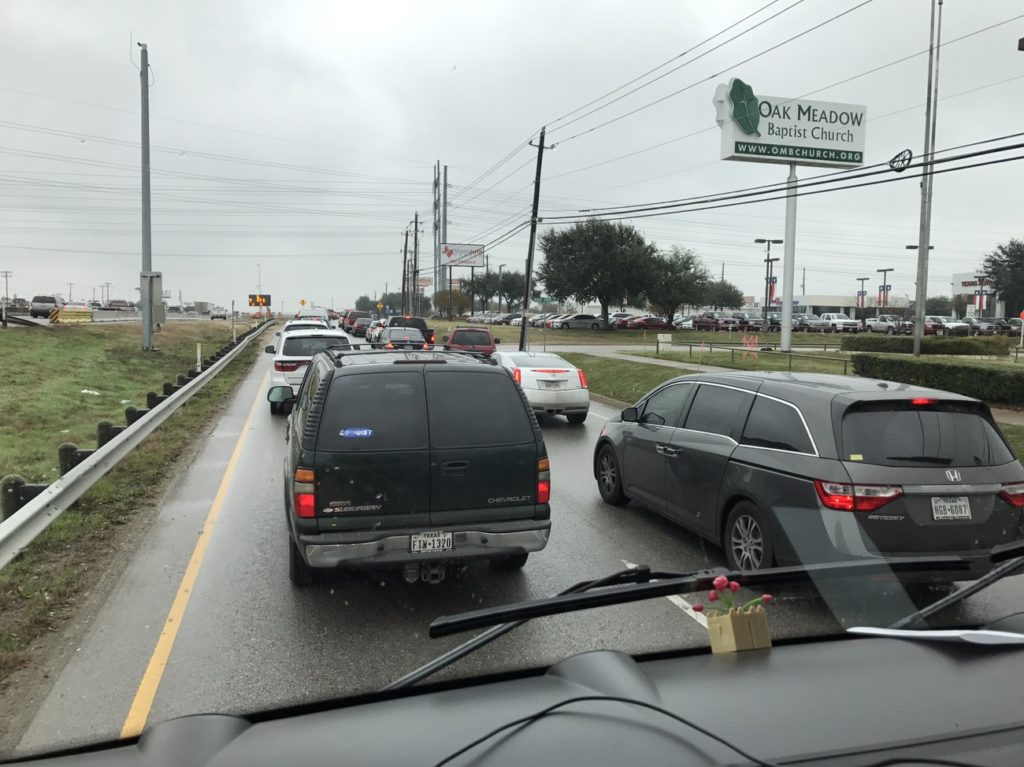 With more time under our belts comes better data about costs and finances. As expected the costs were a mixed bag with some up from Q2 and others down.  Campground fees began to drop as we escaped the most expensive part of the country and headed toward areas with more reasonable accommodations. Diesel costs were higher mainly because we drove more miles in Q3 than in Q2.  I find the price of diesel varies less state-to-state than the price of gasoline does.  We ate at home more in Q3, partially owing to the type of food in the regions we were travelling through (nothing compares to Southern cooking) and partially in an effort to save some money (and our waistlines).
| | | | | |
| --- | --- | --- | --- | --- |
| Category | Q1 | Q2 | Q3 | Change From Q2 |
| Nightly campground fees | $42.88 | $52.59 | $47.93 | 8% decrease |
| Average daily cost of diesel | $9.46 | $8.40 | $13.25 | 57% increase |
| Daily "entertainment" | $22.24 | $34.79 | $15.10 | 56% decrease |
| Supplies | $6.74 | $3.96 | $5.08 | 29% increase |
| Food.  We made a conscious decision to eat "at home" more often | $52.88 | $64.58 | $47.32 | 27% decrease |
| Vehicle (1 year service in hit in Q3 vs. nothing in Q2).  Also, 36 gallons of propane in Q3 vs. 7 in Q2 | $36.38 | $2.45 | 15.04 | 614% increase |
Back by popular demand is the top 10 update list.
Campgrounds – we have stayed at a total of 55 campgrounds during the entire trip, 17 of them in Q3 itself. Q3 began with our least favorite campground  (Circle CG Farm in Bellingham MA) and ended with one of the nicest (Voyager in Tucson). We revisited some campgrounds for the first time, specifically Cherry Hill in Washington DC (Very nice) and Buckhorn Lake in Kerrville TX (Extremely nice).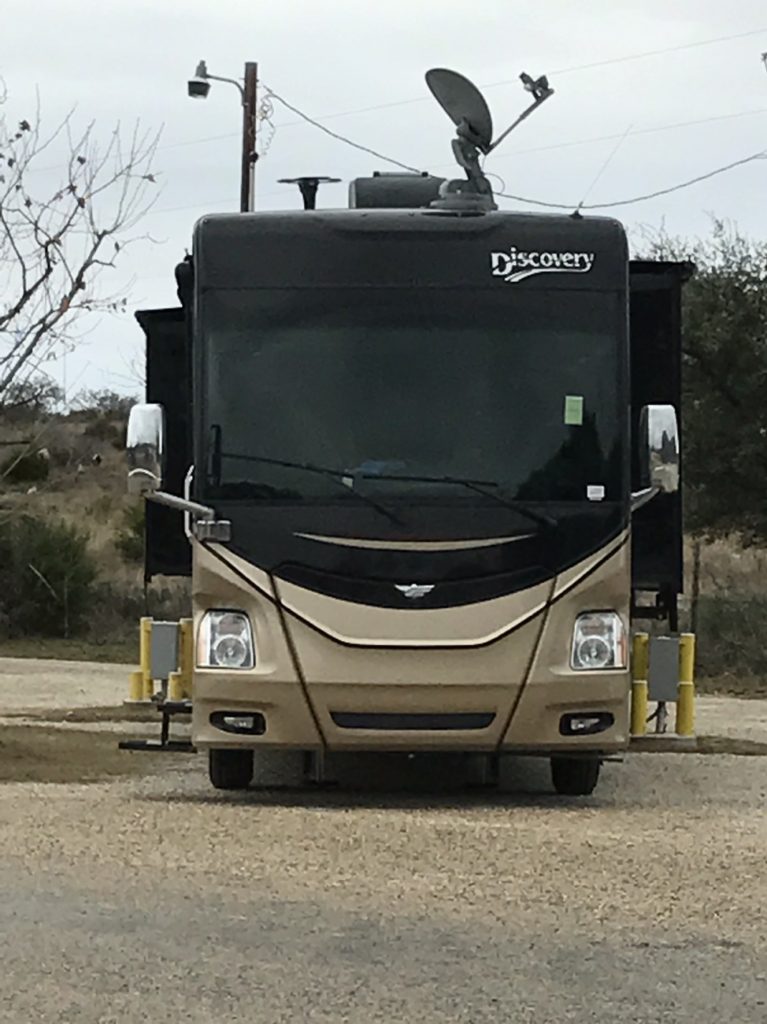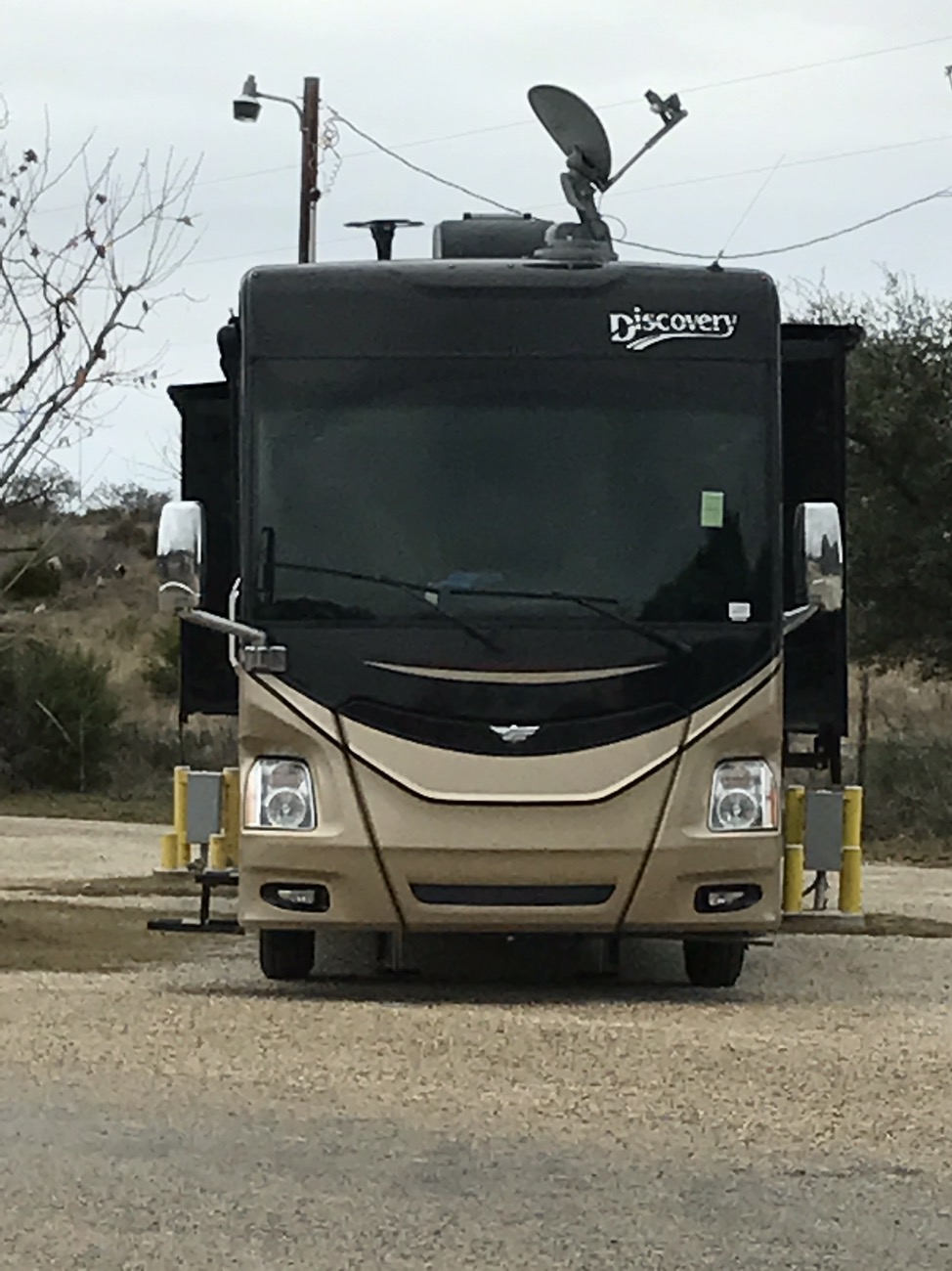 The range between the worst campground and the best campground was pretty big in Q3.  We also stayed at an abandoned commercial loading dock/warehouse in Philly that had been converted into an urban campground, the first and only time we've seen that.  The concept worked so well that I hope we see it more often!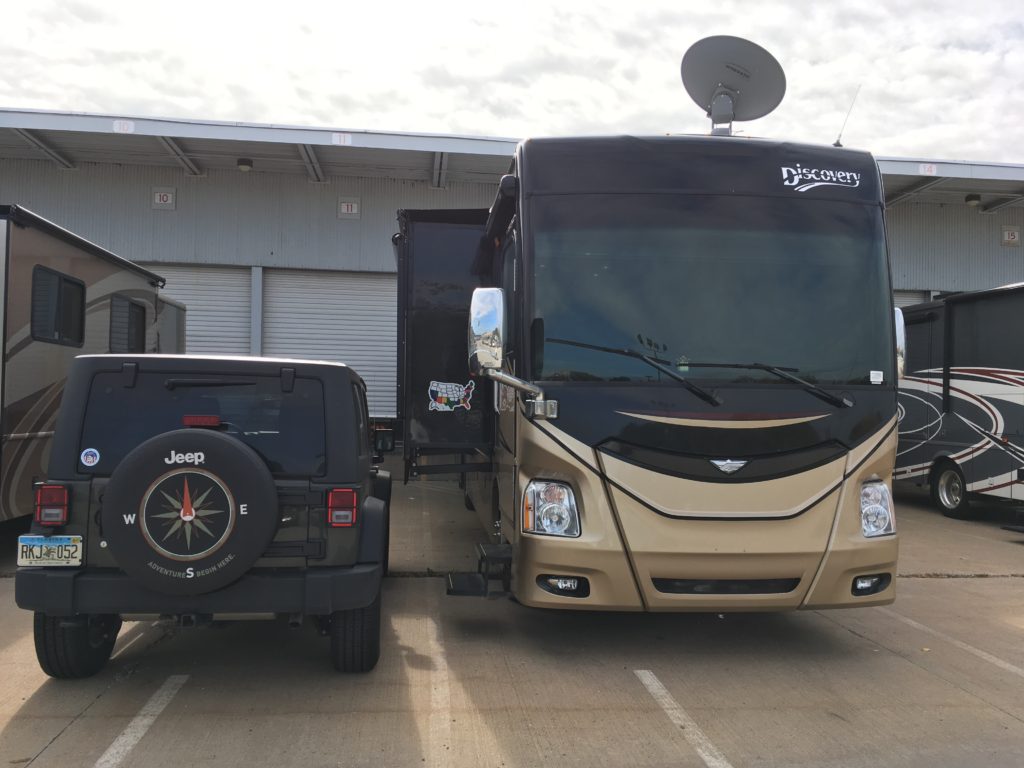 I thought that we stayed more days at each campground this Quarter, but we didn't. Our average stay in Q3 is 5.2 days (so 5 days), slightly higher than our average for the trip of 4.9 days (so 5 days). Some of the reason is that we had to head south in a big hurry to avoid cold weather which made us put the miles on once we left Massachusetts.
We covered the following states in Q3: MA, NY, NJ, DE, PA, VA, NC, GA, TN, TX, NM, AZ and drove a total of approx. 3,500 miles, plus another 6,000 in the Jeep. We find that we generally drive 150% as many miles in the Jeep as in the MoHo, so if we drive 100 miles in the MoHo, we probably will drive about 150 miles in the Jeep.  Give or take.  For our friends on both coasts, here is how the size of California vs. the east coast compares.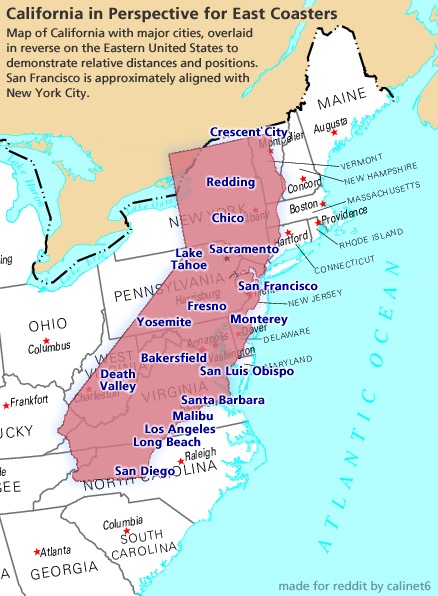 The very worst, most challenging driving we have seen on the trip was in Q3, specifically the stretch from the Danbury CT area down the east coast through Newark and Philly to Washington DC.
The bit between NJ and Philly was the absolute toughest with low bridges, heavy traffic, constant lane changes, toll booths, and construction.  Compared to California, that is similar distance-wise to the stretch from Sacramento to Monterey.  It actually cost us more in tolls to drive from NJ to Philly than it did in diesel.
Maintenance has been minor. Water began leaking from the joint between our glass-and-aluminum shower door and the bottom of the shower pan. All it needed was some silicone sealant but I had to remove one of the glass panels to reach the spot.
You may recall me mentioning that a couple of our LED lights started to fail.  Well, several more have failed.  I called Fleetwood, who told me to call the manufacturer.  The manufacturer really should be called the importer because the lights are made in China.  In any case, the manufacturer stepped up and sent me 5 replacement lights at no cost.  Normally they are plug-and-play, but the replacement lights came without any wiring connector so I've yet to put them in.
Our now-infamous window leak, the last remaining issue to fix and a constant annoyance on the trip, was finally corrected at the Fleetwood factory service center in Alvarado TX!  It turned out to be a fairly small issue but 3 different RV dealerships just couldn't do the job.  One dealer in Florida outright lied about what they did.  Oh, they diagnosed the problem all right, but they didn't fix it as they indicated.  It doesn't give me much confidence in the quality of dealership work.
I was impressed that my makeshift repair of paper towels and blue painters tape survived a journey of over 4,000 miles in all manner of weather.  Hats off to the people at Brawny and Duck Tape!  Fortunately, that taped-on hack of a fix has now been removed and our window is holding up just fine.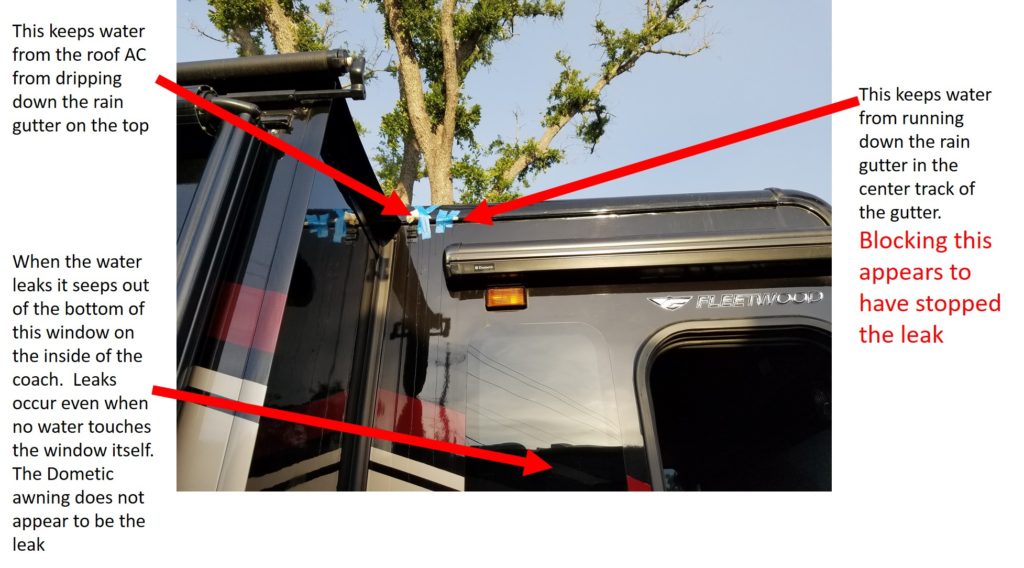 Overall, it is becoming clear that we've made it past the "startup" phase of the ownership experience and I'm looking forward to continued reliability.
Very unlike Q2, most of the Q3 was spent in cool-to-cold weather. Meaning we ran the heat and not the air conditioning. We had quite a few days near or even below freezing. This gave me time to really explore the options for handling cold weather, which I wrote about here.
Our coldest snap was in Kerrville Texas where the overnight temperatures dropped to 15 degrees.   We used 8 gallons of propane in 3 days during that chilly period.  Water condensed on the windshield and dashboard and then actually froze solid!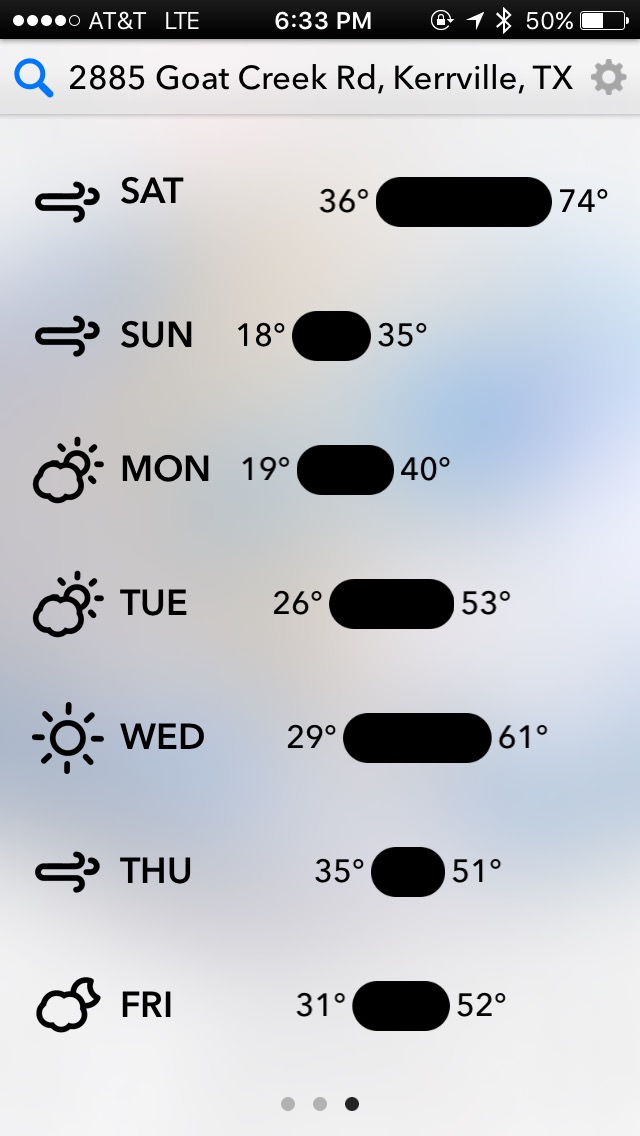 Our heat pump doesn't work below about 40 degrees, so we were running both propane furnaces,  two small electric space heaters in the cabin, and a tiny personal heater in the wet bay.  On the coldest 2 days we retracted 2 of our 4 slides.  The two that have water piping in them. I'm not sure we needed to do that to prevent freezing, but we also wanted to reduce the total space we were trying to keep warm AND that put the birds slide over the living room floor rather than over open air.  When we opened the slides again a few days later the place felt YUGE!
Other than using a lot of propane and a lot of electricity, the MoHo was fine and comfortable during that cold snap.  Well, except for the tile floor, which became very cold.  So cold that we had to keep shoes or slippers on at all times. The worst area was the front of the bus which is not directly warmed by propane heat. The propane furnaces warm the tile floors in the kitchen and bathroom, which almost paradoxically mean the floors in these areas are warmest on the coldest days.
We had a flood warning in Bellingham, hail warning in Atlanta, and in Nashville we were under a tornado watch….in November!
We saw our last tollbooth in the Washington DC area (just south in Virginia actually)
Good riddance.
Tollbooths are just a huge pain the rear.  We have to exit the freeway all the way to the right, then pull to the far right of the toll plaza, thread the narrow needle through the toll booth, then pull all the way left in the toll plaza, and then get back on the highway.  Most toll plazas have the far right lane as the widest lane for oversize vehicles.  Not all do however, and we drove through more than a few toll lanes with mere inches on either side of our bus.
Even in the wide lanes, making those exits and entryies is hard in a 57' vehicle.
Now, that doesn't mean we saw our last toll in VA.  Nope, that was in Texas. The difference is that Texas has implemented the license plate automated system so there is no need to exit the road and go to a toll booth and pay a toll person.  MA was in the process of replacing their toll booths with these automated sytems, and was scheduled to so the week after we left.  That will make tollbooths a lot less painful for RV'ers.  And everybody, really.
Washington DC was the first place we stayed twice. It continues to be a place with endless options for museums, dining, sightseeing, and other entertainment.
Being in DC for the election was a once-in-a-lifetime experience, especially with the upset that nobody saw coming. As it began to appear Donald Trump might win (but far from certain yet), we were in the Old Ebbitt across from the White House. The mood shift in that evening was palpable.  Mostly, I think, because Washington insiders really had no idea what to think and hadn't planned on a Trump win.  But it was quite an experience to see the process unfold in real time.  Since the metro stops running at midnight in DC, we had to leave the Old Ebitt around 11:00pm and at that point it was anybody's guess.

On the tech side, we continued to have good and bad experiences. As we left the northeast, our access to technology began to improve. Cherry Hill in DC remains the gold standard for WiFi and our dish worked there too! Philly had very usable wifi and clear sky for the dish.
For the first time in months we had uninterrupted access to our DirecTV! We lost it a few times in North Carolina and Atlanta, but once we cleared the Atlanta area, we never had an issue with the dish again.  WiFi continued to be a mixed bag but our mobile hotspots worked well enough.  We continue to use 40gb – 50gb a month of mobile data.
I can't say overall that AT&T or Verizon is the better provider.  I will say we did encounter a few places where Verizon had a signal and AT&T did not.  However, the Verizon data on that signal was not usable, so I don't know what good it did us. If I had to pick only one I would give a slight edge to Verizon BUT when AT&T is at the top of its game it seems faster than Verizon at the top of its game.
I switched back to iPhone in Q3 after nearly 6 months with the Galaxy S7 Active. Turns out it is tough to be the only Android user among family and friends.  The Force is strong with iMessage and FaceTime.
Now that iPhone 7 is at least respectably water-resistant AND has an improved camera, I wasn't as worried about using it as my primary camera in outdoor situations. There are a billion comparisons between iPhone and Galaxy, iOS and Android, so I won't belabor this with my own "review."  Suffice it to say that iMessage really is great, Apple Pay works a lot better than the equivalent on the Samsung (Google Pay rarely worked and I don't have any credit cards compatible with Samsung Pay), and I appreciate getting timely software updates.  Having said that, the Galaxy S7 camera is better (and faster) than iPhone 7 AND it the Galaxy camera is much easier to launch.  I have an album of missed iPhone shots that I'll post someday due to both the slow process of launching the camera and an annoying shutter lag on the camera app itself.
Here is one example. I was taking a photo of a sign in this storefront window.  With the several second shutter lag, I got a blurry photo of the bottom of the window area instead.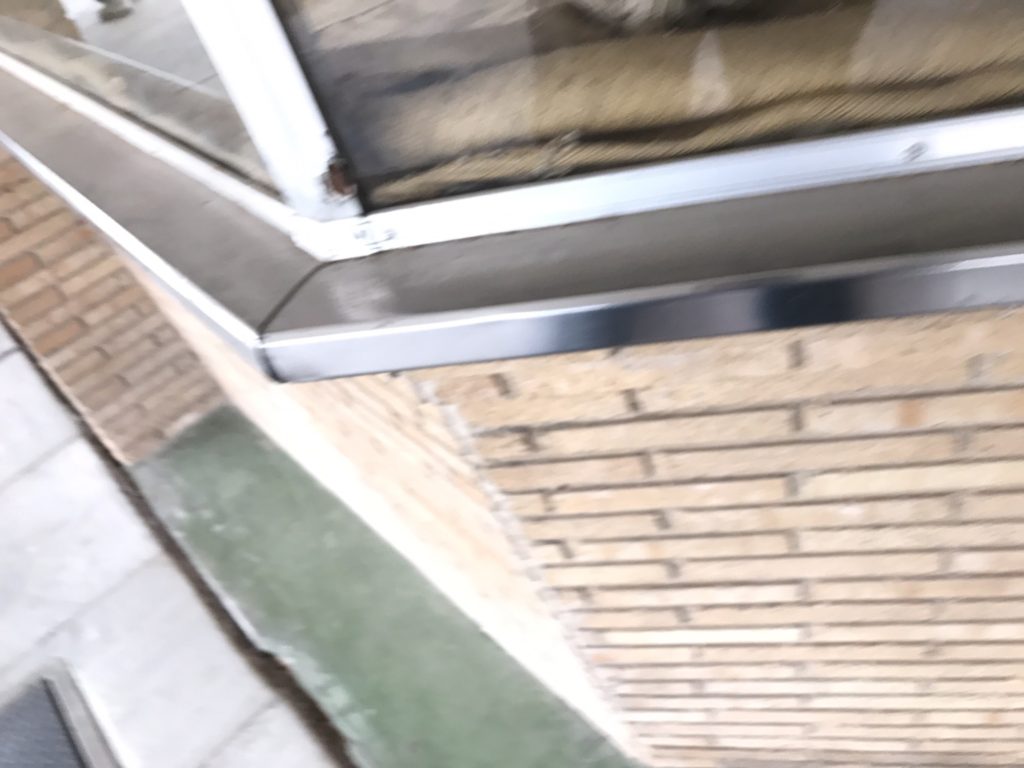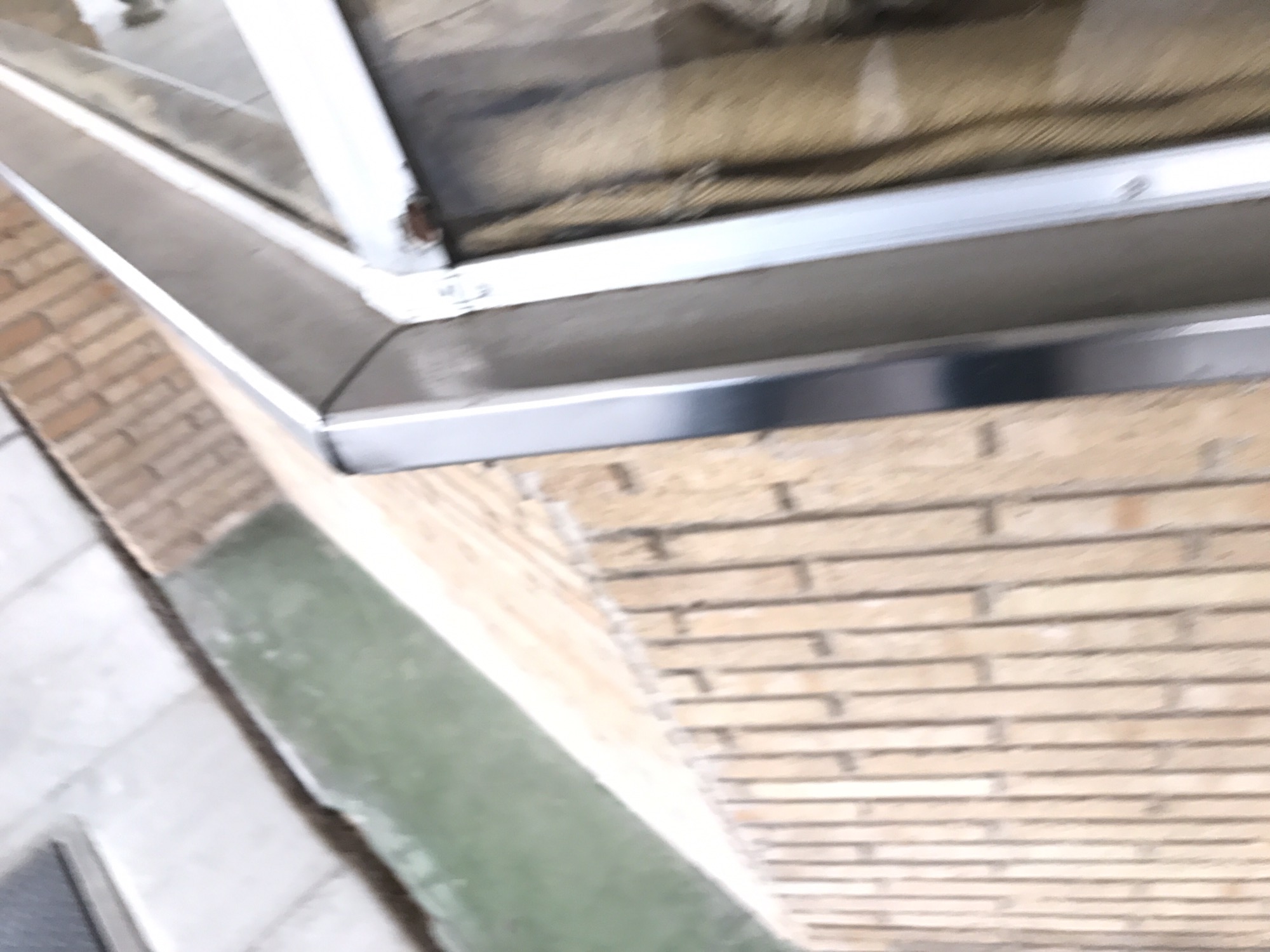 We had our annual MoHo maintenance done in nearly the final day of Q3. If it had been a week later, it would have landed in Q4. The annual maintenance was $1100 and that included an upcharge for synthetic oils. That is about $500 cheaper than the 6 month service.
I think the reason for the price difference is that we went to an Oasis RV Freightliner shop in the Phoenix area which bundles the items together and gives a single "bundle price" price for the annual service. Our 6 month service was at a trucker Freightliner in Albuquerque that just itemized our 6 month list and used book labor rates for each item.
You may be wondering why we had the 1 year service done in Q3.  The reason is that our RV had 3500 miles on it and was already 3 months old when we bought it.  We had the 6 month service done in May, which meant the 12 month service really should have been done in January.  The good news is that we won't need service again for a year!
The Jeep Wrangler Unlimited has proven to be exceptionally reliable. We had the oil changed in Boerne (Bernie) TX – all Wranglers come with 4 free oil changes and tire rotations so it didn't cost us anything. The dealer also took care of the airbag sensor wring recall which is the only mechanical issue that we've had in the year of our ownership.
So far, the Wrangler has been among the most reliable of cars I've owned. It is a primitive vehicle that doesn't handle so well on the highway, but its great fun to drive in rural areas. Wheeling around Boston in a 4-door Wrangler was a great yin/yang. On one hand, it is big (long+wide+tall) and not a city car. On the other hand, it soaked up bad pavement quality like it wasn't even there.
Construction is EVERYWHERE. Don't believe what anyone says about either the economy being terrible or that no infrastructure investments are underway. Just as one example, I have never seen so much road construction in my life.  Interstate highways are being widened, new overpasses being built, lanes are being repaved, entire roadway sections are being redone. Growth in the Southern states is particularly robust. NC, GA, TN, TX, and AZ are all in what seems to be a housing building boom.  Roads are being heavily improved but highrise cranes dot the downtown skyline while suburbs with strip malls are popping up all over. It is good to see the growth, but the sprawl being creating may come back to haunt these areas.
I'm looking forward to the Q4 report!