We headed over to Pensacola beach to check out the scene over that way. It isn't a long drive – only about 20 minutes.
Unfortunately, nobody told the map routing team at Garmin. It turns out the destination we chose exists in both Gulf Breeze and Pensacola. The place we were going said it was in Pensacola, so that's the one we chose. 30 minutes later, as we were driving through the ghetto's of Pensacola – including right past the Outlaws MC clubhouse – we decided maybe we should second-guess the Garmin. Sure enough, we were 20 miles in the wrong direction.
Seriously – if you are heading to Red Fish/Blue Fish and your GPS asks if you want the address in Pensacola or in Gulf Breeze, choose Gulf Breeze!!! Yes, I know it is actually Pensacola. Don't argue.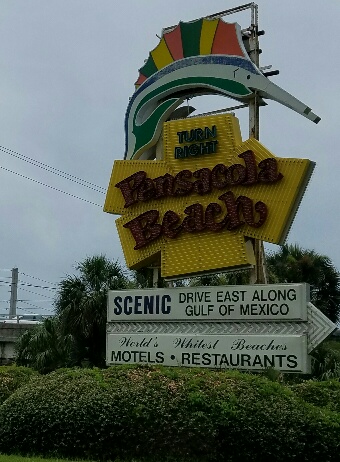 Heather jumped in and took over navigation, and we were on our way to Pensacola Beach. The skies looked a little ominous but storms come and go around here so we just kept going.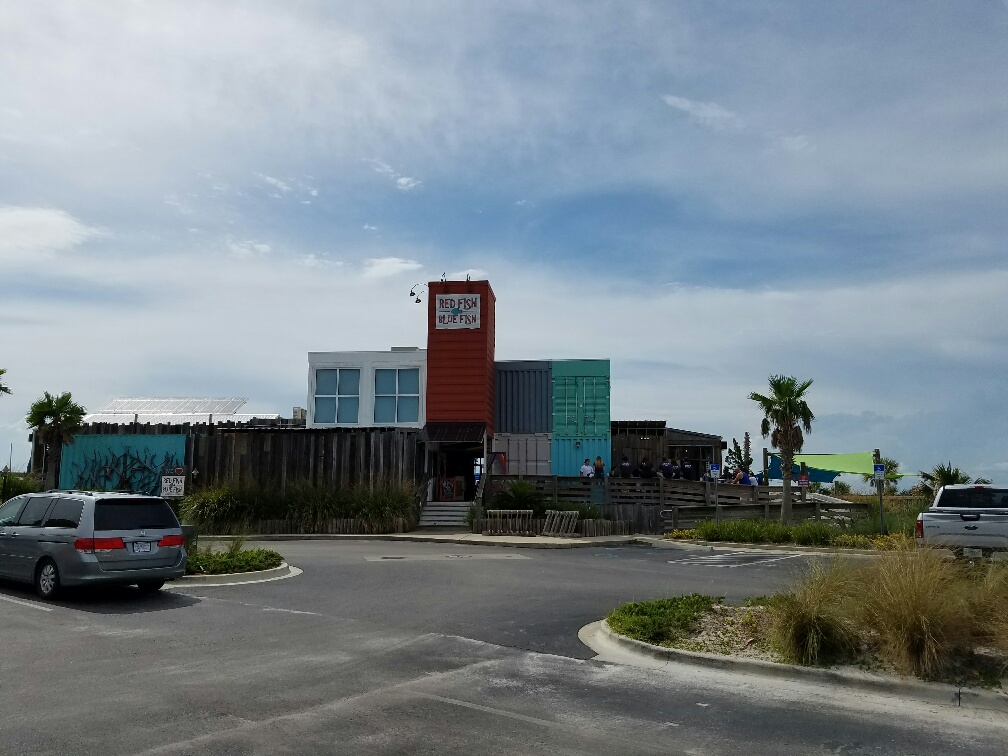 Red Fish Blue Fish is a seafood shack-type restaurant built out of shipping containers and driftwood. It is just as awesome as it sounds! We wanted to sit outside but were warned it would start raining any minute. We sat inside instead and sure enough, about 20 minutes later it started to rain. More of a sprinkle really.
Across the street are the hotels and the Hilton Convention center. All are lined up along the Pensacola beach, which is just as nice as Navarre Beach and Destin. Which is to say that Pensacola Beach has soft white sand and emerald green water.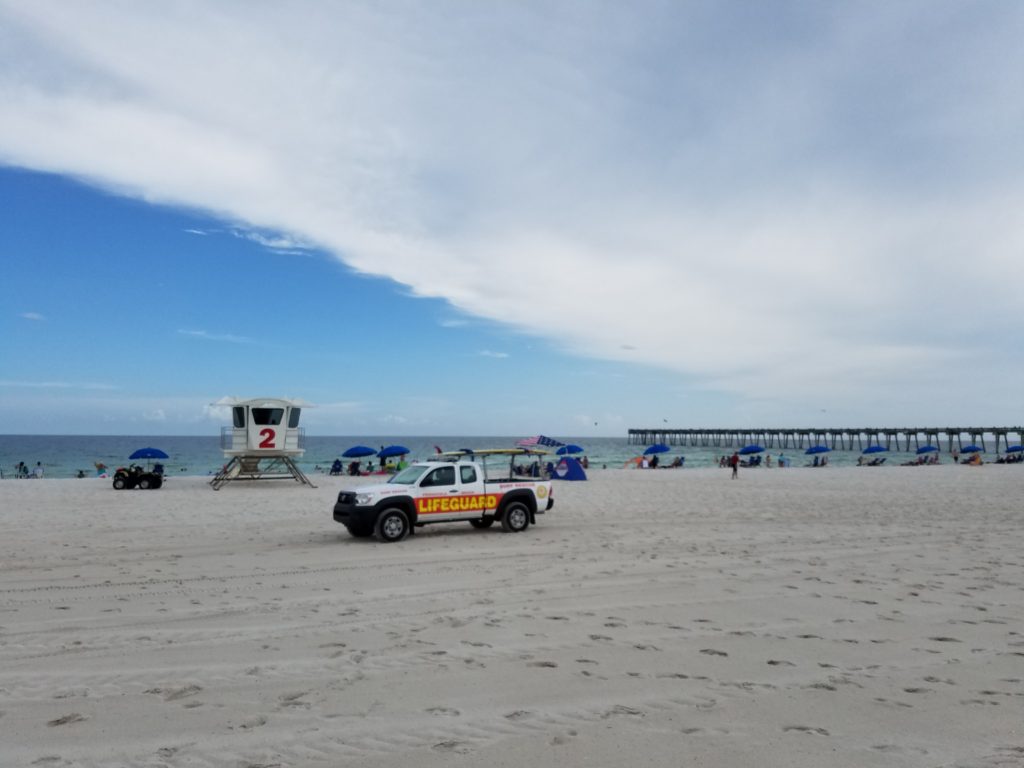 The Florida Baywatch crew was on duty and ready for action. Like Navarre Beach, the crowds were light. Unlike Navarre Beach, restaurants and bars are all along the beach so you can get a drink, a burger, or even oysters on ice all without leaving the sand.
One of the more popular places – The House of Crabs – offers all manner of crab and seafood dishes either for dine-in or beach delivery. I'm not sure this huge crab over the door is appetizing or terrifying. Maybe a little of both?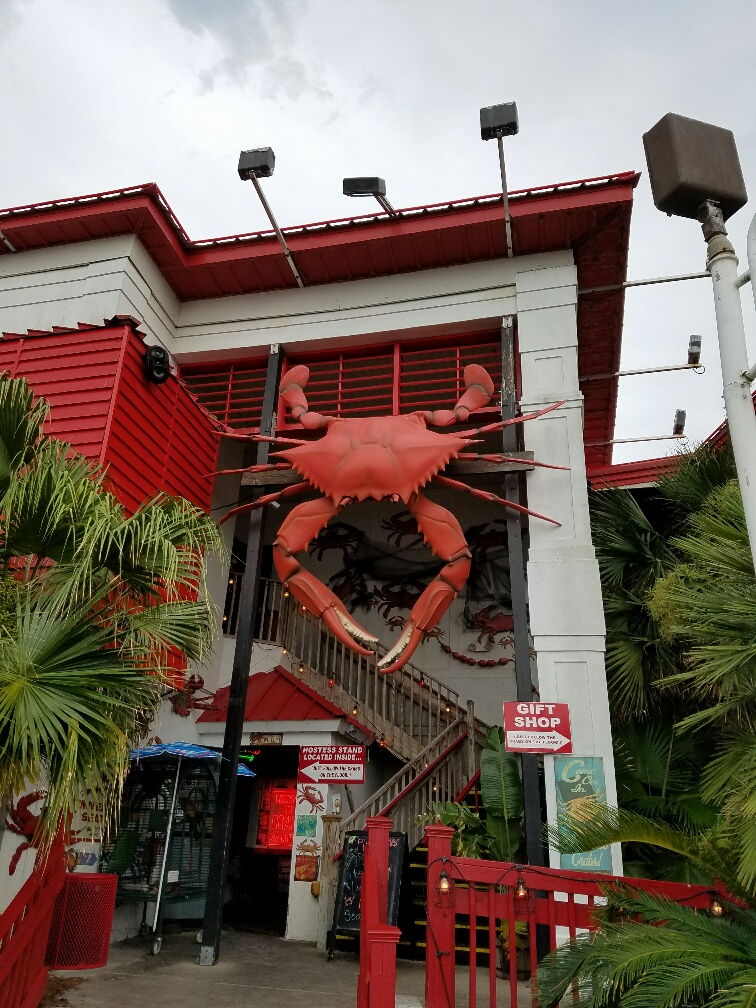 Even the water tower gets its beach on!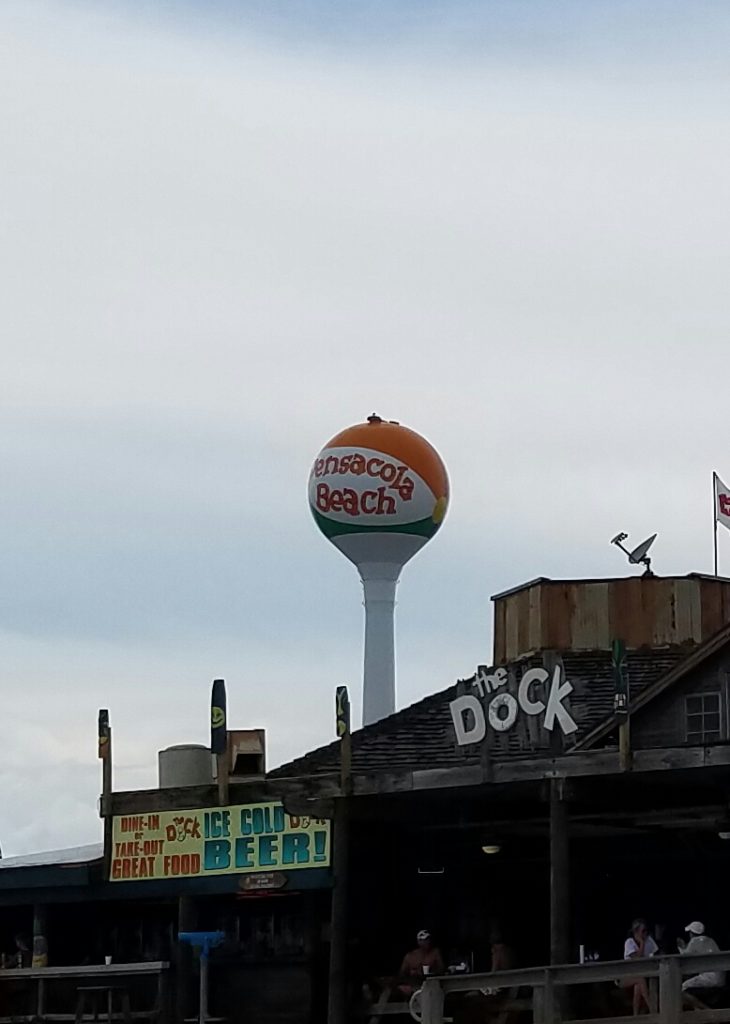 Of course, being a more built-up area, it has more amenities. (See what I did there? I didn't say "touristy"). More stores, more food, more bars, more entertainment, more hotels, and mini golf!
We had to play 18 holes at Tiki Island.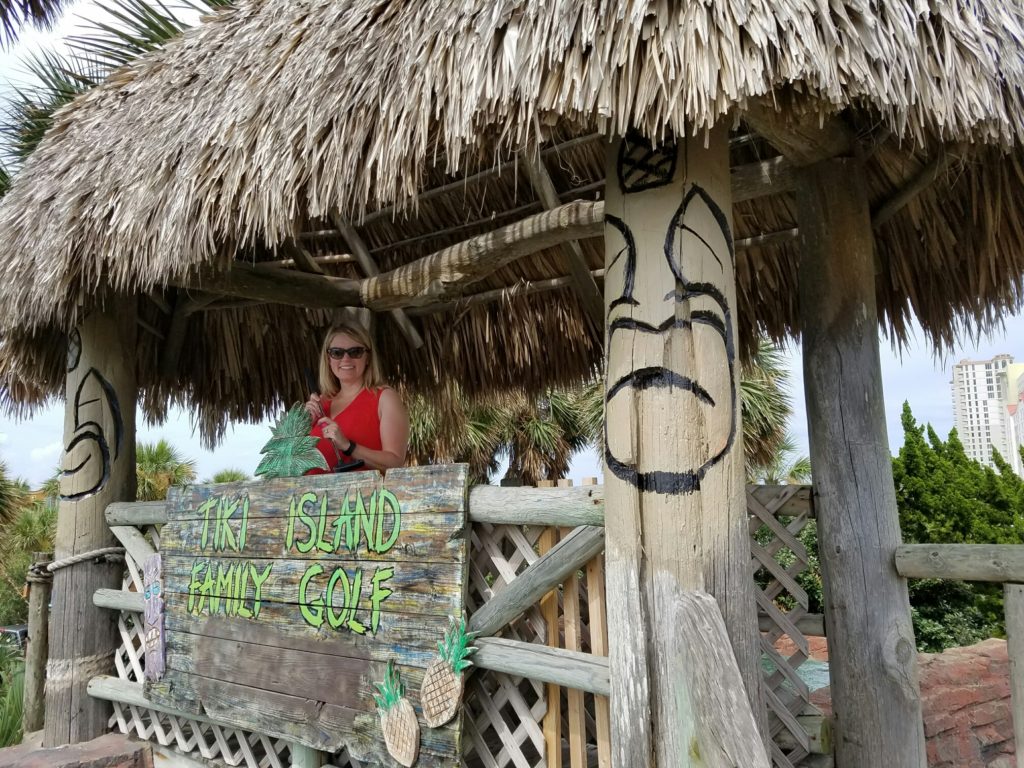 The course was surprisingly challenging, and in spite of this had very low par on each hole. Not that either of us was in much danger of going over par even with higher pars.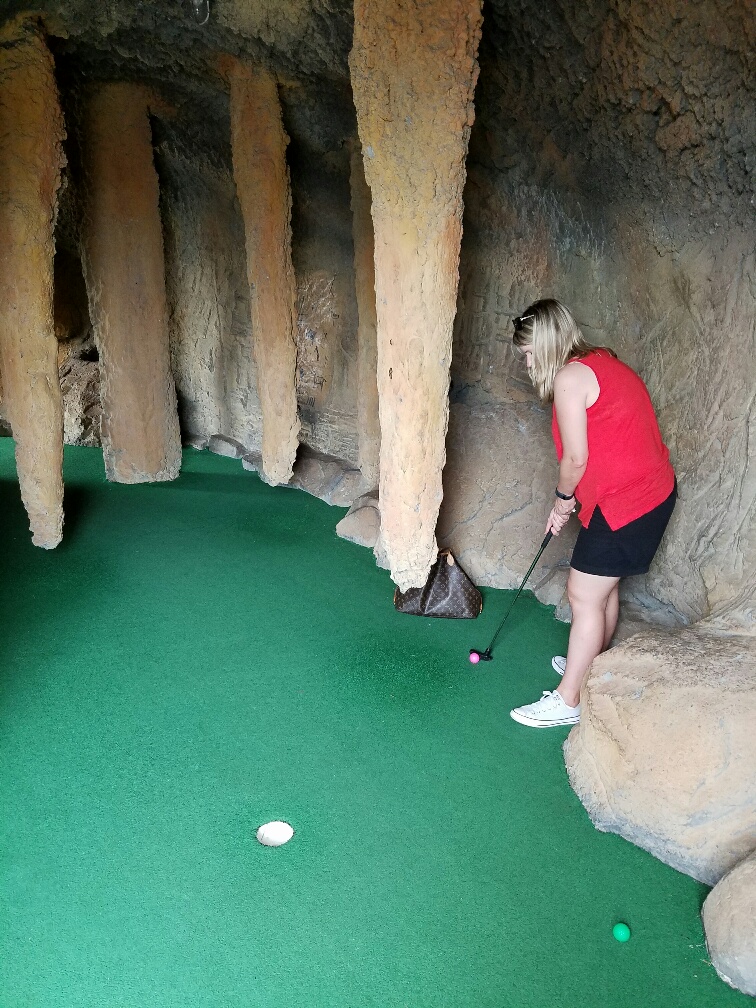 One of the holes started at the top of a hill and the ball went down the side of the hill in a meandering ramp.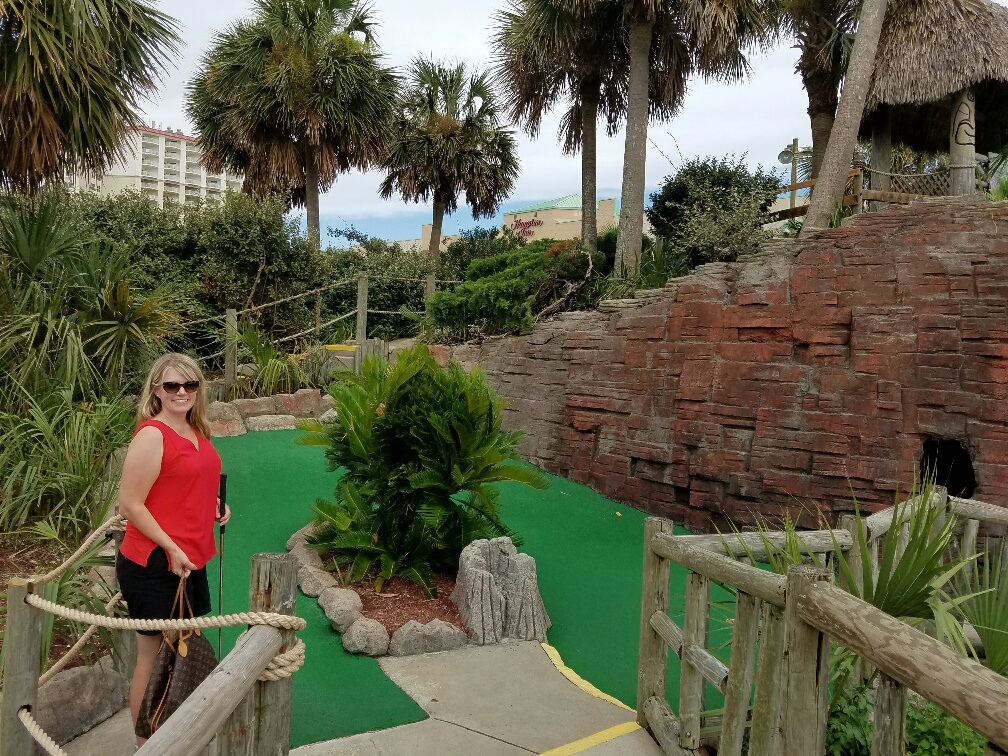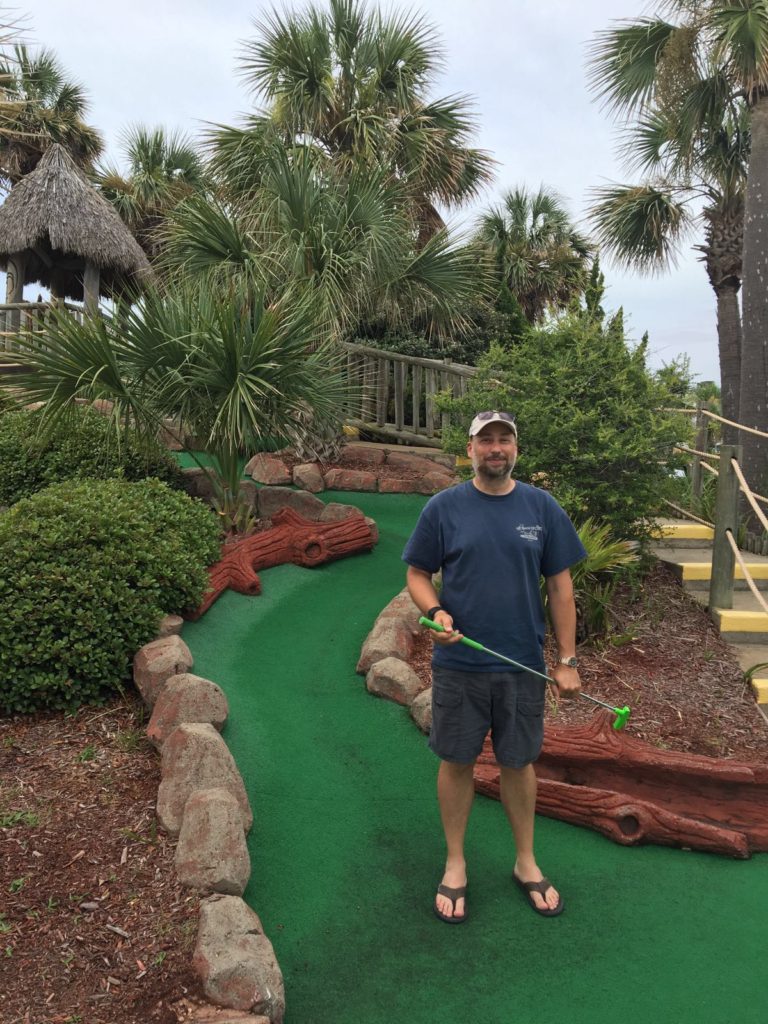 Most of the holes had slopes or bankments which made shots more challenging. Heather did much better than I did, particularly on the first 9 holes. I blame my club. 🙂
We finished our golf and walked around some of the stores. They are the typical beach stores selling shirts and swimsuits and souvenirs. Overall, Pensacola Beach seems like a great place for a family vacation. The beach is just as good as the rest of the Emerald Coast and there are plenty of hotels and restaurants for a great vacation.