What a day. We got up early – like so early even the sun hadn't woken up – so we could get to Freightliner by 7:00am. I walked into our bathroom and was like "why is it so dark in here?  Oh….."  (Our bathroom has a huge skylight that normally lights up the room extremely well.  But only when the sun is working).
Now, one of the things about an RV park is that people come and go every day, all day long. And many of them are on a schedule so they have to leave early. But leaving at 6:45am is still pretty rare.
Why does that matter? People go to work that early all over the country, right? All over the world really. So why should it be different in an RV park? Well for starters, most people don't have to fire up a massive diesel engine when they leave in the morning. That diesel is not a quiet motor.  And if they did, they wouldn't leave it idling for 10 minutes before they left.
It normally takes us 45 minutes to fully vacate a site and hit the road. That includes picking up inside, clearing room for the slides to come in, unhooking the water, sewer, and electrical, lowering the satellite dish, retracting the four slides one at a time (one of which makes a LOT of noise – think rubber seal on plastic moving slowly with a lot of groaning thrown in), raising the hydraulic leveling jacks (at least a minute), then inflating the air suspension (at least 2 minutes), and hooking up the Jeep for towing. The engine has to be running for the last 10 minutes or so.
Ask me about the time I skipped the "lower satellite" step on the checklist and drove about 15 miles with the dish up.  D-oh!
I'll post our full checklist later. Suffice it to say it is a lot of steps. And yes, we really do have a formal checklist that we follow!
Knowing we would be leaving in the morning, we pre-completed a lot of those steps the night before. The only connection we had outside was shore power.  Power is the easiest and fastest land connection to retract and without power the generator has to run. Batteries will run most of the systems for a while but not for days.  And they won't run the the electric heat pump and electric heaters. Running the generator is a big no-no in an RV park, by the way. It just annoys the neighbors for no good reason.
We filled up our freshwater tank and were able to kind of boondock at our site. We also left one of the 4 slides retracted – the biggest slide that makes the most noise and takes the longest to retract – so we could avoid that noise and time in the morning.
Even so, we fired up the big diesel at 6:45am and it took us about 10 minutes to retract the other 3 slides, raise the jacks, fill the air suspension, and start rolling toward the exit. ga-ga-ga-ga-ga-ga-ga-ga goes the rattle of the diesel…. Sorry fellow RV'ers! Roll over and go back to bed in 10 minutes!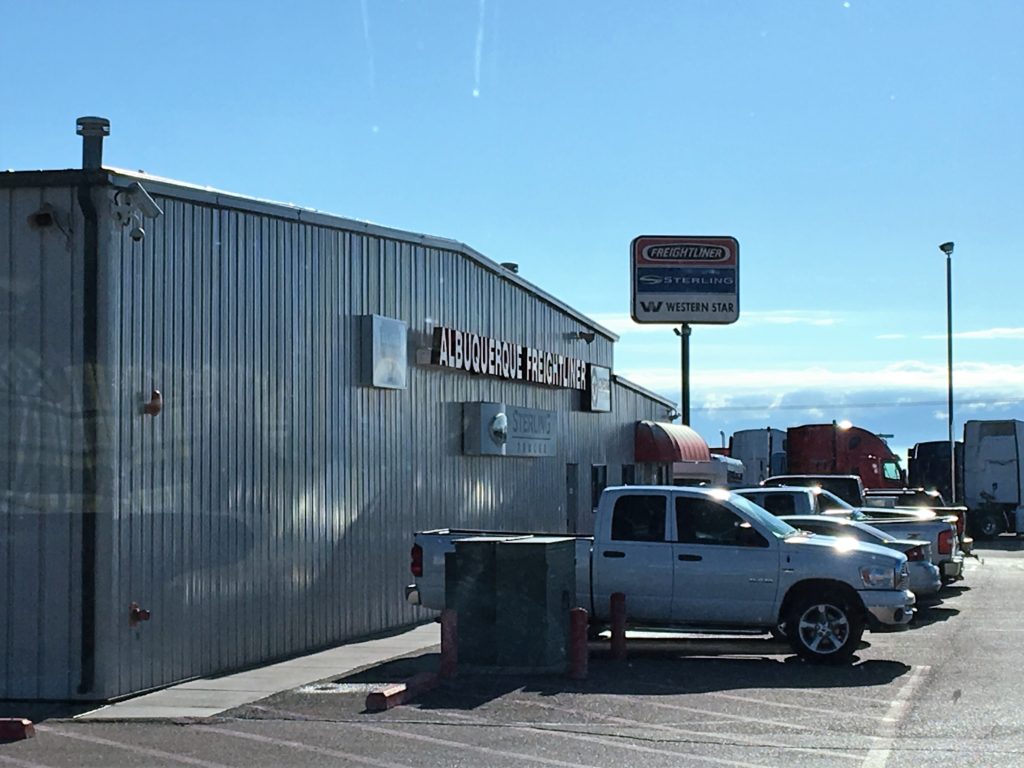 The crazy thing is that Freightliner doesn't take appointments.  First come, first served. The first time I called, they said they were backed up almost a week!!  Yikes!  Most people drop off their RV and leave it so they had a place in the queue.  Since we are living in ours, dropping our HOME off and leaving it for days just does not work for us.  Some Freightliner dealers, particularly the Oasis-branded ones, provide on-site camping and hookups.  My stepdad Rex recommended one in Phoenix but we never could fit a Phoenix stop into our trip.
ABQ does not have an Oasis brand or provide overnight hookups.  I had called and talked to Tara (very nice, very funny) several times over the prior week to make sure they knew we were just across the road and could be there in 5 minutes and could they please pretend like we left our RV overnight.
We got to the service bay at 6:59am and were at the door, bleary-eyed and hungry – but on time!  Yeah, I know 7:00am isn't THAT early, but we're semi-retired now and early mornings are best avoided unless absolutely necessary.  Just like the 5:00pm happy hour is to be treasured! So anyway, we checked in and they had us pull around and park. To wait. So we waited. And waited. And waited.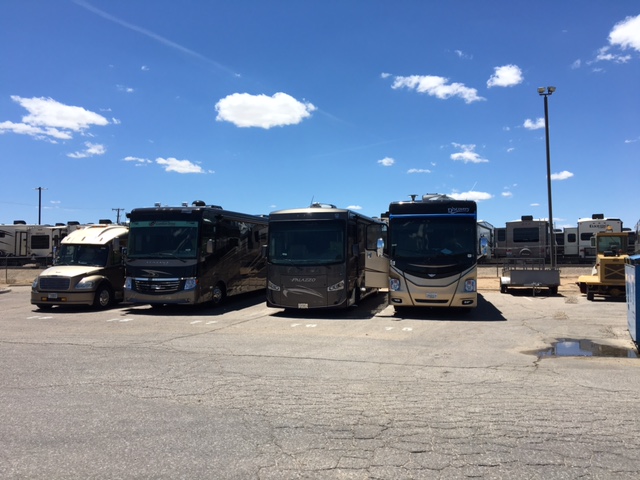 The other people at the Freightliner dealership were not like the typical people waiting at a car dealer. Virtually all of them are big rig truck drivers who are in a big hurry to get their rigs fixed and get their big loads back on the road.  The dealer provides showers and – I am not making this up – a washing machine and dryer.  Talk about full service!
Meanwhile, I was on a mission to get our windshield fixed. That's probably a whole other blog post, but the short version of the story is that we have water leaks around the windshield and have been chasing glass companies and Fleetwood around from 3 states and multiple glass companies  trying to get it resolved. I would have tried last week except that we were on Kirtland Air Force Base and I didn't think they would let a mobile repair guy past security.
We have been driving across multiple states with blue painters tape on the windshield to keep the leaks out.  Now, I can say that many a MoHo has been fixed by tape, but this is not the kind of long-term fix we want.  Especially as we head out of the dry Southwest and toward wetter climates. So the windshield really needs to be addressed.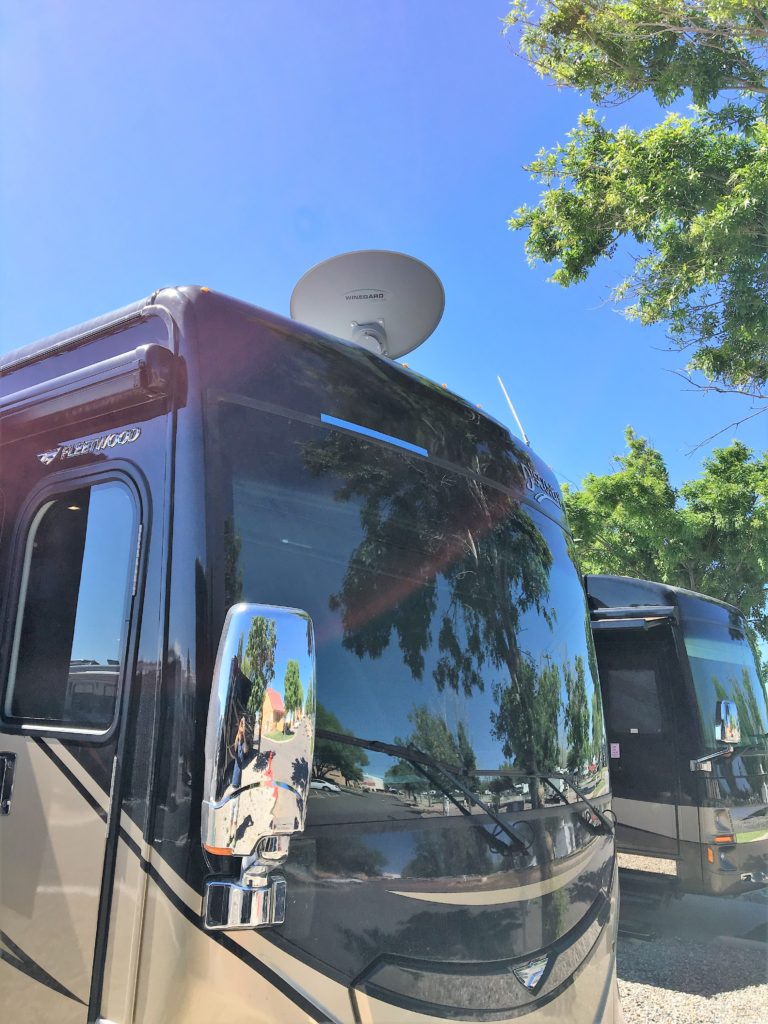 The mobile glass company that came to La Mesa decided that the windshield needed to be completely removed and reinstalled.  They even sent a technician who came without a ladder??  Of course, they said they'd likely break the current windshield during removal and wanted Fleetwood to send a replacement.
Fleetwood said they wouldn't send a new windshield (probably $2000 or more just in glass cost) and that the glass company needed to get the old one out in one piece. Which I understand.  If I were Fleetwood, I'd say the same thing.  Plus, that kind of repair would mean we would be without a front windshield for 3-4 days!!  That's like a house without a front door!!
So, I needed to find a mobile glass company who would attempt a fix without removing the whole glass. And I needed to coordinate it around the Freightliner repairs because we're leaving ABQ tomorrow to drive up to Los Alamos to see my dad and stepmom.  Note to self.  Schedule this stuff earlier and stay in one place longer.
It took 4 hours for Freightliner to free up a technician to do our 6,000 mile service. So we waited in the parking lot in the MoHo with the birdies. Fortunately the weather was (finally) just about perfect.  Once Keith came to pick up our MoHo, birds included, we needed to kill some time.  The maintenance was estimated to take 5 hours.  When I share the list, you'll wonder why it didn't take longer (see below).
We decided the birdies would be more comfortable staying in the MoHo while it was in the shop. They did well yesterday at La Mesa, but being carried out of the MoHo, across the parking lot, and sitting in the lobby for 6 hours was pretty stressful for them.  So, they got to listen to air tools and mechanics cursing for a while.
Since we had time to kill, we went to see Petroglyph National Monument, which is nearby.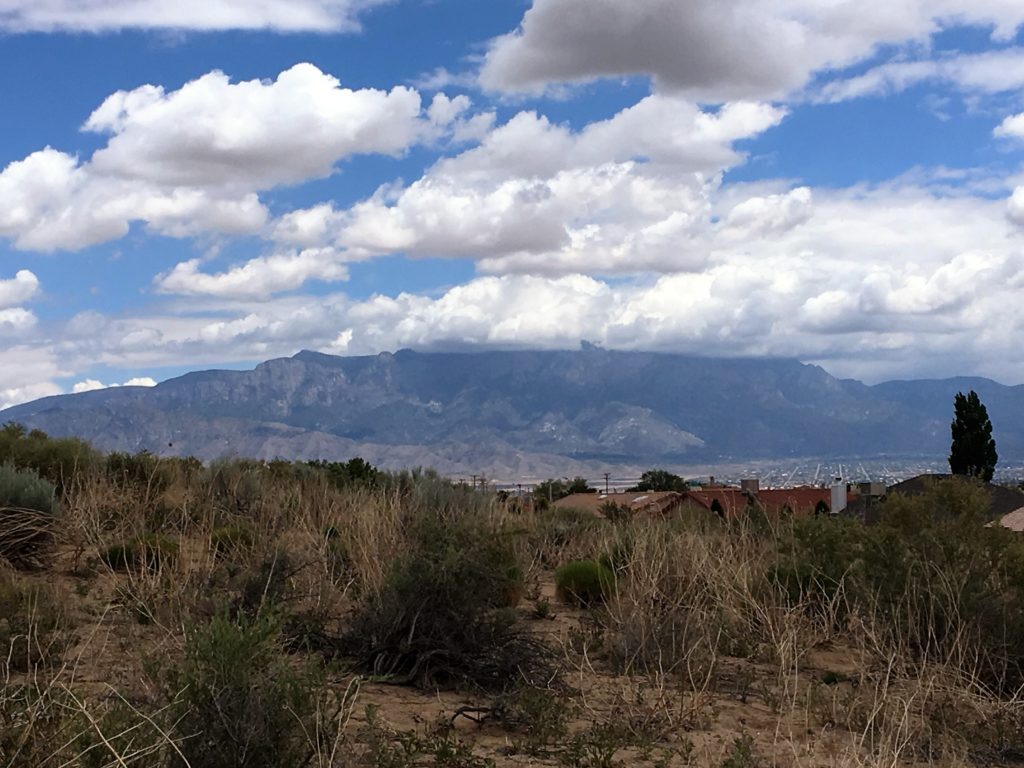 We stopped at the Visitor Center and talked to a ranger who explained that the monument is a series of sites along a lava escarpment (basically a one-sided canyon or long bluff) and we had to drive to them. There actually are no petroglyphs at the Petroglyph National Monument Visitor center.  The ranger recommended a site about 7 miles away so we drove over there.  We parked behind a Jiffy Lube and the monument is literally on the back side of a residential neighborhood.  Its about a 1.8 mile walk so we set out on the trail. It was a beautiful day!  No wind (finally!!).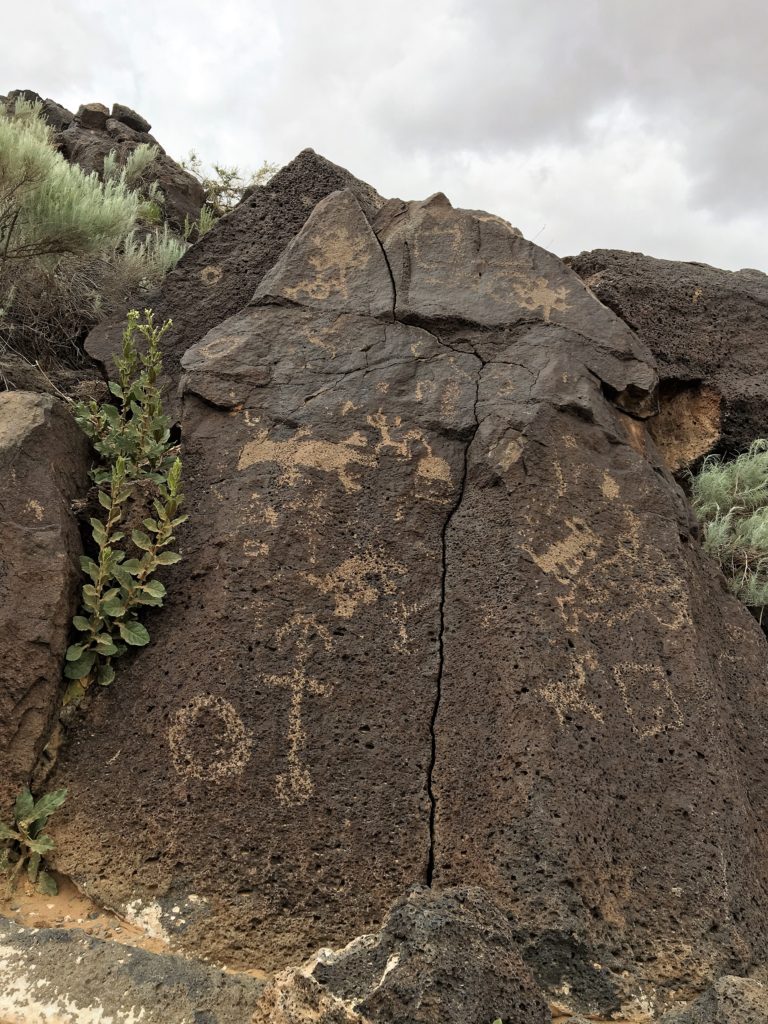 The area is quite primitive, but that allows visitors to walk right up to the petroglyphs.  Most of them are in very good shape!  There are hundreds of them along the edge of the escarpment.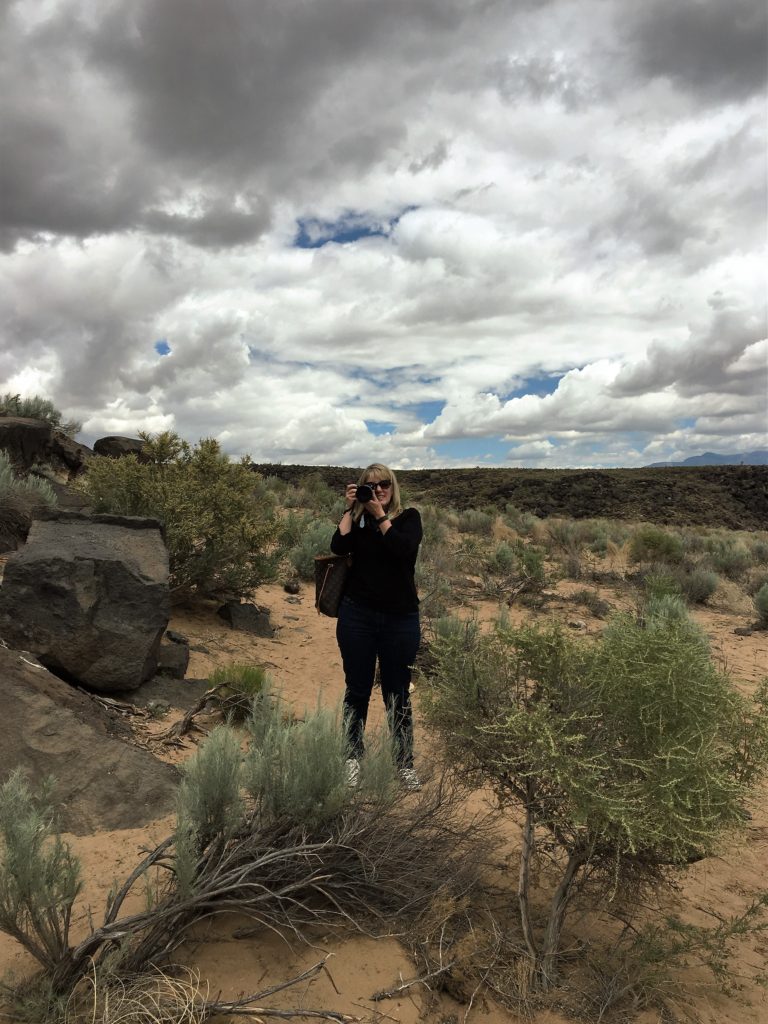 Heather had her camera and we wandered the trail in search of the best petroglyphs. I haven't seen her pics yet but I'm sure they are awesome.  I've mostly been using my iPhone as a camera, and mostly that's been good enough!  Cell phones have come a long way!
Once we were done, we drove back to Freightliner.  They finished up right at 4:55pm, which is a good thing since they close at 5:00pm.  Actually, they didn't quite finish so we go back Friday for a few final items.  In case you are wondering what is in a 6,000 mile initial service it is:
Grease slack adjusters, s-cams, u-joints, king pins (whatever THOSE are), tie rods, and drag links (again, whatever THOSE are)
Check belts, coolant hoses, transmission lines, engine support fasteners, wheel seals, air brake calipers, air lines and fittings, air tanks, exhaust system, chassis electrical grounds for corrosion, suspension bolt torque, u-bolt torque
Remove front wheel oil hubs, drain, install new gaskets, refill with fresh oil
Drain and refill rear differential oil
Test charging system (batteries, alternator, charging electronics)
Tires and tire pressure
Replace both fuel filters
Oil/filter (not done because La Mesa did this in Feb)
All of that will cost you $1400.  Not cheap.  But then again, we paid a lot for the MoHo and we want to take care of it!
Since the service took all day, we extended our stay at the American RV Park for one more day and will get the windshield fixed Friday.