We spent our last 2 days in Navarre.  We leave in the morning for Tallahasse and then on to Orlando.  We'll metup with Sean Burke in Orlando, along with Harry Potter, Dr. Seuss, Spider Man, and Mickey Mouse.  We are both excited to continue seeing new places, but will both miss this area!
The first day was a little stormy, but the storms seemed far off.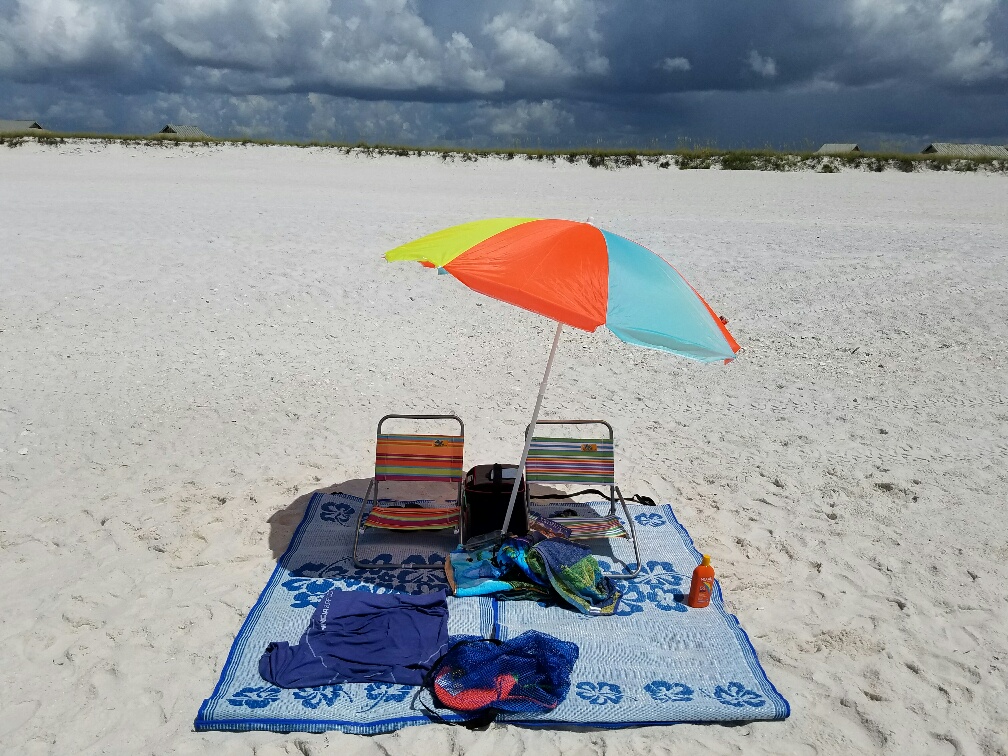 After an hour or so, we could hear thunder in the distance, but using our incredibly precise "one Mississippi two Mississippi" ranging method, we determined the thunder was at least 8 -9 miles away. Still, the clouds seemed to be moving closer and the lifeguards blew their whistles and cleared the water.
We sat for a few more minutes, then decided to start packing up.  The sky above us was clear blue and we were still in the sun.  I had just taken down our umbrella when BOOM – simultaneous light flash and massive thunderclap!  I could feel the shock wave from the thunderclap in my chest and both of us….along with the people around us….felt electricity crackle in the air.
Both of us looked at each other for a split second, sort of confirming "did that just happen?!?!"  Once we knew that it did, we both thought RUN!
The beach cleared faster than if Jaws himself had just jumped out of the water and onto the shore. While holding a machine gun.  And a flame thrower.
Based on The Google and our personal experience, we must have been about 250-300 feet from the strike. Any closer amd we would havr been zapped.  Any further and we would not have felt the current.  WAY too close for comfort.  We high-tailed it off the beach and back to the car.  Even though the car was about a quarter mile away and took us some time to reach, no more lightning came anywhere near us.   Just that one random bolt out of nowhere.  Very strange.
Undaunted by our experience with "ground gradient"  (seriously, look it up.  I'll wait) we decided to head to Pensacola beach for lunch.
As we pulled onto the entrance to the bridge, we saw hundreds of cars backed up behind the toll plaza.  The day before, there was no wait at all.  We waited about 15-20 minutes to get across, and once we got to the Pensacola Beach side, we saw the Sheriff and Pensacola PD were everywhere.  Directing traffic.  Turns out the Blue Angles were home and practicing, and they practice right above this area.
We crossed back over the bridge and went to Panera Bread for a salad.  From our outdoor patio we had a decent view and saw the Blue Angles above us many times!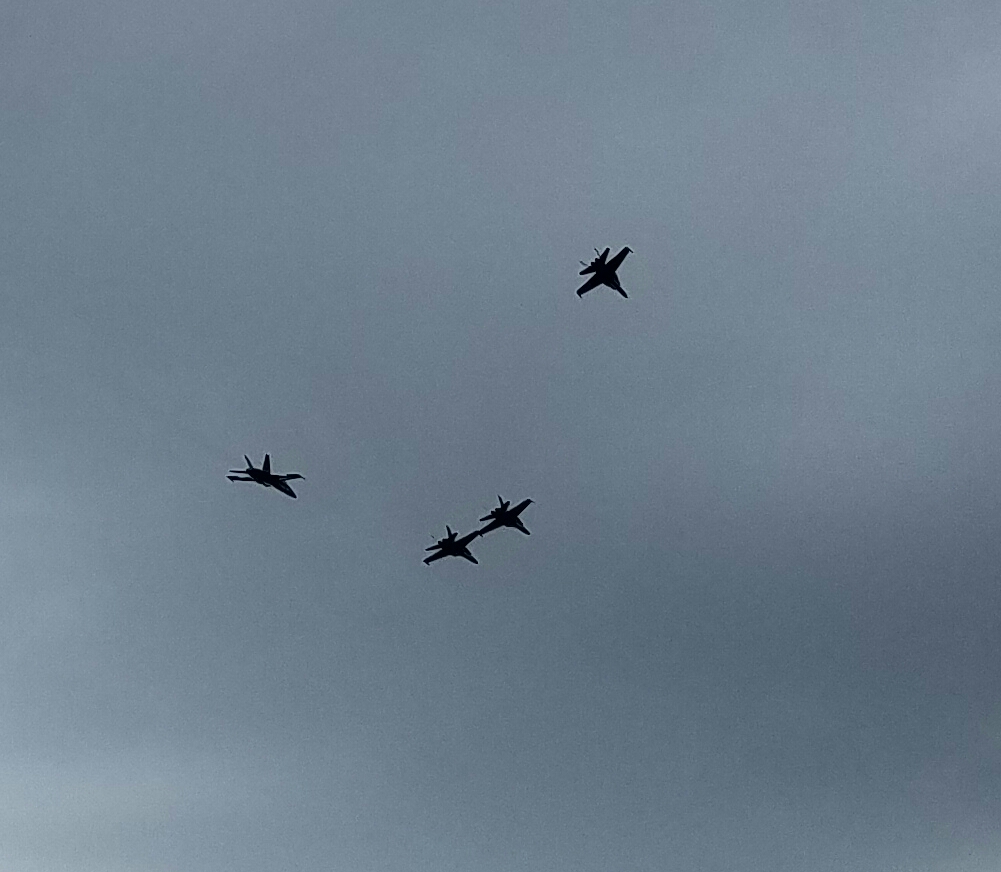 We decided to pull into the Naval Live Oak National Seashore on the way back.  It has many walking paths through the dense foliage along the sound, and a proper display of the impressive Naval Oaks.  We didn't get very far down the path before Heather looked above us at the foliage canopy and saw the largest spider aside from a tarantula that either of us had seen.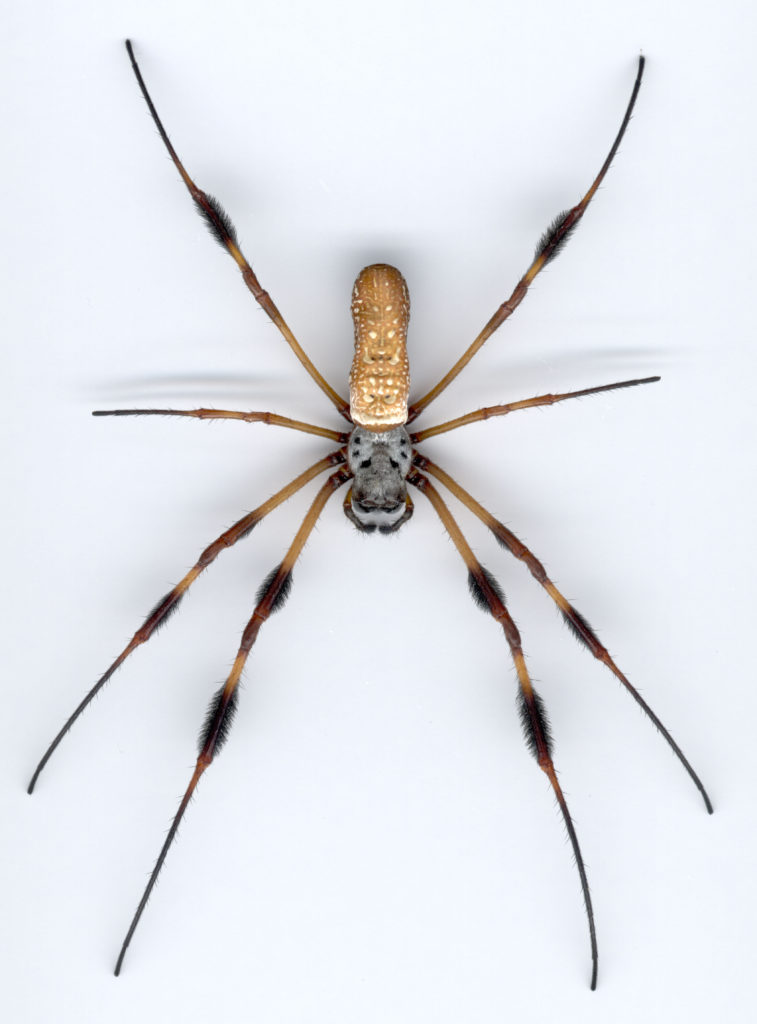 It was hanging right in the middle of a massive web that was literally directly over the walking path.  We looked a little closer and saw several more, including two that we had walked UNDER.     Gaaaaaaaaaaaaahhhhhh!
We turned around and got the hell out of there. Today was just not our day for safe and wholesome Florida experiences!  We later learned that these things aren't poisonous.  Yea, well, tell that to my nightmares!
Now pardon me, I think I feel something crawling on my leg….
We decided to stick around close to home for dinner to try and avoid what, based on our luck so far,  to be nearly certain disaster. Which meant trying out a place on Navarre Beach that the old dude at the Live Oaks Nature Preserve had told us about.  We didn't even know it was there before he told us about it.  In our defense, it is fairly well hidden.
So, we drove across the bridge to Navarre Beach and found the place. We parked and walked in, commenting that a shark-nado was probably forming off the coast.  Nah. That's just downer-talk.
But then the hostess said they had some big problem and the kitchen was closed.
**Facepalm**
Of course it was. Our bad luck streak continues!! Ya just gotta shrug of days like this.  They happen sometimes.
So we drove back across the Navarre bridge to head for the Shrimp Basket, the other place we had been told to go.  As we pulled onto the main drag, we saw traffic was backed up for miles. UGH.
We could see flashing red and blue lights in the distance, about a half mile up from us.  An accident?
As we crept along in traffic, we got closer and closer to the lights.  Since we were creeping along, it would give us plenty of time to safely rubberneck. I wondered what kind of terrible accident would back up traffic like this?  What kind of cars were involved?  Could we tell what caused the accident?
We pulled up and found no accident.  instead, two Santa Rosa county Sheriff deputies had their cars parked on either side of a paved highway median turn lane that had been puddled with water from the rain.  It could not have been more than 3 inches deep. We couldn't believe it.
It took us 30 minutes to drive 3 miles. Apparently the bad luck was not quite done with us.
When we arrived at the Shrimp Basket, we immediately noticed that everyone else in Navarre was there too.  No parking spaces and lines out the door.  We actually had to park across the street and walk over. We debated just abandoning and getting something from the grocery store, but that would have meant waiting another 30 minutes to drive the 3 miles back through the traffic jam.  So we went in.
Fortunately our luck changed!  They sat us immediately and even though the place was crowded service was attentive.  We ordered a couple of cold Yeunglings and a pound of boiled peel-and-eat shrimp!  It was also all-you-can-eat catfish night.  They even forgot to charge us for 2 beers.  The waitress said not to worry about it, and she didn't need to tell us twice!  Yep, our luck definitely turned!
We drove back past the puddle patrol, still keeping the citizens away from the dangers lurking in those inches of water.  The puddle was about half the size by this point, but still a threat to the public and therefore still guarded by two separate patrol cars.  I don't know what those deputies did to get assigned to puddle duty, but I bet they think long nd hard before doing it again.
By this time traffic was lighter and moving along faster.
The next morning – our last morning in Navarre – we again headed for the beach.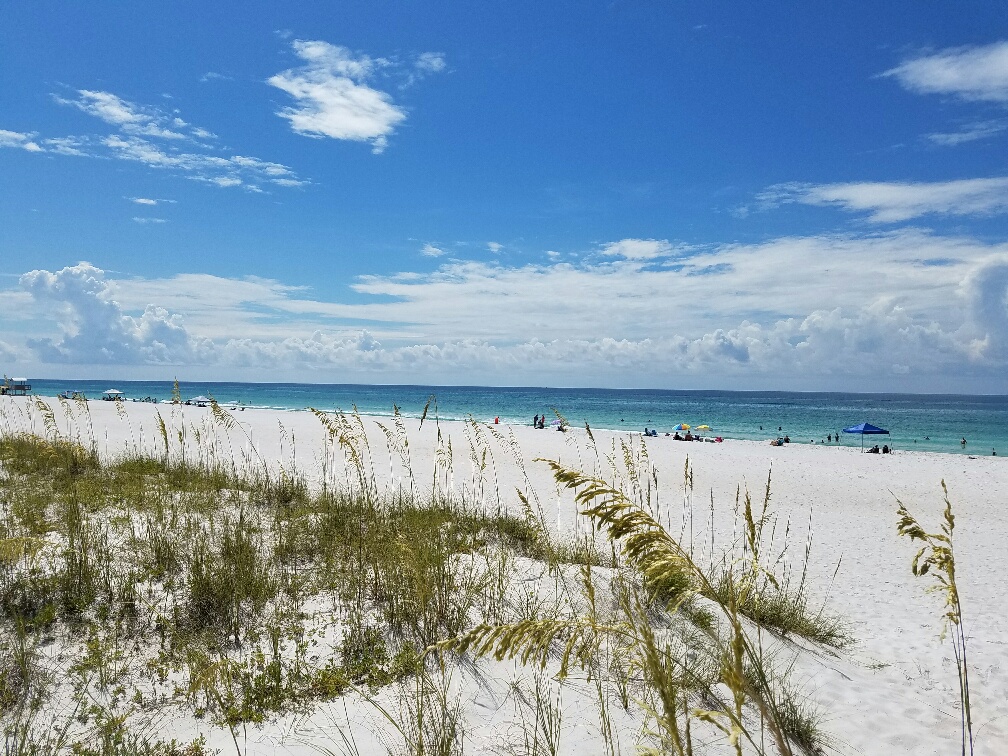 The day was perfect and the beach nearly empty.  As we began walking down the beach, we saw that we had it basically entirely to ourselves.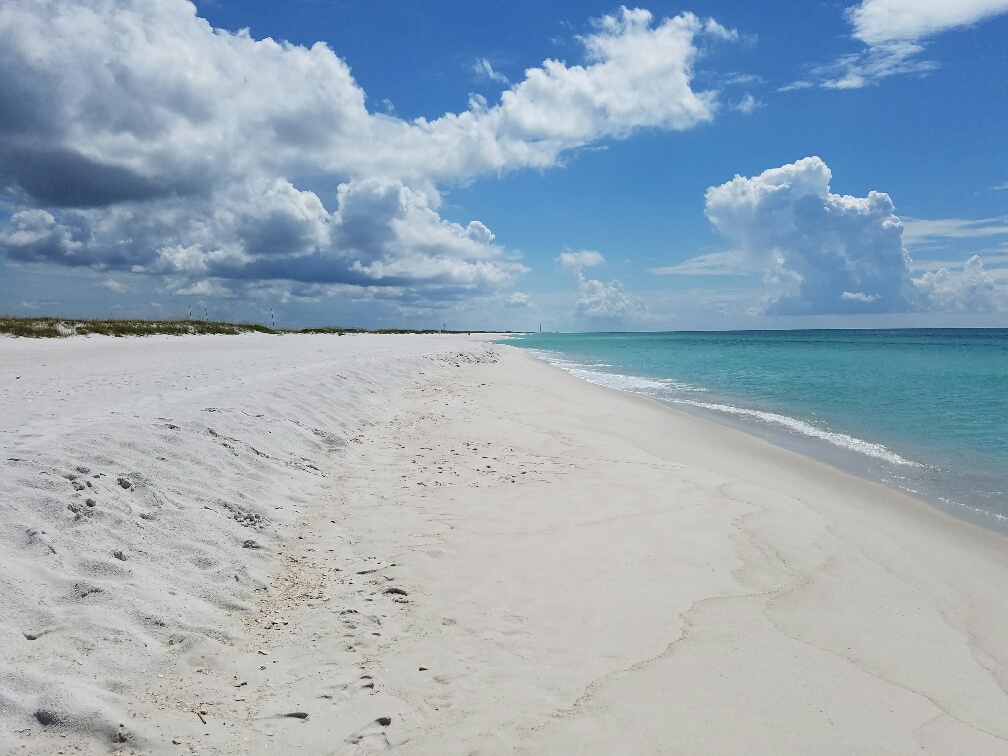 The water was crystal clear.  It shone in the sun like green sea glass.  As the waves rolled up toward the shore, they looked even more like liquid glass.  The clarity was stunning.  Not even any traces of the seaweed we had seen on prior days.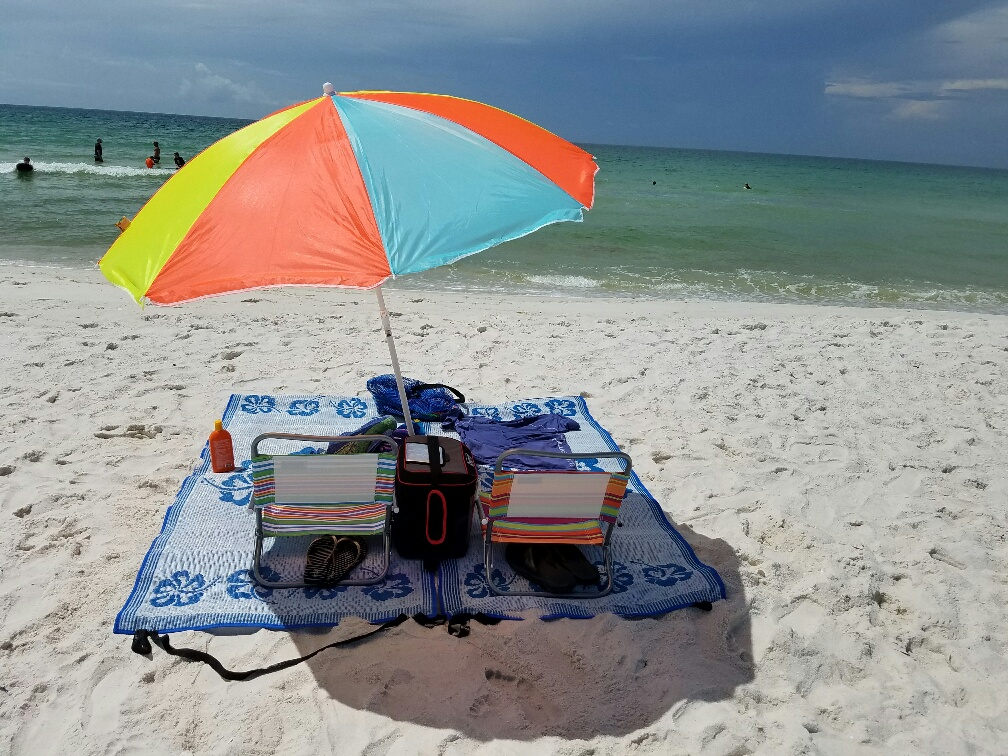 We setup beach HQ again.  This time, we felt pretty certain we wouldn't be (almost) hit by lightning!  ANd, we weren't!
We swam in the ocean several times, retreating to beach HQ to reapply sunblock and get cold drinks.  We could see fish everywhere in the water.  Not big tropical fish like Hawaii, but still pretty cool.
We returned back home after a great day at the beach.  After supper, we sat out on the deckchairs and looked out at the Sound where the sun was slowly setting.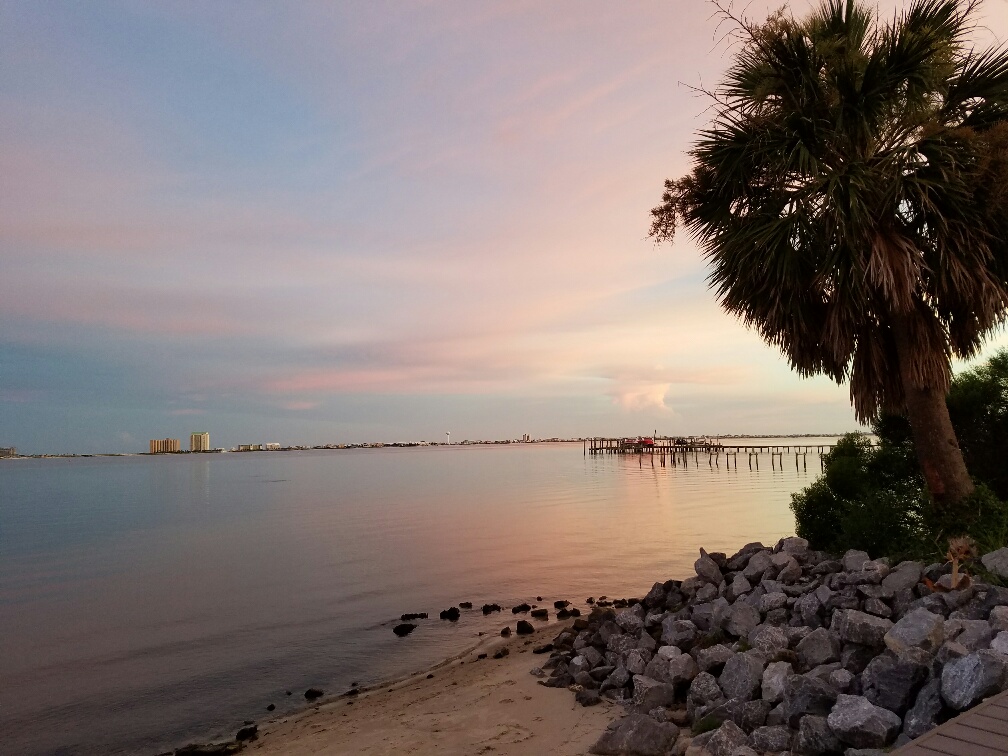 The colors were gorgeous.  Pinks and oranges blended with whites and blues, eventually giving way to purple as the sunset deepened.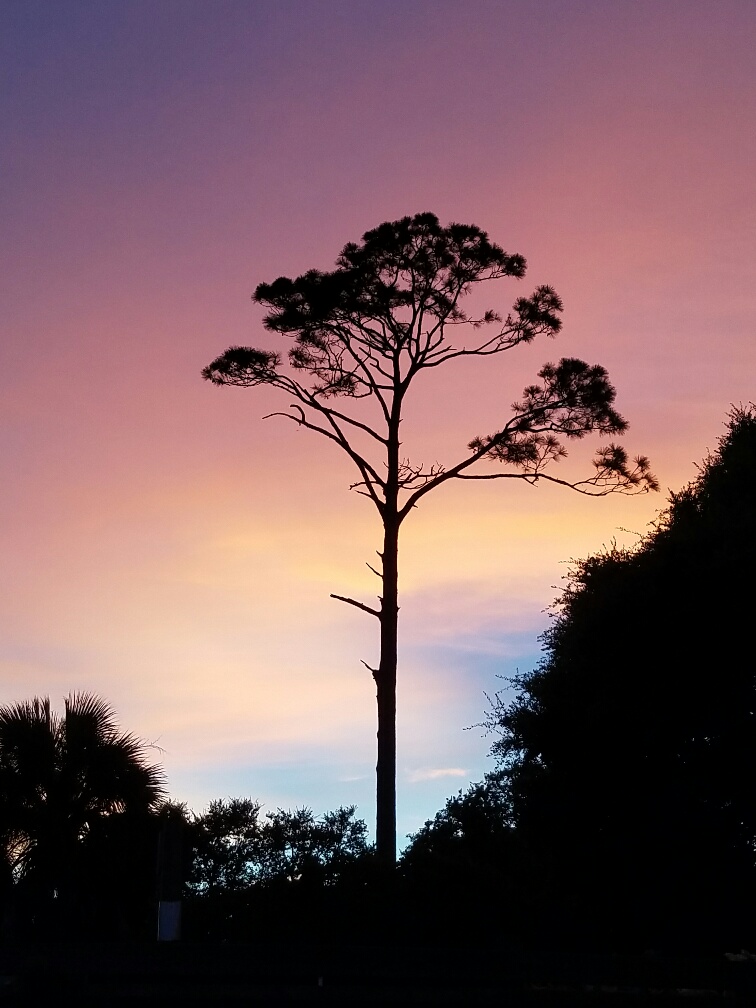 Before we came here, we hadn't ever heard of Navarre Beach and barely had heard of Pensacola and Destin.  Now, we both would rank this area among the top we've stayed.
We leave tomorrow, but won't say goodbye.  We will definitely be back.