Today was our last day in ABQ.  Coincidentally, it was also Heather's birthday!
So the couple in the Newmar coach next to us is super nice.  Dr. Daniels and his wife.  And their little dog, "Baby Doll."  The name sounds like it wouldn't fit the dog, but it totally does.
Turns out Dr. D is the President of the Newmar Owners Komfort Klub. Or maybe a local chapter of it. I didn't quite get the org chart for the group.
Dr. D invited us to a dinner the club was having at the RV park event building so we went over and met the group.  Totally fun and friendly bunch!!  It was very generous of them to invite us to crash their dinner, and nobody made any jokes about our Fleetwood.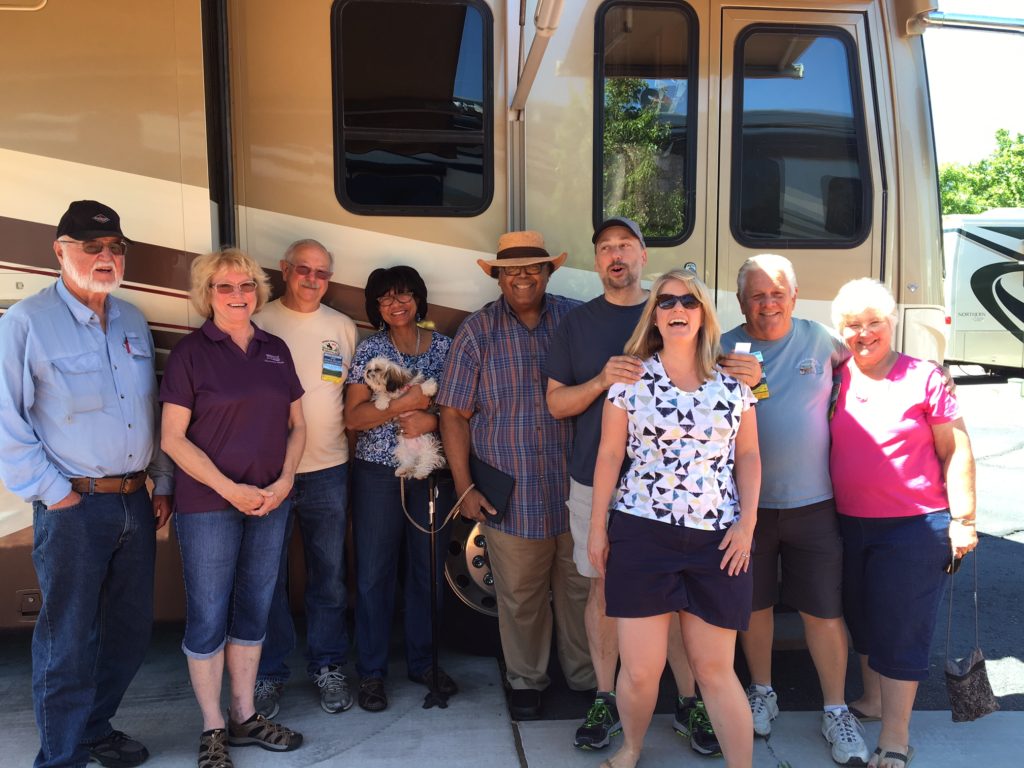 That's him in the hat to my right, his wife Mary Anne next to him, and three guesses at the dog's name.  Marty and Marion, to Heather's left, had some great stories!  Marty and Marion are Directors of Region 1 of the Newmar Komfort Klub.
Dr. D was full of great tips on just about all aspects of RV operations from computer software to use for route planning to managing the odors in the grey/black tanks to tow vehicle hookup.  I definitely learned some new tricks I'll be posting in the tips and tricks section of this blog.  Just as soon as I create the tips and tricks section.  Any day now. Just wait.  You'll see.
Since it was Heather's birthday, we decided to go to a Brazilian Steakhouse called Tucanos Brazilian Grill that a couple of the locals had spoken highly of.  We are big fans of Brazilian-style steakhouses with Texas De Brazil being our favorite.  But I won't ever turn down an invitation to Fogo de Chao.  Tucanos is in downtown ABQ so we drove down there.
We kind of missed the turn for our parking lot and passed the ABQ Convention center.  There were police cars blocking the road and a LOT of people outside.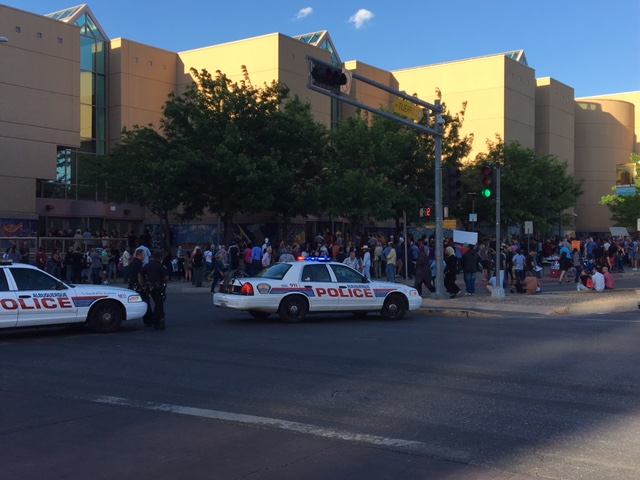 We drove past, but commented that it must be some political event because some of the people were holding up signs.  We couldn't read them though.
We went to dinner and it was "ok" but not great.  Still, most Brazilian steak houses are prix-fixe at $50 or $60 and Tucanos is $24.  So hard to complain much.
After dinner, we decided to walk a little and see what the big event was.  We stopped and talked to two very nice police officers who were manning one of the barricades. In fact, they are the two you can see in the picture above.
They told us it was a Bernie Sanders rally and that the convention center would only hold 6,500 but 10,000 showed up. The people outside heard Bernie would come out and meet the crowd after the rally so they were waiting for him to make an appearance.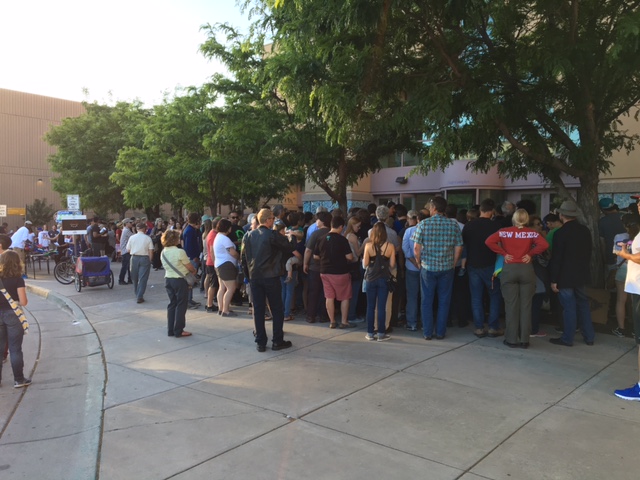 The crowd was fairly eclectic and very well behaved and calm. Its incredible that so many people showed up to hear him!  They told us Trump would be here next week and they were expecting a lively crowd.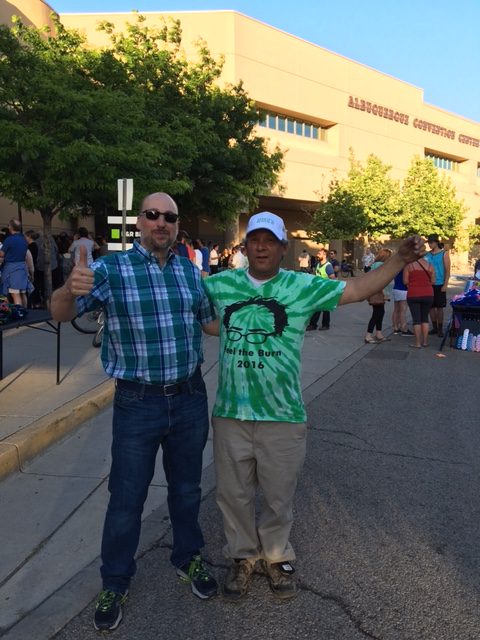 I saw this guy and knew I had to get my picture with him!  Tie dye and all!  I had to do a double-take though, because his shirt says "feel the Burn" not "feel the Bern."  DYAC!!!
We kept walking downtown and other than one seedy strip club proudly offering a rear entrance for privacy-minded guests, it was very cool!
I didn't expect downtown ABQ to have gentrified so much!  Block after block of very trendy looking restaurants, bars (many with live bands we could hear from the sidewalk), brewpubs, and art galleries.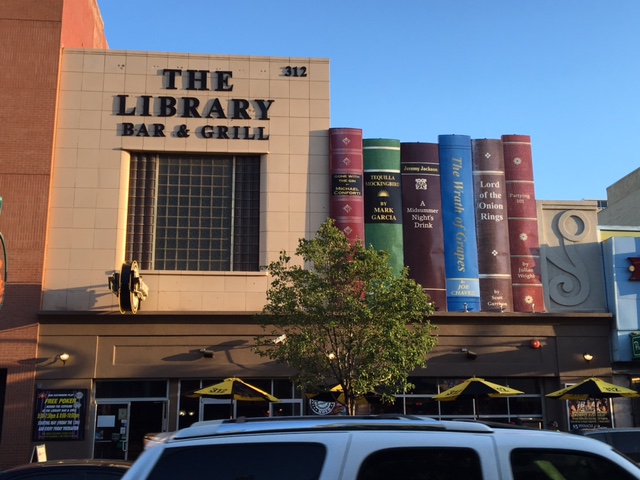 Even more interesting were the downtown apartments and lofts that were available!  It really kind of reminded me of parts of Manhattan.  Which I never (NEVER) expected to see in downtown Albuquerque. The streets were full of people and it was clear that the area is a destination vs. most downtown areas (including LA) that are ghost towns at night.
Heather and I both thought downtown ABQ was way cooler than we expected!
—————–
Today was a very interesting day in the MoHo.  The glass guy came to us, rather than us having to drive to him.  We had friendly neighbors to talk to and hang out with (Newmar Komfort Klub).  We found a neighborhood like our beloved Manhattan.  For the first time since we hit the road I felt like we weren't just driving through a place but actually kind of locals/residents.
I certainly could have spent some more time, but I'm eager to see my Dad and stepmom up near Los Alamos too.  So tomorrow is a travel day.  Still, it was a great stay in ABQ!