We stayed an extra night here on the way to New Orleans because we wanted to have a day to check out the area.  Without any expectations, I wasn't sure what we would see.
The Sulphur area and the Westlake area, where we stayed, are home to the largest collection of refineries and chemical plants I have ever seen.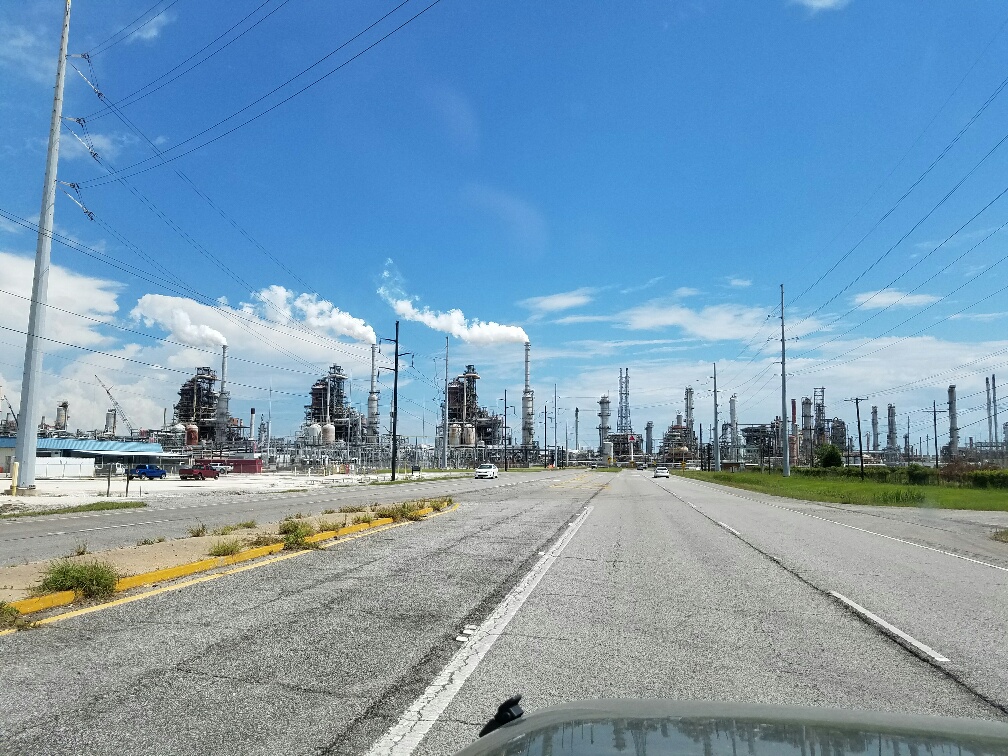 One particularly dense cluster has chemical processing on both sides of the road for 5 miles.  It is incredible to see how extensive it is.
We headed in to Lake Charles toward the USS Orleck, a WWII-era destroyer that had a long and distinguished history (including as part of the Turkish Navy).  The USS Orleck  has found a new home in Lake Charles as a museum ship.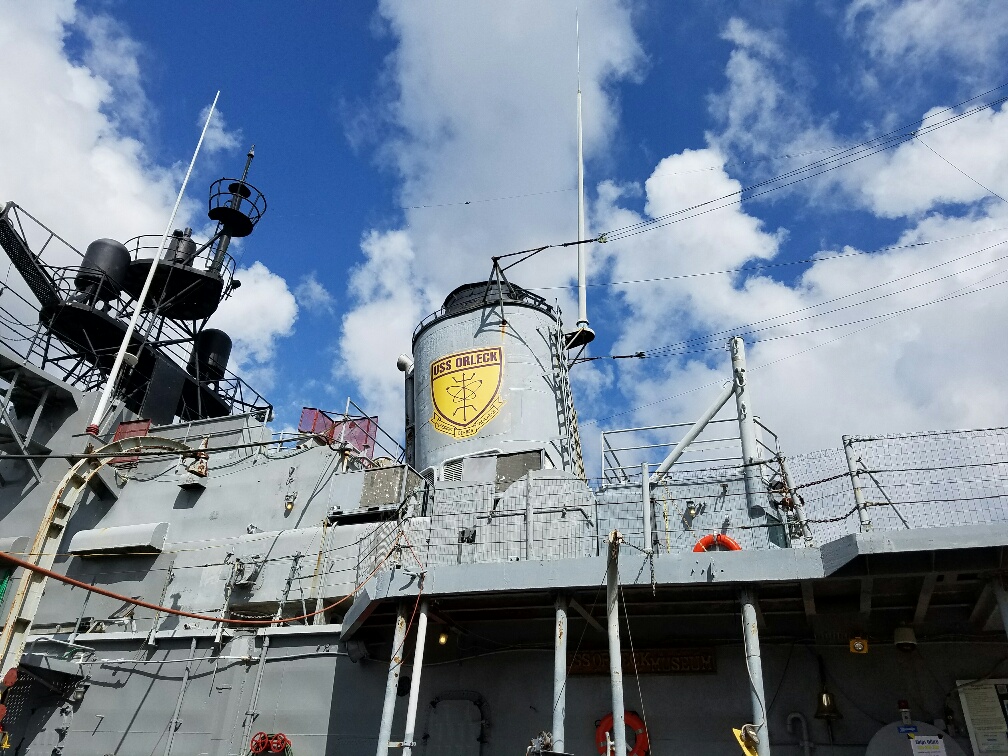 Our tour guide was just 17 years old and a senior in high school.  It was very impressive how much he knew about the ship!
The Orleck has 2x 5″ guns and had earned several nicknames.  One was the "train hammer" which came from its shelling of a train in the Korean war that saw the complete distruction of the target train.  The other was the "grey ghost of the Vietnam coast" which came from its long and successful involvement in Vietnam where it fired more shells at land targets than any other destroyer.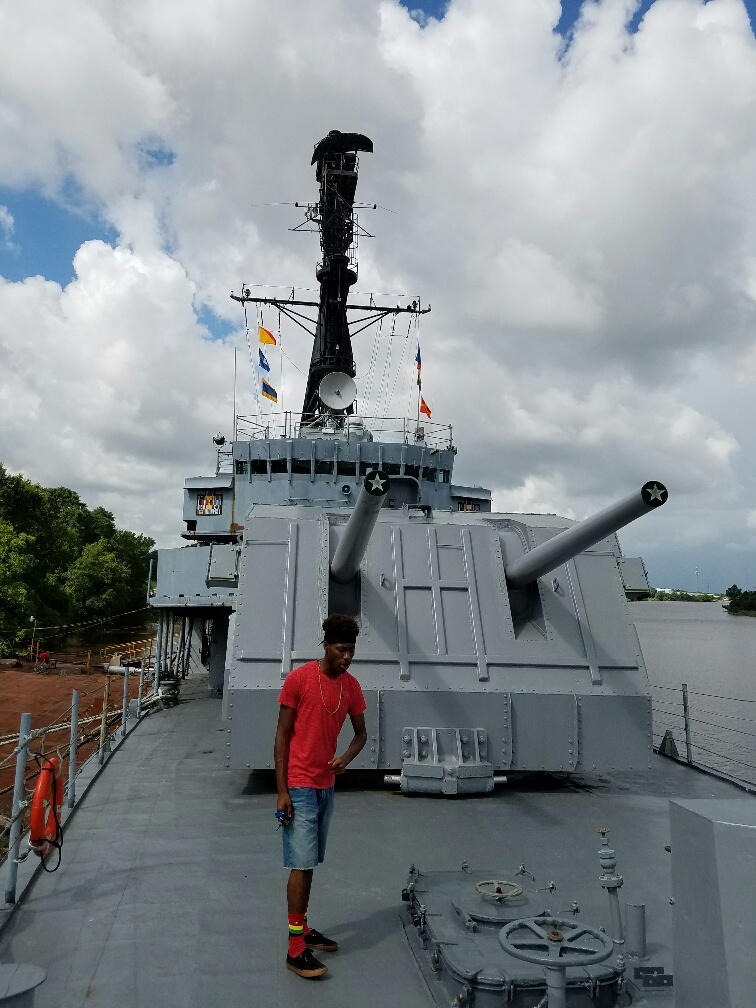 The guns could lob a shell over 10 miles, which made attacking land targets a big part of its job.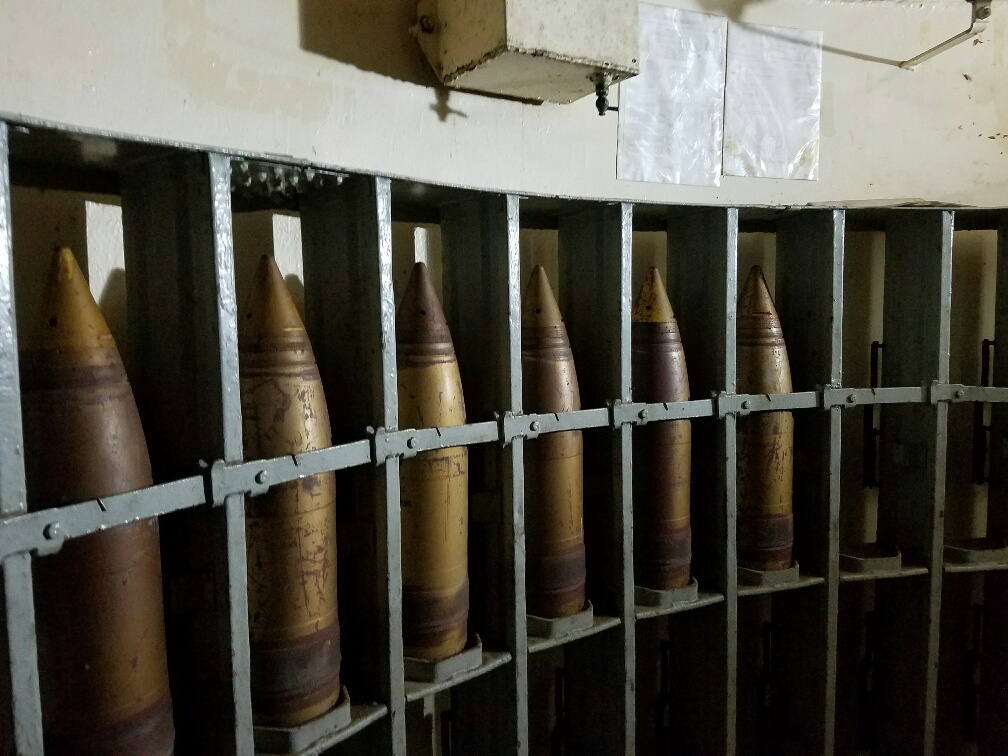 Shells were loaded by hand into the large guns and stored around the magazine area.  I can imagine one of these causing a lot of damage to anything it hit!
We saw many parts of the ship including the crew mess hall.  It was interesting to see the tables with the metal trim.  Six sailors and their food trays would fit on top of the table and sort of lock together which helped stabilize them in rough seas.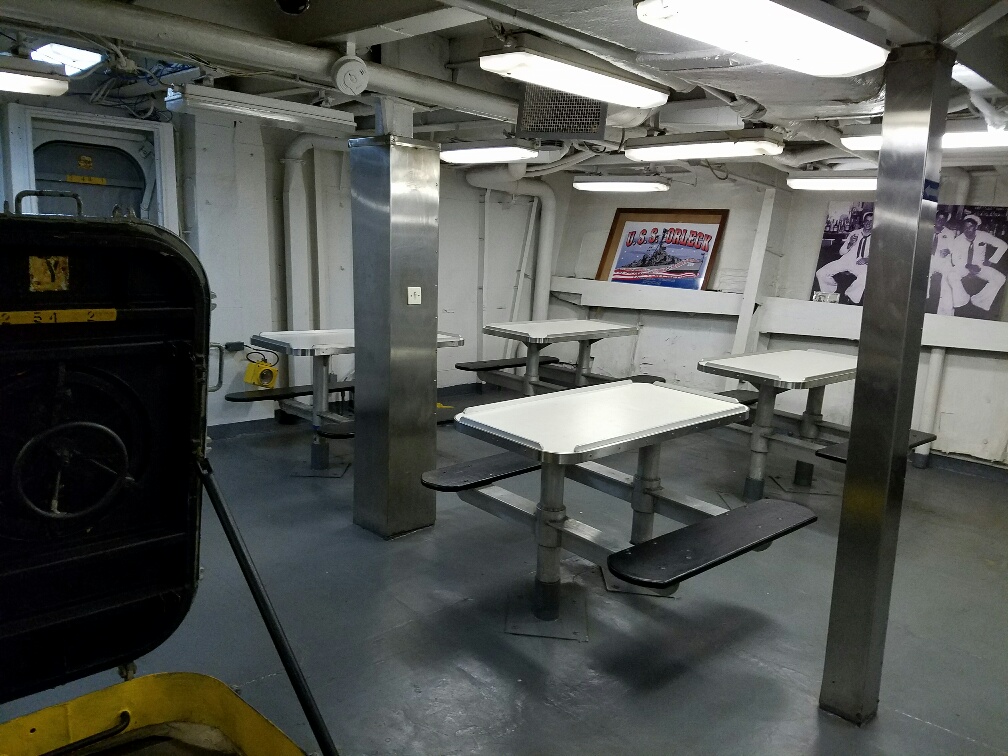 There were only 2 other people on our tour, and one of them actually served on the Orleck in 72′-73′.  It was really cool to see him revisit the ship after all these years.
We stopped in a hallway and he pointed down a hatch to show us where his duty station was!
If you look down the hatch at the ledge on the right about midway down, you will see his duty station where he controlled the water for the boilers.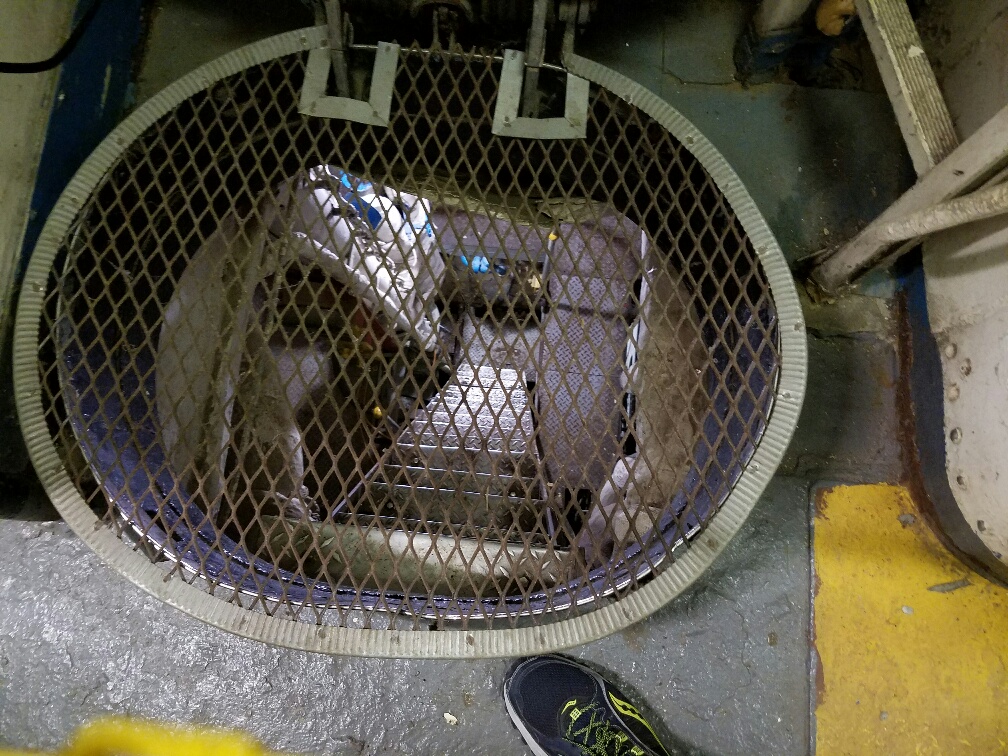 He was all business until we went below into the crew berths and he choked up a little when he saw his old bunk.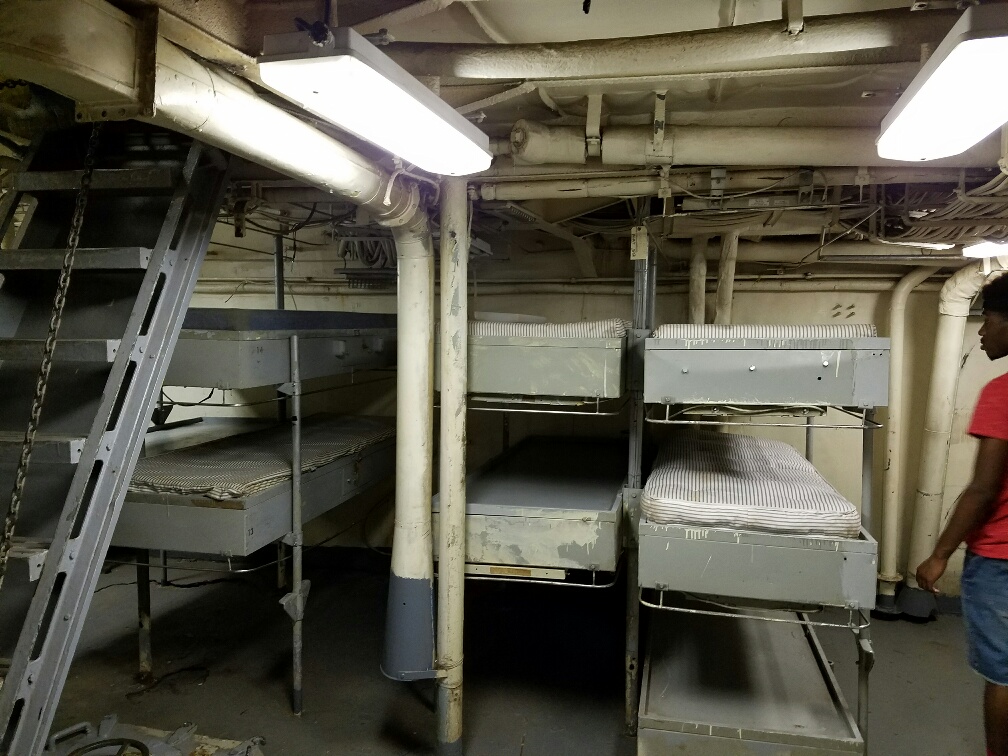 It was very cool to share that experience with him!  His bunk was the top one on the left.
This was also his first time seeing parts of the ship that were off limits while he was on duty, like the fire control room and the bridge.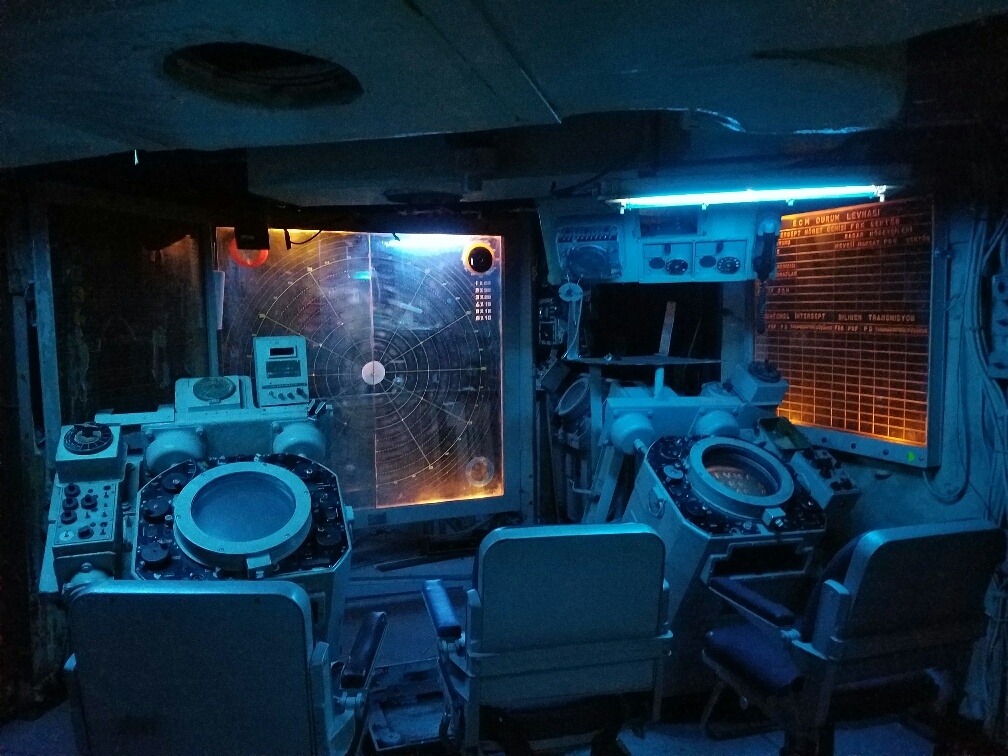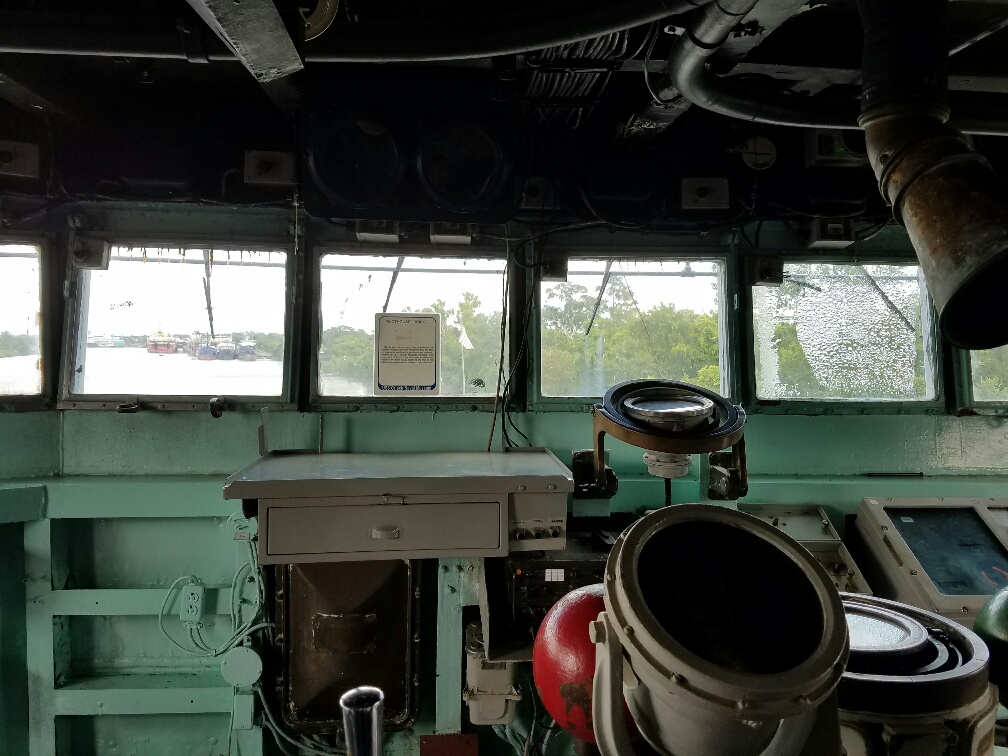 The tour took over 90 minutes, and we got to see most of the ship. We were surprised and pleased that it was not completely restored and lots of the areas were a little rough.  It made for a much different experience than we have had on other more restored ships like the Midway in San Diego.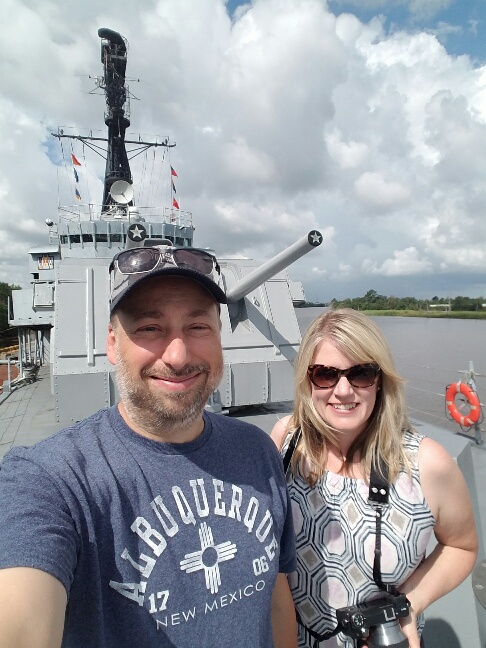 We said goodbye to the Orleck and made our way to the downtown area.  The downtown area is fairly small but it is home to some very impressive buildings including the courthouse (still in use) and the old city hall (converted to a museum).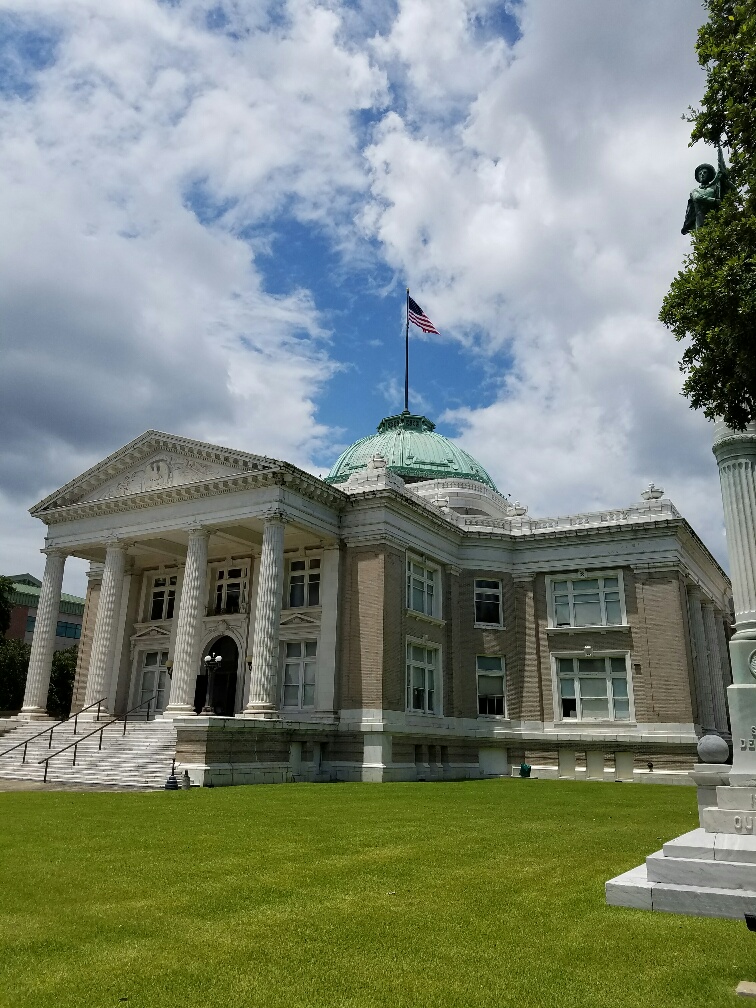 The original city hall is now a civic center and museum space.  We saw photos on display from a local artist who sadly is suffering from early-onset Alzheimers and the city wanted to put his work on display as a tribute while he is still able to appreciate the gesture.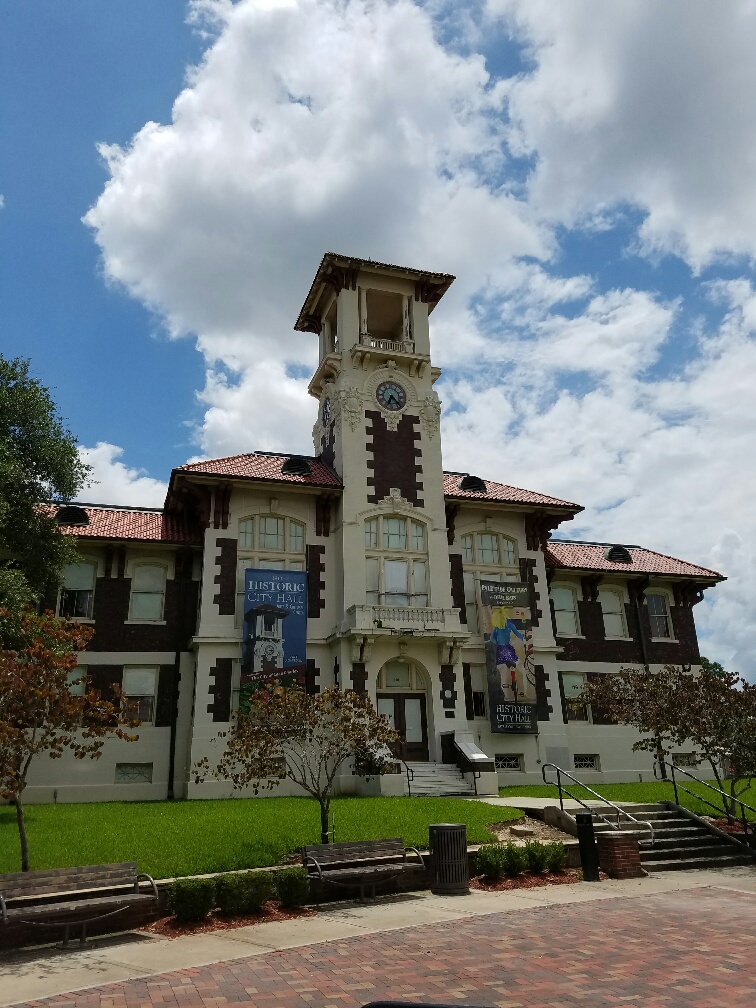 Near this area is a walking tour of old historic lakefront homes.  Some are classic southern mansions like this one with ivy growing on the front steps.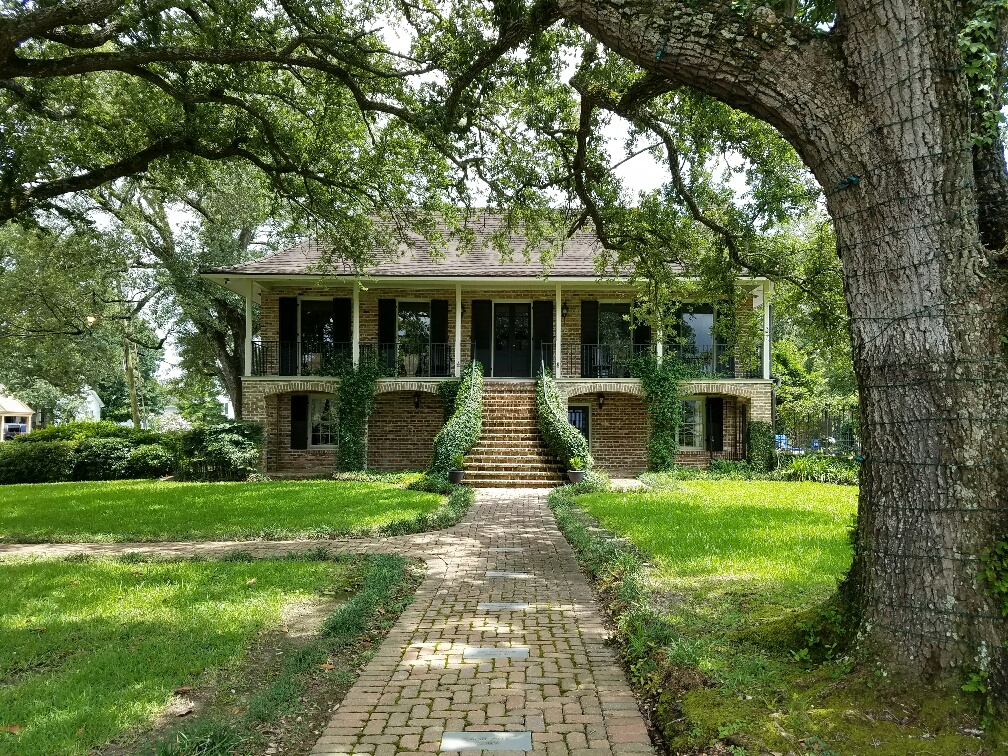 Others were very impressive but following a different architectural style like this English Tudor-style home which could have been transplanted directly from the English countryside.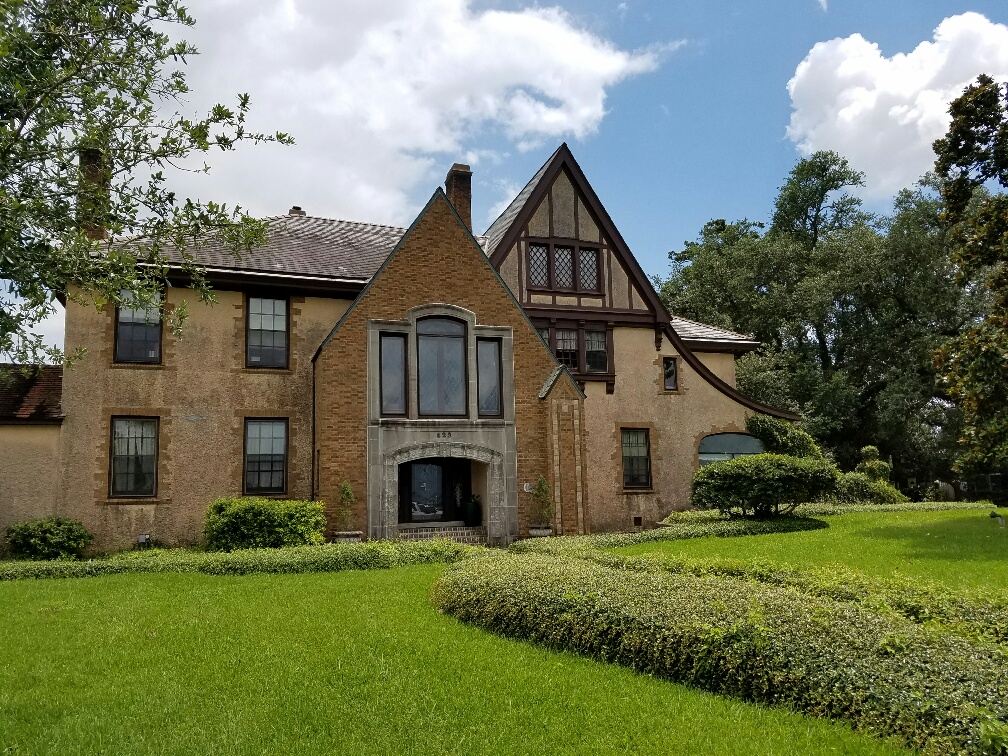 Walking around the area is great fun, although it was hot and humid which made for a damp stroll.
After leaving downtown, we drove about 30 miles to the Gulf of Mexico.  The beaches are beautiful here, and not crowded at all.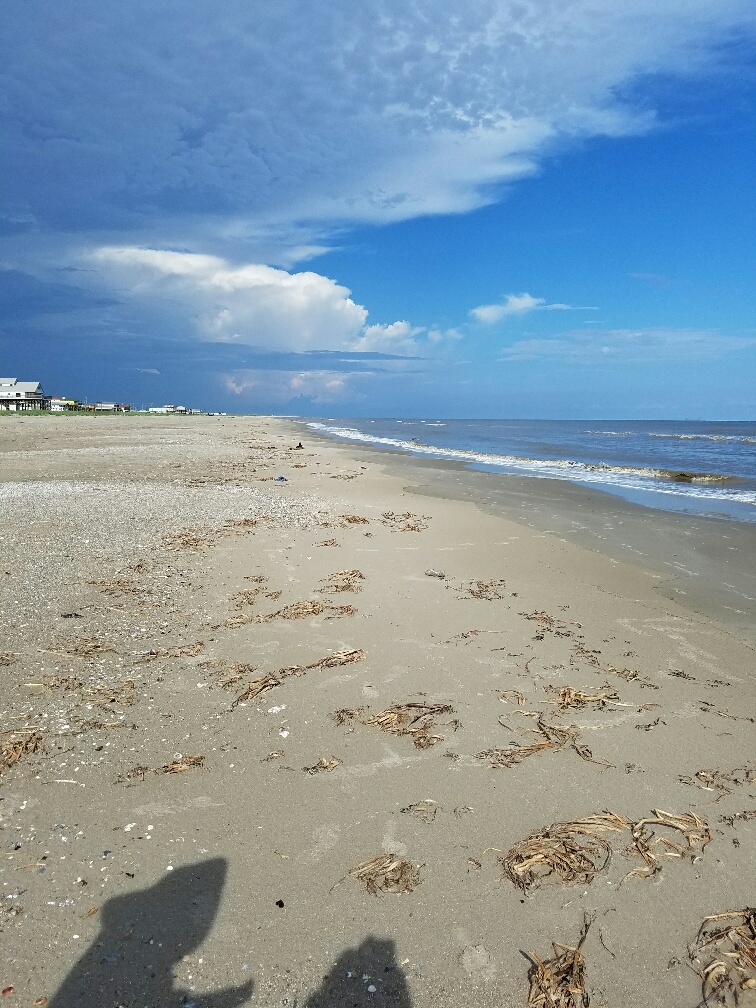 Unfortunatly, the State has closed the beach to swimming due to high bacterial counts in the water.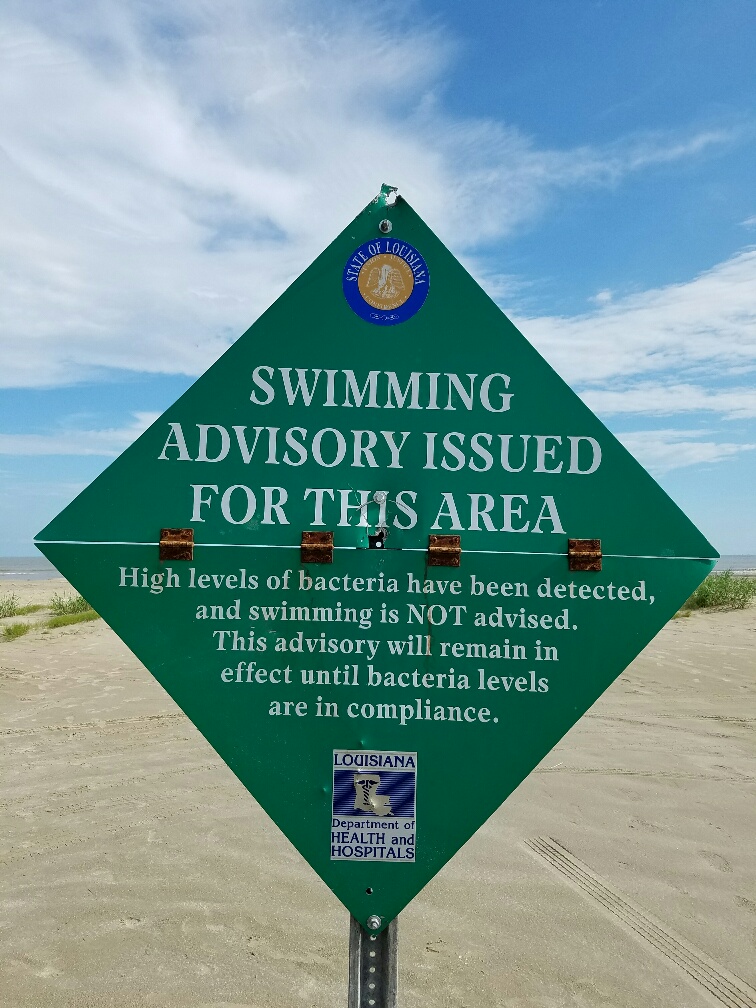 Judging from this sign, high bacterial counts are both a frequent occurrence and have been for some time.
The small community here was devastated by Hurricane Rita in 2005 and has slowly been rebuilding.  This time, all the homes are built high on stilts to prevent another disaster.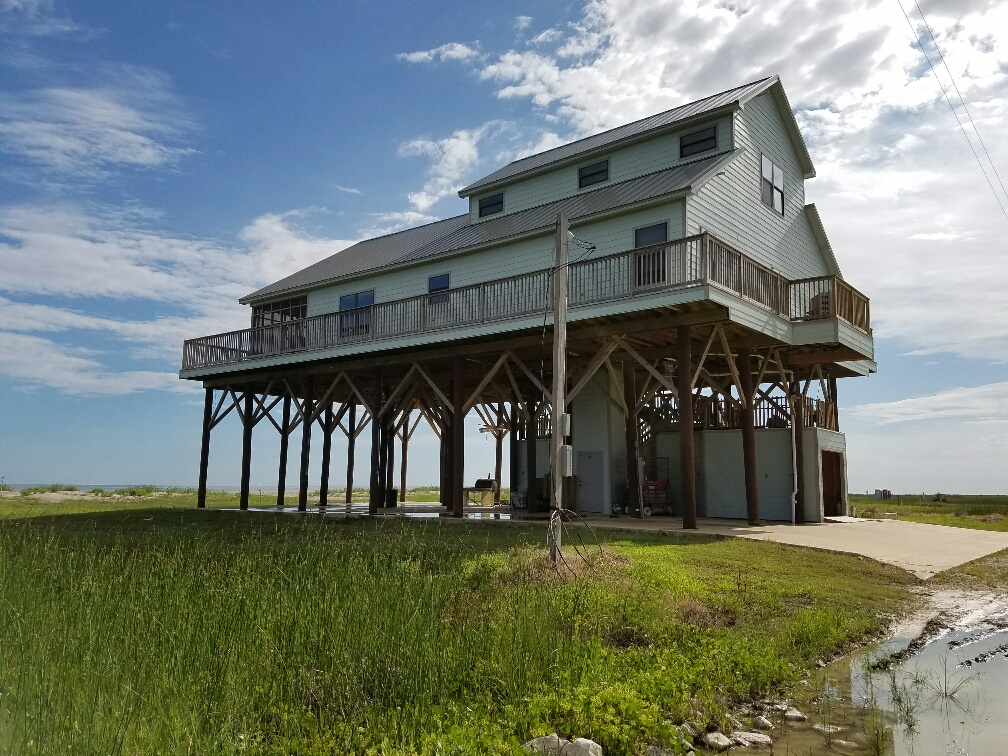 Right next to the beach are extensive wetlands. There are walking paths and fishing pull-outs in the marsh, but I'm not sure its entirely safe.  Or which is worse, the gators or the biting insects.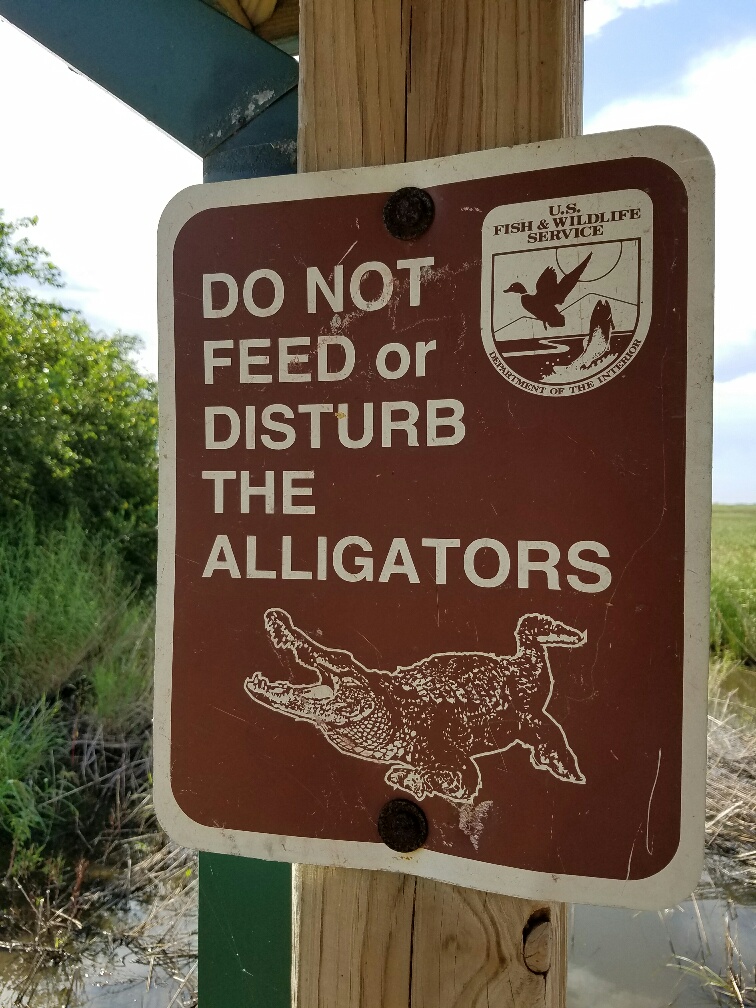 We walked about a mile on the path and like the tourists and NorCal visitors we are, we did not bring bug repellent. I had 7 bites by the time we got back and that's on top of the many bugs I killed making the attempt.
Becoming dinner for bugs made us realize we needed our dinner too!  We headed for Steamboat Bill's which gets rave reviews (including from itself) for its Cajun cuisine.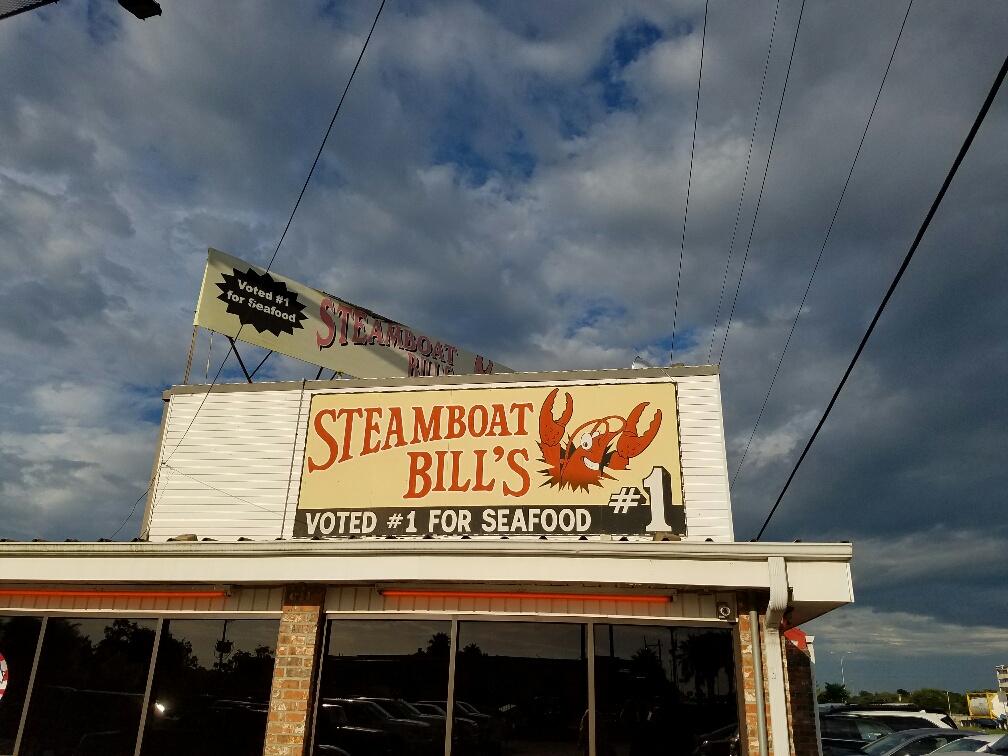 When we arrived, the parking lot was so full they had a full time guy directing cars in and out.  That's a good sign!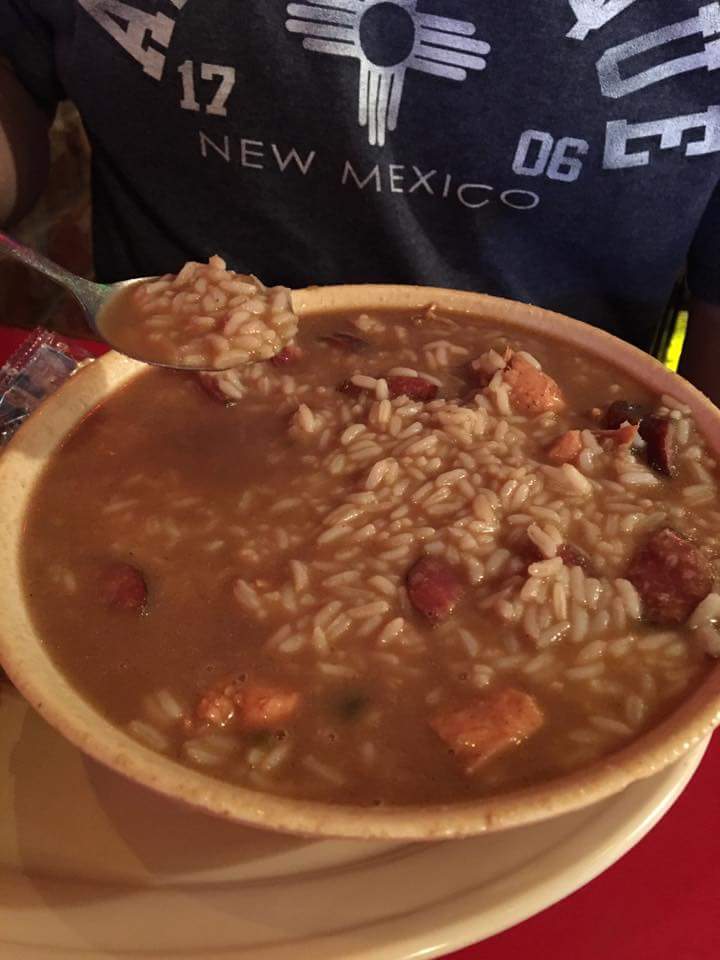 There were so many good looking items on the menu!  Including, of course, boiled crawdads which is their specialty.  I guess I will never be a proper Southerner (even though I love okra and grits and gravy) because I just think crawdads are too much work for the payoff.  No thanks.  If I want that, I'll go to Maine where the crawdads come from the ocean and are big enough to make the effort worthwhile!
I ordered the chicken and sausage gumbo and man was I impressed!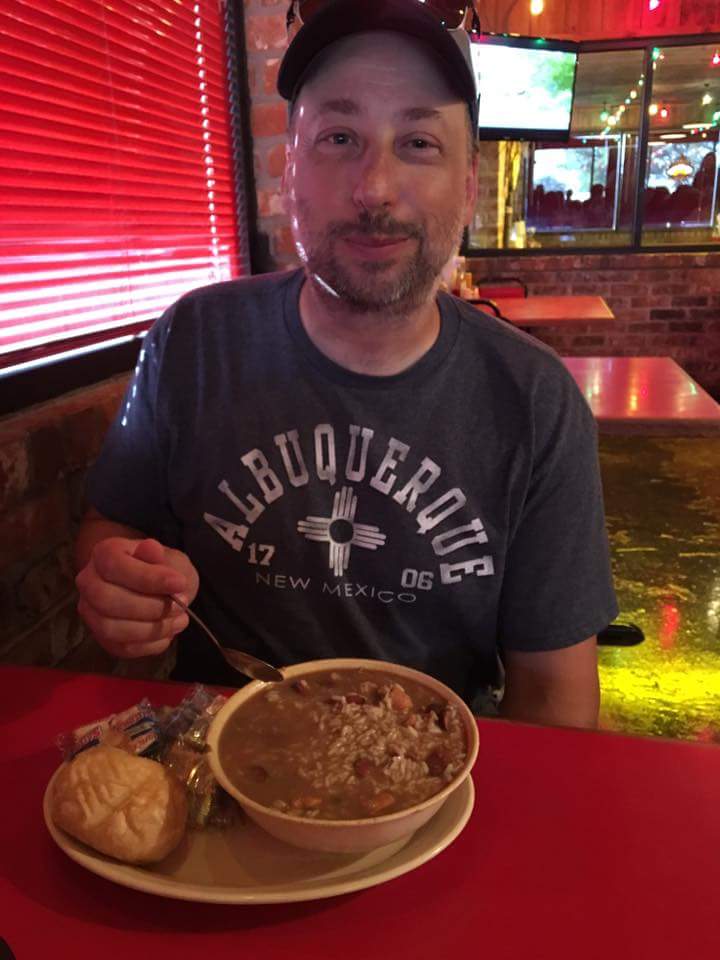 That roll on the side of the plate?  It was like a savory donut. Fried on the outside and warm and chewy in the middle.  I could have eaten 5 of those, but my pants would not have fit right afterword.
We capped off our day in Lake Charles with a visit to the drive in liquor barn.  We just had to see this with our own eyes!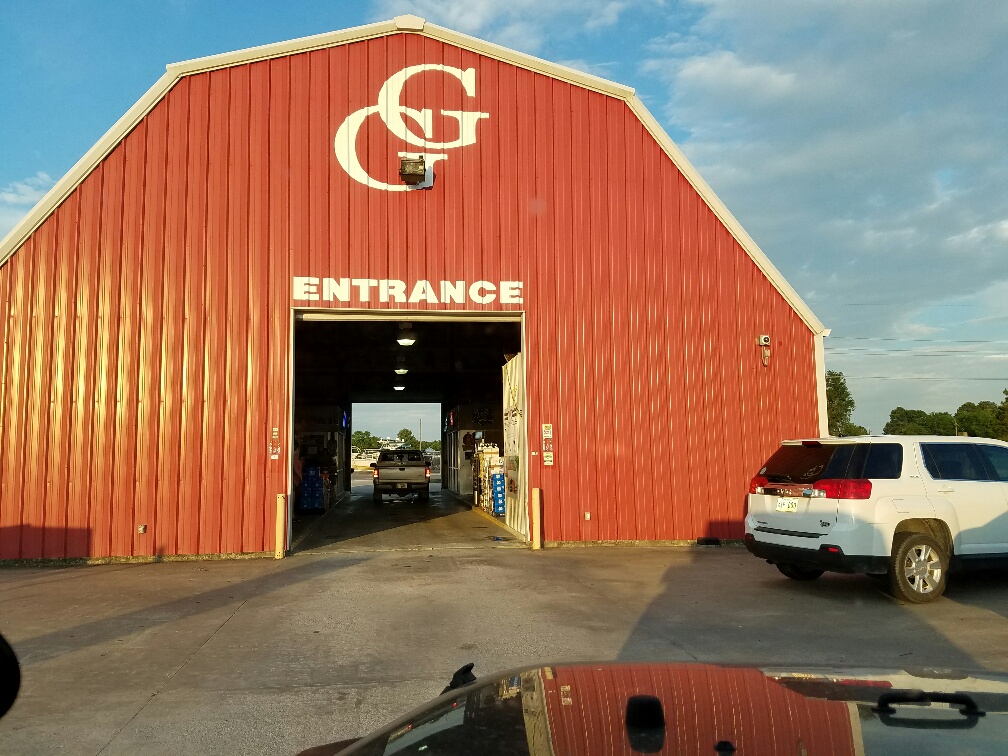 You mean, we just drive in and someone gets us ice cold beer?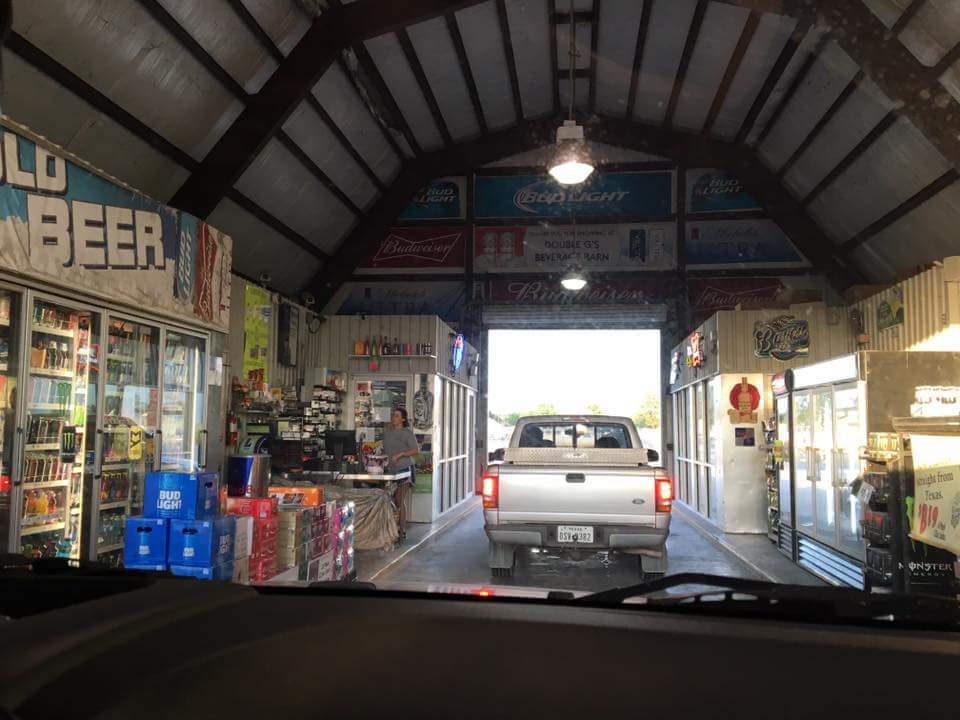 We don't even have to get out of the car?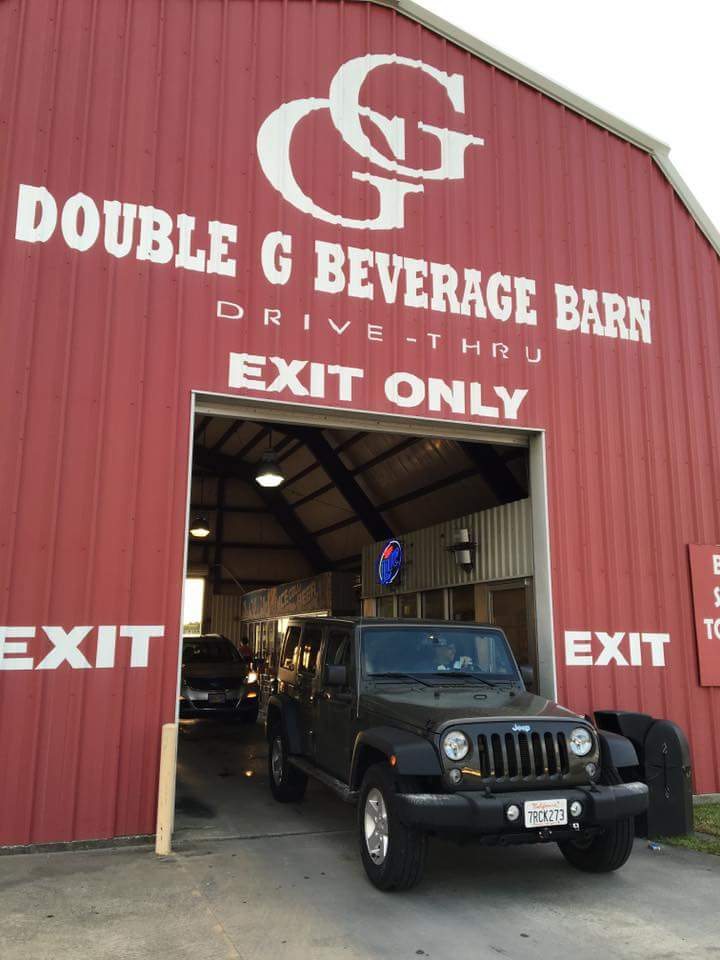 Yep – it is exactly what we thought it was!  We left with an ice cold six-pack of Shiner Bock and never even left the car!  Why aren't these in every state????
We had a good time in Lake Charles and were especially impressed by the A+ Hotel and RV Park. Still, I can't imagine anyone picking Lake Charles as a vacation spot. We saw as much as we wanted to see in the one day, and while I'm glad we did stay a day, I am also glad we're moving on East to New Orleans tomorrow.