We crossed over the New York state line on our way to upstate New York and Lake George. NY put a neat marker on the site of the highway. I always associated I Heart NY with NYC, but apparently we heart the entire state!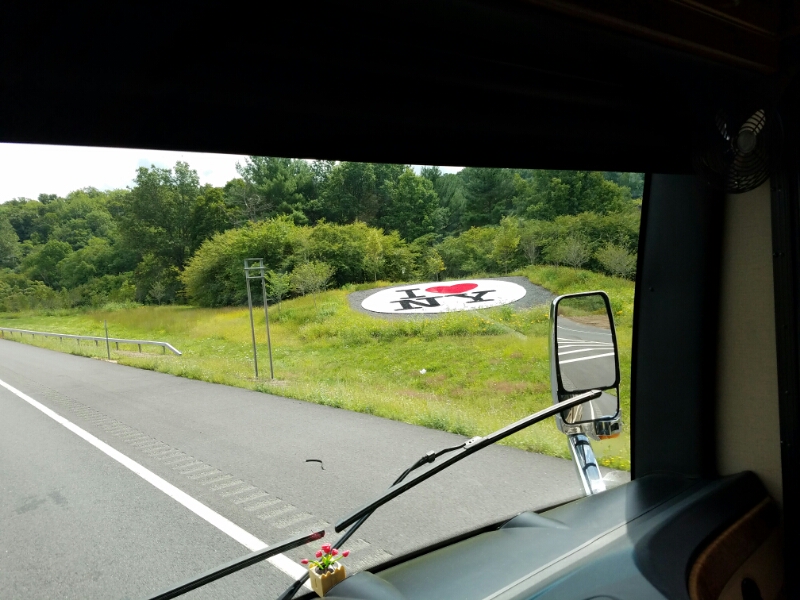 Of course we drove the whole way in with a wobbly steering wheel thanks to the horrible pavement between Washington DC and the NY state line. The wobble starts at about 63mph and goes until about 69mph. I have a feeling we lost a wheel weight. At least I hope that's what it is.
Fortunately, 63 mph – 69mph is not the speed we drive at almost 100% of the time. Oh wait. Yes it is.
Anyway, after a few more miles we saw this sign and were sorely tempted to head to NYC, our favorite town. According to Google Maps, we got within 52 miles of Times Square at our closest approach. So close, yet so far.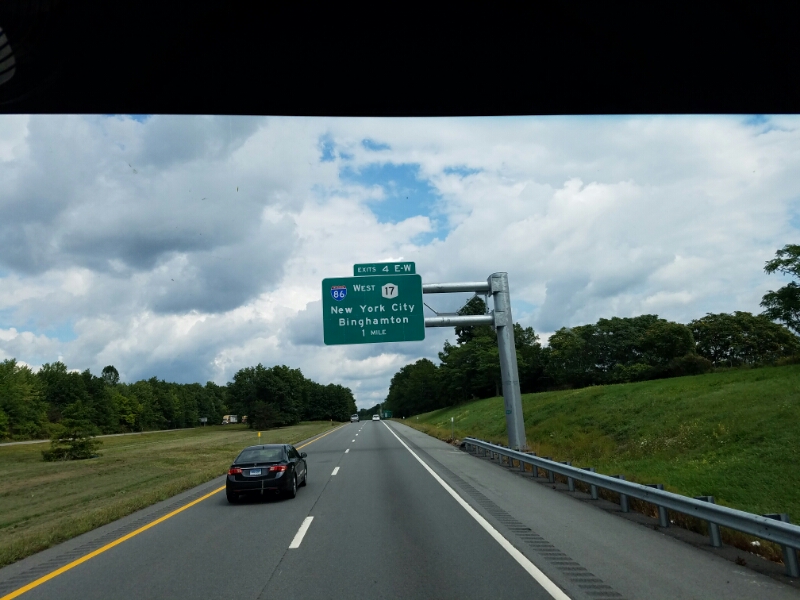 Heather suggested we drive the MoHo through Times Square. Its a good idea. Certainly one that would get us on the news!
Of course, we were able to add our New York sticker to the map! The east coast is rapidly filling in!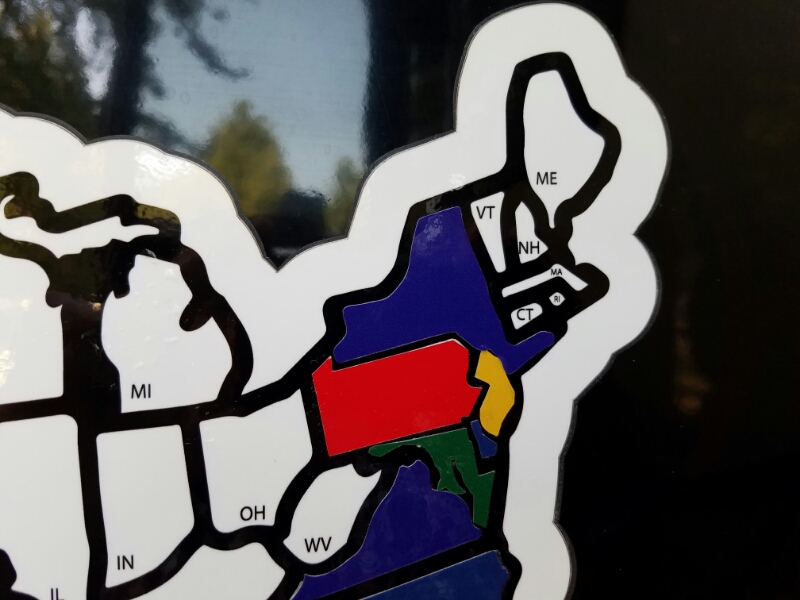 Friday night we headed over to the house Kristy and Billy rented. Whoa Nelly!
I checked, by the way. Its OK to say "whoa Nelly." People still do. Amish people mostly.
The house looked like a combination of a Vegas high-roller suite from the 1980s combined with Liberace's boudoir. I wish I had taken more photos of the interior. Or any photos of the interior.
The view off the deck of Lake Luzerne however, I did get. What a view! Private boat dock, canoes and kayaks ready for use. Fire pit and chairs. Very very nice!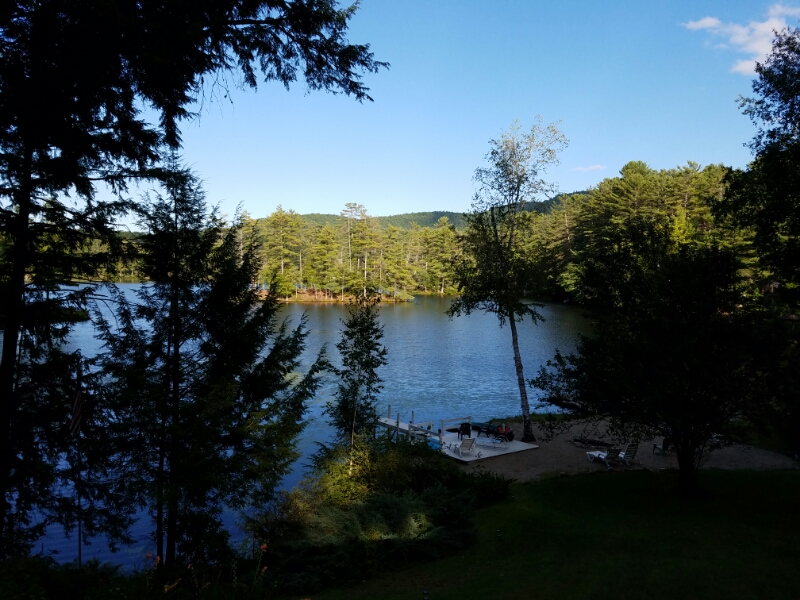 We arrived back at the MoHo around 10:45pm. Our next door neighbor, whose site appears to be seasonal, if not annual, and his 3 carloads of friends had arrived and were kicking off the weekend in high spirits. From the sound of things 80 proof spirits.
I knew quiet hours started at 11:00pm so I assumed the loud music and kids running around screaming would stop about that time. Sure enough at 11:03pm the music abruptly stopped.
Unfortunately, the screaming went from generic yelling to "my ankle, my ankle." Yeah, somebody twisted their ankle.
Once they determined an airlift or amputation was not needed, the volume went back up . Several different times the group decided that loud fireworks would be the best way to celebrate the evening. They didn't wind down until after midnight. It was kind of humorous since the campground says they are very strict about noise and do not allow fireworks.
The next day we headed into the town of Lake George to check it out. It sits right on the southern end of the lake, which is long and skinny like Loch Ness. Boats were everywhere.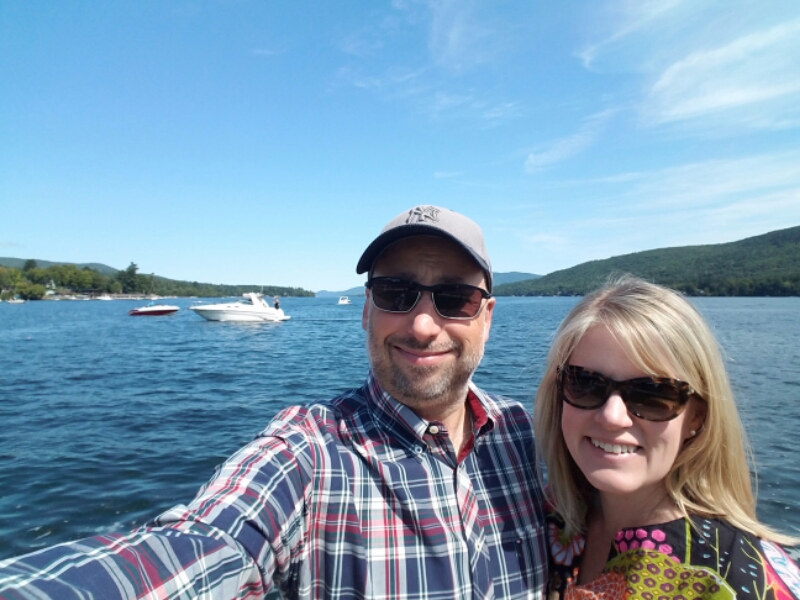 There were even parasailing boats. I counted 3 of 'em. You can just barely make out the orange parachute in the middle of the photo. The water is COLD but that only stopped some people.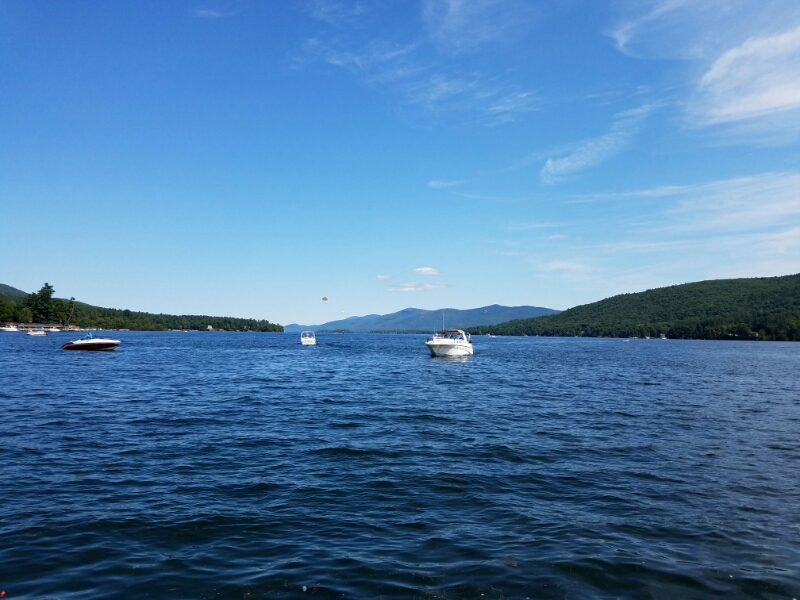 Cold water never stops kids. Heck I remember swimming in Lake Alcova as a kid where the water temps were in the 50s. We would get mildy hypothermic and then drive home – in summer mind you – with the heater blasting until we thawed out. Good times!
A large authentic paddle wheel steamboat – the Minne-Ha-Ha – gives tours of the lake. We might try in on Tuesday after the Labor Day crowds are gone. It also blasts out show tunes from its copper-pipe steam-driven pipe organ. Phantom of the Opera was blaring as we got close and boy was it LOUD.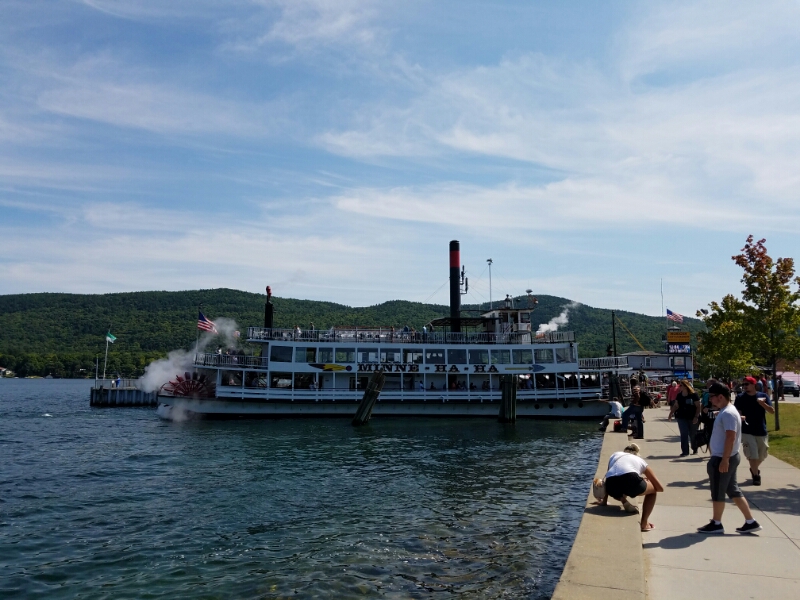 The town itself looks like a complete and total tourist trap. I think this is mostly due to the fact that it IS a complete and total tourist trap.
There are 2 massive minigolf courses (one pirate themed and one world culture themed), tiny amusement park with carousel, tiny water park, and more T-shirt shops than I've ever seen.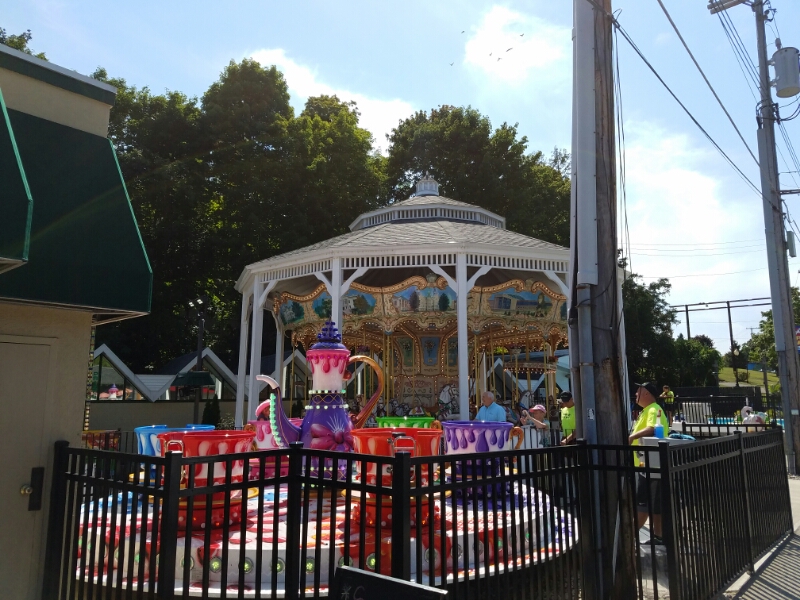 Its not a classy town either. I kind of expected something more like South Lake Tahoe but instead it is more Fisherman's Wharf. Or maybe I'm being generous. Its also a bit county fair. Ok, its a whole lot county fair.
For example, we saw a DILLIGAF store. I had only ever seen that word on patches worn by bikers. DILLIGAF stands for Do I Look Like I Give A F#$&. Classy right? Well, there is an entire DILLIGAF store.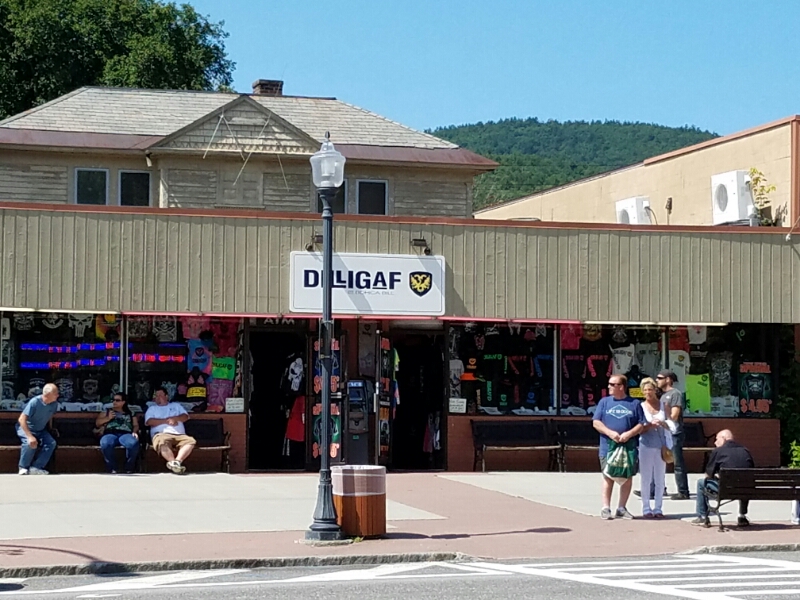 On the next block was the "I Don't Give A Shit" store. Also selling t-shirts. You know, in case the DILLIGAF store didn't have the exact anti-social message a person was looking for, they might find it at the "I Don't Give A Shit" store. Its convenience really.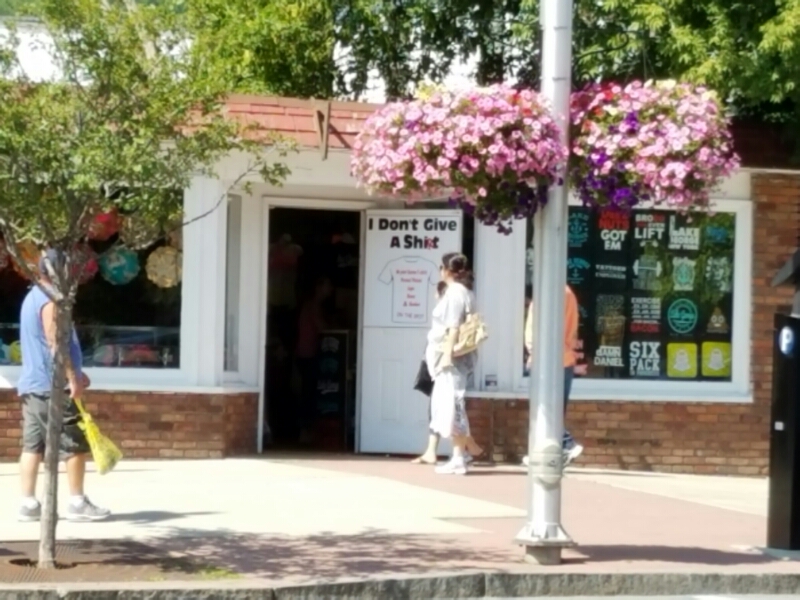 But the craziest thing? ANOTHER DILLIGAF store on the next block. I am not making this up. Two DILLIGAF stores within 1000′ of each other.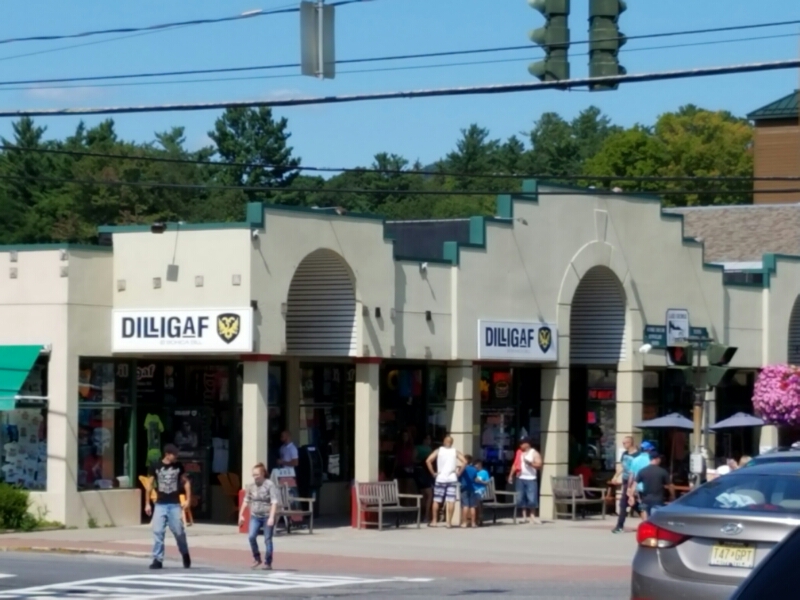 Now, I wasn't expecting Prada, Gucci, Hilfiger, or Jimmy Choo, but this was pretty trashy. My experience with these little mountain destination towns is that they are a mix of the junky t-shirt shops and more upscale galleries and art stores. Often with Eddie Bauer or North Face stores.
Not Lake George. Their version was more Cousin Eddie than Eddie Bauer.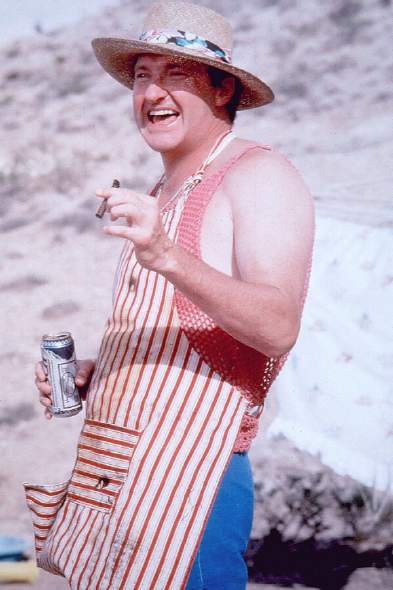 They did have two year-round Halloween-houses though. You know. For the kids.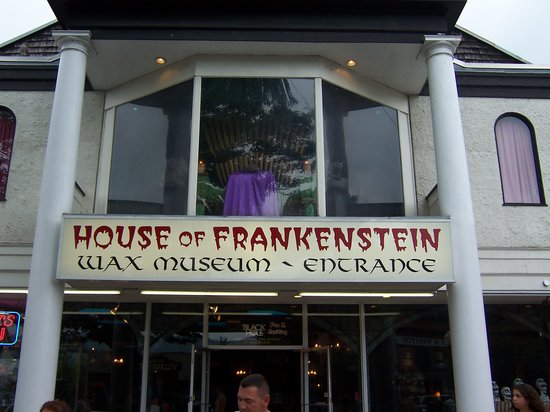 It was a cute town if we looked past the stores. The Lake Haven Motel, for example, had a lot of charm. The flowerpots hanging from the roof were very nice looking.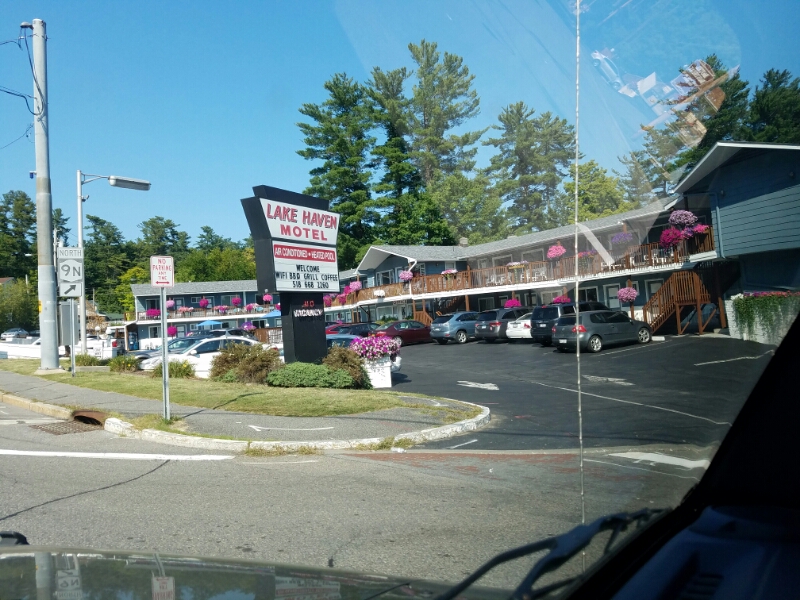 That night we went back to Kristy and Billy's house. They had ordered a whole mess of seafood. Blue crabs, steamer clams, and a live lobster that Billy named "Pinchy." I won't lie. We ate Pinchy. And the rest of that food too. It was soooooo fricken' good.
After dinner we wandered down to the fire pit by the lake. Around 9:30pm fireworks started. Around 10:00pm gunfire started. Not far away either. Somebody had a fairly large caliber pistol and was firing an 8 or 10 round clip at something. Over and over and over.
Our of an abundance of caution, we did absolutely nothing different. Getting up takes energy and we were still digesting the clams. Besides, I figured it wasn't any louder than our campsite.
Turns out when we got back to the campsite at around 11:15pm, it was quiet as a tomb. I don't know if the happy family just wore themselves out or if somebody called and reported them the night before, but either way it was very nice!
The next day, we decided to hike up the Schumann Preserve trail that Billy had found. It went to the top of a mountain that promised a pagoda and stunning views. It delivered!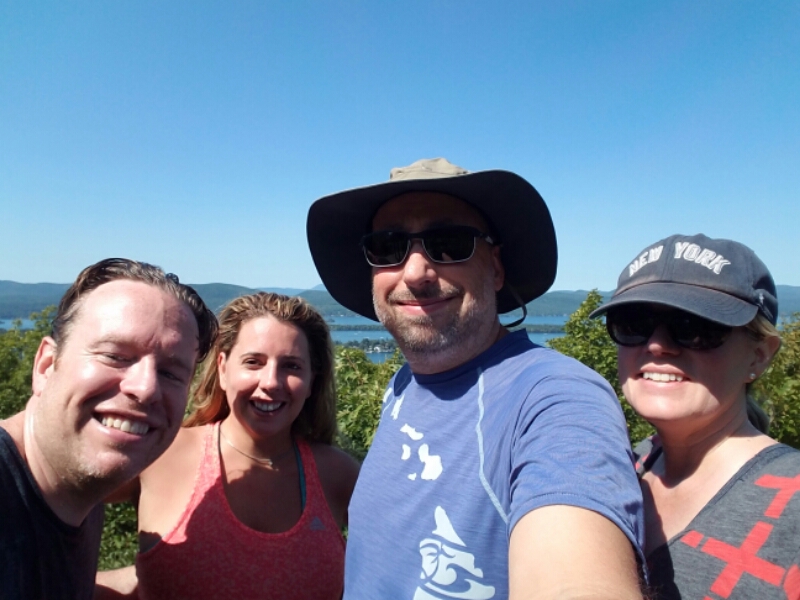 The trail was undersold though. It was easily a moderate difficulty with some pretty steep and rough sections. A lot of the sections were really just straight up. Minimal switchbacks.
After we reached the pagoda where we took that picture above, we chose to keep going even further to hike to a waterfall. When we finally reached the waterfall. It was bone dry.
I've heard there is a drought here, but after having lived in California for so long I assume if there is ANY plant life then it must be raining normally.
The hike was pretty respectable! We earned a roller coaster badge from Fitbit for the 1250 vertical feet we climbed.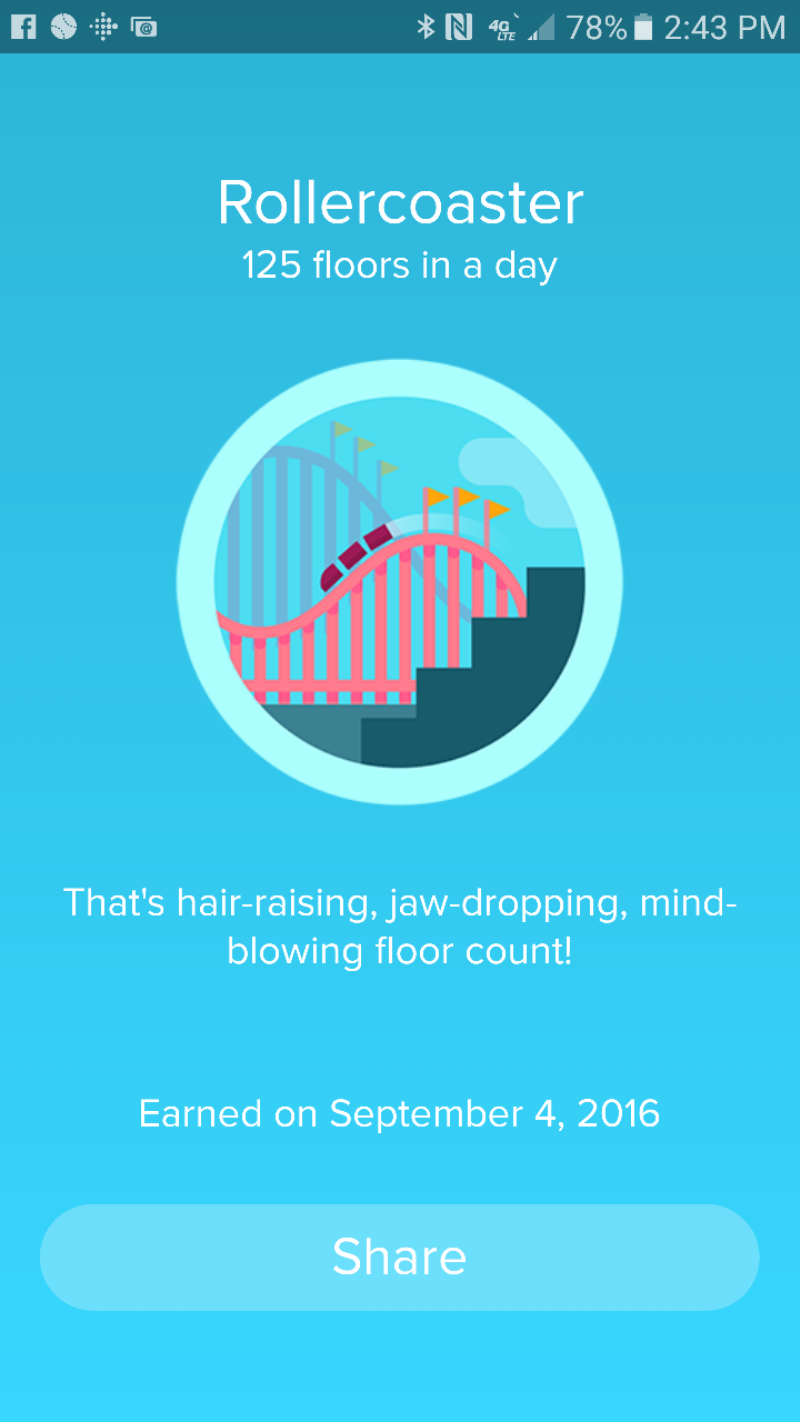 Looking at the heart rate graph, can you guess when we were hiking straight up that mountain?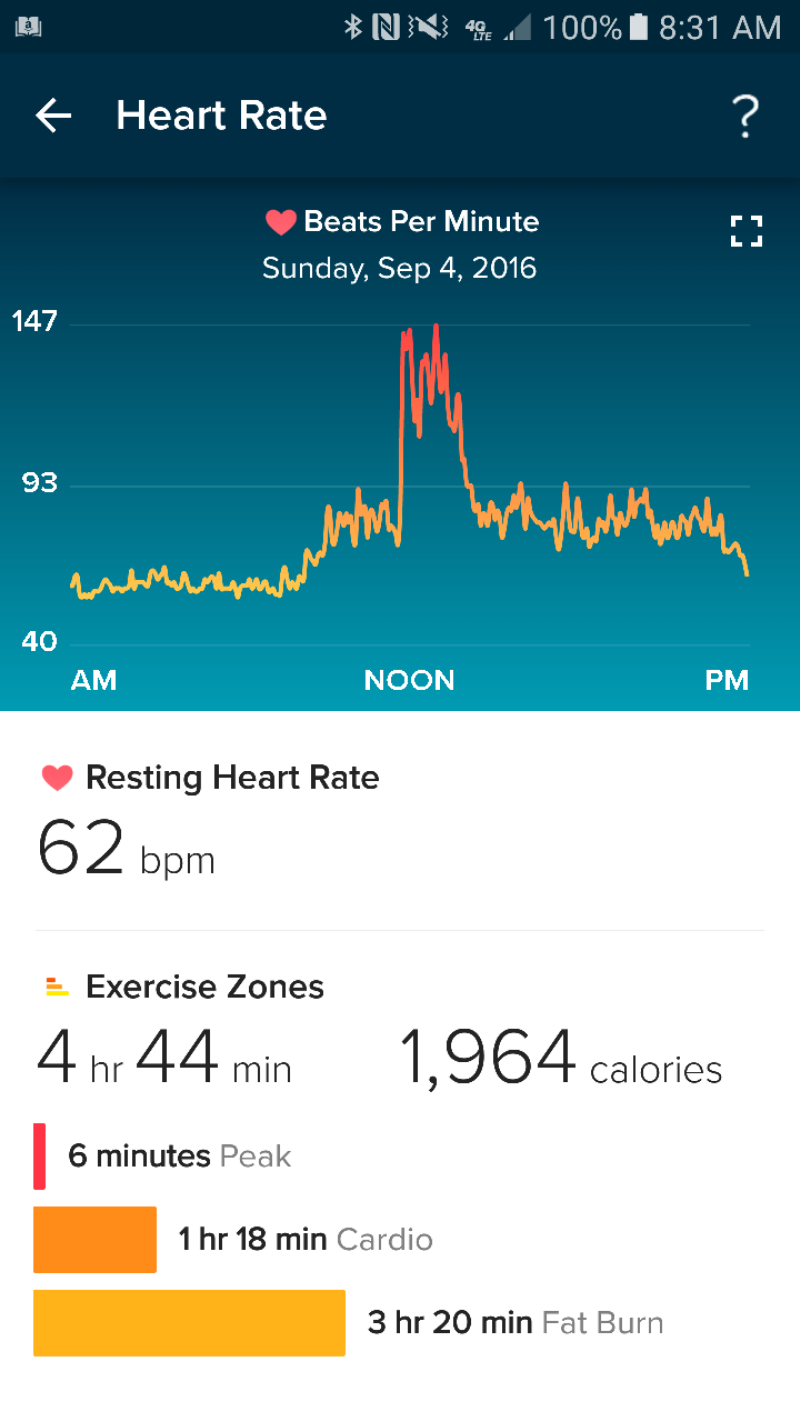 Sunday night was quiet at the Lake Luzerne house and at the campground. I think everyone was worn out.
On Monday morning, we said goodbye to Kristy and Billy, who came to the campground to see our MoHo. After that, we walked around the grounds a bit. It was like the day after a college party.
The vending machines were stripped bare.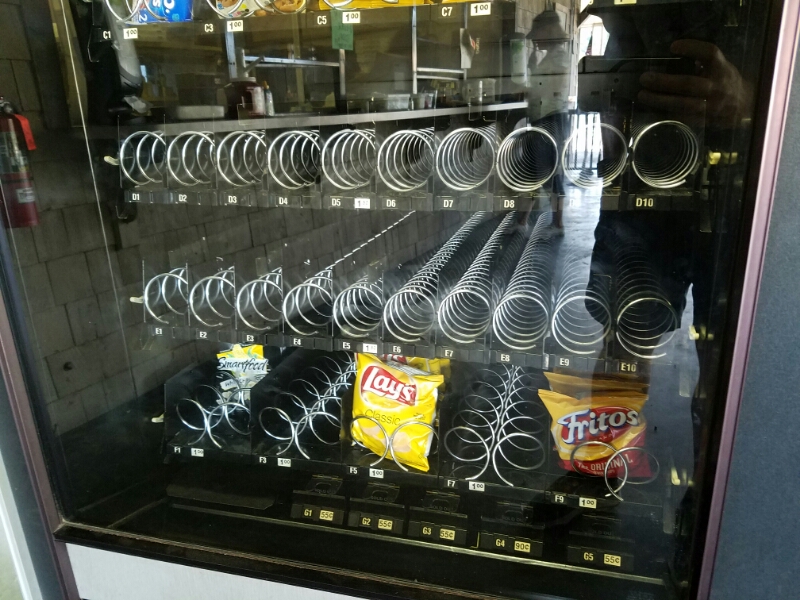 Beer cans sat on top of the overflowing trash cans.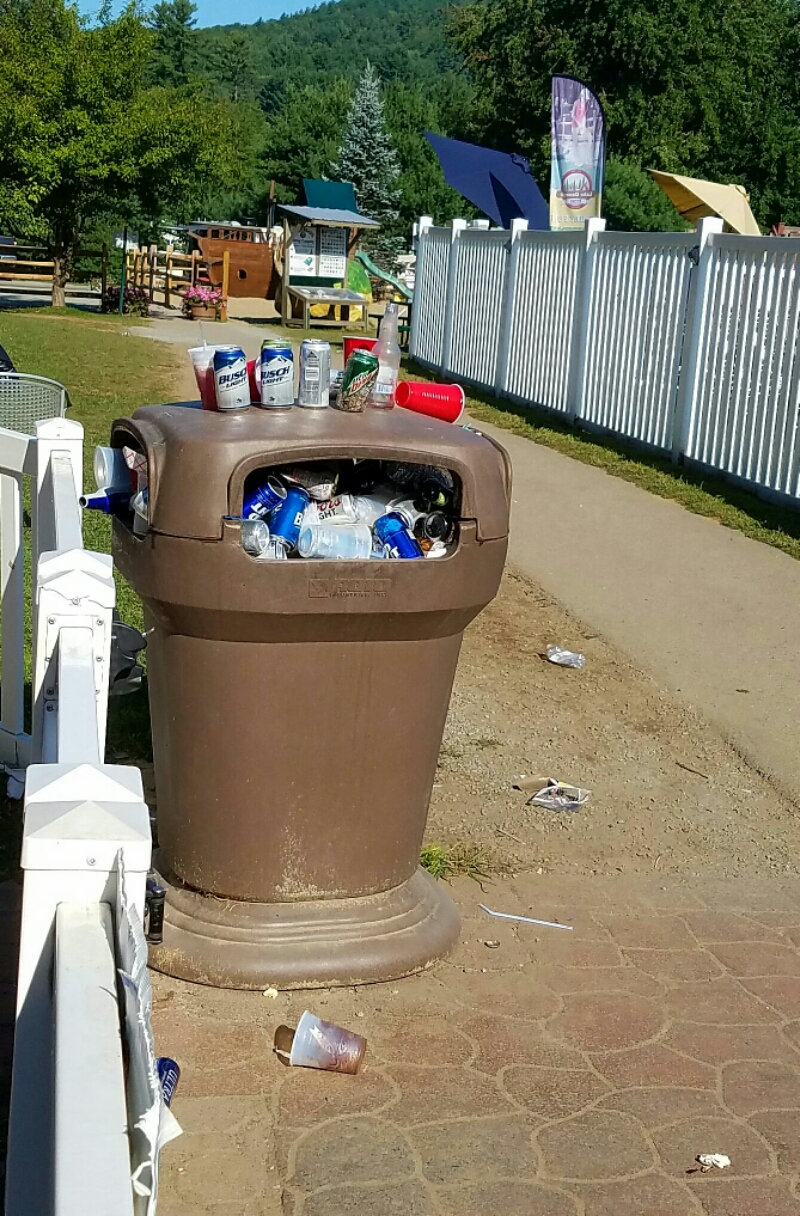 We are staying another 2 nights. For everyone else check out time is 11:00am. We sat in our seats and watched the show. 411 parties had to drag their exhausted selves out of the campground and we had front row seats by virtue of being at the crossroads of two of the main arteries.
Here is a short time lapse video of what it looked like for HOURS.
This was a reminder of just how much our lives have changed. The weekend was over in a flash and all of these people had to go back to their normal lives and jobs while we continue to live Moho.
3 days – really 2.5 for most of them – just seems far to short a time.