After the storms last night we slept in today a bit. We both woke up late –  around 8:30am – and we slowly prepared to leave.  We were still uncertain about the route.  Basically, we had 3 options for the drive to Carlsbad.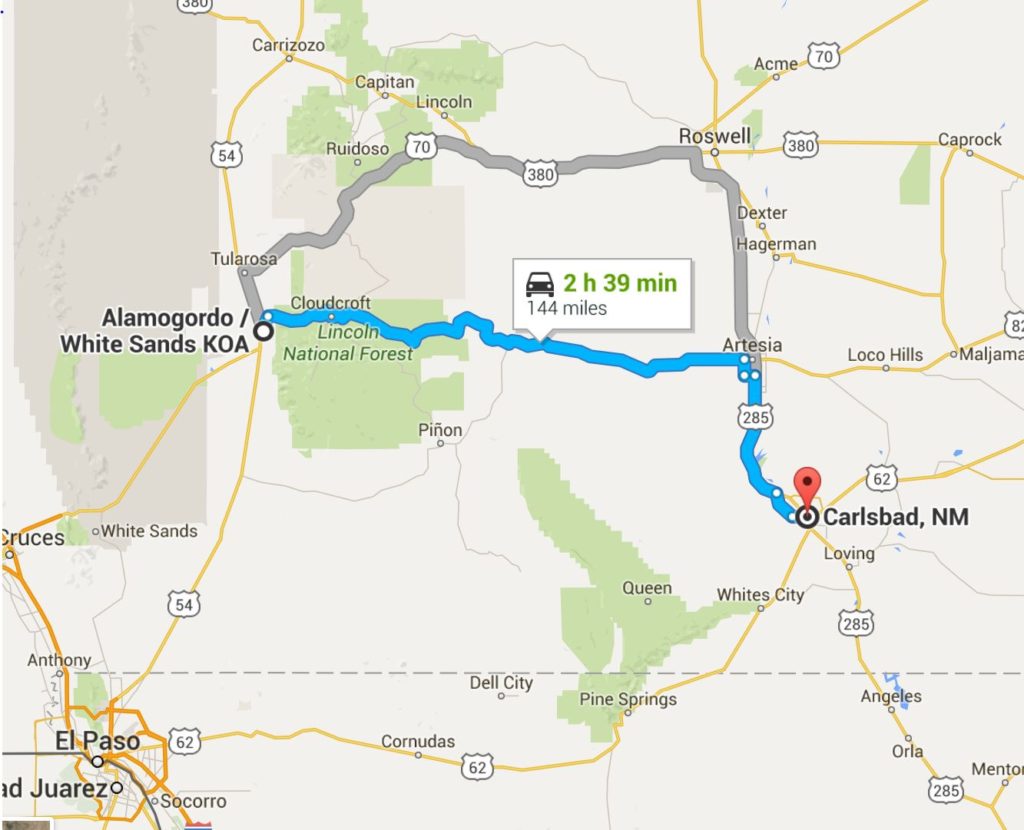 Option 1: drive back north to Ruidoso and then through Roswell south to Carlsbad.  191 miles and over some very mountainous roads between Alamagordo and Ruidoso and then a straight shot down from Roswell.
Option 2: Highway 82 – the most direct route and 144 miles. Mountains up to Cloudcroft and then to Artesia where we turn south.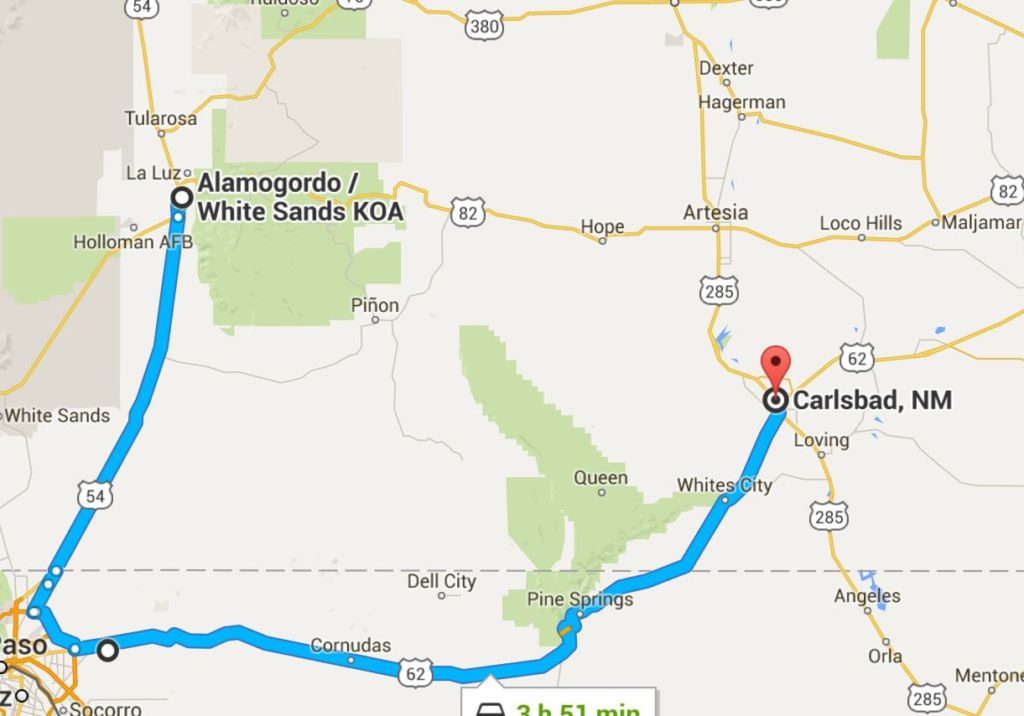 Option 3: Go south to El Paso, then east through Texas and up north to Carlsbad.  240 miles.  That's over 100 extra miles vs. Option 2, and 50 miles further than option 1.  Why would we even consider Option 3?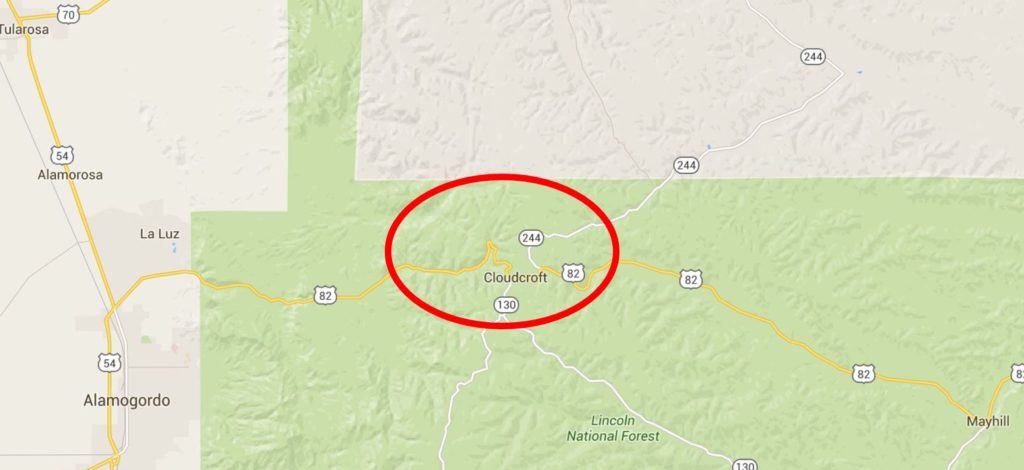 Simple.  Both option 1 and option 2 both go over mountains. Option 2 – the most direct route – is 50 miles shorter than option 1 but only 20 minutes less drive time.  Why?  Because Option 2 appeared to be a very curvy mountain road, whereas going through El Paso is much longer but basically flat the whole way.  Mountains and MoHos don't always mix.
Every time we stop, we stop 35,000 lbs. Every foot we climb in elevation is a foot we have to lift that same 35,000 lbs. With the Jeep connected, we're 57 feet long, about the same length as a semi truck. Tight turns and mountain roads can be unforgiving of long vehicles.  The worst case would be a road like CA HWY 1, where we would have to take both lanes to make some of the curves.  If we could make them at all.
So we have to be careful not to go on roads that will be problematic.
Still, Option 2 – Highway 82 – seemed like such an obvious shortcut that it was hard to ignore.  We went to the office at the RV park and asked them about it.  They said "go for it!"   They said the climb up was steep but the speed limits were low, and as long as our MoHo had "enough power" and "doesn't overheat" then we would be fine.  With that kind of goading, how could we refuse?
We climbed up out of Alamogordo toward Cloudcroft.  It was steep but just as we were told the speed limits were low and our MoHo had no trouble powering up the climb!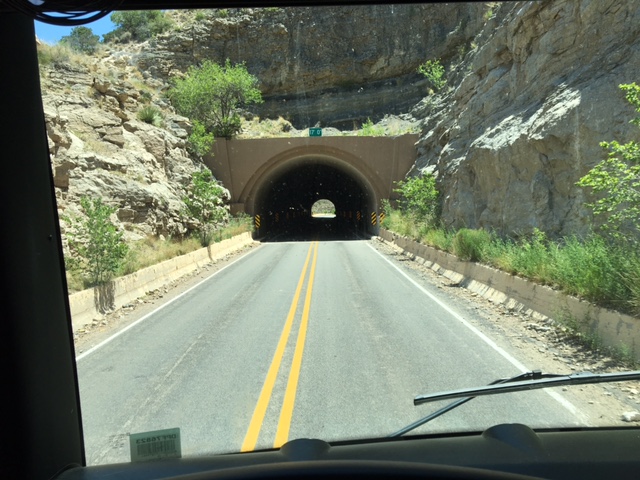 When we were choosing a MoHo, we debated a cheaper MoHo with a smaller engine and lighter duty transmission.  Not a week goes by where I am unhappy we chose the sturdier foundation!  Today was one of those days.  Our Discovery went up the climb without even breaking a sweat!  And then back down the other side almost entirely on the exhaust brake!  Cloudcroft is nearly 9,000 feet, so it is definitely alpine!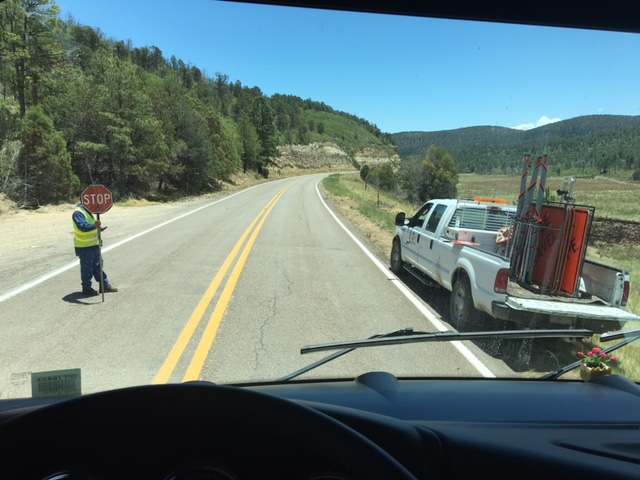 We did run into some road construction – chip sealing near Mayhill – but that wasn't much of a delay.  Maybe only an extra 20 minutes. We saw the Cloudcroft ski area and a lot of alpine ranches that we would have missed if we took the easy way.
Interstate highways are good for putting down lots of miles quickly, but two lane roads are so much better to see real America.  I'm glad we took Highway 82.  It was very scenic and at no point was it white knuckle or hairy.  If you find yourself needing to go between Carlsbad and Alamogordo, don't be afraid of Highway 82.
One comment, it is steep from Alamogordo to Cloudcroft.  So if you are going from Alamogordo to Carlsbad, you will make a steep climb up out of Alamogordo.  After the summit, the descent from 9,000 feet to 3,000 feet is gradual at an easy slope.  Coming the other way (Carlsbad to Alamogordo)  would be a gradual climb and then a very steep descent which could actually be a bit white knuckle even with a good exhaust or engine brake.