We drove from Virginia to Greensboro North Carolina today.  We switch off highway driving periodically and Heather happened to be behind the wheel as we entered….the Twilight Zone. Of driving.  Only it was daylight.
The Broad Daylight Zone?!
Whatever. Still bizarre.  Road work had left multiple sets of road markings and it was impossible to tell where the lane actually was!
The original stripes were present along with 2 different sets of temporary stripes and a long line of tar which looked like a lane.  Drivers around us were just as confused as we were and cars were in various positions all over the road.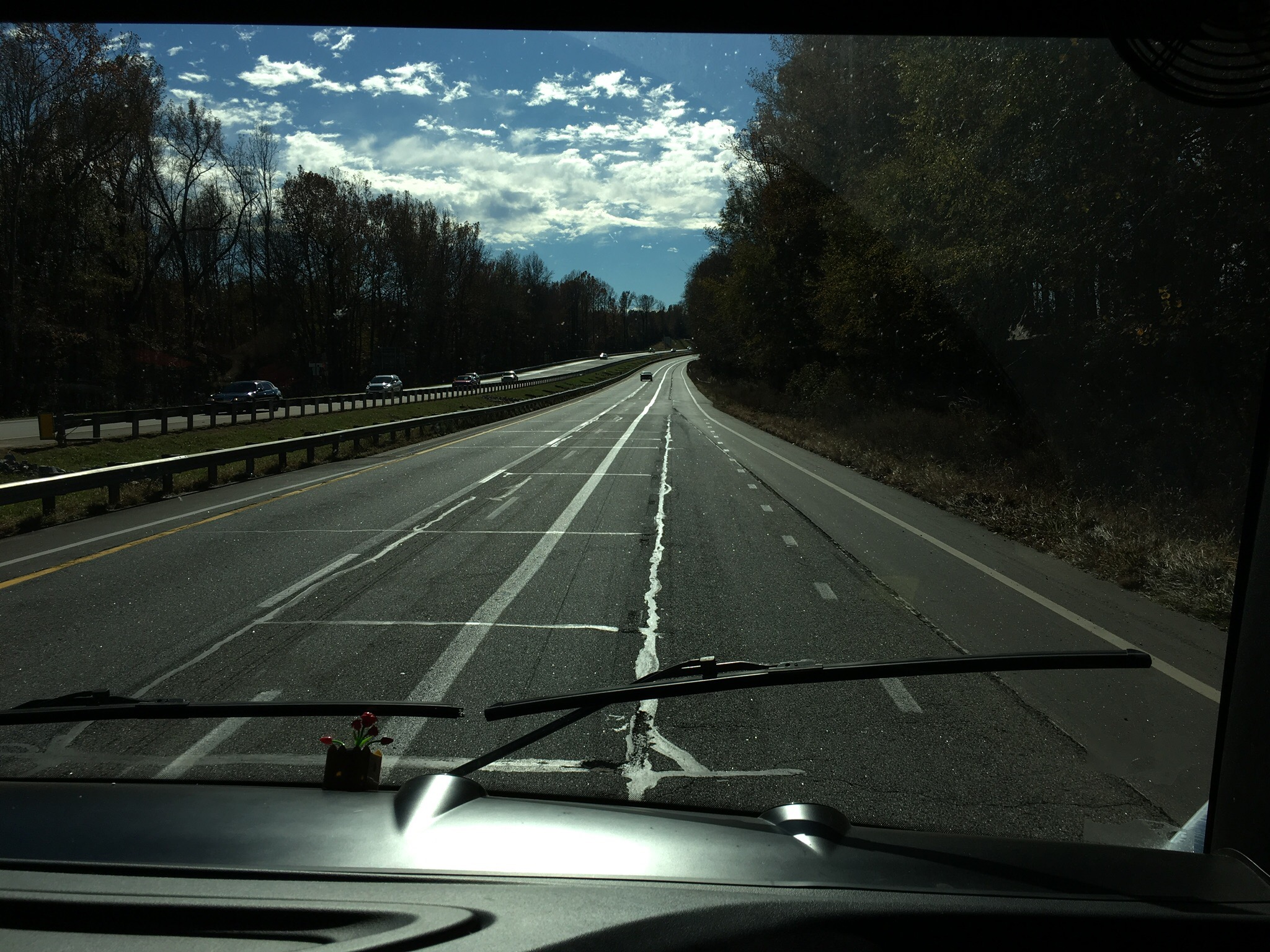 The sun was lined up just right to make all of the confusing pavement markings very bright. There were either 5 lanes or just 2.  Or maybe 3.  Perhaps 4.
Heather navigated it like a champ, but I had to use animal tranquilizers on her after we arrived.
We did get a "sorry 'bout that, but life's still pretty good" from the universe the next day as we saw a rainbow dropped right onto our MoHo!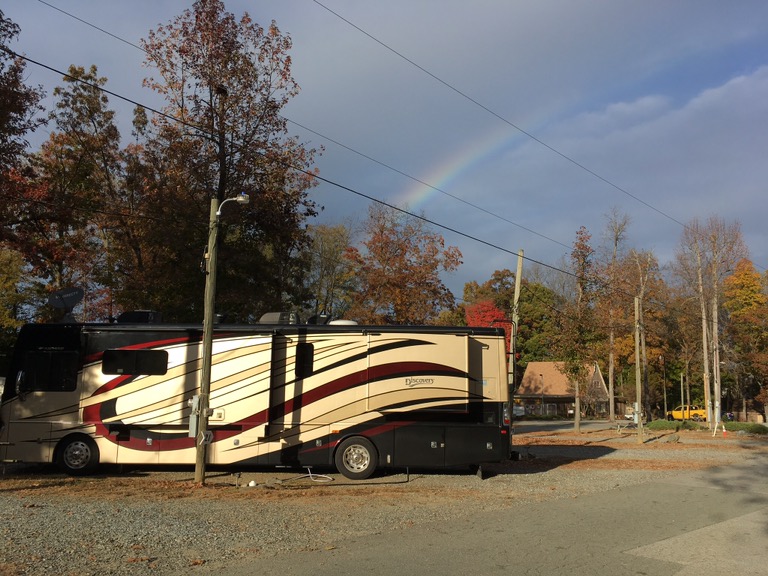 I saw something I had never seen before.  No, not the old grizzled guy with no shirt and a huge belly walking around in his trailer with the lights on and the window shades up after dark.  I have seen that before.  More than once.
What I had never seen before was a 5th wheel with a loft!  What?  A loft?  Yep. It popped up like a wart on the back of this 5th wheel making it a double decker.  Or a two-story. Maybe a 1-story atrium?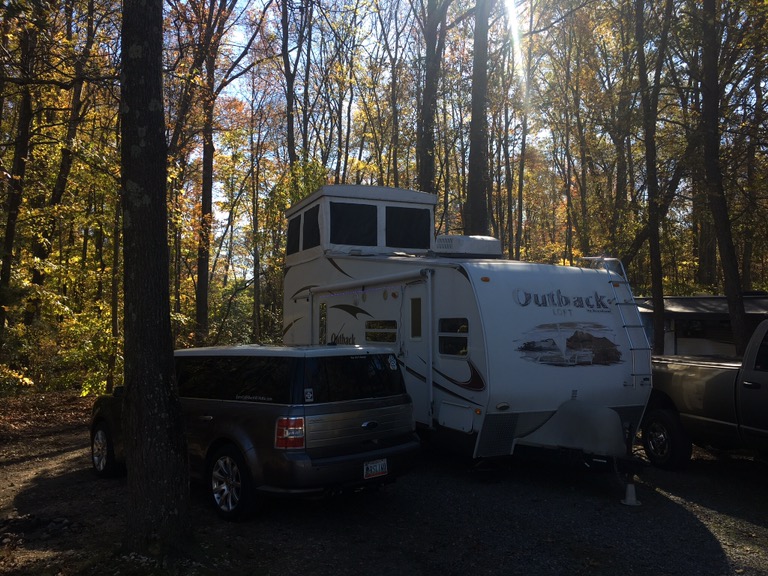 We had scheduled a day just so we could check out the Greensboro area. Its kind of fun to see new places, even if we're really just taking a day off from driving between two places. We drove into Greensboro, which I learned is the home of Wrangler Jeans.  Their headquarters is just outside the downtown.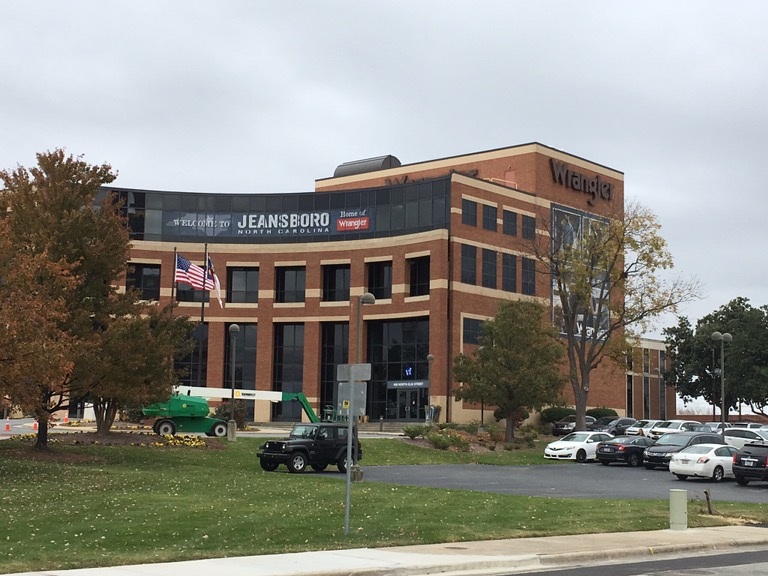 Speaking of the downtown, it verges on creepy.  For some reason it just felt….weird.  Quite a few of the shops downtown were closed and boarded up.  That alone is weird.  Pretty much everywhere else we've been on this trip so far, the economy has been booming.  Here it seemed like it was still 2010 and the economy was crap.
There were some neat business and restaurants that had setup downtown, but they were oddly devoid of people.
Nobody was out on the sidewalks.  Well, except for the occasional businessperson rapidly walking and making no eye contact.  And the homeless.
A very animated – and quite dilapidated –  woman asked us for money several times, explaining that she lived in a tent.  I told her we lived in a van, but that didn't seem to sink in.
We walked around virtually all of downtown Greenboro.  We just couldn't accept that it could be this dead, so Heather found an area that was described as a historic shopping area near the downtown.
We drove over there and if the downtown was dead, this place was actually decomposing.
Only half of the shops were occupied, and of the shops that were still in business, only a small number were open. Evidently, Monday is the day that all the local shops close.
Oh well.  Good that we only have a day here.
The next morning we prepared to leave.  Before we pulled out, we decided to top off our propane.  The propane fill was not easy to reach from the road out of the campground, being a tight 180 degree turn to get the fill hose on the same side of our MoHo as the propane tank.
I took the corner slowly, but that didn't save me.  I was feeling pretty good about my 3 point turn in a 39′ vehicle when I looked in the rear view mirror.  I saw Heather frantically waving her arms and telling me to stop!! Stop!  Stop!
I looked down at the bottom of the mirror.  That rock you see? It was grinding the bottom of one of our cargo doors.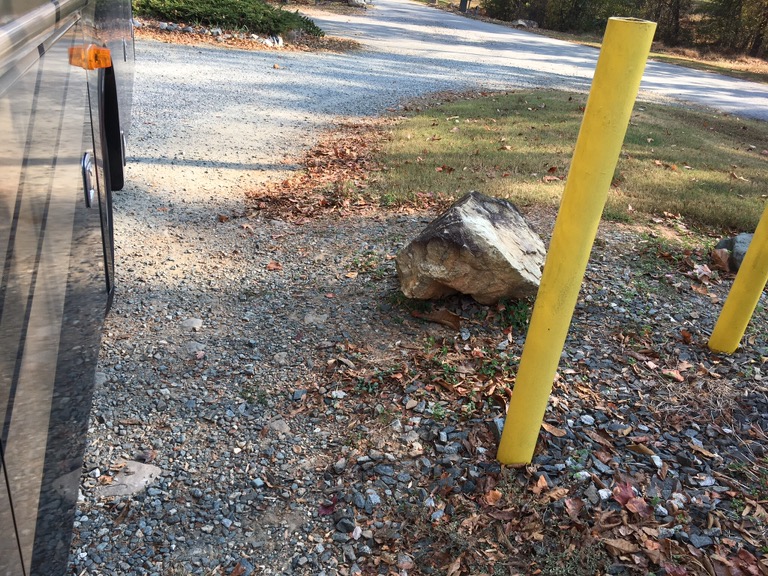 The rock was not where you see it in the photo.  Oh no. It was out about 2 feet toward the road. Just ready to take a bite out of an unsuspecting MoHo. Not a good spot for it.
Still, my fault.  It was a good reminder to pay attention to EVERYTHING when driving the MoHo, particularly the pivot point around the rear wheels.
Fortunately, it was just a light(ish) scrape!  I moved the rock to its new home closer to the yellow poles and tried console myself.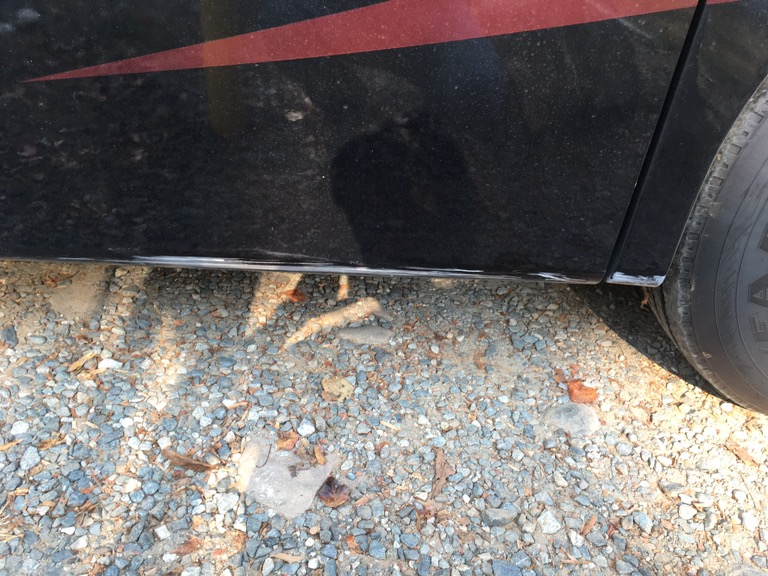 I'm sure the scratches will buff out.  And, thanks to our encounter in Burlington I do have a bottle of fresh touch up paint!
We filled our propane and headed down the highway toward South Carolina. Nobody at the campground saw what happened so I left with (some of) my pride intact. Which is of course the most important thing.
Smoke from the fires was pretty bad.  The air smelled like a giant campfire and our eyes burned.  It was only going to be worse in Spartanburg, so there wasn't much we could do.