Our last few days were in Downtown Charleston itself.  It seems strange to think that it took us so long to go here, but there is so much to do around the downtown area that it took us a while to see all of that first.
Charleston does not offer the trolley tours so common in other cites.  Instead,  all tours are in horse-drawn carriages.  I don't know if this is an actual "law" or just a super-effective horse-drawn-carriage union?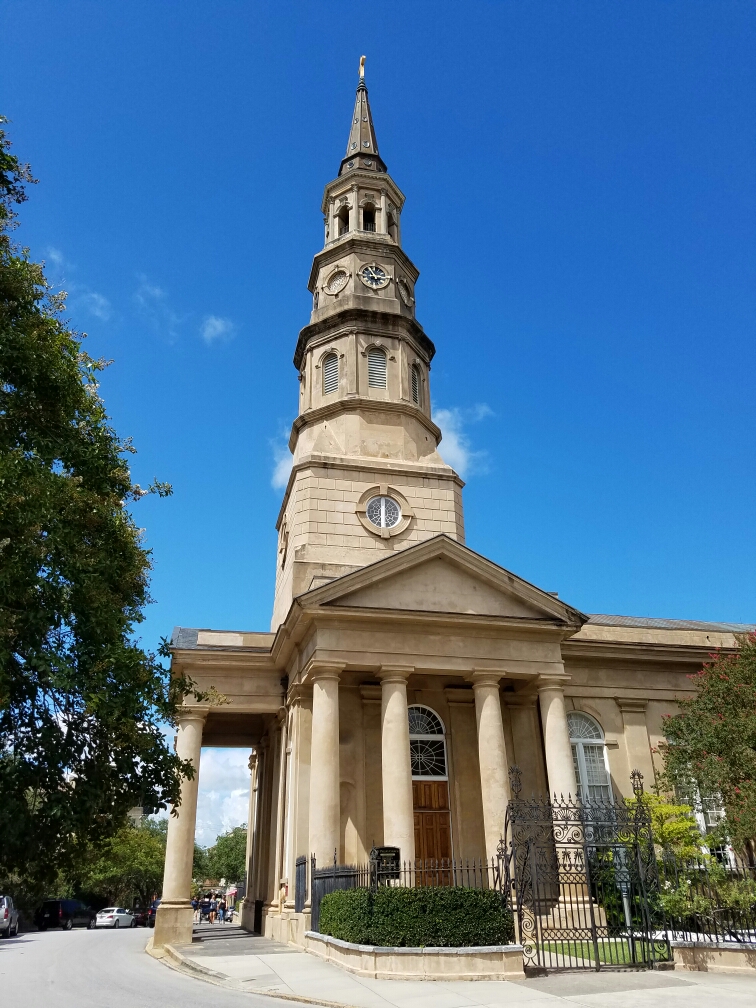 Charles Towne was one of the first cities on the British east coast.  It was founded in 1670, over 100 years before the American revolution.  That history is everywhere in the old town, from the historic buildings to the cobblestone streets to the alleys.  Most of the buildings seemed to be from the 1800s although some along the waterfront were older.
I believe some of this is due to at least one massive fire which razed many original structures.
It also survived the Civil War and something much more destructive.  That being the temporary insanity that gripped most American cities after WWII through the 1970s when cities decided to tear down historic structures and replace them with ugly "modern" structures that lack all character. Or worse, parking lots.
Our grandchildren will feel the same way about our current fascination with strip malls.
Anyway, in Charleston after the fire brick replaced wood.  One example is this church built in forum style with a round rotunda that was said to seat 2000 people.  I'm not sure about that but it definitely is large.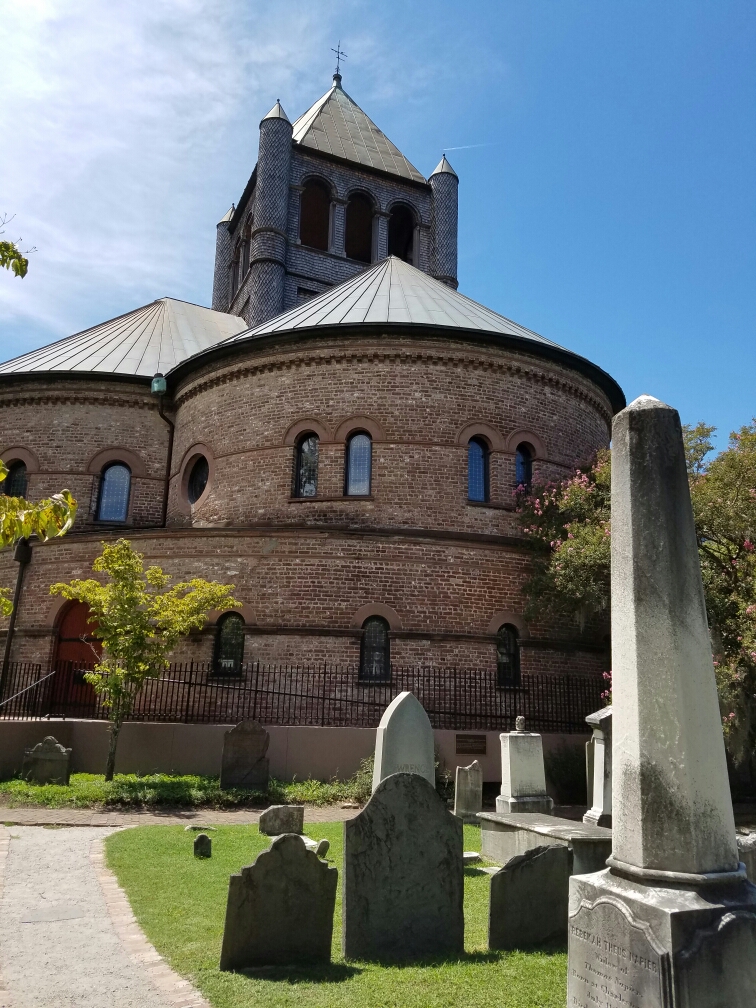 The City Market nearby is one of the most well-known areas. Originally built in the 1850s as a slave market, it has transformed and expanded to a major destination full of local craftspeople and artists.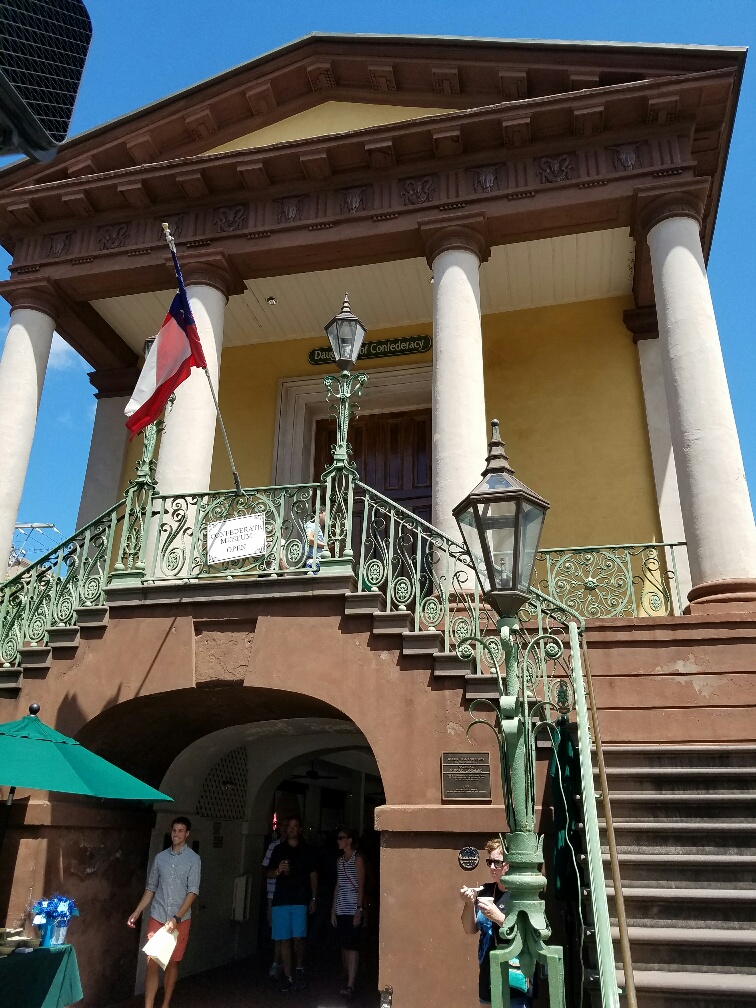 Theatre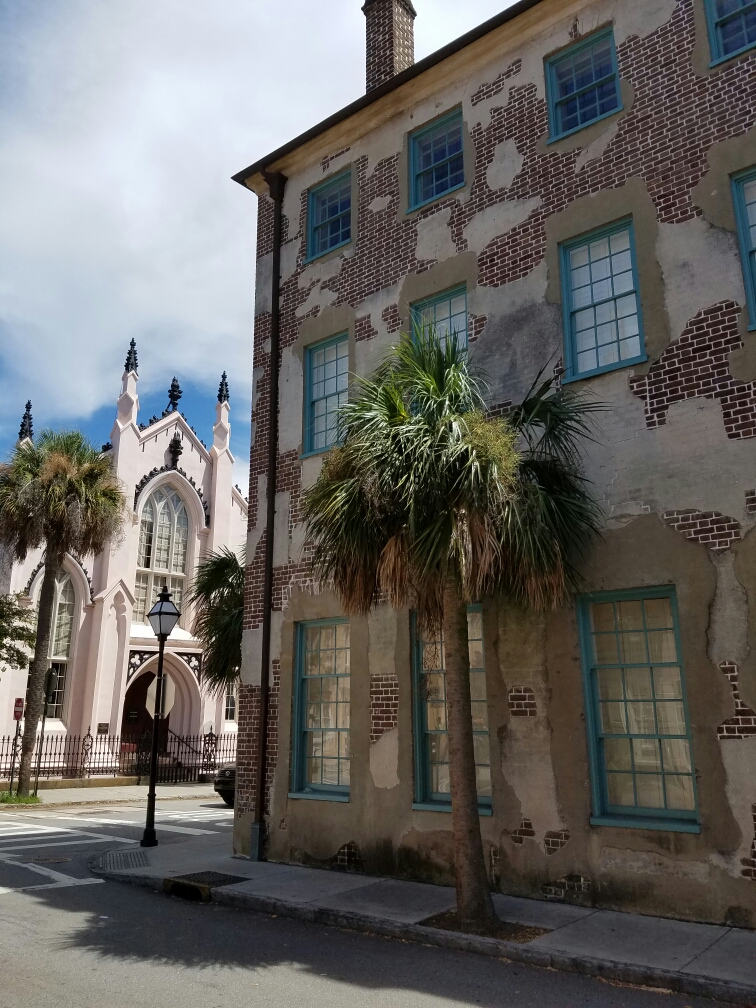 Many of the streets are still cobblestone, and the buildings share the common narrow-and-deep design that is a Charleston hallmark.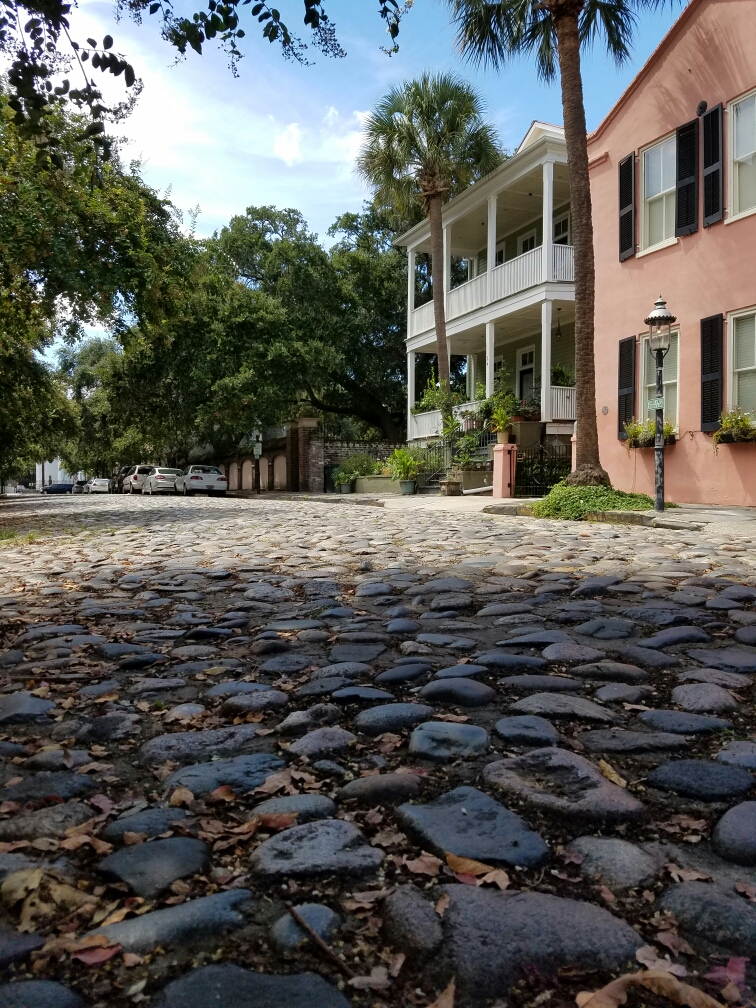 The government buildings are very distinctive, many being in the neoclassical design.  The city hall building, for example, is very distinctive with large dual staircase leading to the elevated entrance.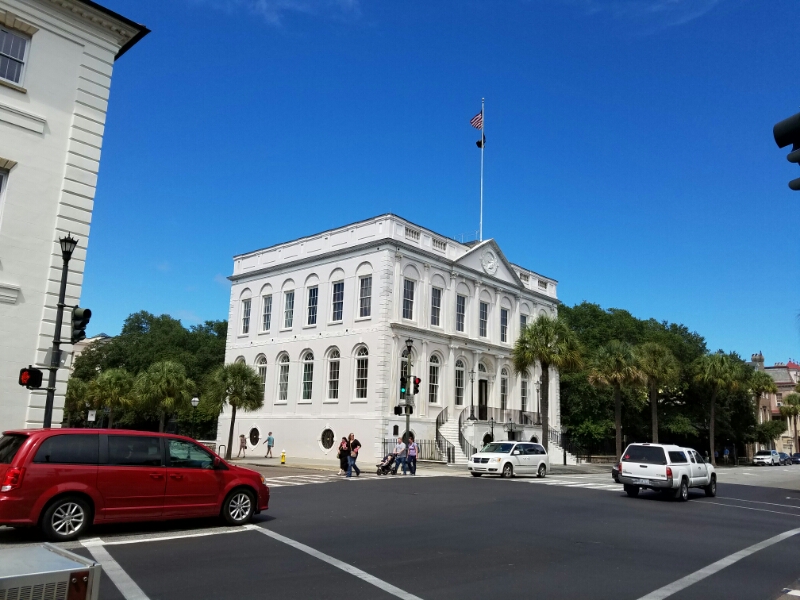 We had to see the "painted ladies" also known as "rainbow row."  These are a series of restored  row houses along the waterfront on Bay street.  The story is that the houses were painted these colors so that drunken sailors coming home from a night of debauchery could find their boarding house since the houses look very similar.  Given that the colors would be impossible to see at night, I find this a little hard to believe.  But it is a great story.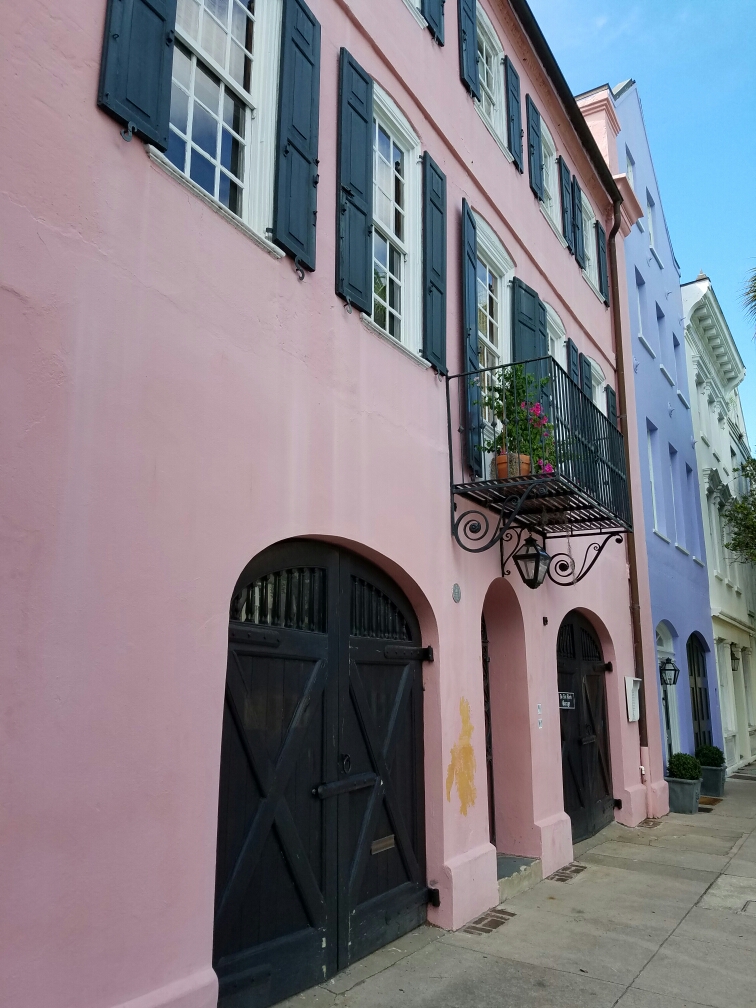 The houses fell into disrepair and were schedule for demolition.  A civic-minded woman whose name I have already forgotten decided to save the homes.  After much work she was able to have the homes designated as historic and they have been remodeled.
I thought this wall was interesting.  The bricks were built around the limb of a huge oak tree.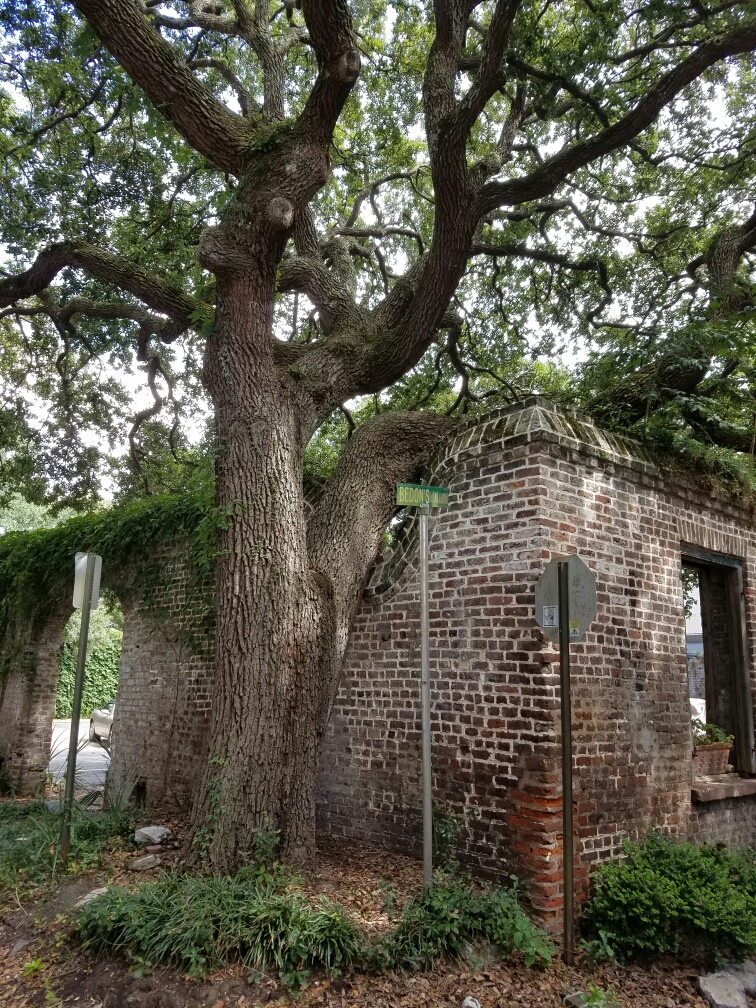 Several fountains are along the waterfront.  Unlike other cities which also have fountains, Charelston allows visitors to bathe in the fountains.  One was clearly designed for children and they flock to it.
Only after taking this photo did I realize I was the creepy middle-aged dude taking pictures of children. Actually, I didn't realize it. I was completely oblivious.  Heather kindly pointed it out.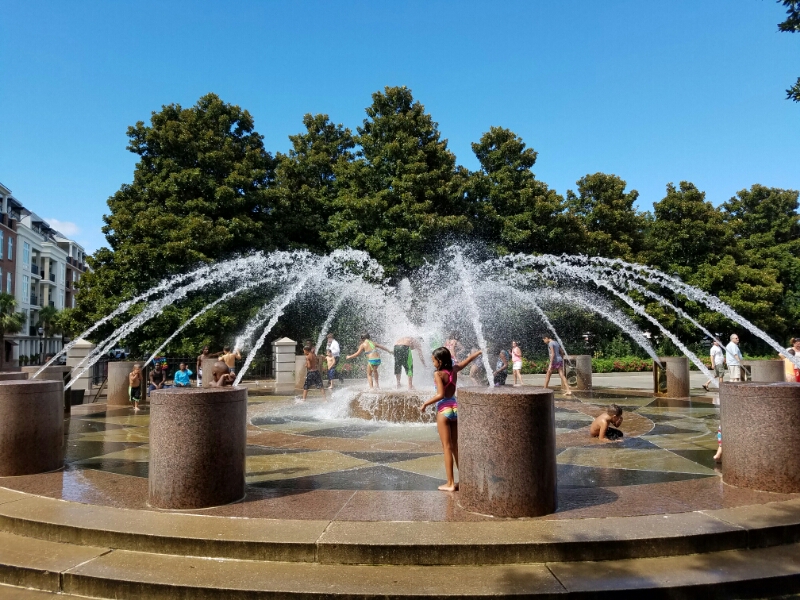 One of the most famous statues is the giant pineapple.  It also had people wading in it.  Kids and adults alike.  Frankly, while the statue is ornate and detailed, I found it kind of ugly.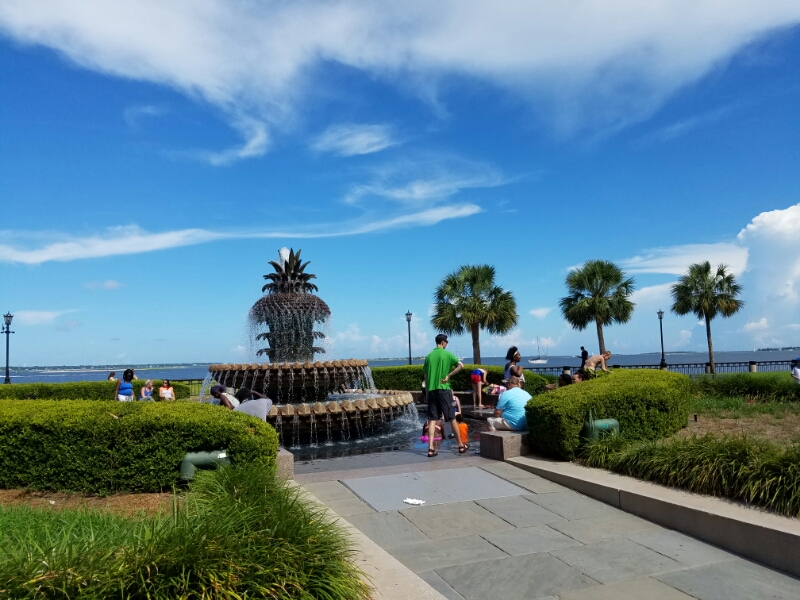 We ate at one of the many (MANY) incredible restaurants on Bay street. No photos, but I had catfish, cheese grits, and brussles sprouts with pork belly.  So good!
I feel like, at least on our trip so far, Charleston just behind New Orleans with a great food scene.
We ended the evening by walking out to the end of the fishing pier under the Ravenel bridge.  It is a great place to see the bridge. Dolphins swam by us – we probably saw 10 or 15 of them!
We both wondered about the classic question.  Savannah?  Or Charleston?
It is hard to answer.  Charleston is much larger than Savannah so it feels different. The beaches around Charleston are better than the beaches around Savannah. There is more to do in Charleston.  Certainly more to eat in Charleston.
Yet, I think we both liked Savannah just a bit better.  The large squares and more laid-back feeling just appealed to us.
Ultimately, you can't go wrong with either one!