We pulled into the Pechanga RV Resort.  It is an Indian casino and supposedly THE place to stay in Temecula.  We noticed a lot of construction detours as we entered the property, but this basket on the cheek in desk should have made us ask more questions than we did.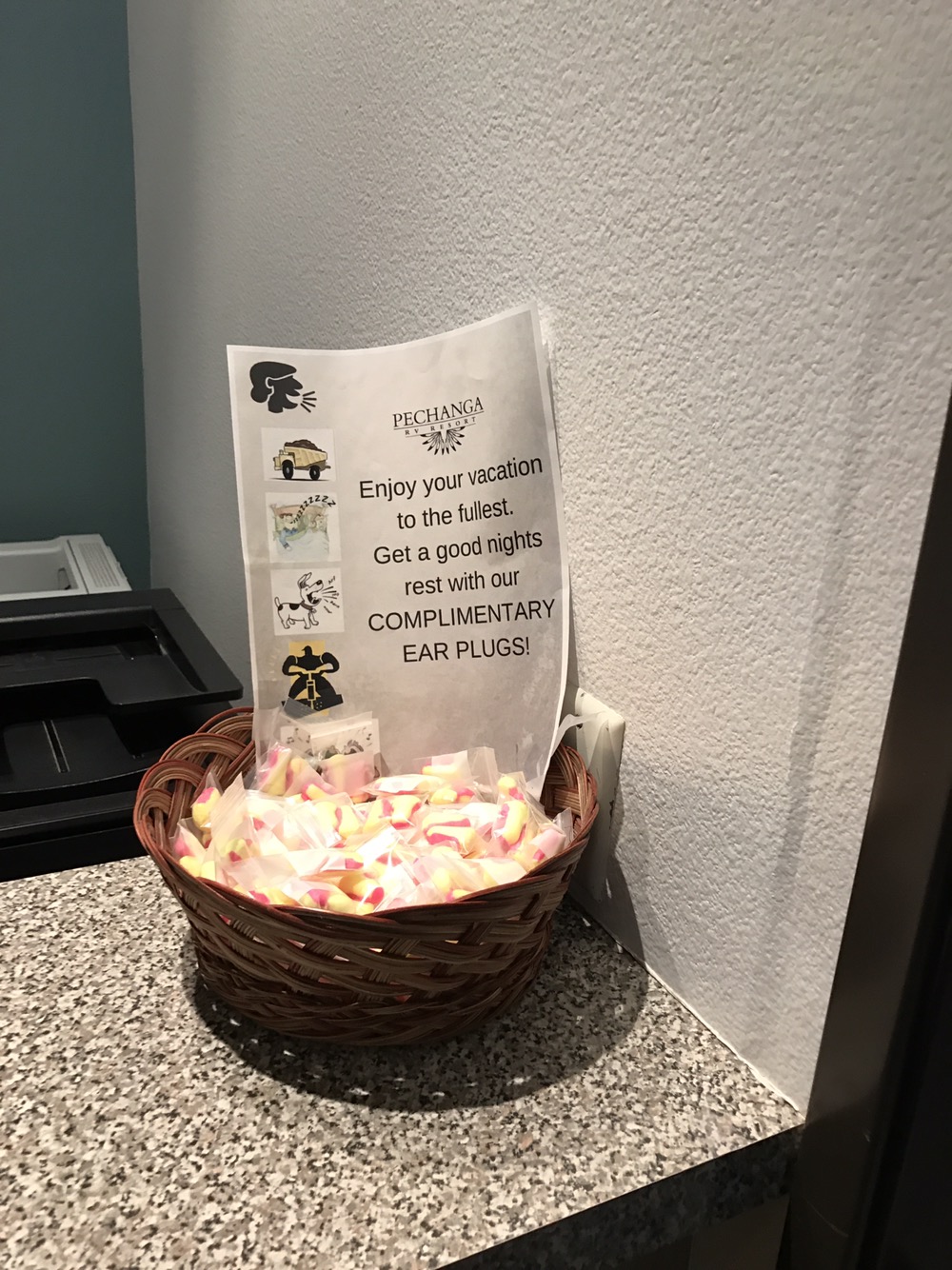 Now, normally RV campgrounds avoid giving ANYTHING away for free.  So seeing a basket of free….earplugs….
The sites are nice and big – wide, long, with easy interior roads and rounded corners.  Some trees, but nothing to interfere with our dish.  As soon as we setup in our spot, which was along the entry road, we realized this might not be the idyllic stay we imagined.
Large, loud, construction equipment drove past constantly.  A street sweeping machine drove up and down the entry road, passing us every 38 seconds.  Down. Back. Down. Back. Down. Back. Still I assumed they would wrap up around 4:00pm 5:00pm. At 8:00pm not only had the noise continued, it intensified!  Around 10:00pm noises like someone hammering a steel pipe mounted in concrete started. Around 2:00am, we finally started dozing off, only to be woken at 5:10am by loud and very profane voices practically out side our window.
Turns out that Pechanga has a massive construction project, and they are running 24 hours a day. Every time a shift changes, the noise level amps up even more.  It was a lot like trying to sleep while parked in the middle of a construction zone.  Actually, it was exactly like trying to sleep while parked in the middle of a construction zone.
I was waiting at the office at 7:55am.
Fortunately they had an interior site for us or we would have had to leave.
Like everyone else, we had heard of the desert "superbloom" happening and like everyone else, we wanted to see it for ourselves.  Word on the street was that Borrego Springs was one of the best places to see the superbloom.  Word on the street was also that trying to do it on the weekends was a bad idea because so many people were driving out there.
We were able to go on a Tuesday.  The visitor center parking and overflow were completely full, but we lucked into a spot. I can't imagine trying to visit on the weekend.
Inside the visitor center, a very nice volunteer gave us a map of various areas to explore.  Since we had a 4×4, we had many more options.
"Do you have a real 4×4 like a Jeep, or just all-wheel drive?" she asked.
"We have a Wrangler," I said.
"Oh good," she said.  "We get a lot of people in all-wheel drive vehicles who sustain a lot of damage on some of the roads but you will be fine in a Jeep."
A few hours later I would see what she meant as we encountered people in places they should never have been with the cars or soft-roaders they were driving.
The scenery on the valley floor was impressive.  Desert Palms dotted the landscape surrounded by flowers and scrub plants.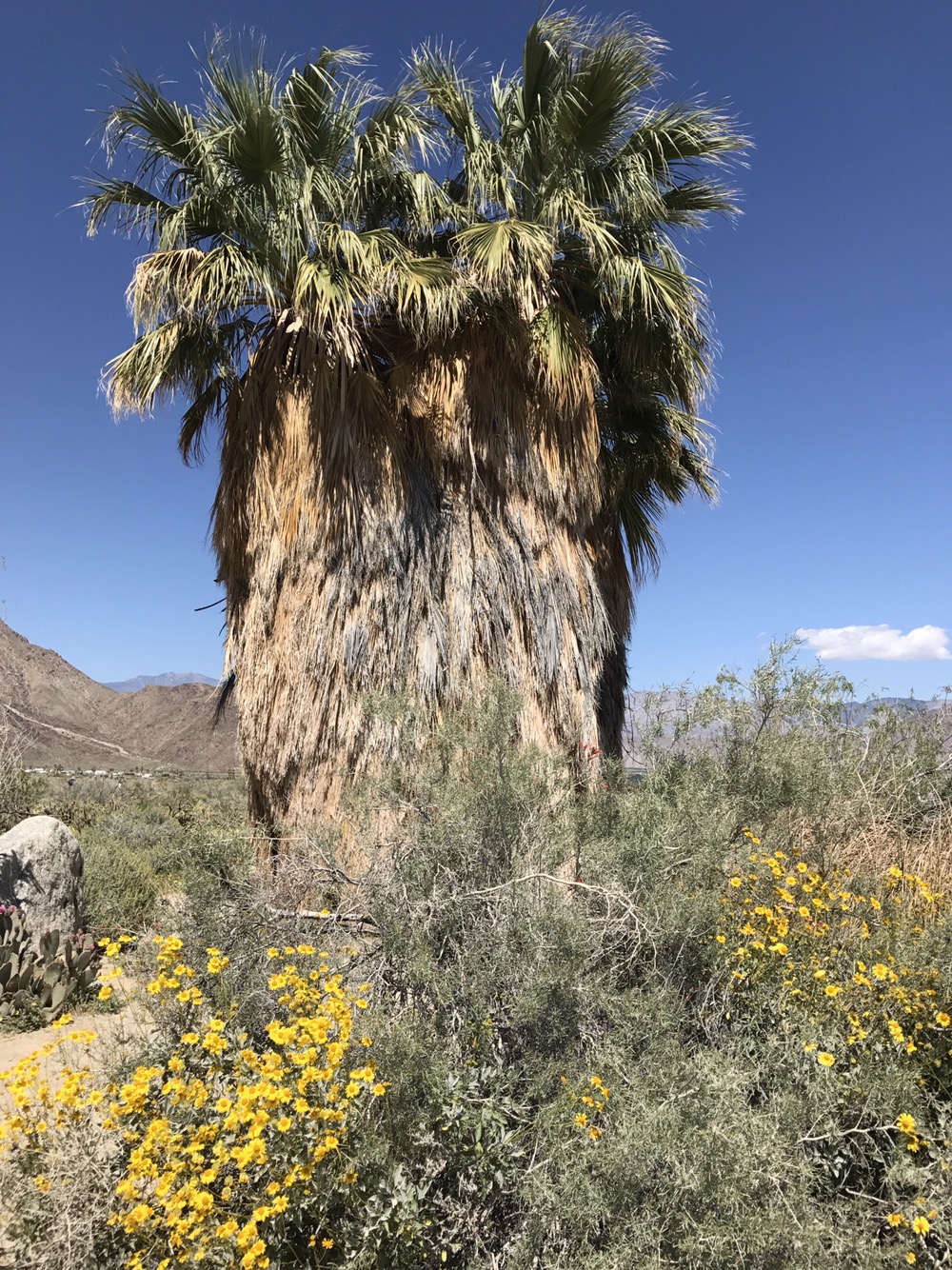 Anyway, the flowers are spectacular. They say it is the best bloom in over 20 years.  I didn't come 20 years ago so I can't personally vouch for that statement, but it is hard to disagree.
Hillsides normally looking like little more than barren rockpiles are covered in various types of flowers and flowering cactus.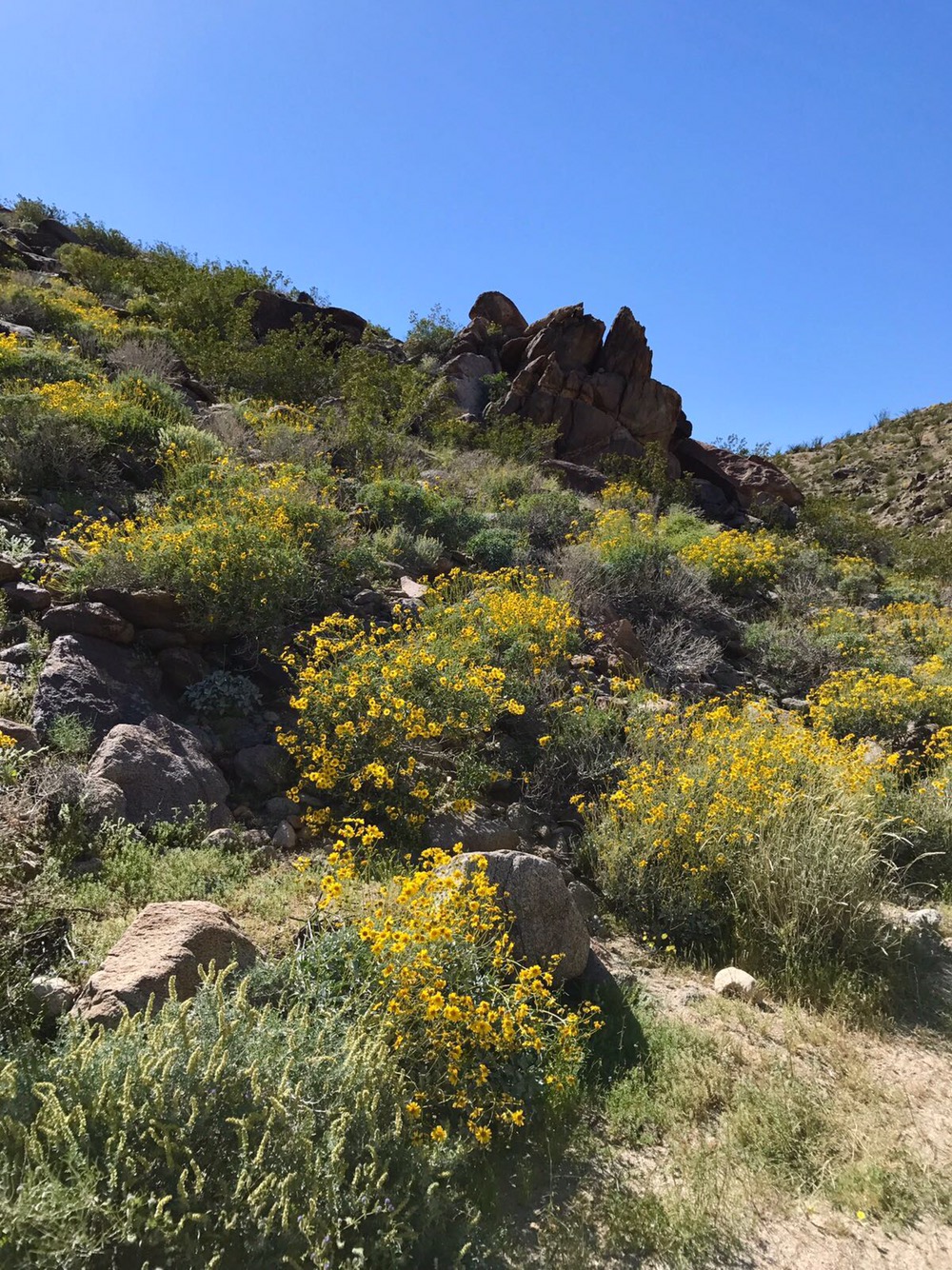 Some of the cactus flowers are yellow and others are a light purple color.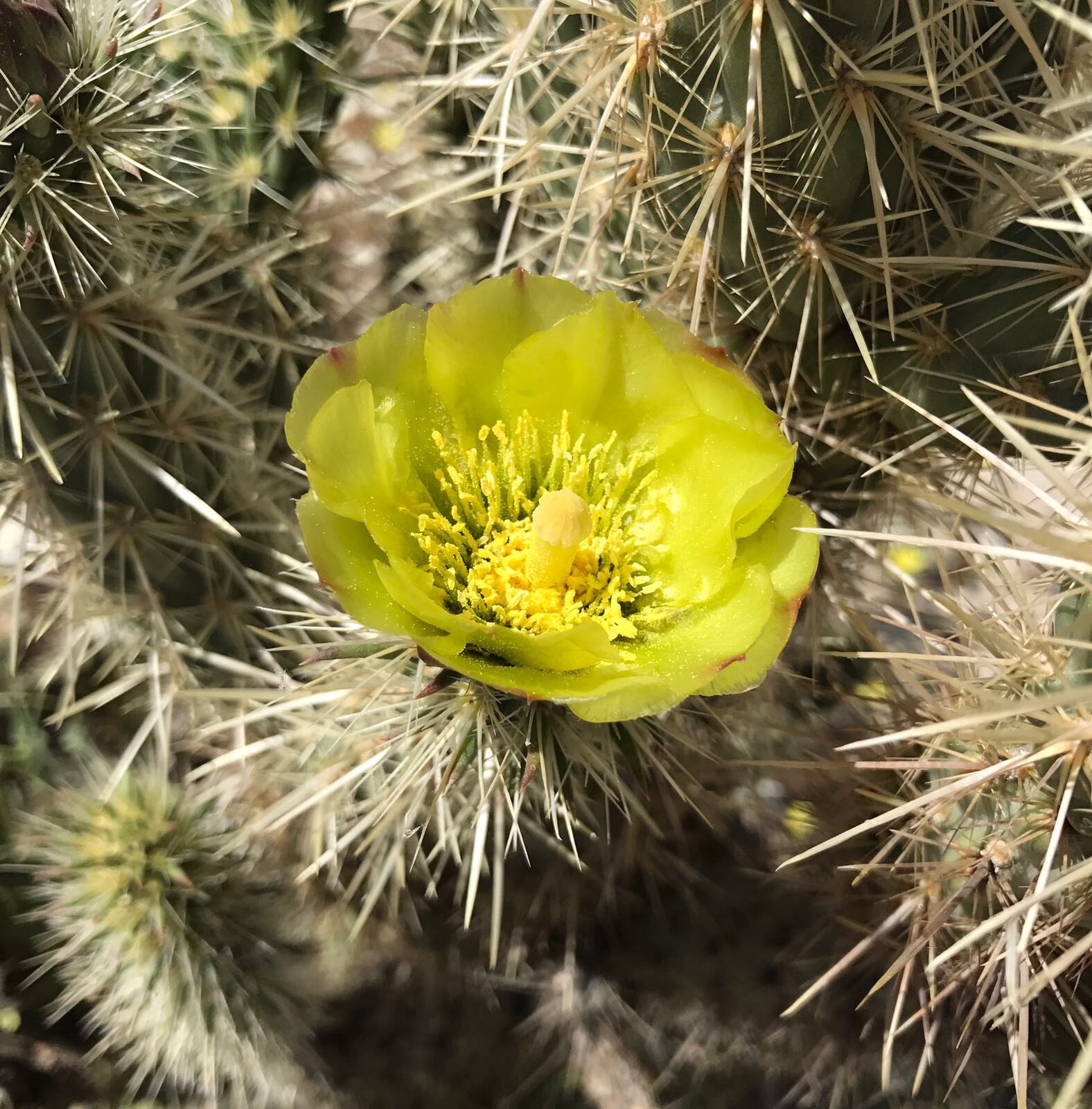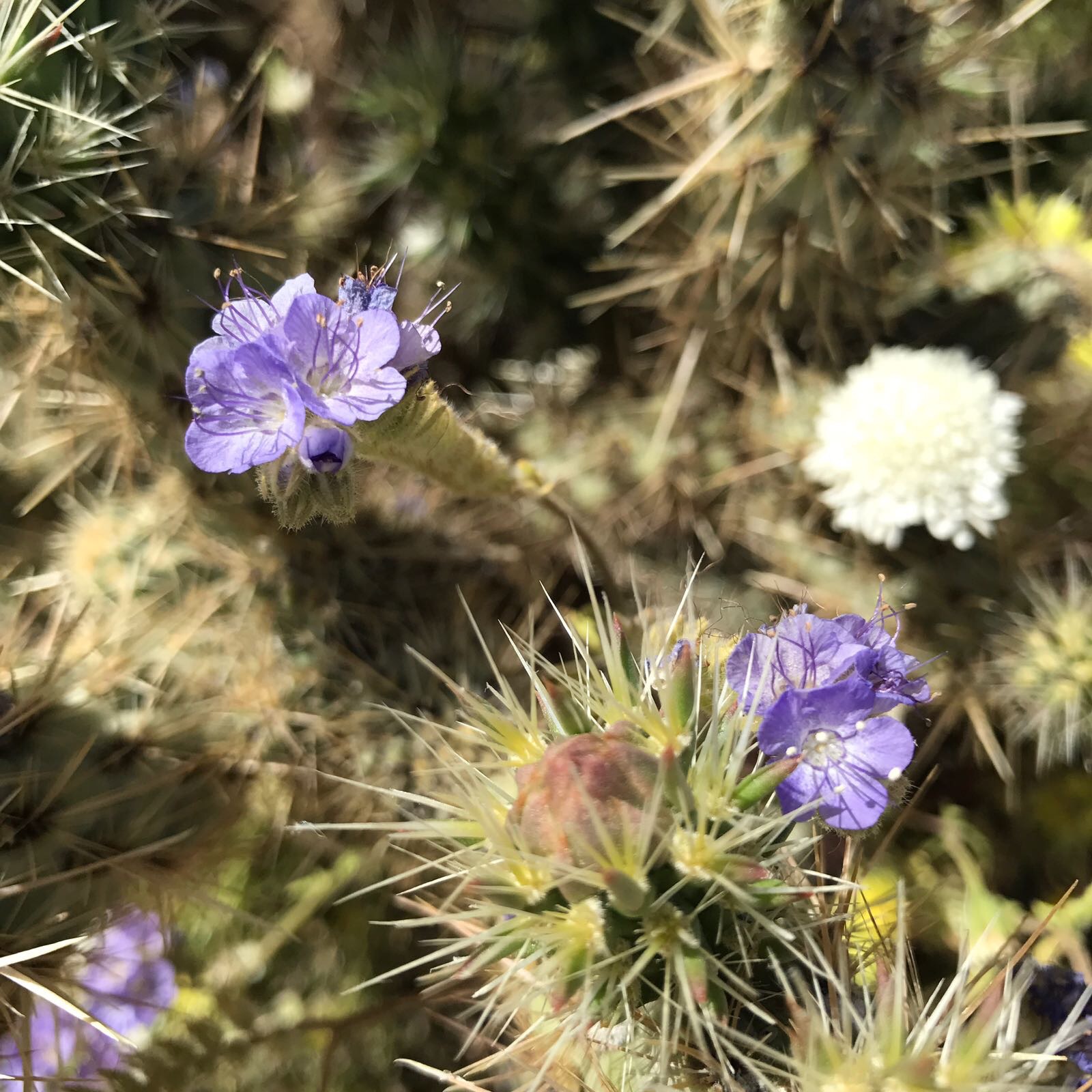 On the main road out to the desert preserve, a sculpture garden has been created by a local artist.  We couldn't resist parking next to this fellow Jeeper.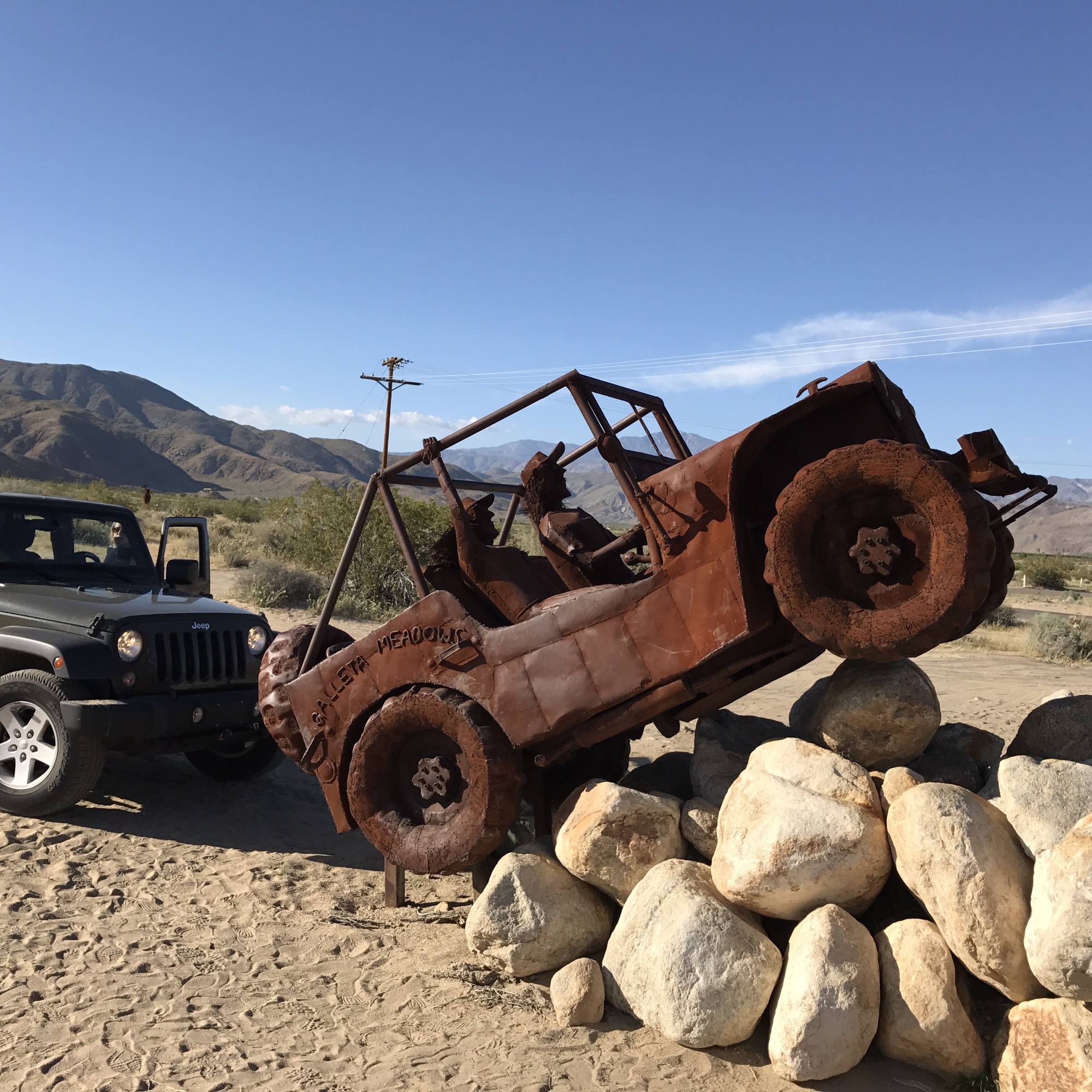 The roads out to the desert area begin easily enough.  Paved roads turn to dirt roads.  After a mile or so the dirt begins to soften into sand but still nothing any car couldn't handle.  Not long after though, rocks embedded in the road make their appearance and begin to grow in size. More adventurous car owners dodge the rocks and continue on. Eventually, the road takes on a form suited to high-clearance vehicles.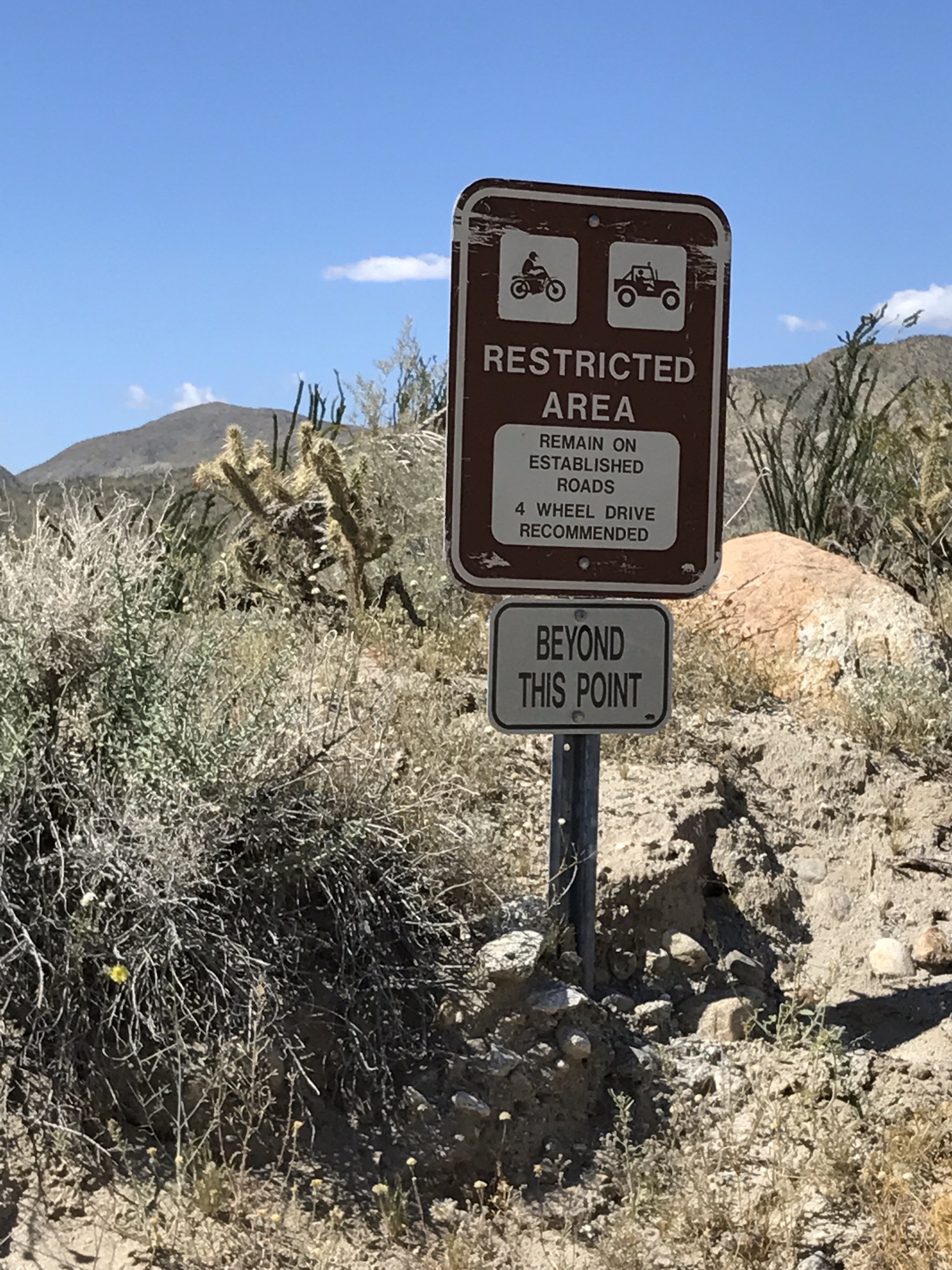 At this point, traffic has thinned significantly.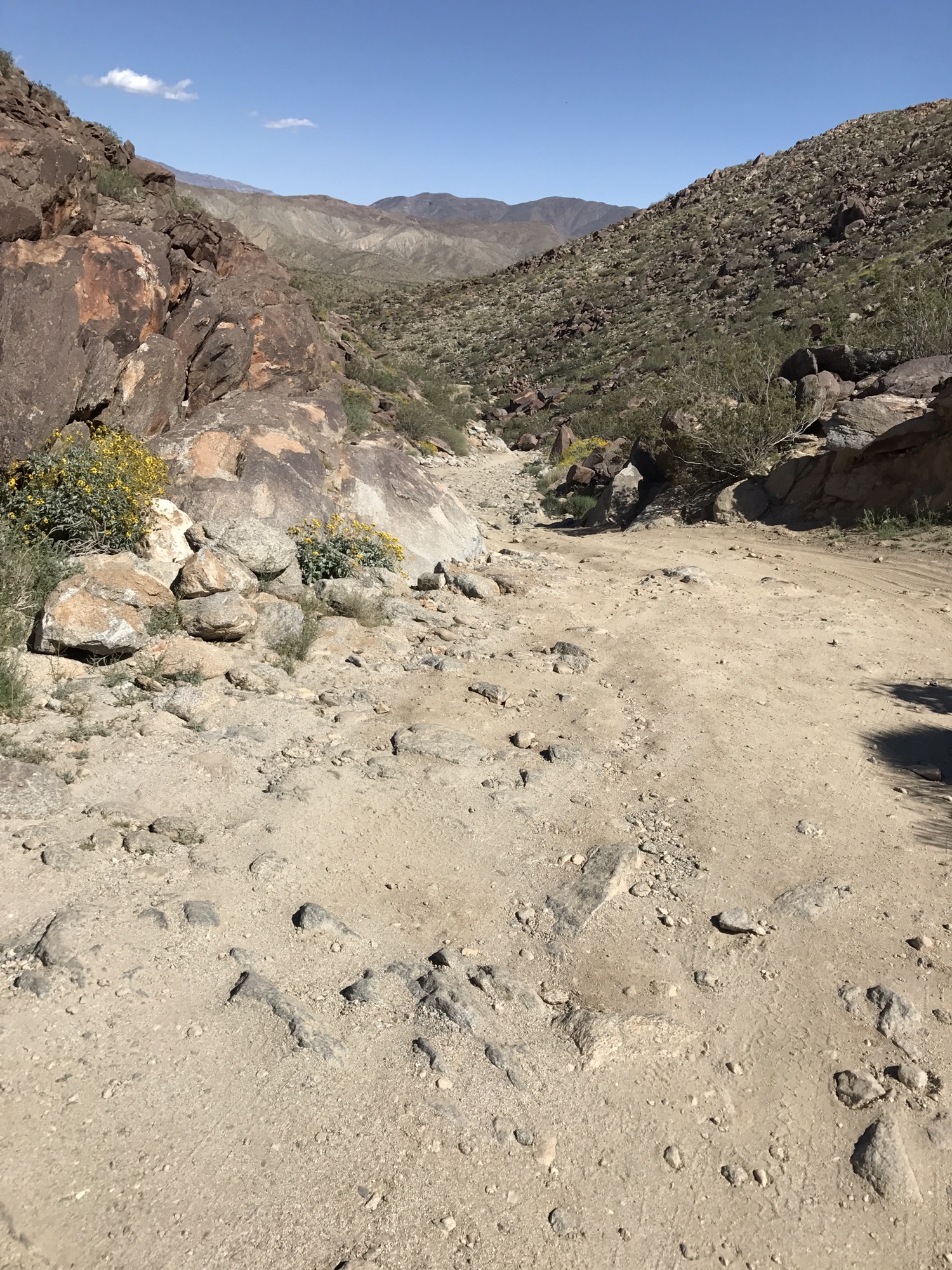 Eventually, the trail reaches the base of a very steep and rocky hill.  We drove up it in 4low in our stock Wrangler Sport with no issues. However, I've done off road driving before.  I could see someone with less experience being fairly intimidated.  In fact, as we came back down we passed a guy walking up the hill.  He told us he had a Wrangler Rubicon and was afraid to try this road.  Bet he felt stupid seeing us in our Sport.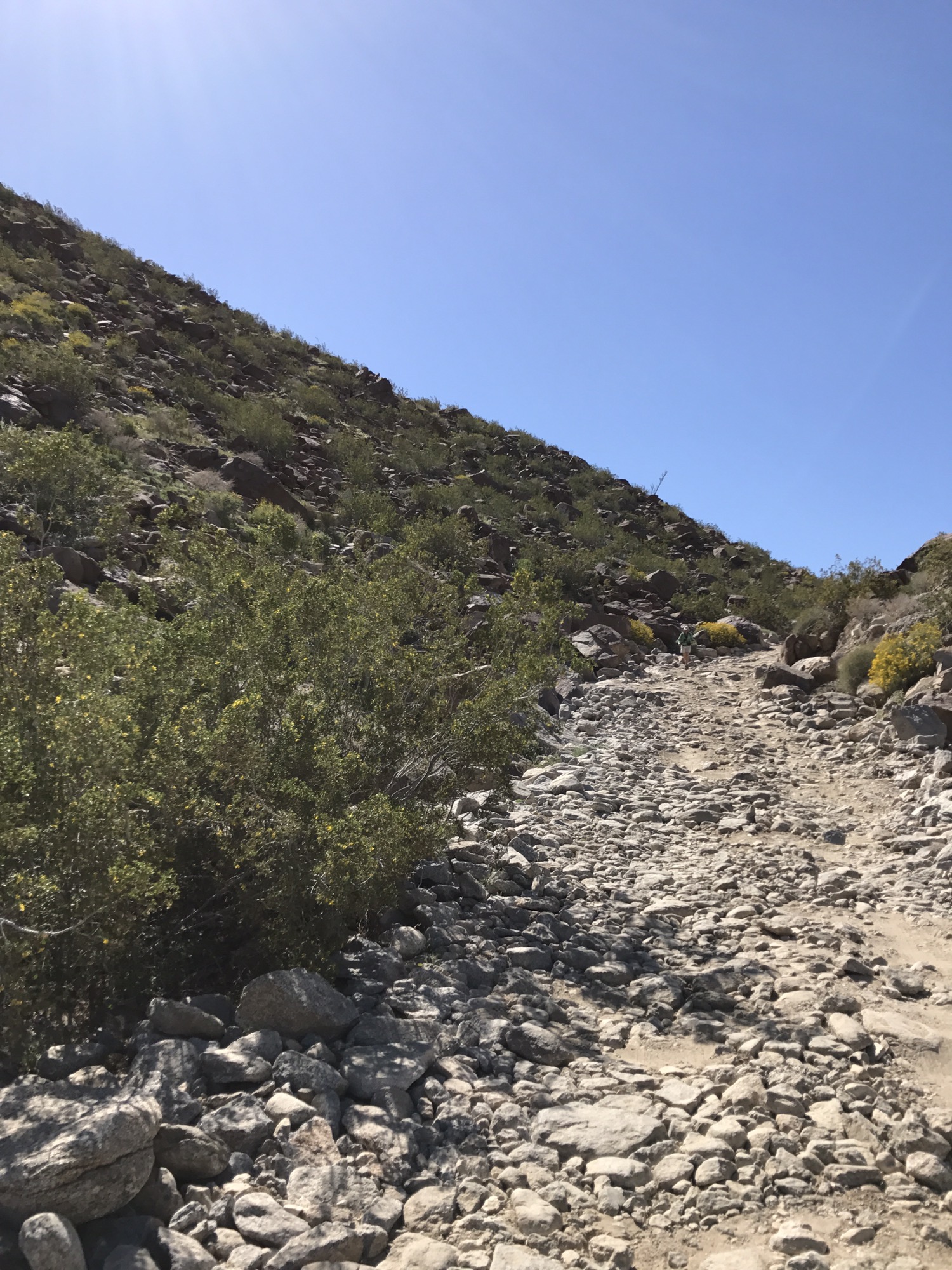 Once we ventured beyond the steep hill, we mostly had the place to ourselves.  This gave us a good opportunity to see the Ocotillo which was blooming with bright red and pink flowers.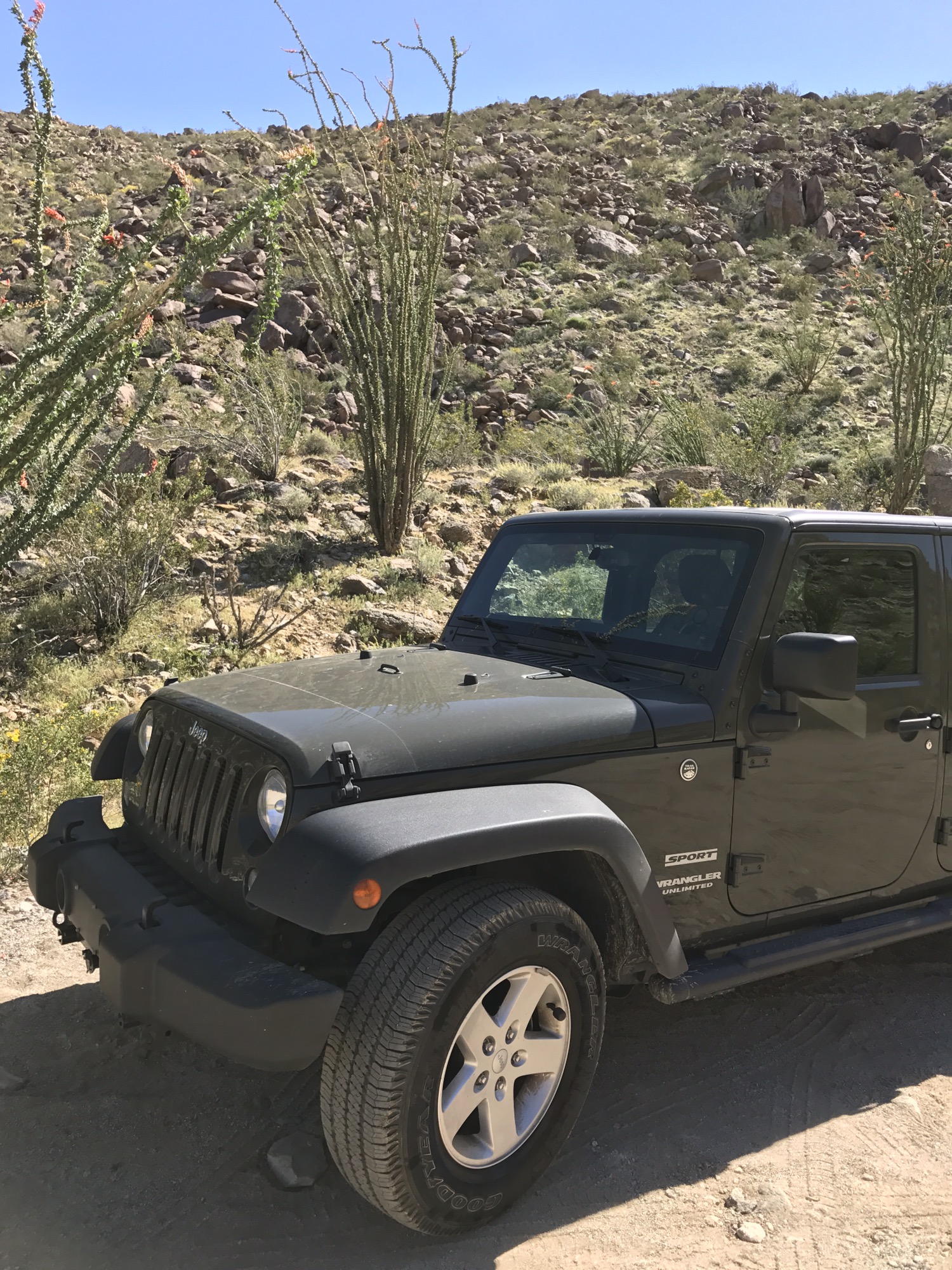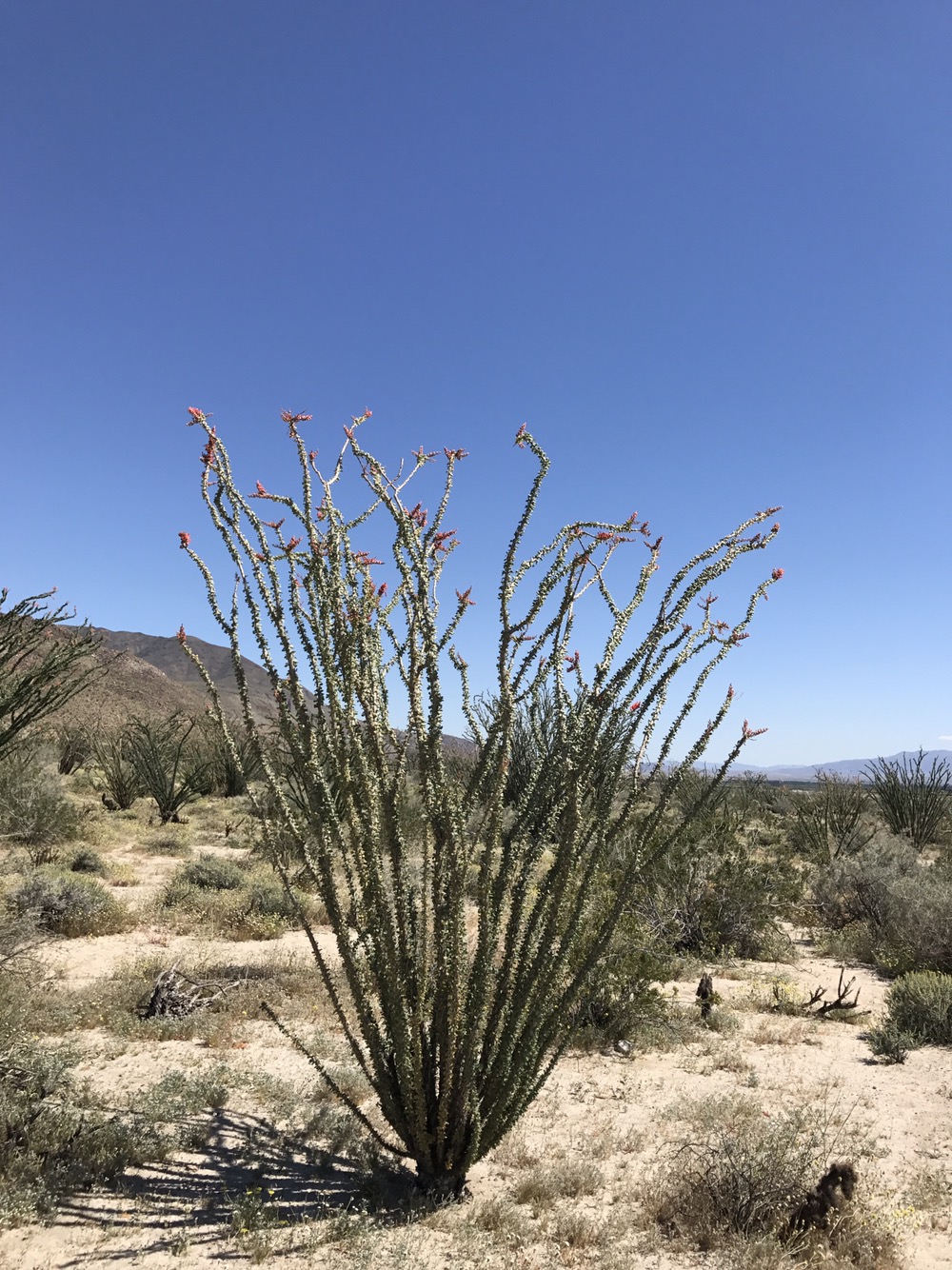 Temperatures were quite pleasant for the desert with highs around 80 degrees.  Beautiful.  We got our our boonie hats and did a little hiking.  Winds had picked up so we had to strap those hats on!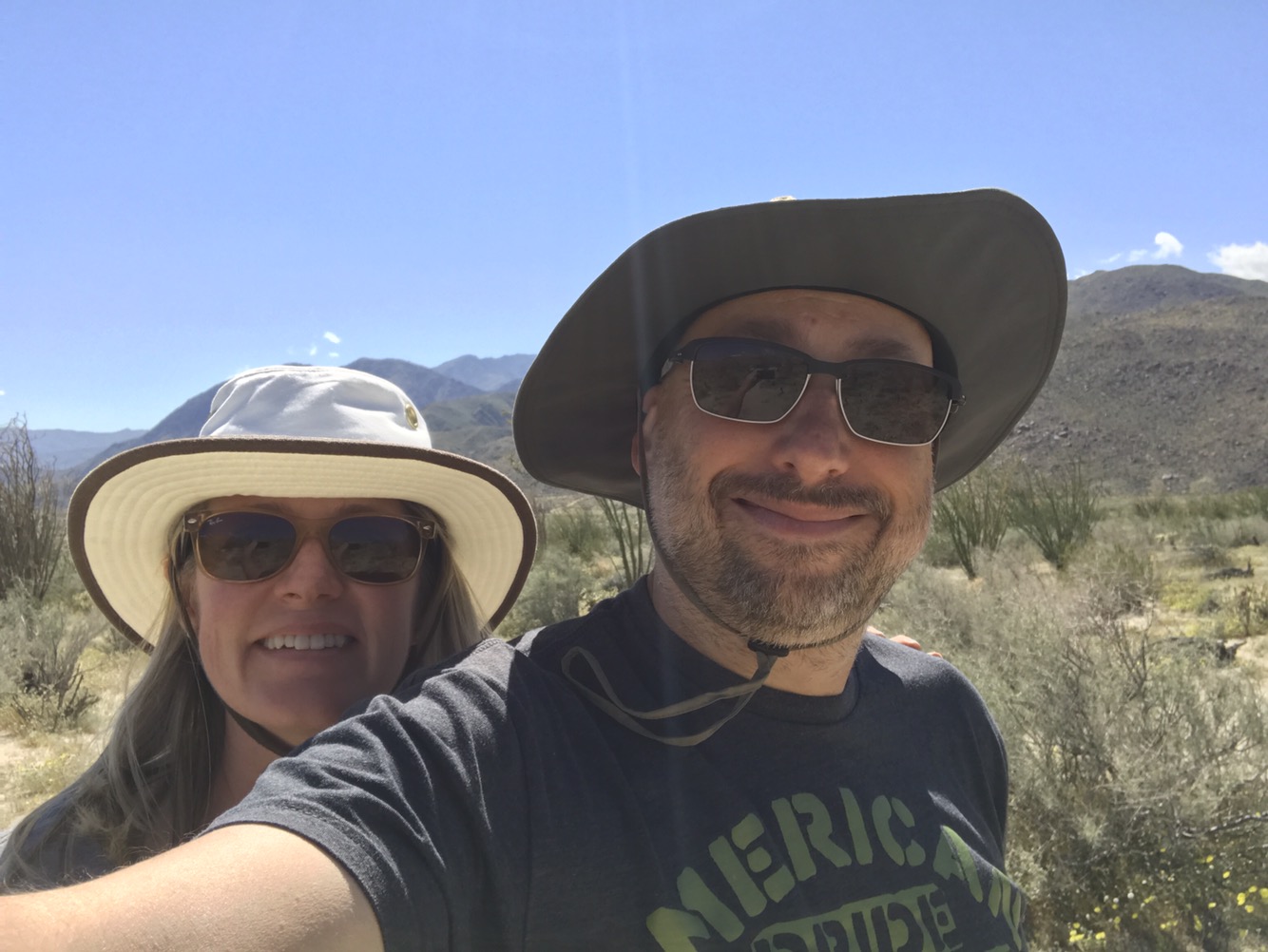 Heather drove back.  She did a great job!  There were several water fordings and she navigated the trail downhill that the Rubicon owner was afraid to try!
On the way back we saw the first of what would become a series of crazy auto mishaps.  This guy's truck was engulfed in flames on the side of the road.  He and what appeared to be 2 firefighters were just standing helplessly watching it burn.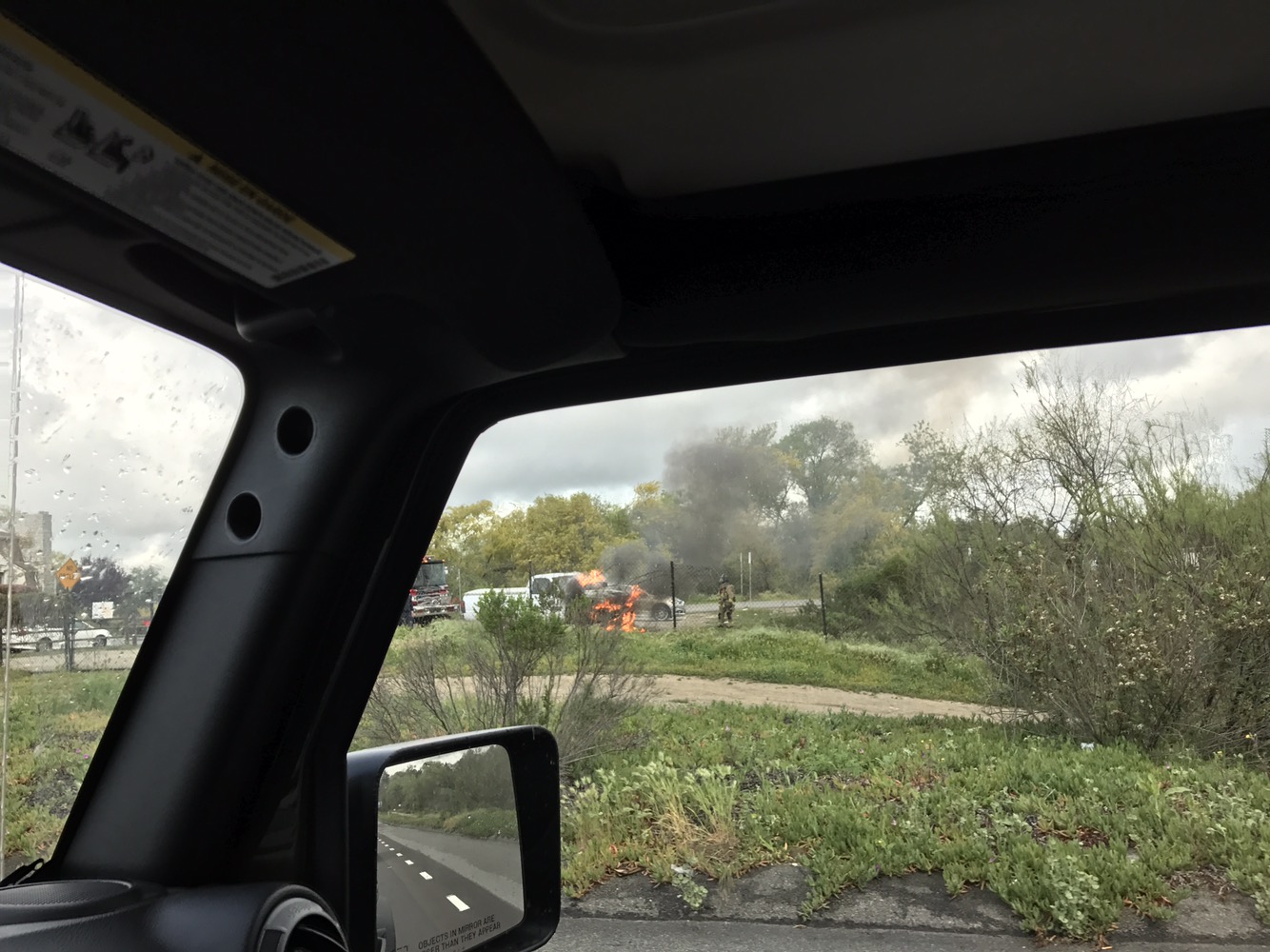 Only in SoCal would we see this.  Cinderella's Coach apparently broke down on the side of the road and was being towed.  No, not really.  It is a horse-drawn coach for winery tours.  Still, it looked like it should be heading to Disneyland.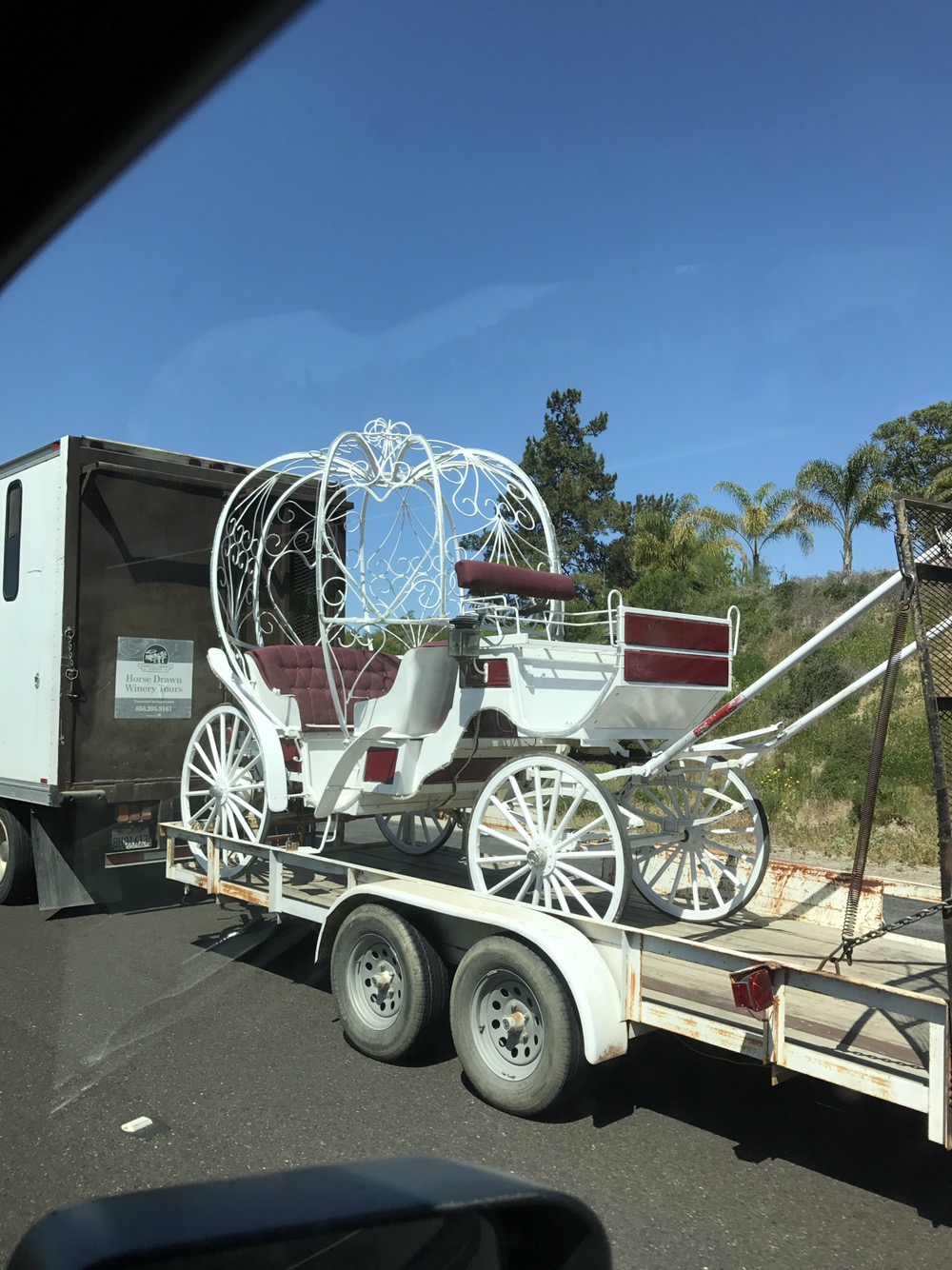 A little further up the road we hit a bad traffic patch.  As we moved forward, we saw that somebody had actually attempted to mount the concrete barrier on the side of the road. The attempt had not gone especially well.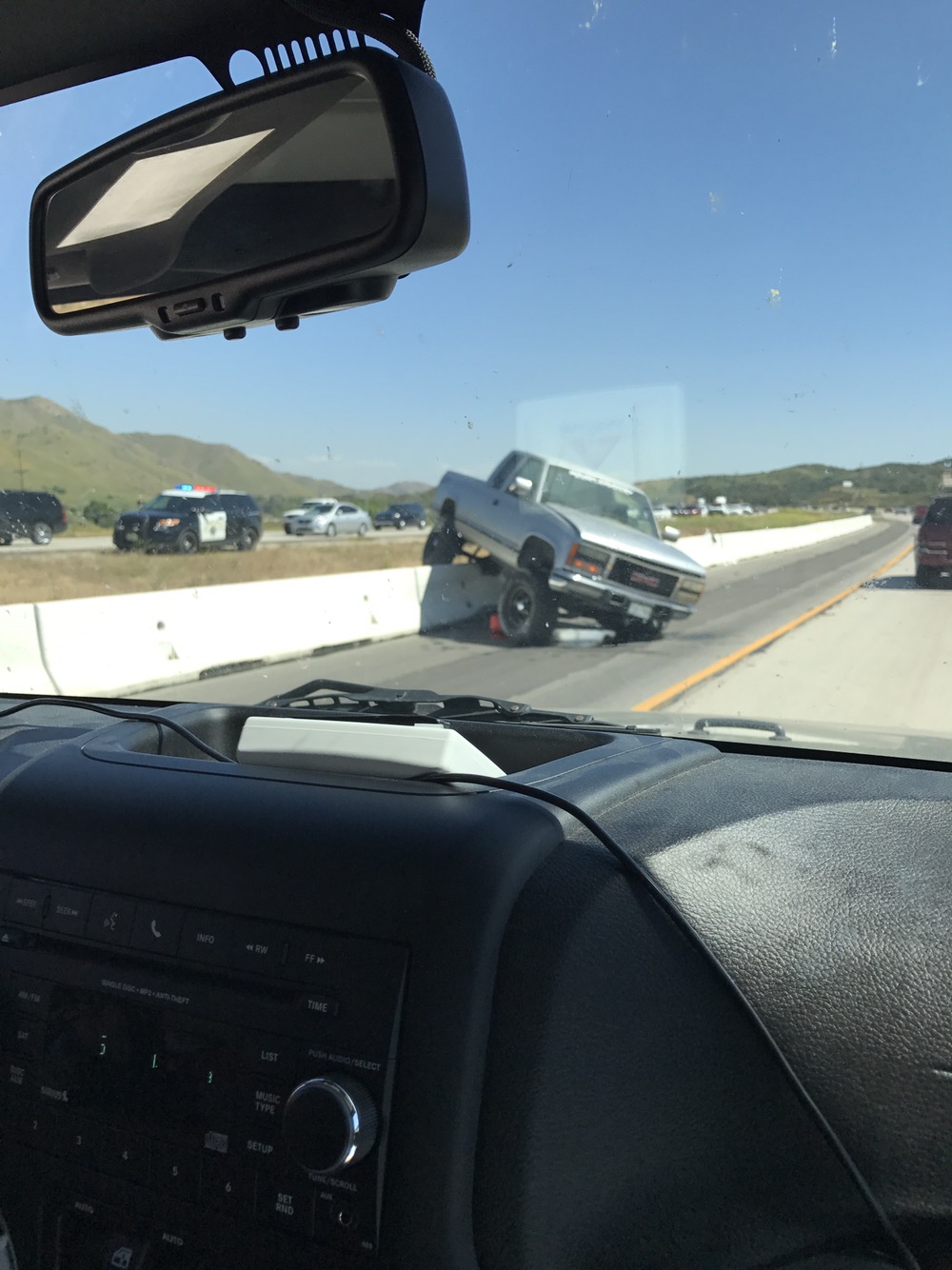 Borrego Springs was a very interesting trip and we were pleased to have been in the area during a once in every 2 decades flower superbloom!
script async="" src="//pagead2.googlesyndication.com/pagead/js/adsbygoogle.js">