We drove from ABQ to White Rock New Mexico today. The first 30 miles or so we were treated to the smell of diesel.  I'm not sure if the short trips we've been taking in ABQ between campsites, La Mesa, Freightliner, and the RV park triggered a "regen" or if it was fuel spilled on the engine during the service at Freightliner that was burning off.  Either way the smell was gone after about 30 minutes.
It turns out that running a big diesel at low RPMs for short trips does not permit the diesel particulate filter in the exhaust system to get hot enough to burn out all the soot it has collected.  You've seen the soot – the black cloud of smoke the big rigs (used to) blow out the exhaust pipes at times.   So the exhaust system on post 2008 diesels injects diesel into the exhaust to get the temps up high enough to burn out the soot. That can cause a diesel smell and use some extra fuel too.  Big rigs built after 2008 do not emit the black soot.
I'm not sure why ours smelled – usually if its a regen a dash light will come on and I never saw a light.  Probably just some diesel that spilled when Freightliner changed the two fuel filters.  In any case, I'll watch the diesel consumption for the next few trips to make sure my mileage is not cut in half.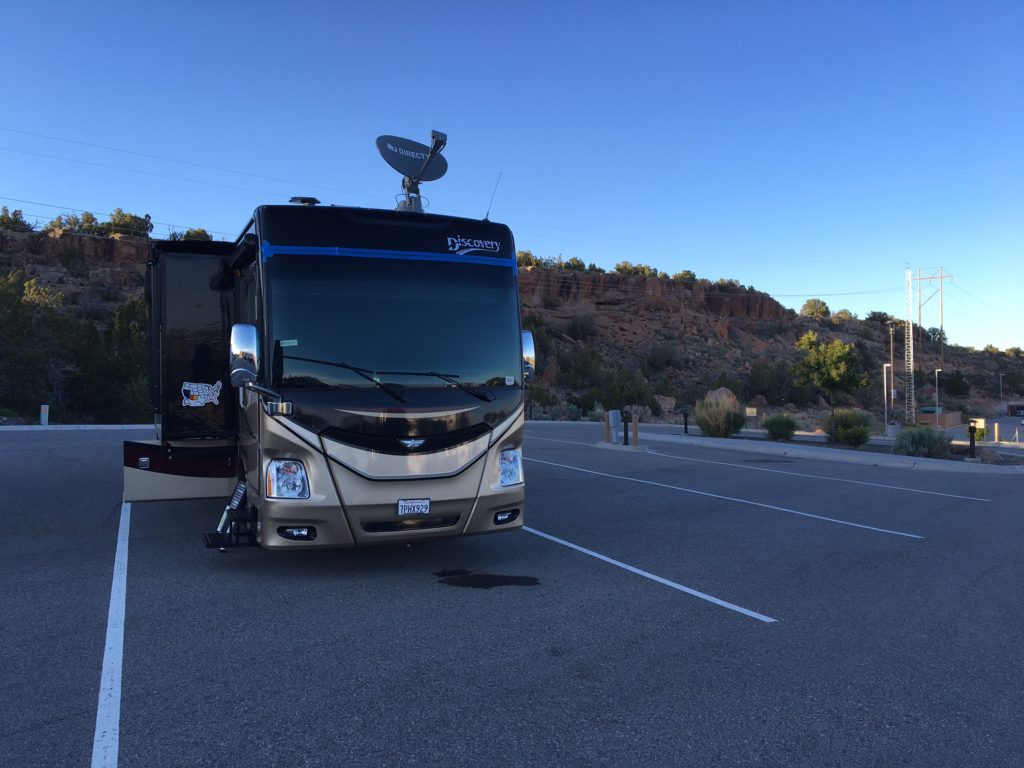 The RV park in White Rock is a paved parking lot next to the Vistor Center. It is not a fancy park.  Its a parking lot with electric hookups (50amp/30amp).  There is a single dump station and a single potable water station. Campers dump/fill up and then return to their site to sort of boondock but with an electric hookup.
Fortunately, the two stations are separated by about 30 feet.  It is not unheard of for people to use the freshwater hose to try and wash out their blackwater hose (YUK) getting the freshwater contaminated in the process.  That shouldn't be a problem here.
Fortunately we knew this and dumped our black tank yesterday. Its good for a week. Actually the black tank could probably go two weeks, but letting it go more than a week is not advised.  We topped off our freshwater tank when we arrived.  If we don't use the washing machine and go easy on the shower time, we can get 4 days out of our freshwater tank.
The spots here are $20 for 24 hours. $20 is a decent rate – it is about half what we've been paying for a full-featured RV park.  24 hours is both good and bad.  Most parks have a checkout time (usually 11am or 12pm) and a checkin time (usually 2pm).  At those parks, it doesn't matter if you arrive at 8pm, you still have to leave at 11am the next day (or whatever day is your last day). And you generally aren't allowed to arrive prior to check in, even if your space is available.
But at White Rock, it is 24 hours.  So if you arrive at 8pm, you don't have to leave until 8pm the next day.  On the flip side, if you checkin at 8am, you have to leave at 8am the following day.  No reservations, pay for a single day at a time, 14 day max stay.
Parking lots aren't so bad.  No trees to block the satellite dish. Paved vs gravel (or worse) so no dust.  No sprinklers.  Ha!  I bet you never though of sprinklers being a problem.  But at some parks, each RV is separated from its neighbor by a little strip of grass.  Often that strip is watered by sprinklers that also water the side of the MoHo.  No Bueno.
Its also very quiet and very dark here.  That is another nice – and unusual – feature.  Many (most?) campgrounds are very well lit at night, which might be good for security but not so good for sleeping.
A cool New Mexican evening breeze is blowing through our windows, its nice and dark, and its quiet. We'll sleep well tonight.