"Its Beauty Can Not be Exaggerated, Even by Texans."
-Bill Stephenson
Fellow traveler and good friend Sean Burke mentioned a great stop he made at Caverns of Sonora on his way back West so when we had the chance to stop, we took it!  Plus, there aren't many places to stop between Kerrville and Las Cruces NM.
Caverns of Sonora is about 11 miles off Interstate 10.  The road is not bad at all, even for a MoHo our size.
We normally don't plan to do much on arrival day since we don't know exactly when we will arrive and be all setup. So we booked 2 nights here, giving us a full day to check out the area.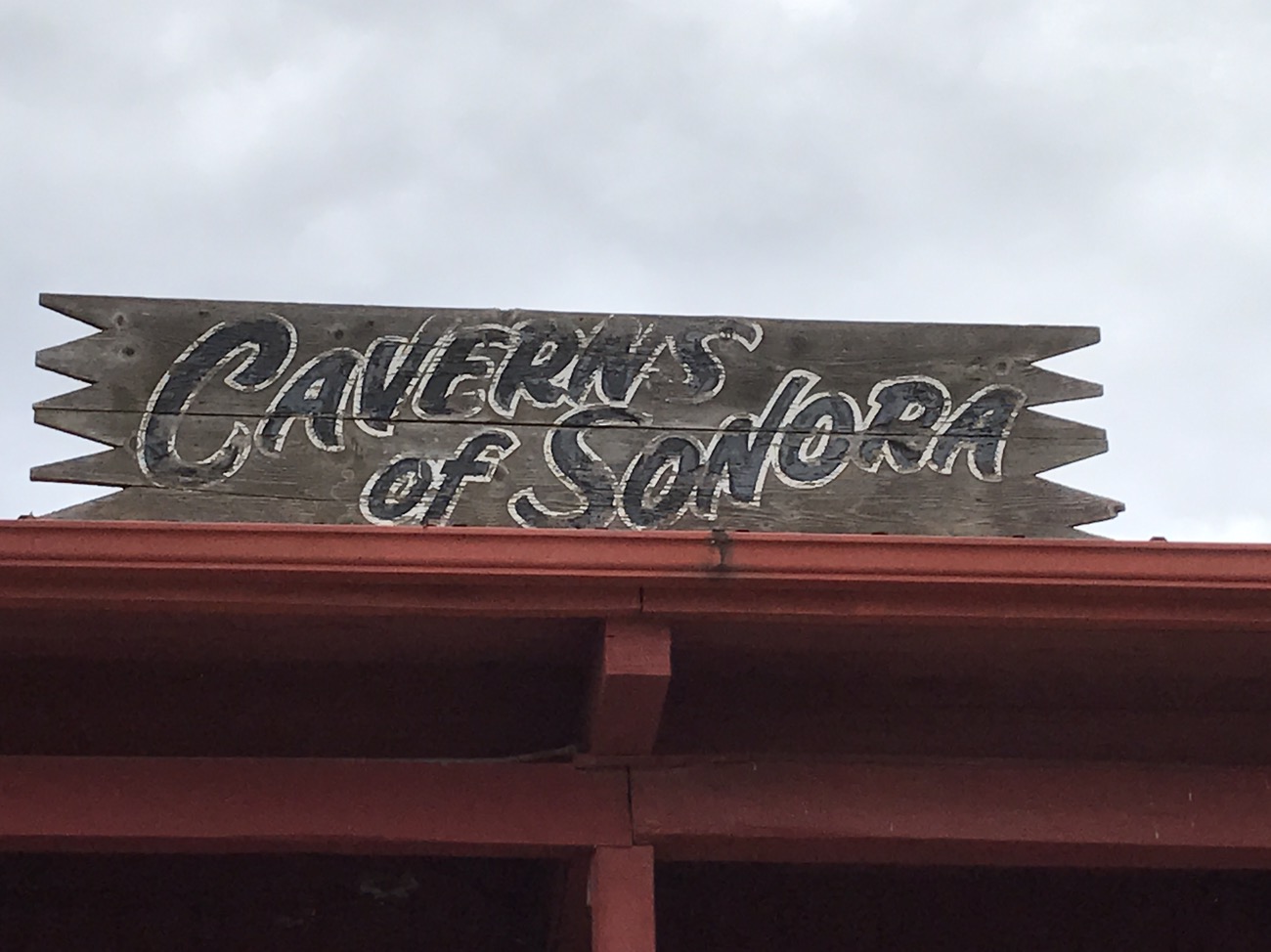 We checked in and when we asked for 2 nights, the guy working the counter said "Oh, you guys are staying a long time."  I thought he was kidding, but apparently nobody ever stays more than one night here.  He said we would need one of their "pull-through" sites.
I thought "great – a pull through site!"
When I saw the site, I started to realize why nobody stays more than one night.  Not because there are no sewer hookups…we expected that.  They have to protect the caverns from any impurities and the cave is shallow.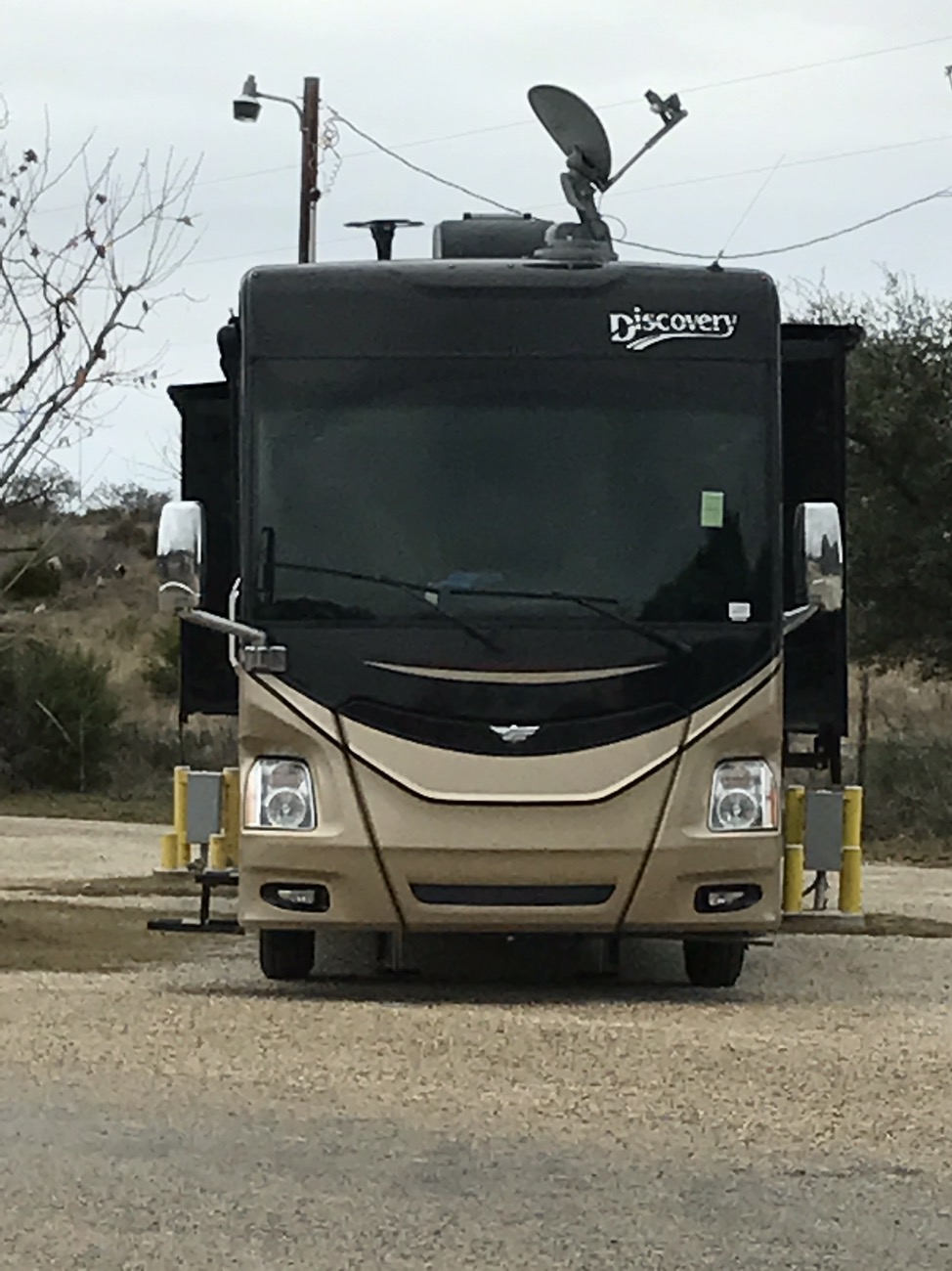 What surprised me was the width of the sites.  These are the narrowest sites I have ever seen!  We couldn't even put out our larger slides.  Our large slides are 3 feet.  We put out our short slides (2 feet) and called it good. Even then, we're basically hanging out over the hookups.
A travel trailer pulled in next to us – no slides – and I could have reached out our window and touched the side of their trailer. They couldn't even open their side door fully.
Still, the site was level, power was strong, and our dish worked.  No AT&T though.  No signal at all.  Fortunately our Verizon hotspot worked fairly well.
Which makes this not the worst place we've stayed!
Inside the office was a neat sign with distances to varous places. 869 miles to Los Angeles.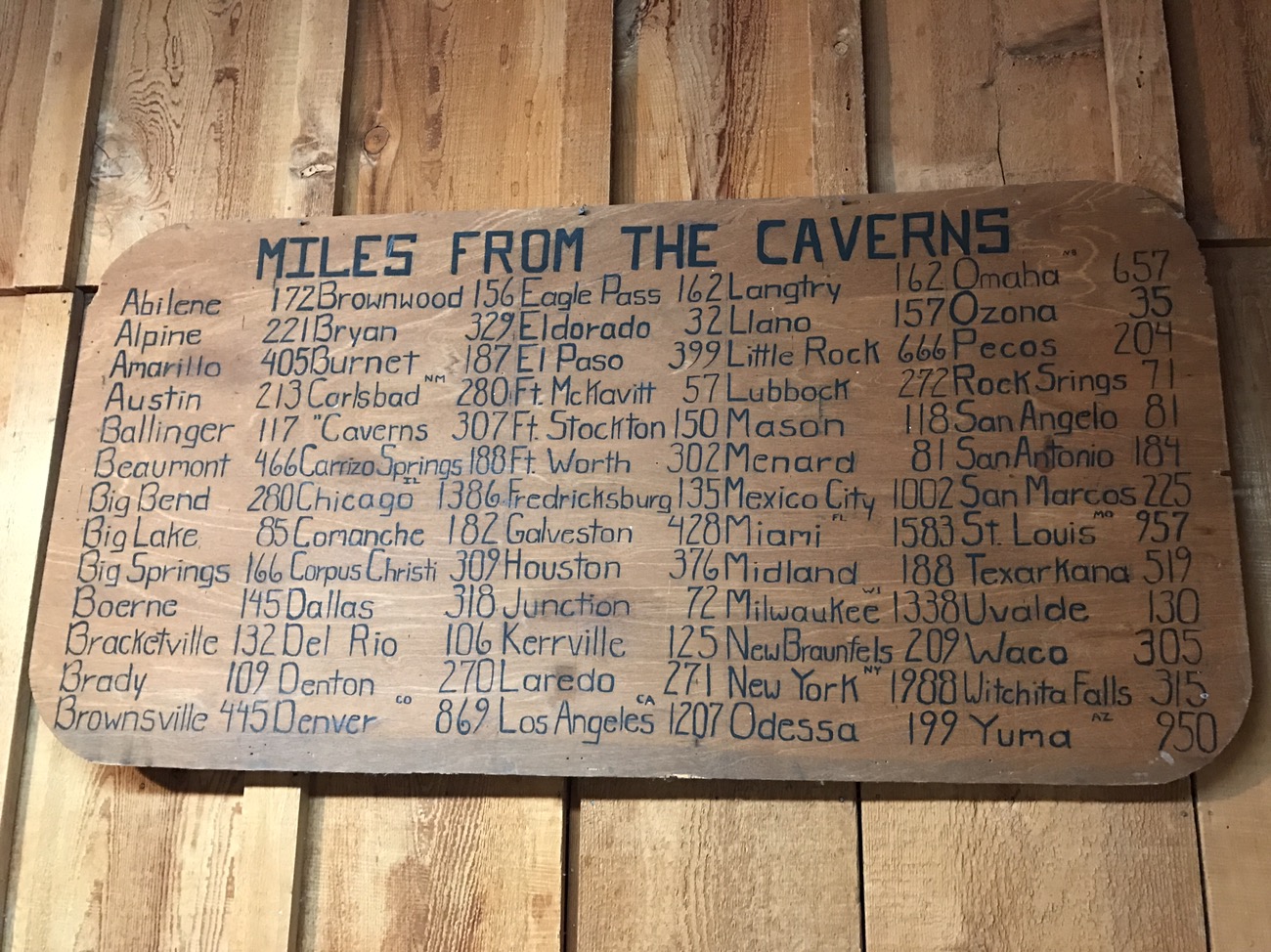 The entrance to the cave is inside a small cinderblock building which was built to house the new man-made entrance blasted out in the 1960s.  The original entrance is about five feet to the right of this manmade entrance.  The original entrance is a small hole not much larger than a manhole and not suitable at all for tours.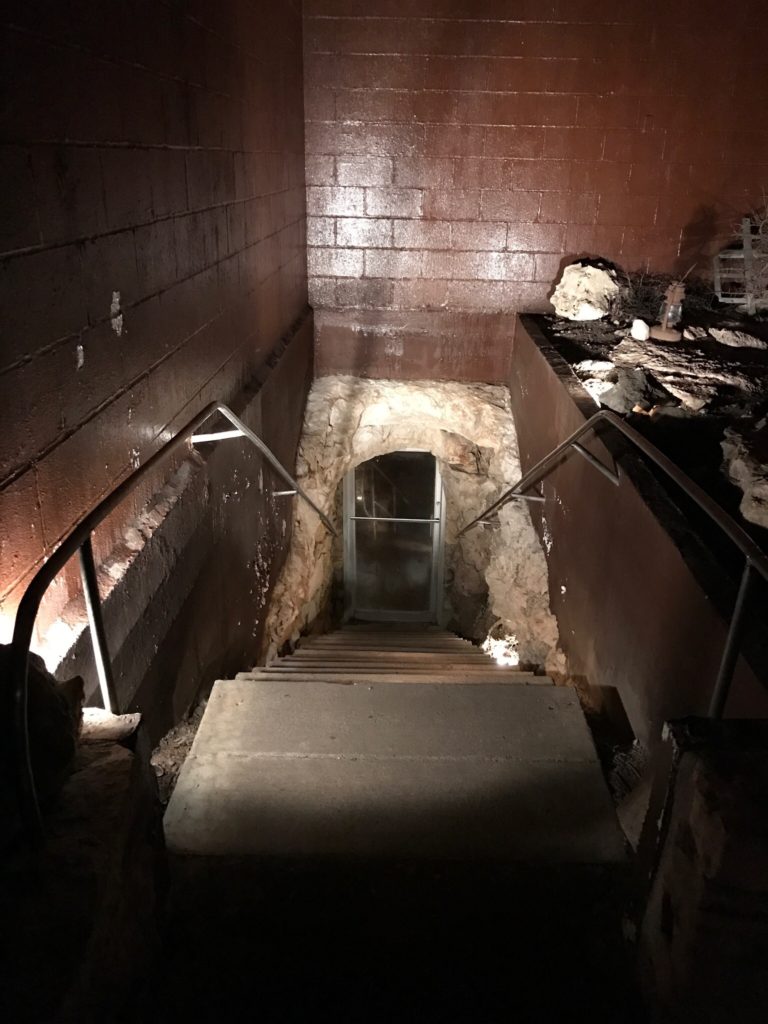 Signs all over the gift shop/registration area …and our tour guide…had warned us the cave is warm.  Temperatures are steady  70 degrees and 98 percent humidity all year round.  Jackets are verboten.  We knew this, and dressed accordingly.  Even so, I expected a cold blast of cave air as soon as we walked through that door.  Instead, it is perfectly pleasant t-shirt temperature!
Very near the entrance is a formation that looks like  a face in the ceiling.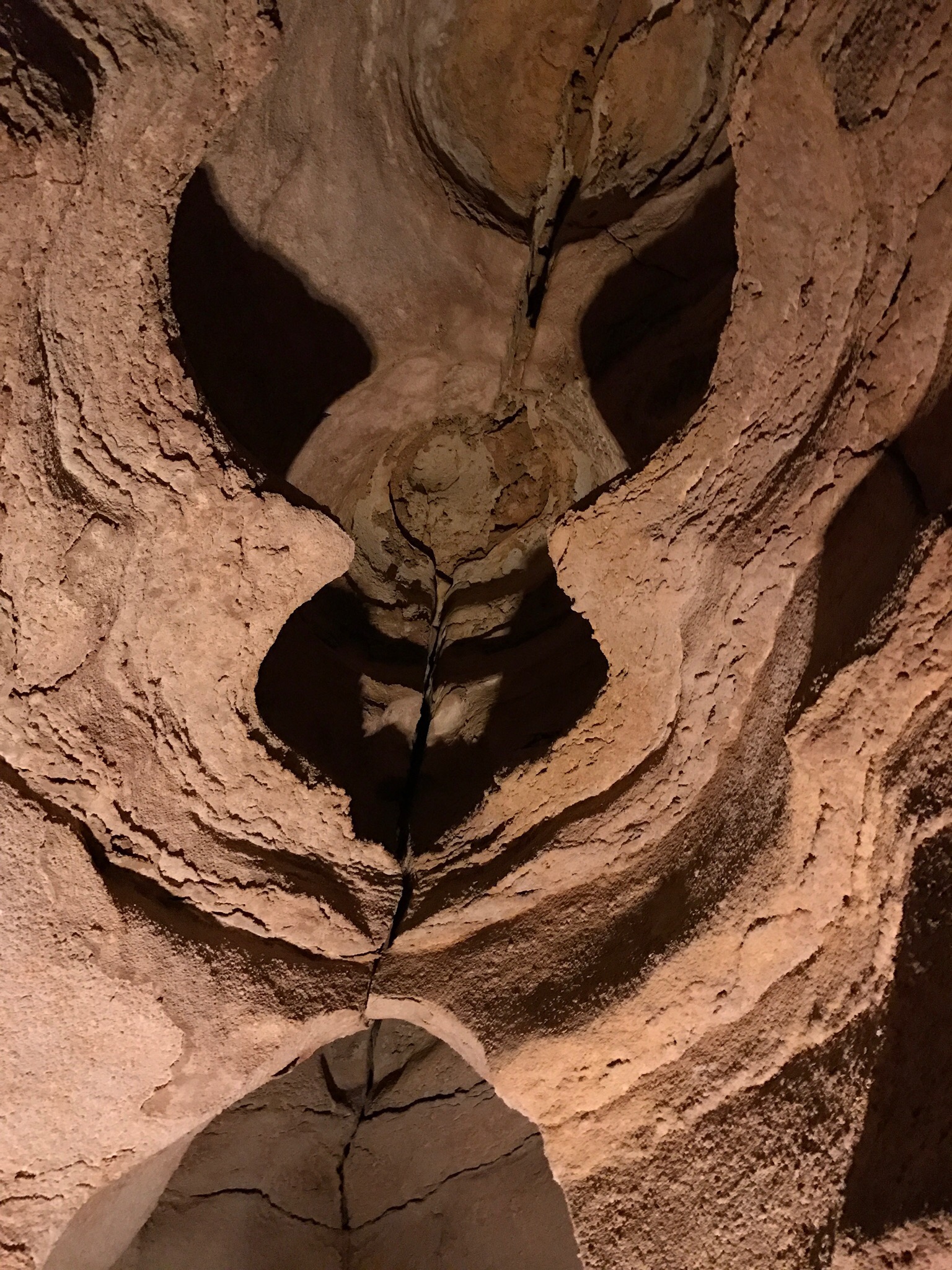 The face looked strangely familiar….
Sonora Caverns has over 7 miles of mapped passageways.  The tour covers about 2 miles of these passages.

The tour is wonderful!  The cave is very "improved" meaning all of the paths are paved and railings have been built everywhere there is a risk of falling. Lighting is very well done too.  It took a little more than two hours and that was the perfect amount of time.
The upper part of the cave has been dry for many years and is fairly plain looking. The walls are smooth and mostly featureless.
Which makes sense.
The cave formed along a fault line which allowed hydrogen sulfide gas from below to mix with water from above creating a sulfuric acid solution which dissolved the limestone around the fault line.  Water levels fell and the cave drained.  Water percolating down from above then began depositing minerals to form the speleothems.  The upper part of the cave stayed dry so it didn't develop the ornate formations which we saw further down.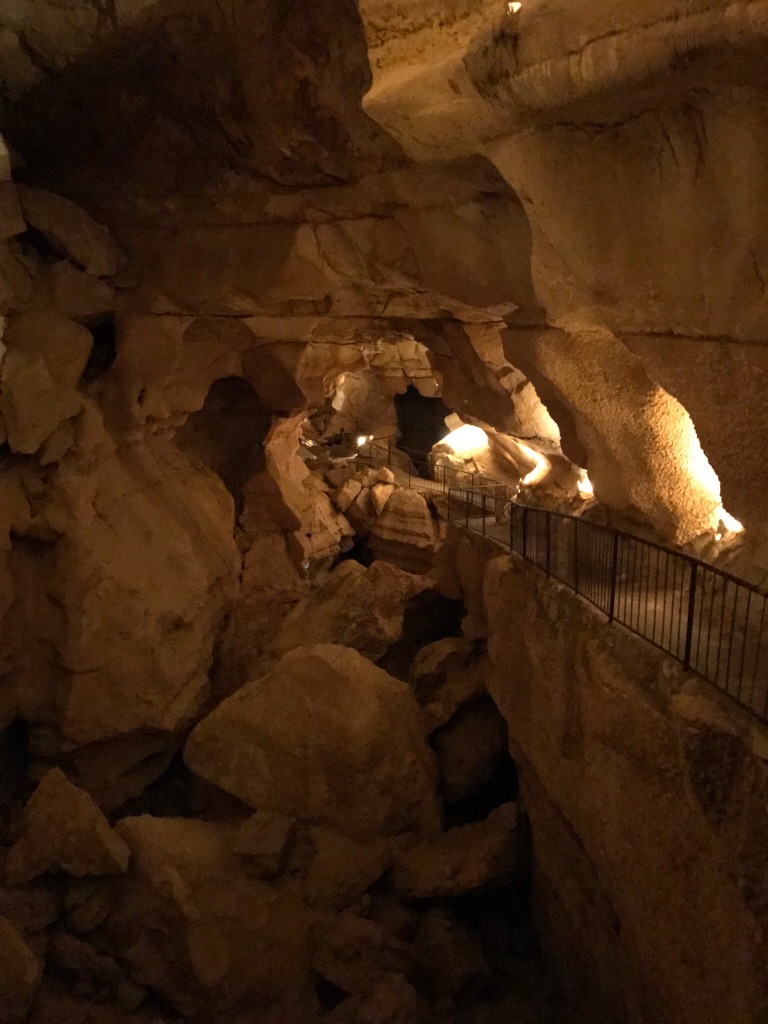 Sonora Caverns is known as a "show cave" meaning it is especially decorated.  Carlsbad amazes because of it sheer size and grandeur.  Sonora dazzles with its intimate decoration.  Formations are so close to the trail that we often had to duck or turn to avoid hitting them!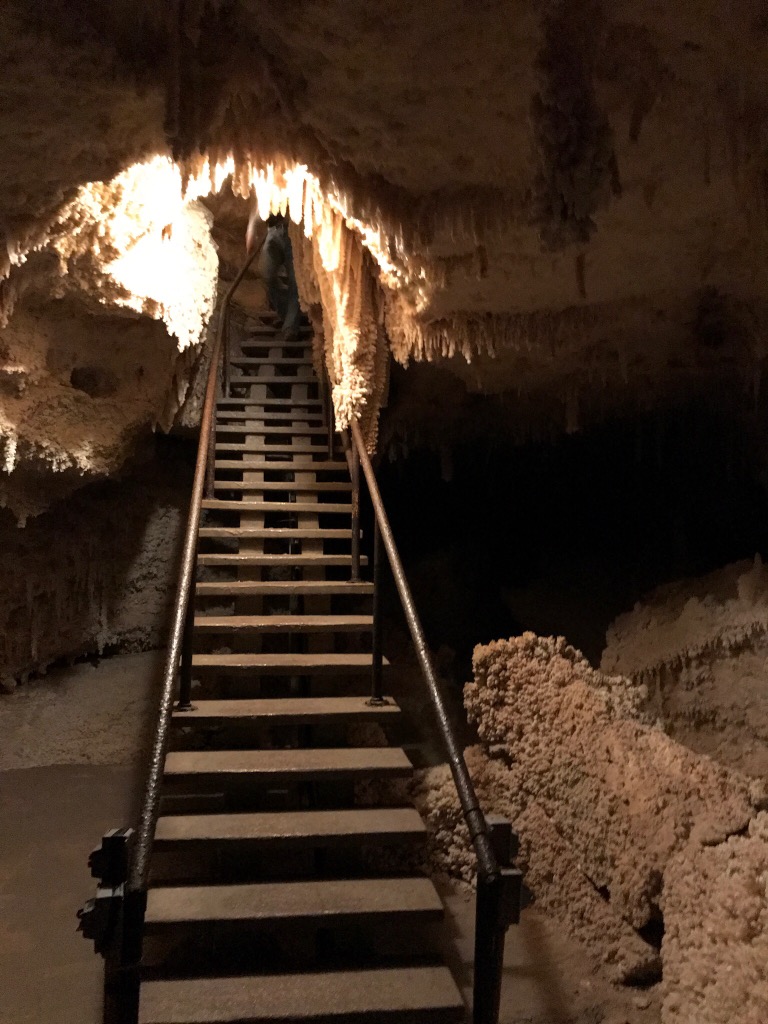 Sonora's particular claim to fame are its incredible calcite crystal formations. Particularly a formation called a helictite which is a crystal that grows in various directions (not just up or down with gravity). These delicate formation cover entire rooms!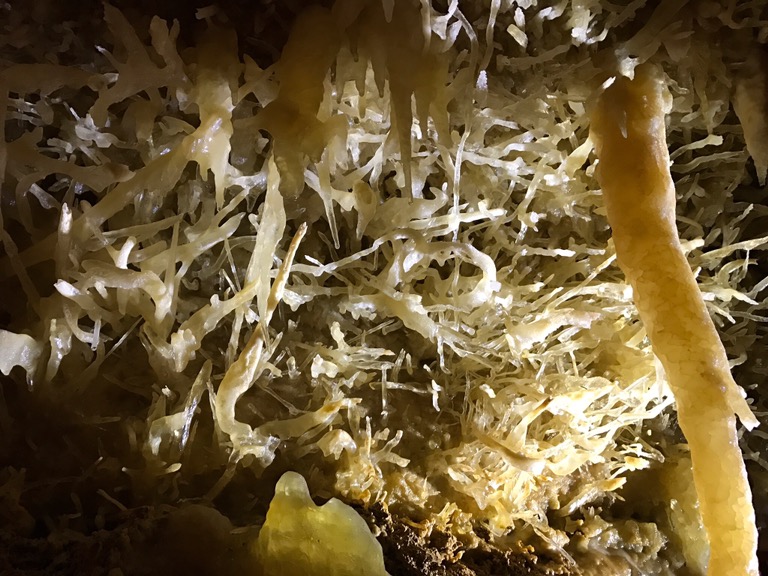 One room – the entire room – is a geode.  Like those little geodes you see in gift shops….only this one is so big we stood in it!  You can see where the water line was in this room for hundreds of thousands of years.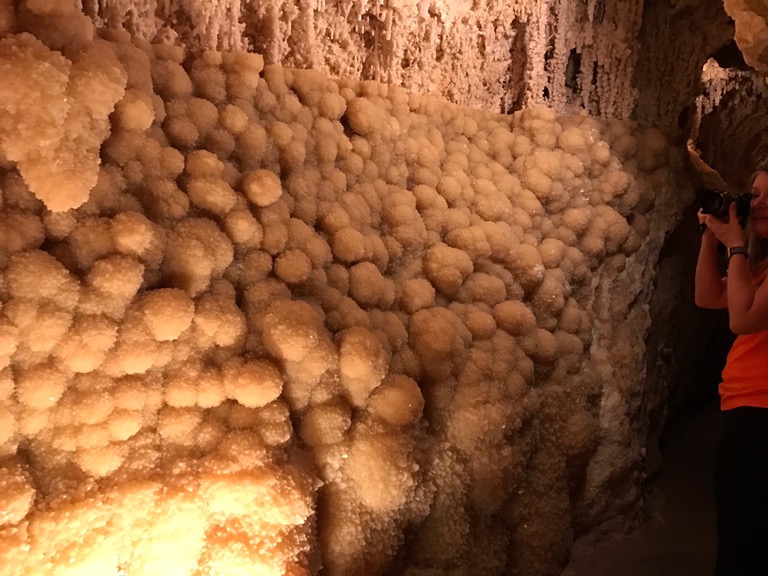 The splendor in some of these rooms and passages just defies any explanation.  This room was full of formations they were calling "cave coral" and it really does look like coral.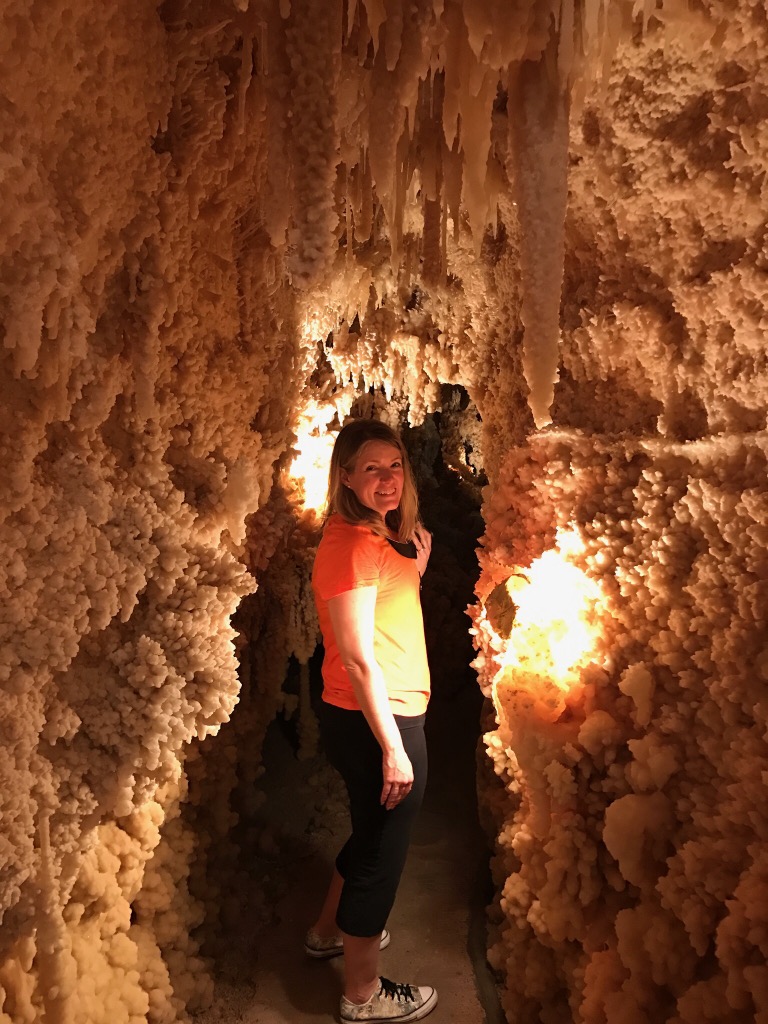 Even though the tour is paved and has stairs, it feels very sporty!  Pathways are often narrow or winding.  These stairs went right up past massive formations to a chamber above.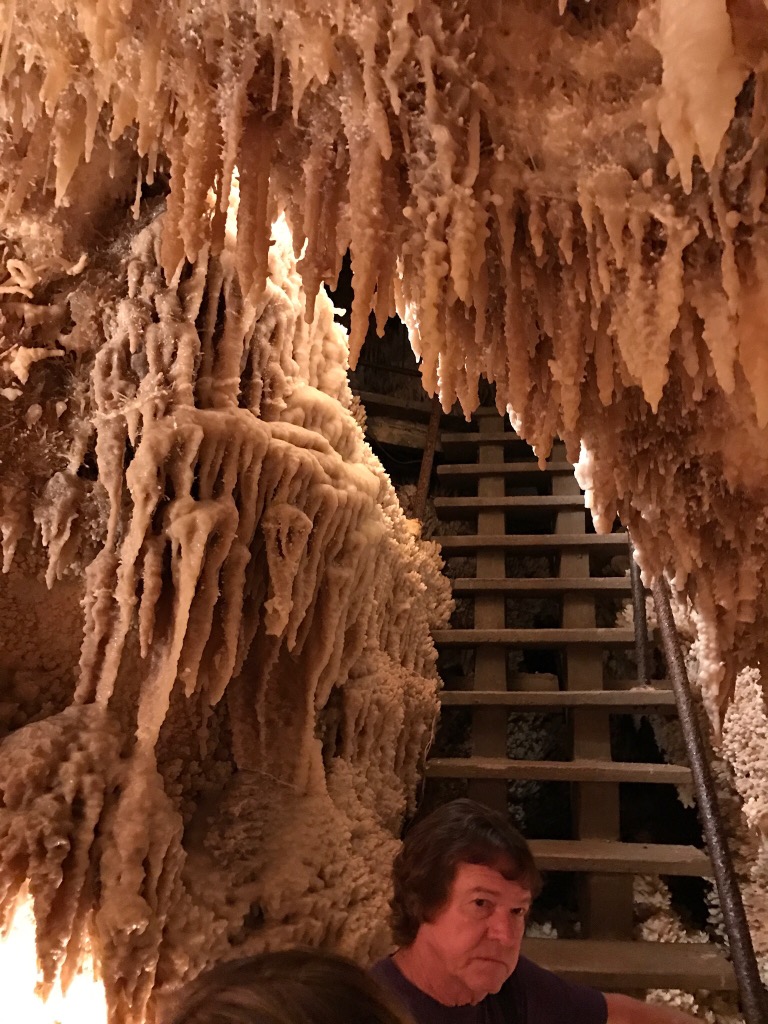 Another part of the trail crossed a big room that dropped about 75 feet to the jagged floor below.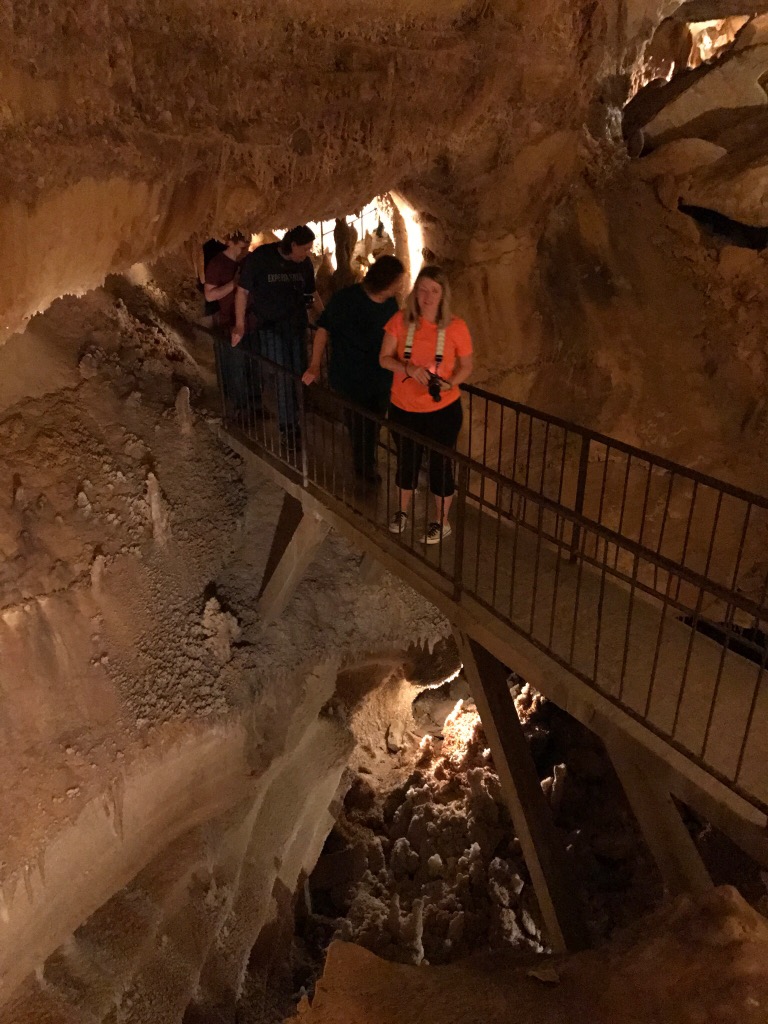 Sonora Caverns is not only known for its helictites, it is one of the only places in the world where fin-type helictites can be found.  This one looked like a fishtail and was growing about 8 inches away from the wall.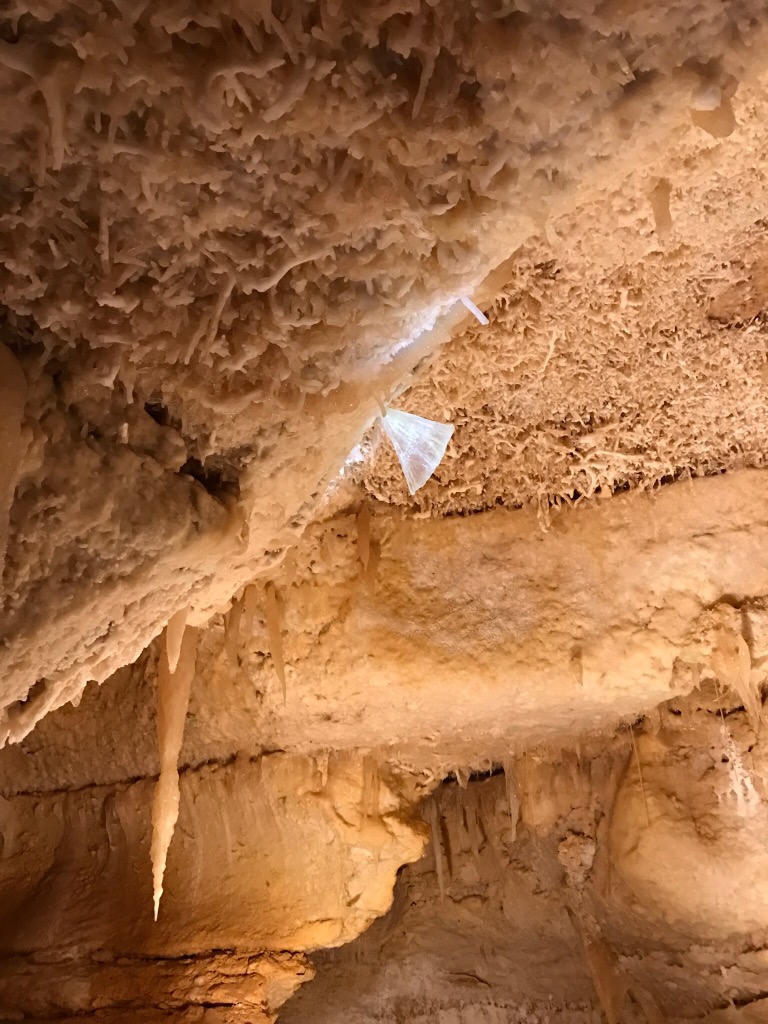 A formation of flowstone near the trail looked like it was a brown slurpee but was in fact hard as a rock.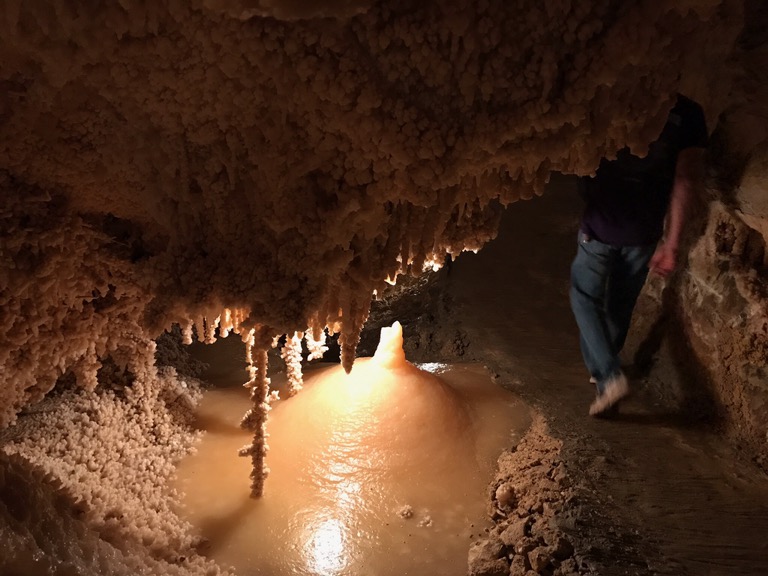 The lower part of the cave is very wet and very much alive.  Pools like this one (called Horseshoe Lake)can be found in many places. Horseshoe Lake is in an area called "the lower room" and in addition to being one of the lowest spots in the cave, it has a high C02 concentration.  9000 parts per million. Normal atmospheric air is around 400 ppm.  Even though there is plenty of oxygen here in the cave, this elevated C02 makes it feel like 7,000 feet of elevation.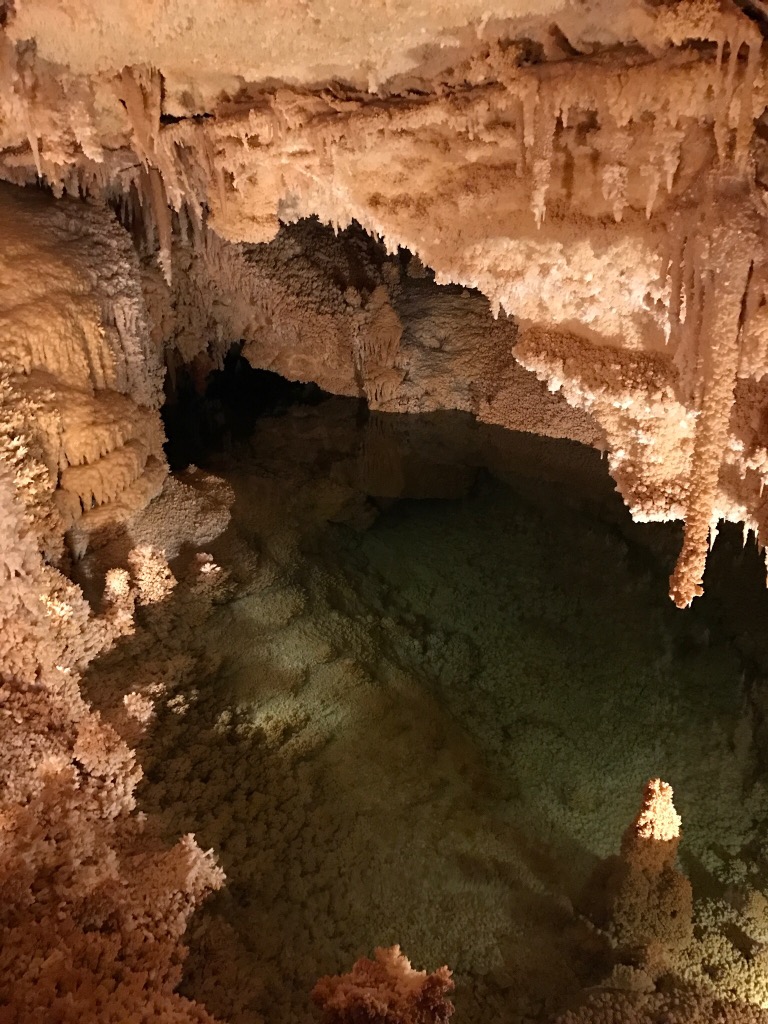 Another room known as the Ice Room has a number of formations that look just like water ice. Complete with a semi-transparent quality.  It was hard to capture the pure white color but I have never seen formations like these.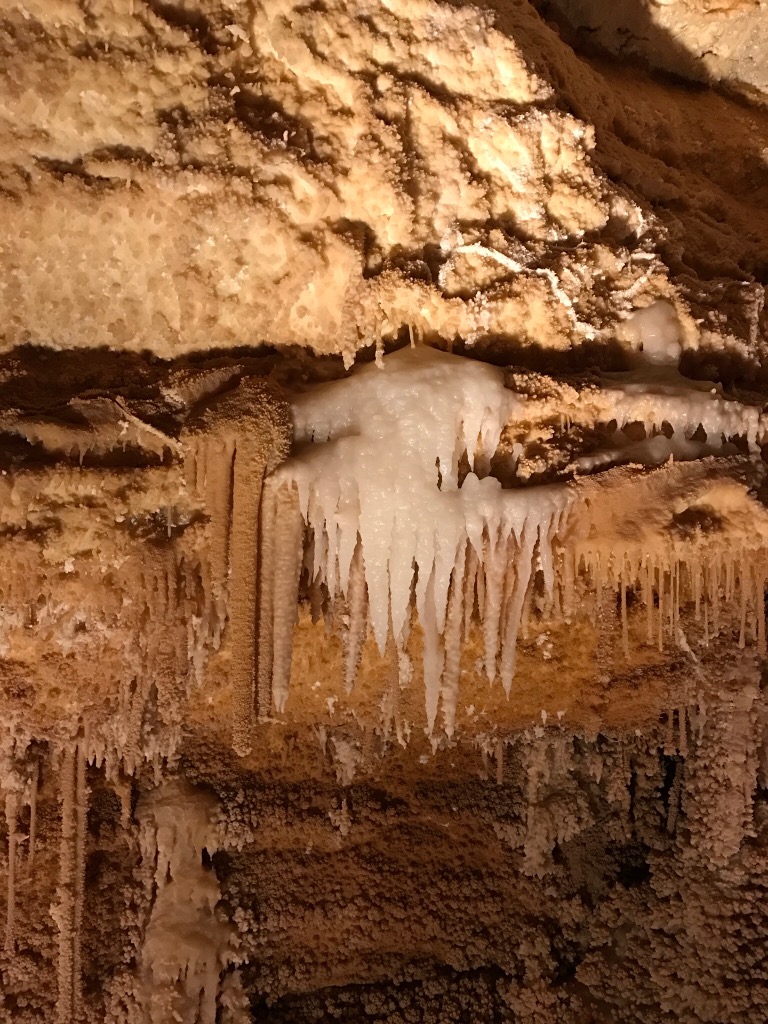 We wrapped up our tour and returned to the surface. There isn't anything else to do here, but we enjoyed watching the herd of deer that live on site.  They walked right in front of our MoHo.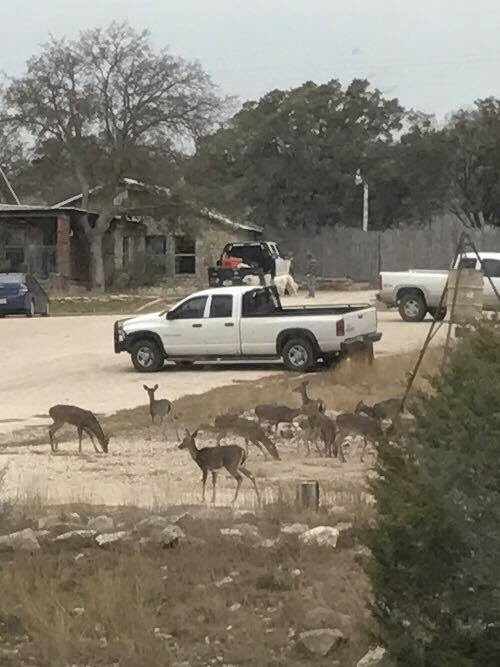 Staying 2 days here was oddly peaceful.  No cell signal, no city lights, no highway noise.  In fact it was so quiet it was almost creepy at night. The only downside was having neighbors so close we could touch them.  Since we couldn't put our largest slides out, and since there wasn't anything else to do, we did start to get a little cabin fever. Still, I would stop here again, but probably find a way to arrive earlier or take our tour the morning of the day we leave and just stay one night.  Like apparently everyone else does 🙂