We pulled onto the highway and hoped the Thanksgiving travel crowd had made it back home after stuffing their bellies with turkey and that green bean casserole glop that everyone feels like they need to eat.  Seriously, what's the backstory with that stuff?
Actually, I kind of like it.  That's not wrong, is it?
We didn't have any of that green casserole.  So I guess it really WAS time to leave.
The first part of the route from Cumming GA to the interstate near Chattanooga was on rural backroads.  These rural roads can be a handful to drive but fortunately for us most of them were newly resurfaced and marked well with signage.  No low bridges, no overweight vehicle issues, no tight turns.
Residential building in this area is incredible – subdivision after subdivision after subdivision advertised new homes for sale.  The homes ranged from reasonably sized to entire crops of McMansions.  All of them less than half what they would cost in California.
We have seen building everywhere we have travelled this year, but Las Vegas and now this area north of Atlanta are tied for the most frantic – and prolific – construction.  I'm not sure who is buying all these homes, but I guess someone is.  The commute to Atlanta from many of these houses would be measured in hours.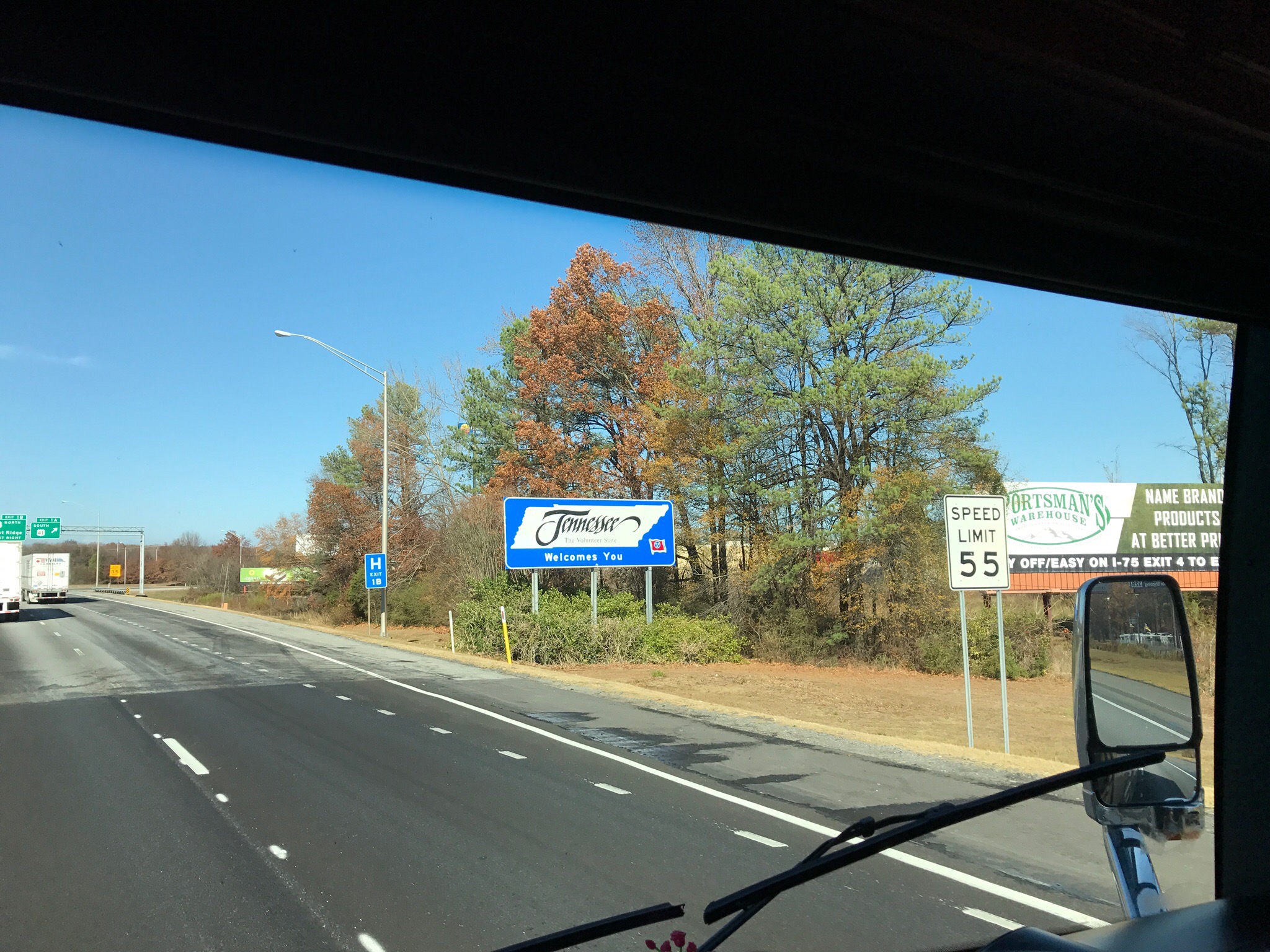 The drive from Chattanooga to Nashville wasn't too bad, but the closer we came to Nashville the more twisted and congested the roads became.   We quickly learned that traffic in Nashville can be awful.
Especially during rush hour.
And by rush "hour" – like more and more cities – I mean "rush 3 hours."  We would get caught in this traffic more than once in the next few days.  Fortunately, we would be driving the Jeep and not the MoHo.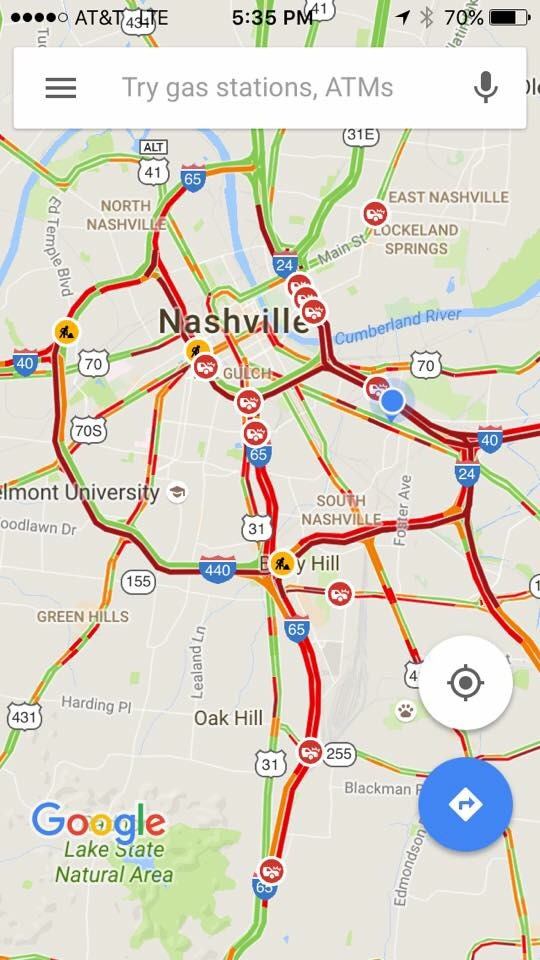 We stayed at the KOA just a mile or so down the road from the Grand Ole Opry.  Compared to our last few months on the East coast, the price was reasonable (just over $40) and the accomodations were close to resort level. The WiFi worked, they had a large pool (which was open), on site propane, level sites, and our dish worked too!
Of course, our neighbor was having electrical issues so he ran his generator for 18 hours straight right next to us.  But, he was a nice guy and the mobile repair shop came the next day and fixed his issue.
Heather is a bit more of a country music fan than I am, but I was  pretty exited to see the Opry.  It is one of those legendary spots that has put its stamp on an entire genre of music.  In fact, the Opry is the oldest and longest-running radio broadcast in US history.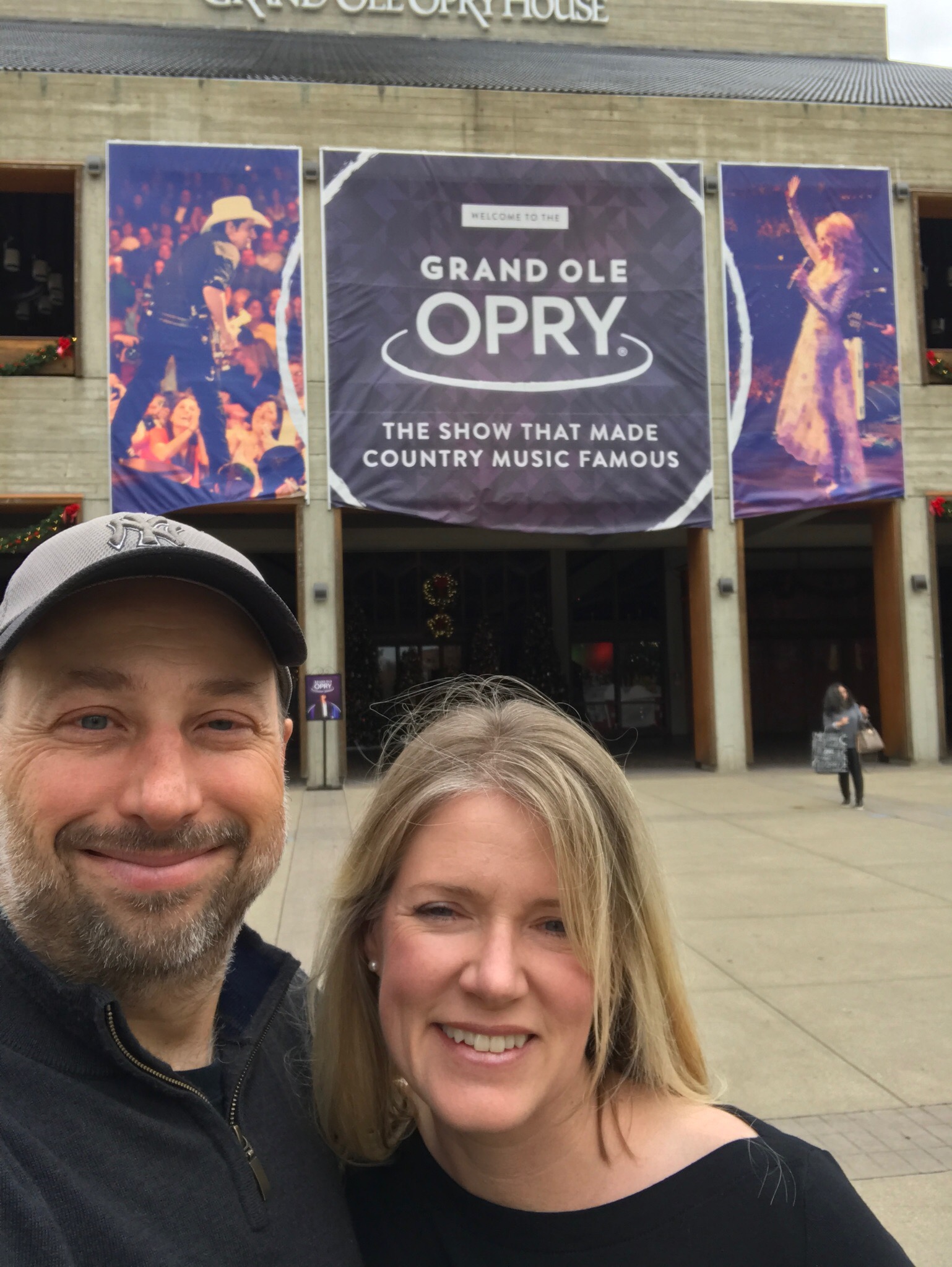 The Opry was quiet as we walked up.  This year it is hosting the Broadway musical "The Grinch" which plays each evening.  As is traditional, music acts move to the Ryman Auditorium during this time.
The entrance is flanked by giant guitars.  One looks like an old-fashioned acoustic model and its sibling has more of a rock-and-roll flair.  I think that's a perfect metaphor for the variety of acts showcased by the Opry.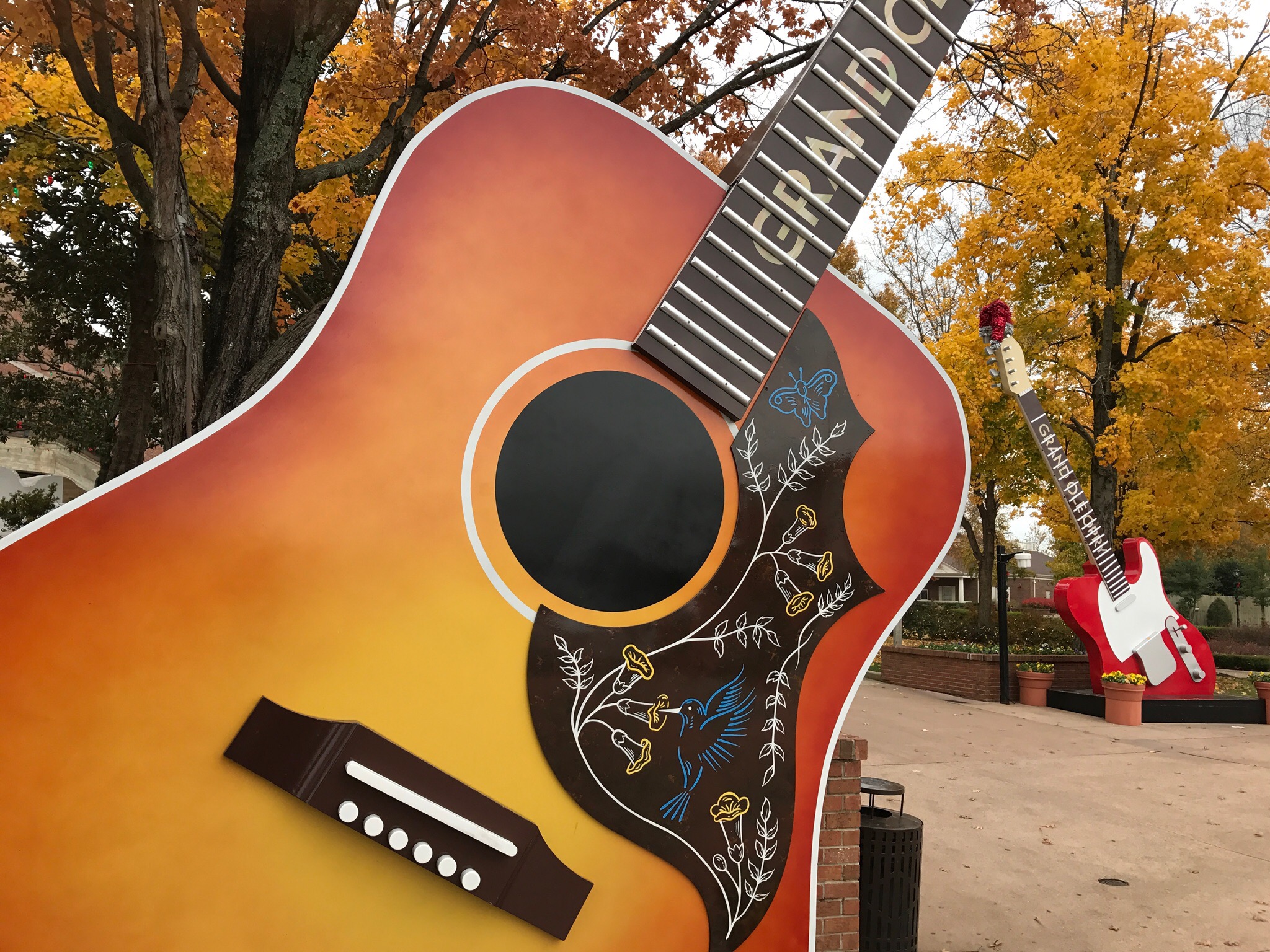 Once inside we saw the enormous auditorium.  We imagined how many people sat in these famous seats – which aren't seats at all – and how many incredible artists performed on that stage.  If, like me,  you aren't familiar with the Opry details,  then you may not have realized the seats are benches and not individual chairs.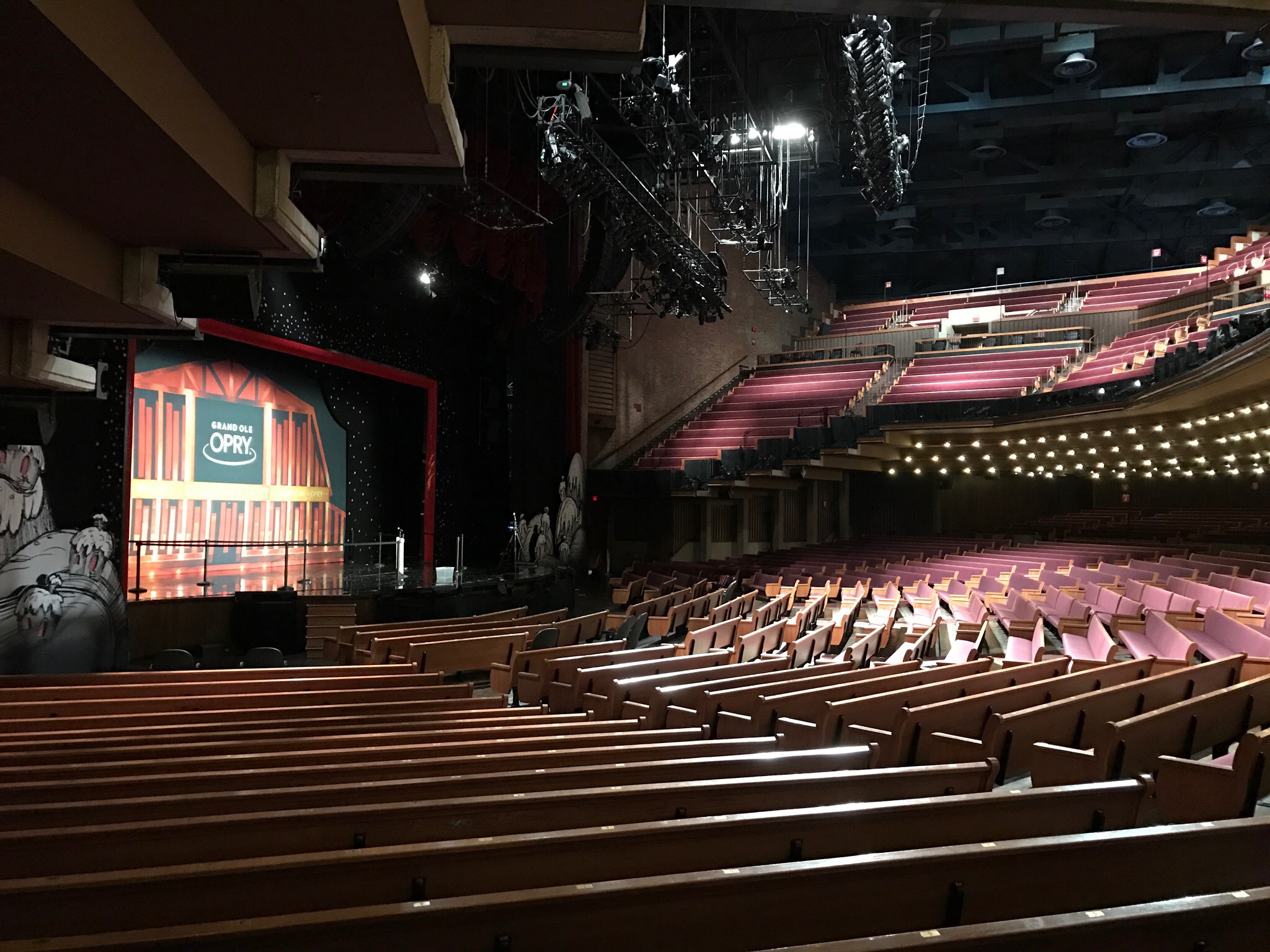 I didn't realize but the Opry has "member" artists.  Performers who are judged by Opry management to have reached a particular level of achievement, including record sales, touring success, hits, multi-generational appeal, and a commitment to the Opry are invited to be members.  New members join an  incredibly exclusive group and one of the biggest honors a country music artist can receive.
Each member has a mailbox in the Opry mailroom where fanmail and other correspondence can be received.  That stocking in the upper left on mailbox #103 belongs to a performer you may have heard of…Garth Brooks.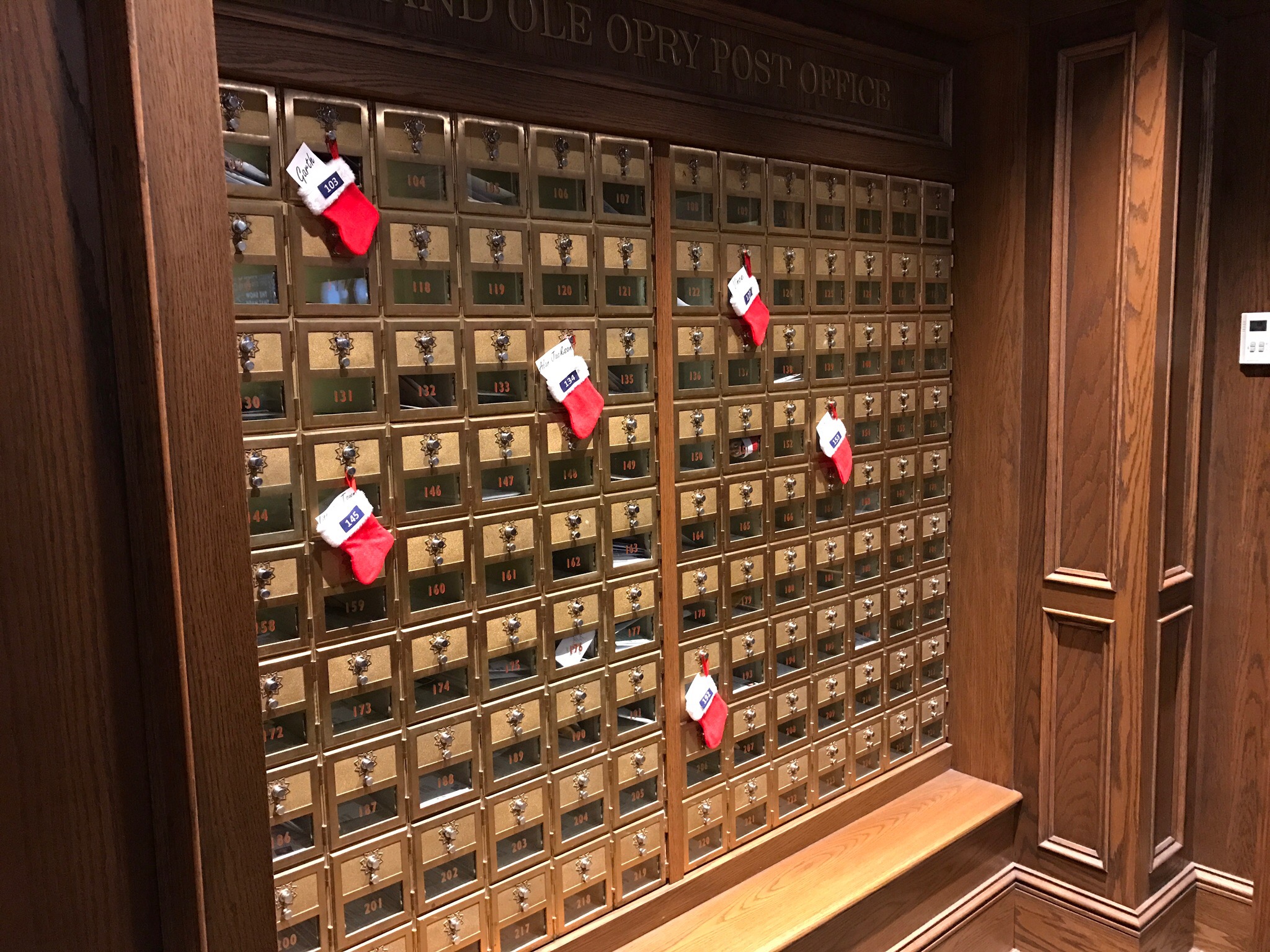 An entire wall near the mailroom is covered in small brass nameplates listing all of the Opry members from the oldest members (like Uncle Dave and Roy Acuff) to the most recent members (like Keith Urban, Carrie Underwood, and Tricia Yearwood).  As of this blog post Crystal Gayle is the most recently invited new member (11/23/2016) who will be sworn in on January 21, 2016.  Fortunately, this is one day AFTER President Trump is inaugurated so nobody will steal Crystal's thunder.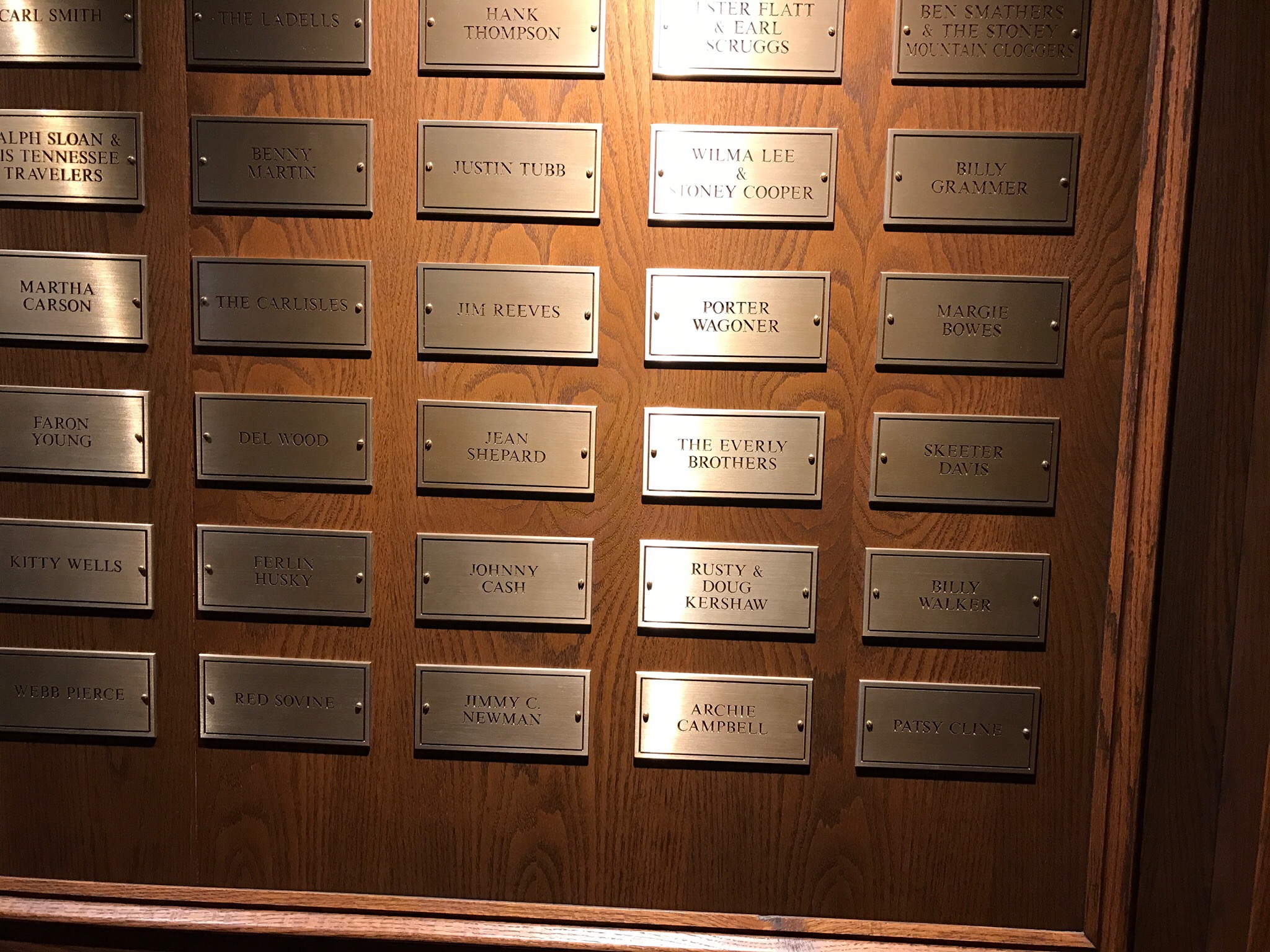 The wall reads like a who's-who of country music.  On this little section for example, we saw Johnny Cash and the Everly Brothers.  Starting with Blake Shelton, members attach their own nameplates.  Word has it that Keith Urban mounted his with a pocketknife.
Continuing down the hall are the dressing rooms for the performers.  Each room has its own theme.  Oddly, none of the rooms has a bathroom.  The walk we are on is the same walk that the performers take as they enter the Opry and I could almost imagine the excitement they would feel as they made their way past the mailroom toward the dressing rooms….and ultimately onto the stage!
The first dressing room is known as the "comedy room" and is a favorite of musical comedy acts.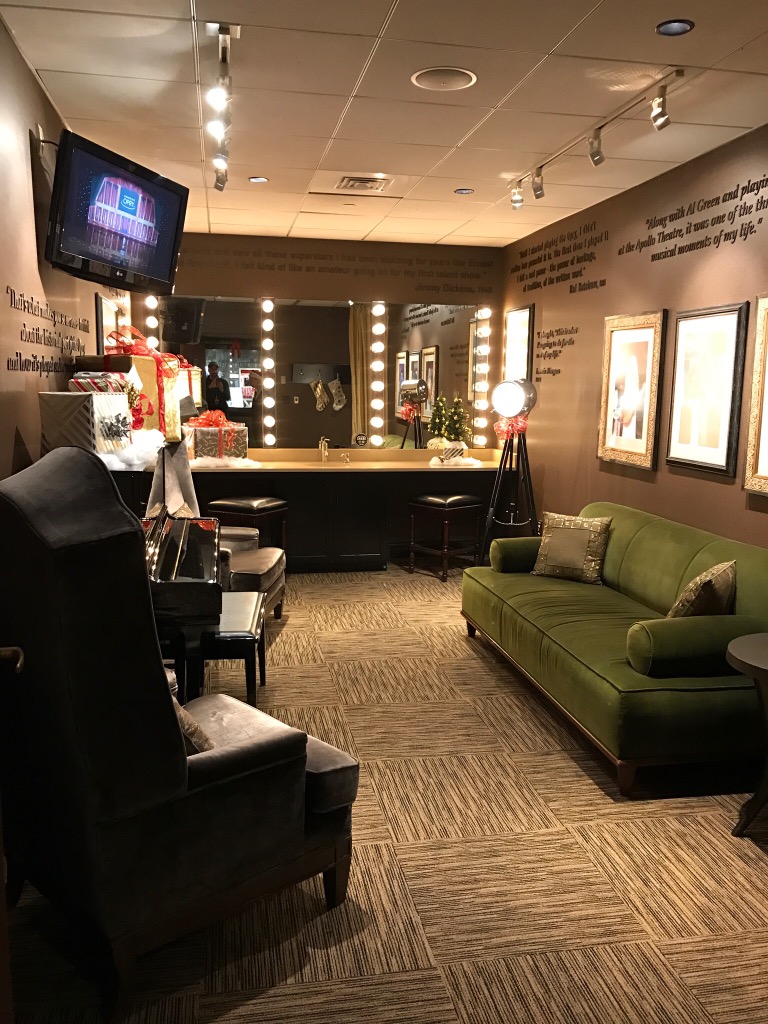 The Veterans room  is next door and features a patriotic décor complete with a large American flag wall painting, American flag pillows, and various other patriotic symbols.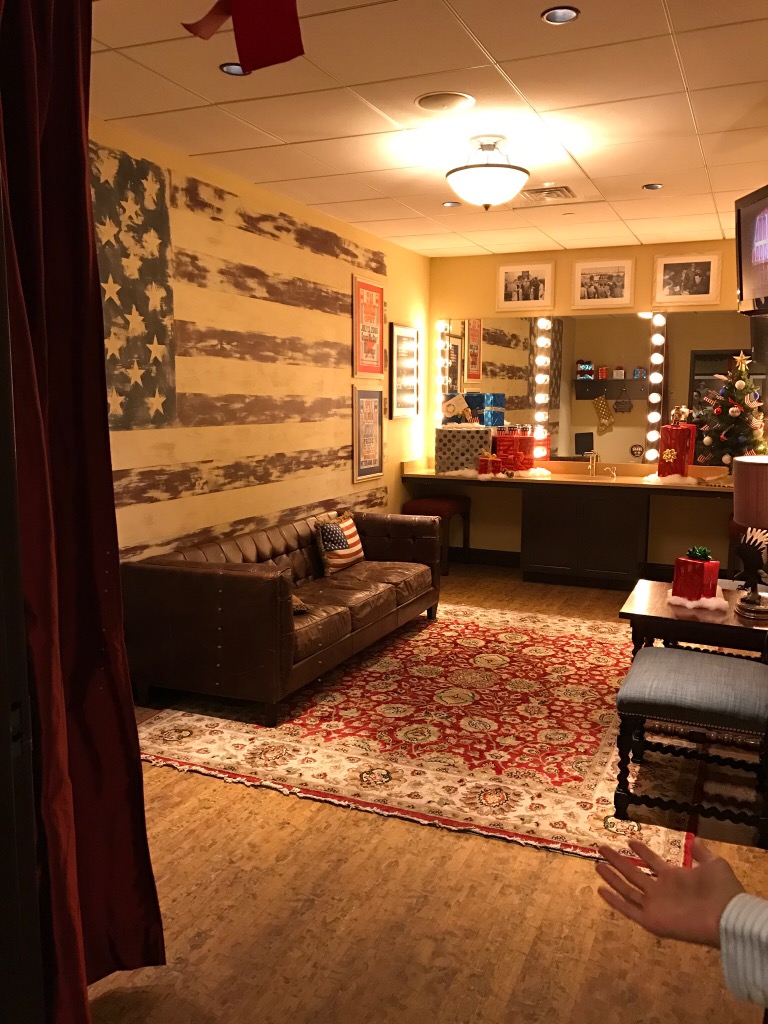 Just past the dressing rooms and right next to the stage door is the "family room" where performers, friends, family, and stage crew can sit before/after a show and relax.  It is a comfortable room and really does feel like it could be the living room at a friends house.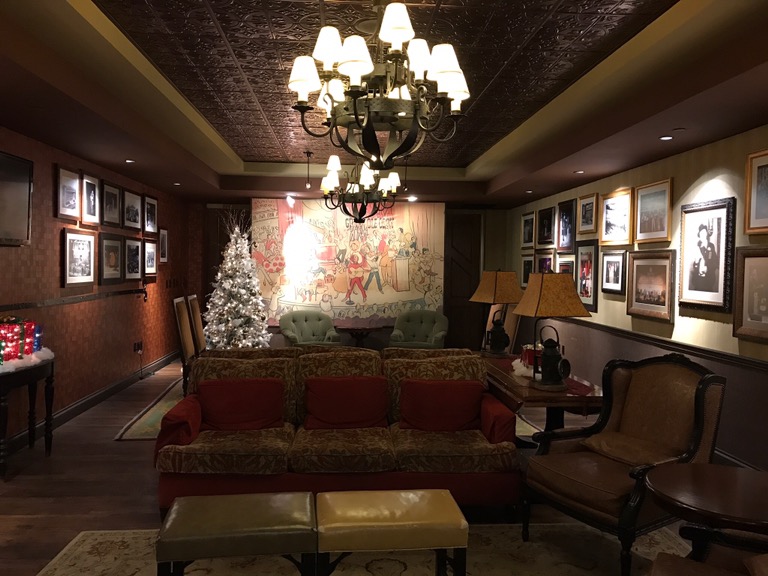 The family room is the last stop before the stage. Time for the big show!
We stepped out onto the stage and looked out at the seats.  The auditorium looks big from the seats, but it looks insanely large from the stage!

Of course, once on stage, behind the mike,  I couldn't resist ripping out a duet with Heather!  If there had been a crowd, they would have been on their feet for sure!  I know it was awesome because the security guys came running to show their appreciation.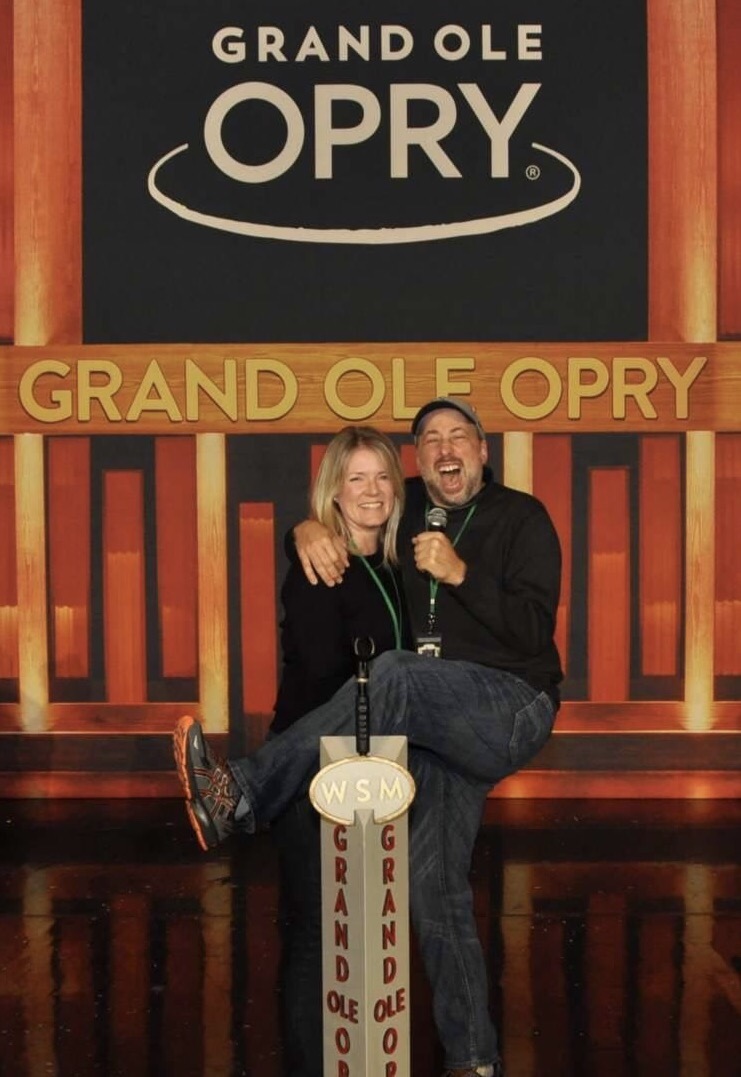 Opry management hasn't yet offered me a membership, but I'm told they are considering it carefully.  I'm sure that offer will come anyday now.
Meanwhile, ew had been told to go see the Opryland hotel next door.  It was impressive, we were told.  How impressive could it be, I wondered?
Well, it turns out to be pretty damn impressive. I had not expected anything like this.  Its an entire ecosystem inside!  It could easily be a Disney attraction.   The hotel is wrapped around a massive covered central courtyard with a glass ceiling over 75 feet high (higher in the center) complete with a river, tropical plants, and waterfalls.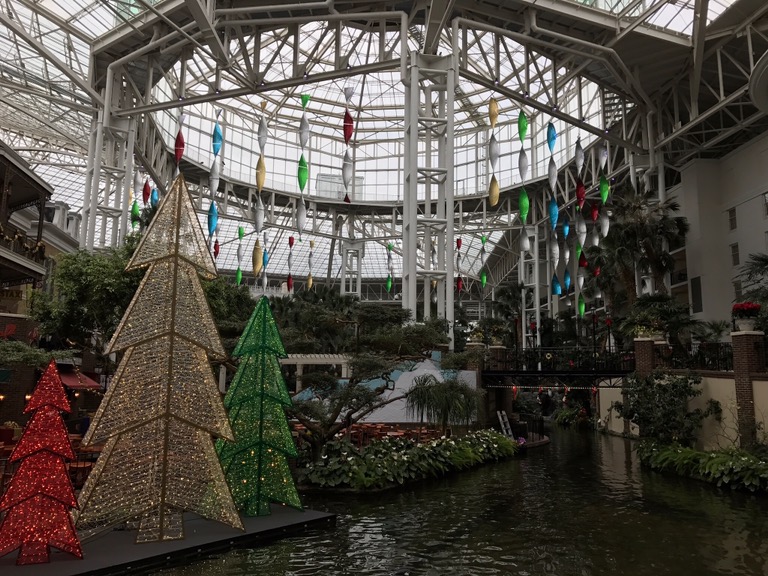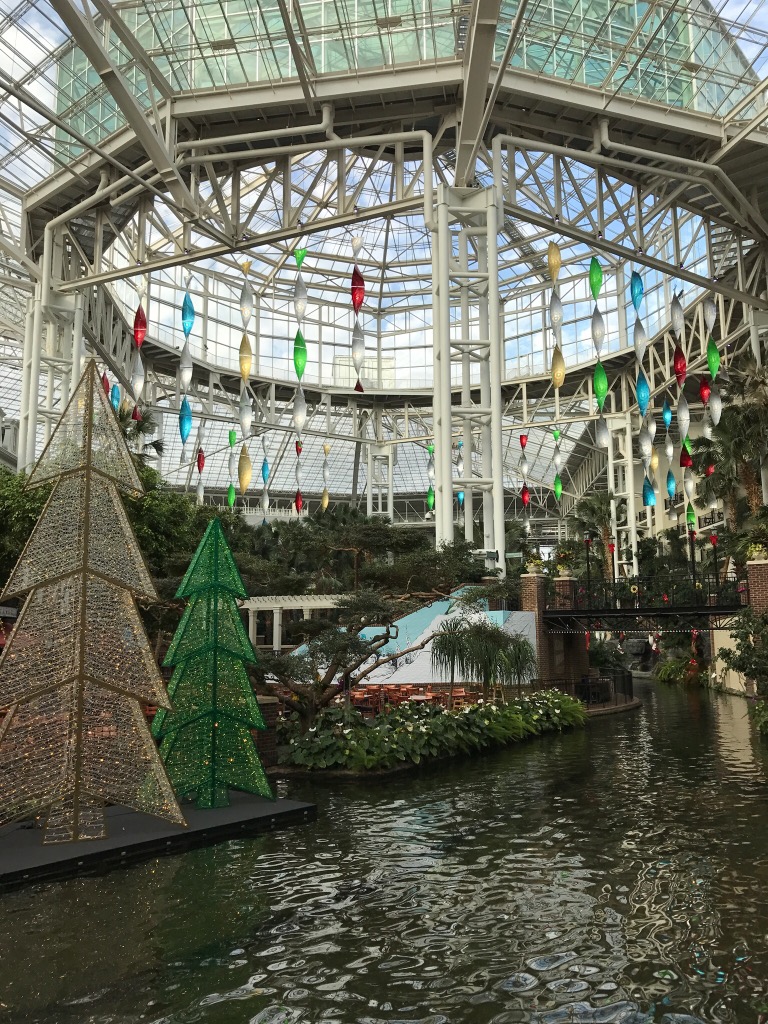 There is even a boatride carrying passengers around the lagoon.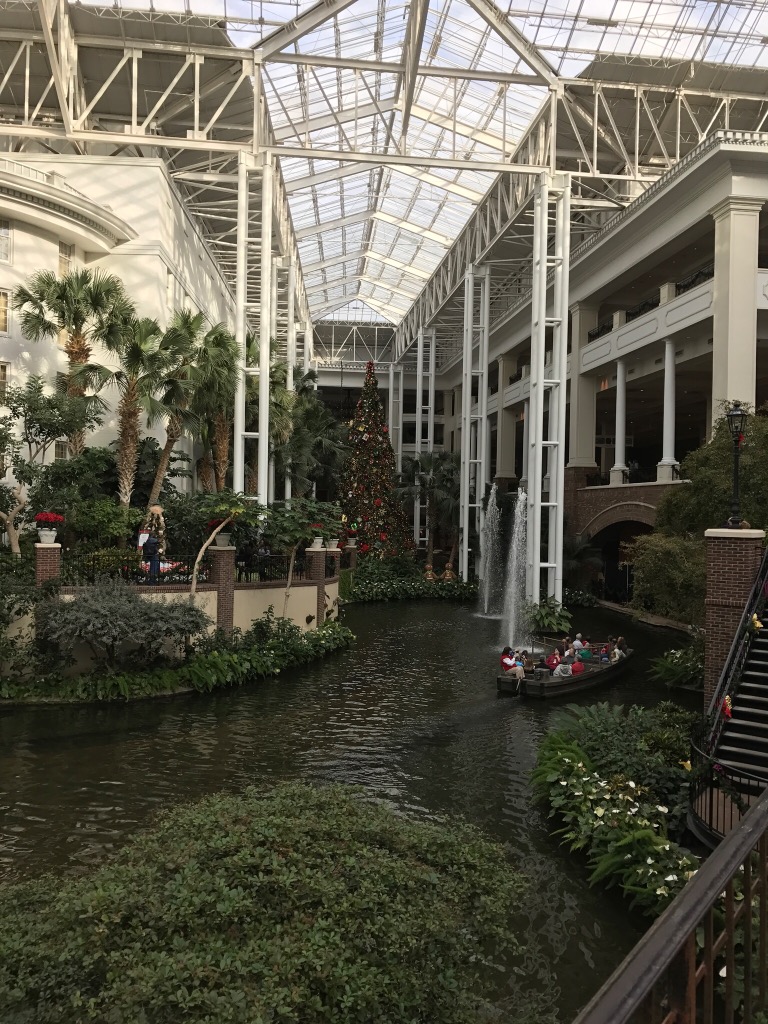 There are 17 (17!)  restaurants here including an Italian cucina, a sports bar, a high-end steakhouse, an Irish pub, a craft burger bar, a Mexican restaurant, several cafes overlooking the waterfalls, a wine bar, a tapas joint, a Southern food kitchen called Jack Daniels, a craft beer tavern, and two places to get FroYo.  The Opryland Hotel has created a street that looks like it came straight out of New Orleans and many of the restaurants are located there.
It would be hard to overstate just how cool this hotel is! I have seen a lot of hotels during my many years of business travel, but this one is among the most impressive.  If you get a chance and are in Nashville, its worth a stop.
Tomorrow we head to downtown Nashville to see the Country Music Hall of Fame, RCA Studio B, and the walk up and down Broadway!