Just a few steps from City Hall is the Comcast Building.  A friend (thanks Jason) had suggested we pop into the lobby if we were in the area.  Well, we were in the area so we popped in.
The first think we noticed was the massive video wall covering the back half of the lobby. It is so large at first it appears to be a banner or painting….until something moves. There are 10 million pixels in that wall.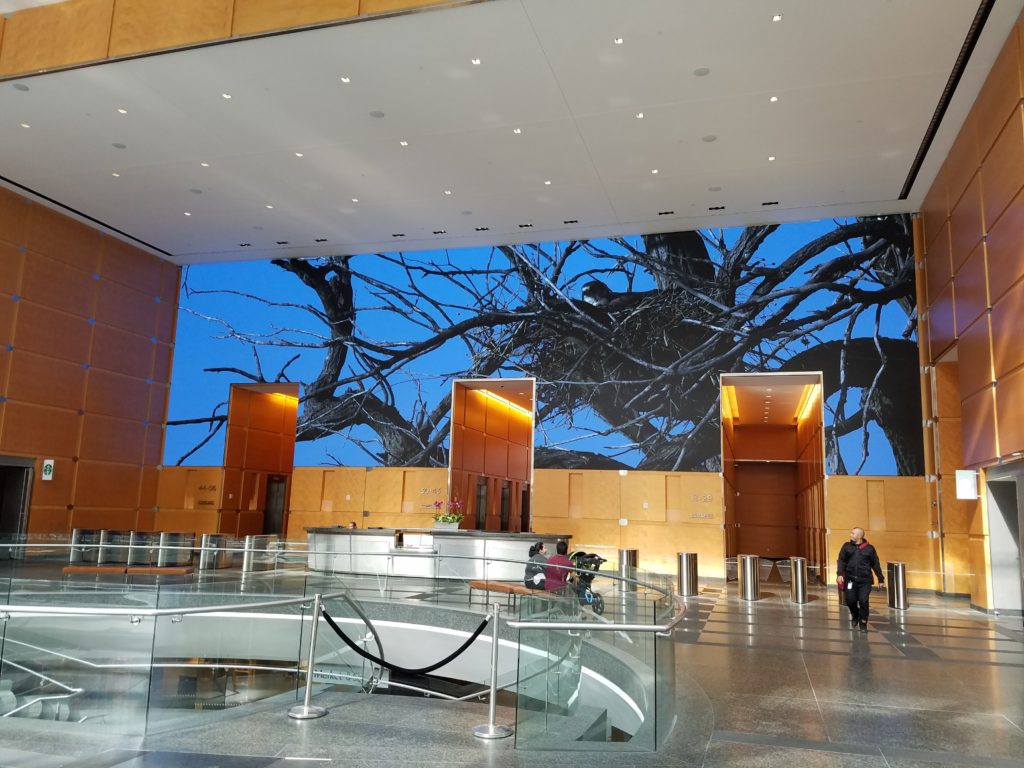 The video slowly rotated between scenes of nature – a birds nest, a waterfall, a sunset – and architecture..  We watched it for a few minutes and as the wonderment quickly wore off I though how technologically jaded we have all become.  Or maybe just how fast technology is advancing.
I still remember as a kid getting our first touch-tone phone and thinking how high-tech it was not to have to spin that old rotary dial.
Fun game: ask a kid of today to explain why we say "dial" a phone and see them squirm as they try to explain it. 
I also remember watching TV not THAT long ago at my grandparents house on a 21 inch tube display – which seemed large at the time –  and enjoying shows like "I Love Lucy," "Leave it to Beaver," and "Andy Griffith" all of which were black-and-white.
Black-and-white was broadcast at approx. 0.3 million pixels.
Just a short two decades ago the notion of an entire wall – let alone one of the Comcast Center's size – acting as a single video screen would have been something straight out of science fiction.  Especially one with 10 million pixels!  10 million!
Today, it is neat but hardly earth shaking or mind boggling. Nobody walks into the lobby, looks at this, and thinks they saw something truly spectacular. (Having said that, if you are here, step in and look anyway.  Not every meal has to be a feast.)
To put that 10 million into perspective, Best Buy was selling a 4k TV for $199 on black Friday that displayed 8 million pixels on its panel. Just about every cell phone camera made in the last 3 years captures 12 million pixels (or more). The 8k video standard, for which cameras already exist, captures a whopping 33 million pixels!
Another 20 years from now we'll be unrolling sheets of OLED film like wallpaper and turning entire walls in our houses into transparent magic portals to anyplace we can imagine.  You heard it here first.
Anyway, back to the lobby.
The lobby is massively open inside. It is mostly steel and glass, at least 6 or 8 stories tall. The empty space above the floor is  crisscrossed by some somewhat random looking support beams.  Aside from being somewhat random, something else is different about those beams. Or rather, what is ON the beams!
Sculptures (statues?  I'm not an art major…when does a sculpture become a statue and vis versa) of people walking the beams fill the sky.  When I first saw one I had to do an immediate double-take because I couldn't believe someone was walking on those beams!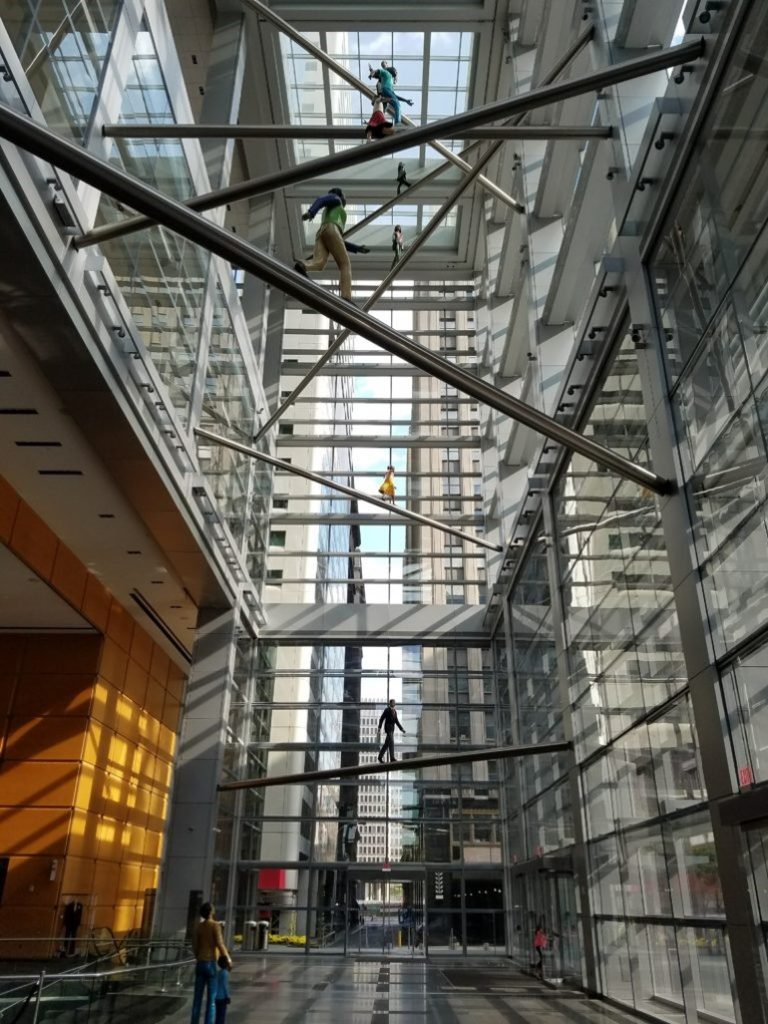 Walking on, we headed to the Benjamin Franklin Science Museum. I was quickly beginning to realize that Philadelphia is full of a very large number of world-class museums.  Far more than I expected.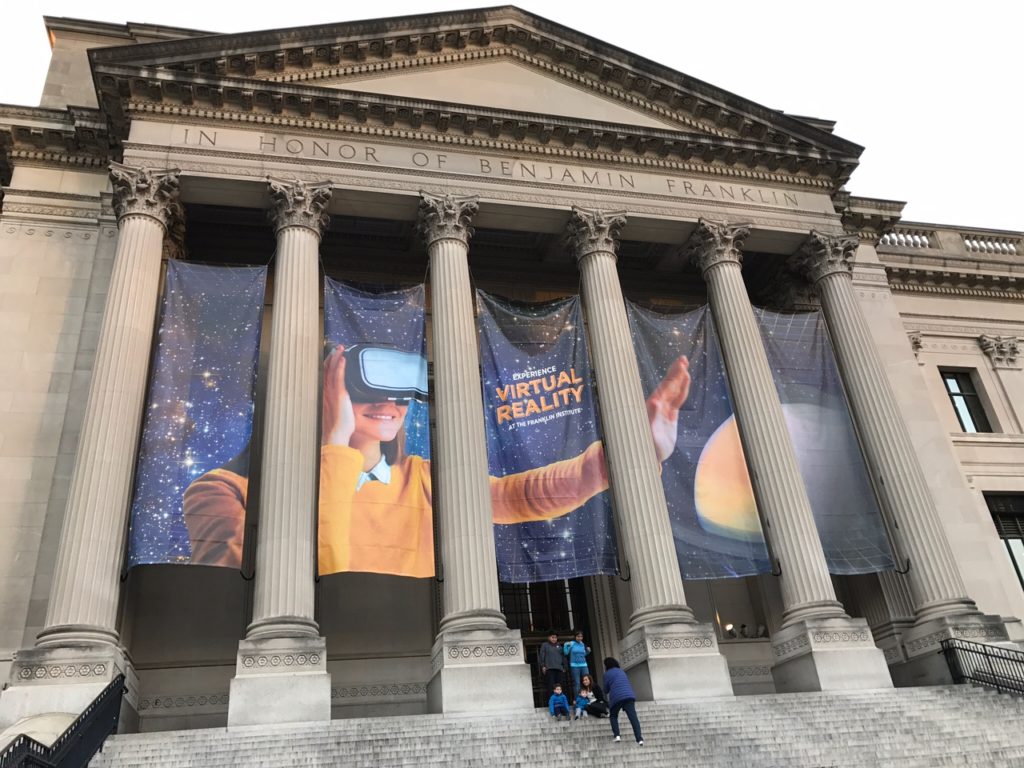 We had intended to visit the museum because Google had sponsored a robotics exhibit that sounded really interesting and they were also heavily promoting a virtual reality display.
When we arrived, the lobby was empty but for the purposes of crowd control through the Google Robotics exhibit our entry was at a specific time.  We were told that several groups of school children were there and we could go in at 2pm. So we had some time to kill.
Fortunately, our ticket gave us access to the entire museum.
Near the lobby was a display of mechanics and simple machines.  Levers, pulleys, motors, etc. One sort of non-descript display looking a bit like something from a carnival machine or the Victorian idea of a robot caught our eye.
Called simply "The Automaton," it was made by Henri Maillardet around 1800. It is a mechanized arm connected to a memory bank made not of silicon and transistors but of incredibly intricate brass cams and gears.
Inside the brass memory bank are the plans for seven different sketches. Three poems and four drawings.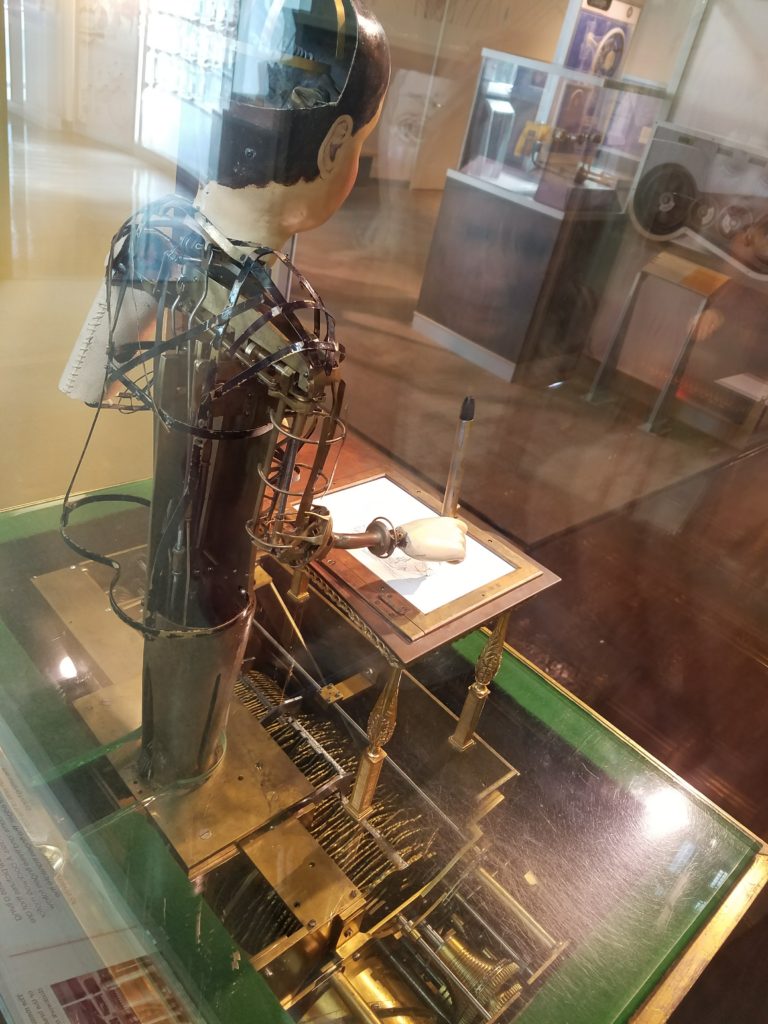 The automaton had just finished the drawing of the ship you see in the photo. I think what captivated me most about the contraption was not its fiendish complexity but its extremely lifelike and natural movements.  Far from the jerky "robotic" motions I imagined.  It really looked like a living thing.  You can see in the video below what I mean.
After seeing the Automaton, we were eager to see the modern robots.  The time was nearly 2pm and we made our way up to the Google Robotics exhibit.  These digital and electronic beasts would have to be pretty impressive to outdo their 1800s Great Great Great Grandaddy.
Outside the entry was a 10 foot tall robot pointing the way inside. It wasn't actually doing anything so I'm not sure if it was a true robot or just a plastic statue which looked like a robot.  I couldn't resist a selfie with it though.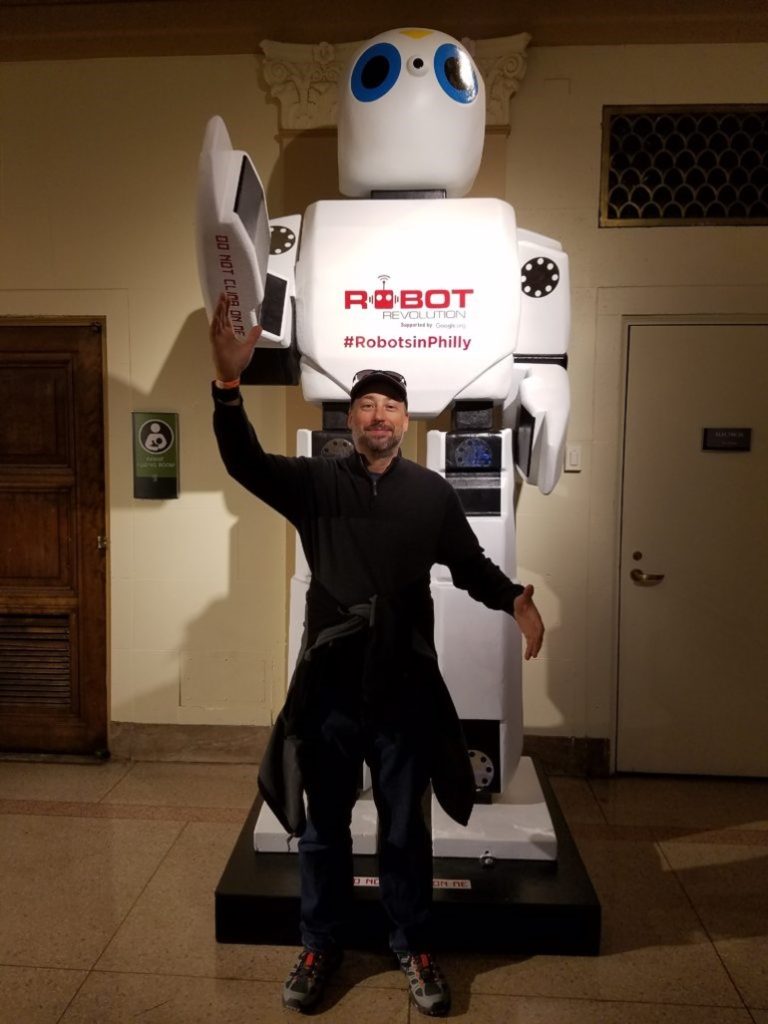 Inside were a variety of robots.  Most of them were either single-purpose or industrial style. For example, this one would take a Rubik's Cube that was inserted into a slot, analyze it with a camera, then solve it.  I sped up the roughly 2 minute operation into 12 seconds.  It is far more interesting to watch when sped up.
Of course, I couldn't solve a Rubik's Cube in 2 minutes so I shouldn't be making too much fun.
Displays of robots were setup, most of which were not animated though. Some, like the drones visible here, clearly are "real" but not powered on.  Others like the bipedal robot to the right of the drones could just as easily have been models rather than working mechanisms.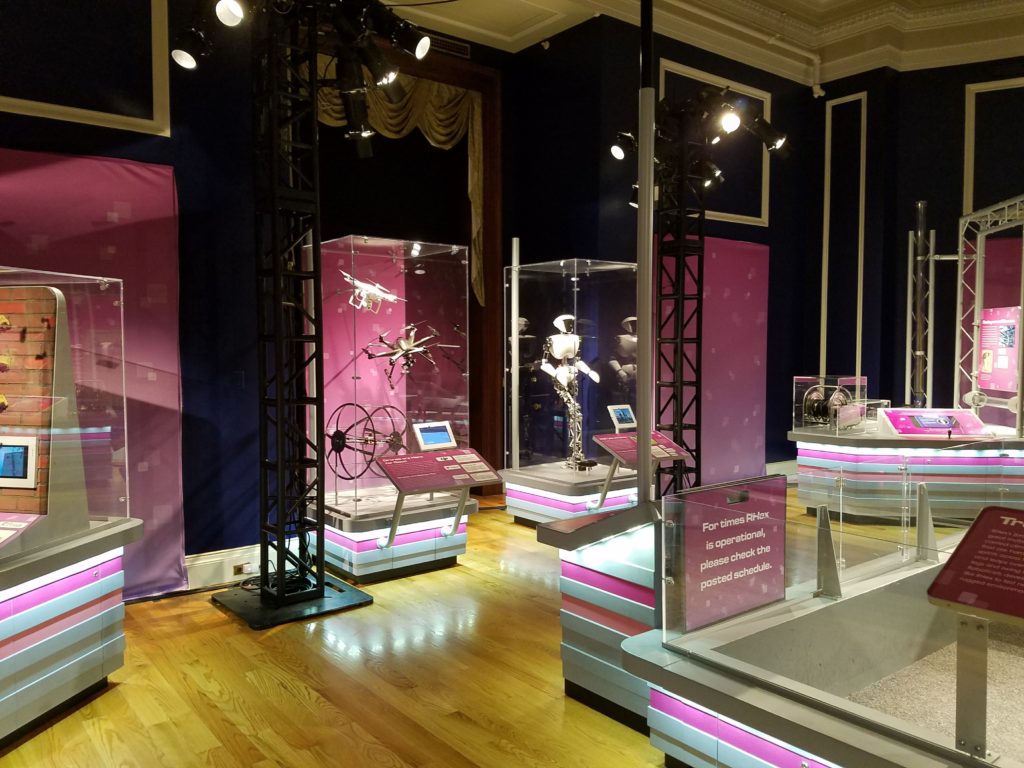 Not all were static though.  This very animated robotic poker dealer/player robot would play against 3 human opponents in a live game of poker. It used suction cups on its "hands" to grab the cards and move them around. Unlike the Rubik's Cube robot, the poker robot moved pretty fast and it was impressive to watch its heavy metal arms whirling around the table.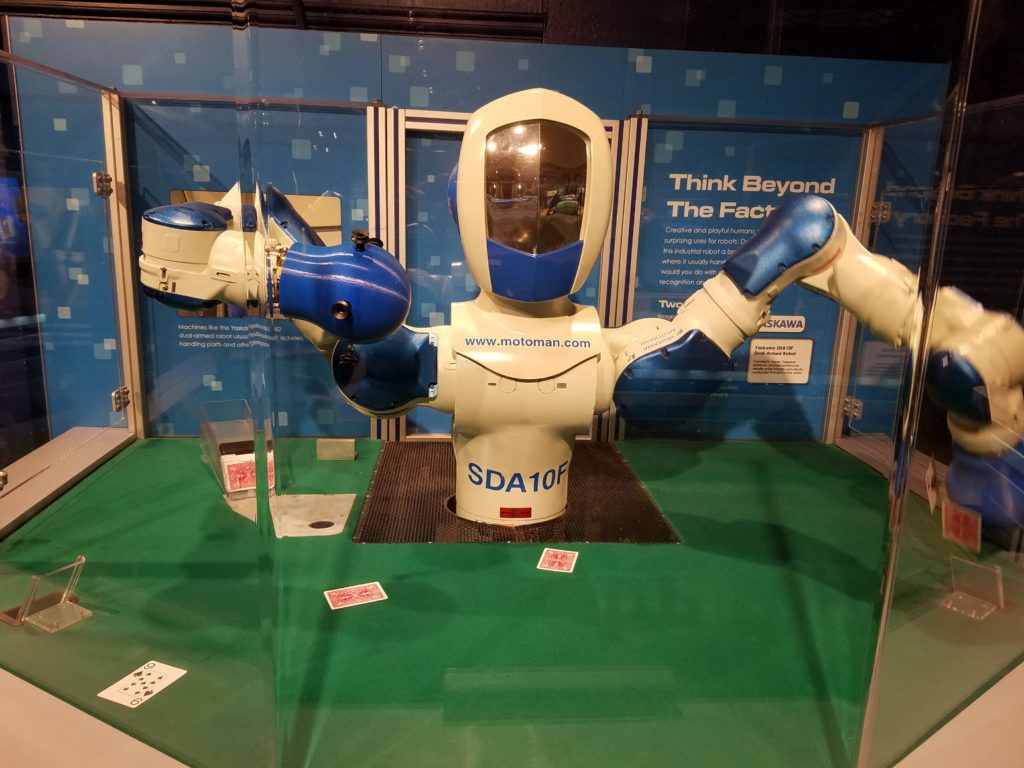 So far we had mostly seen industrial-style robots.  Modern equivalents of the Automaton which could repeat very fixed motions over and over and over. Sure, the Rubik's cube robot had to contend with a new arrangement of the cube to solve, but its motions were always identical and it had very little real challenge.  All of these robots could have been built 30 years ago.
I wanted to see a modern display – something that advanced the autonomy along with the mechanics!
Fortunately, a display of autonomous robots playing soccer was about to start!
These robots, working in two teams of 2 robots each, competed to either score a goal or defend the goalbox.  Using a golf ball as a soccer ball, they played each other. All 4 robots were autonomous but clearly needed to be aware of each other, their mission, and the random movements of the ball. It was actually very impressive to see them play. They almost looked like small children and their movements were far from "robotic."
There was more to see so we continued on. Spoiler alert – the VR exhibit which was so heavily promoted?  A joke.  They had 2 VR headsets. I don't mean two types.  I mean two total. An Oculus rift and an HTC Vive.  Fortunately there was no line so we tried both.  The Microsoft store at the mall or any Best Buy has at least as good a VR demo as this.
I'm told that there were 2 additional units on each floor of the museum.  However, on the main floor they used iPod Touch devices as the screen which is beyond pathetic. Since VR cuts the effective number of pixels by about 60%, using an iPod touch would make the resolution roughly equivalent to standing 6 inches away from an old DVD movie. Still something, but far from "immersive."
The life sciences portion of the museum is equally impressive.  One interactive exhibit, mainly for kids, features a model of a neural network that kids can actually climb inside!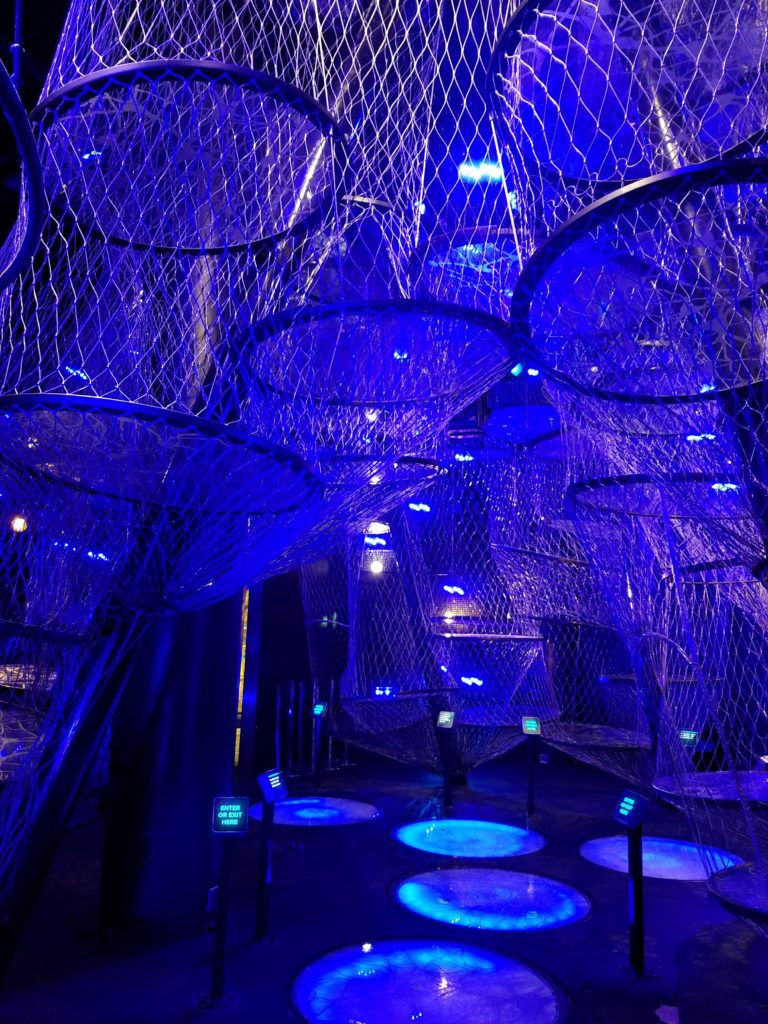 There is a human heart model large enough to walk through. For adults and kids alike!  Its a bit like a funhouse maze following the path of the blood as it goes through the heart to the lungs and back.
A massive monument to Ben Franklin, Philly's "spirit animal" sits in quiet repose in the rotunda just off the lobby.  Fortunately, its in actual reality and not virtual reality so it looked pretty damn impressive!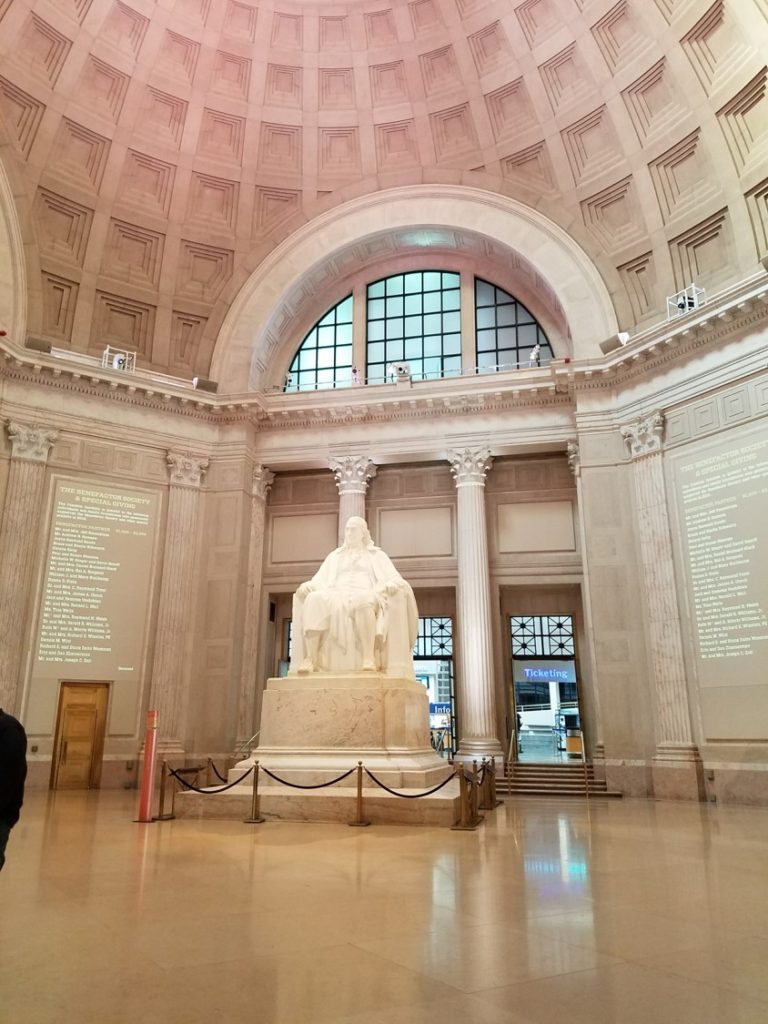 Except for the lame and completely over-hyped VR exhibit, the museum was fantastic!  I always enjoy a good science museum but Heather also liked this one very much which says a lot!