We have really been enjoying the Santa Rosa RV Resort. It turned out to be an (almost) ideal place to spend July 4th. Navarre itself is a resort town, the sleepy little cousin up the road from better known – but no better endowed – beach town of Destin.
The beaches in this part of Florida have an incredible white sand that is also very soft on the feet. Its hard to describe sand being soft, but it is. Because of the white color, the sand is cooler in the summer sun than other beaches would be.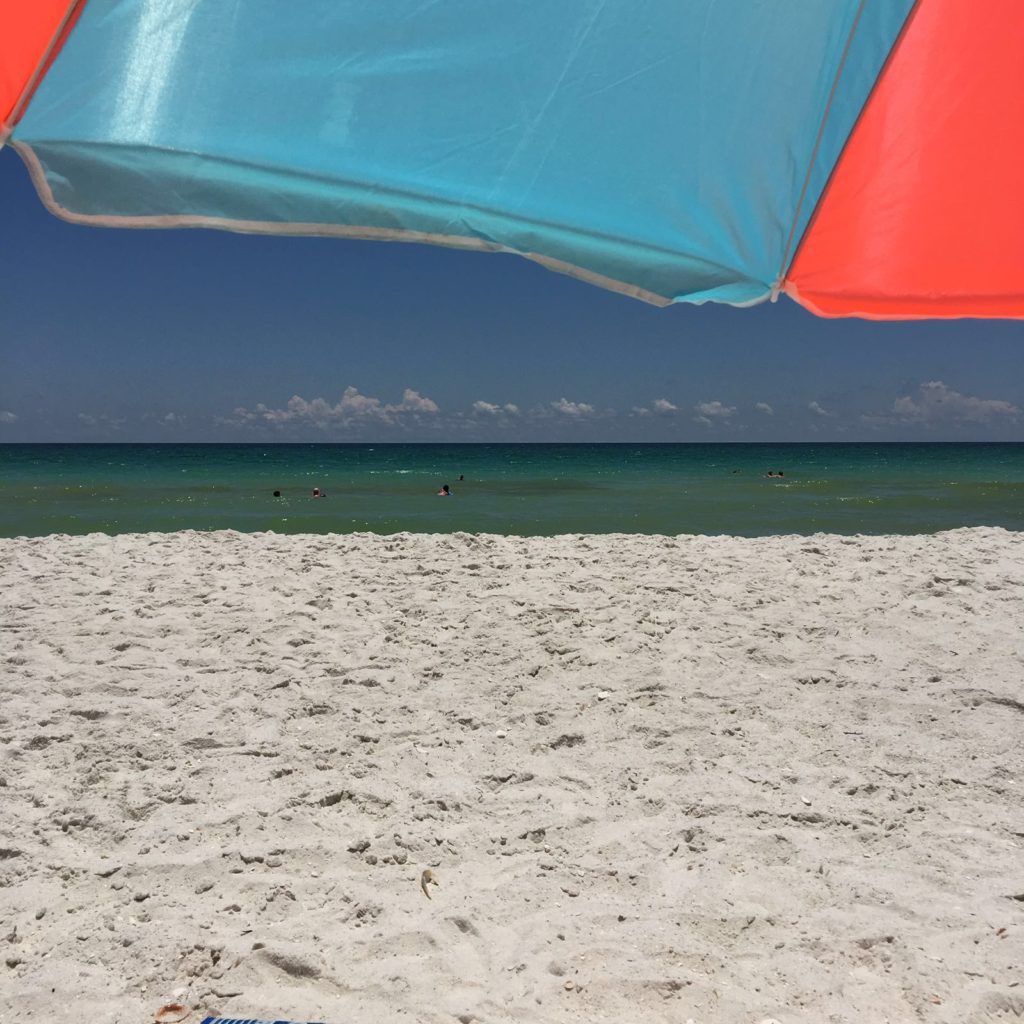 The water takes on a beautiful emerald color which gives this area its nickname of the "Emerald coast." Most people have heard of Destin, the most famous beach town along the Emerald coast, or Panama City which is well-known to every spring breaker. Both towns are nice and so are their beaches. Navarre beach, only about 15 miles east of Destin, is just as nice, but less well known and therefore a LOT less crowded.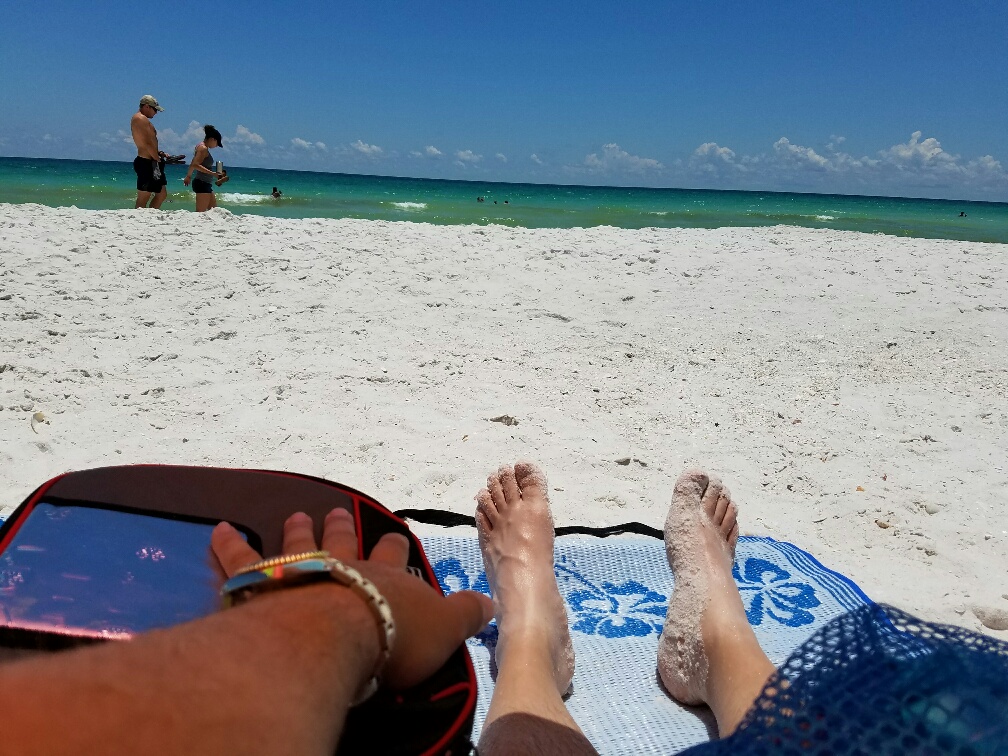 After hitting one of the biggest beach stores we have ever seen – seriously, that place was like a Wal-Mart just of beach stuff – and walking out with basically one of everything, we were ready to hit the beach. I was excited because they were selling the shorts I like to wear every day on clearance for $10. I may have to go back and get another pair. Armed with beach pads, beach towels, beach cooler, beach umbrella, beach chairs, we set off to become beach bums.
Water on the Emerald Coast is very very nice temperature-wise. Far warmer than the cold ocean off the California coast, and warmer even than the water in Hawaii. Not hot though, but warm enough you can wade right in without the usual cringing as each new inch of skin adjusts to the water.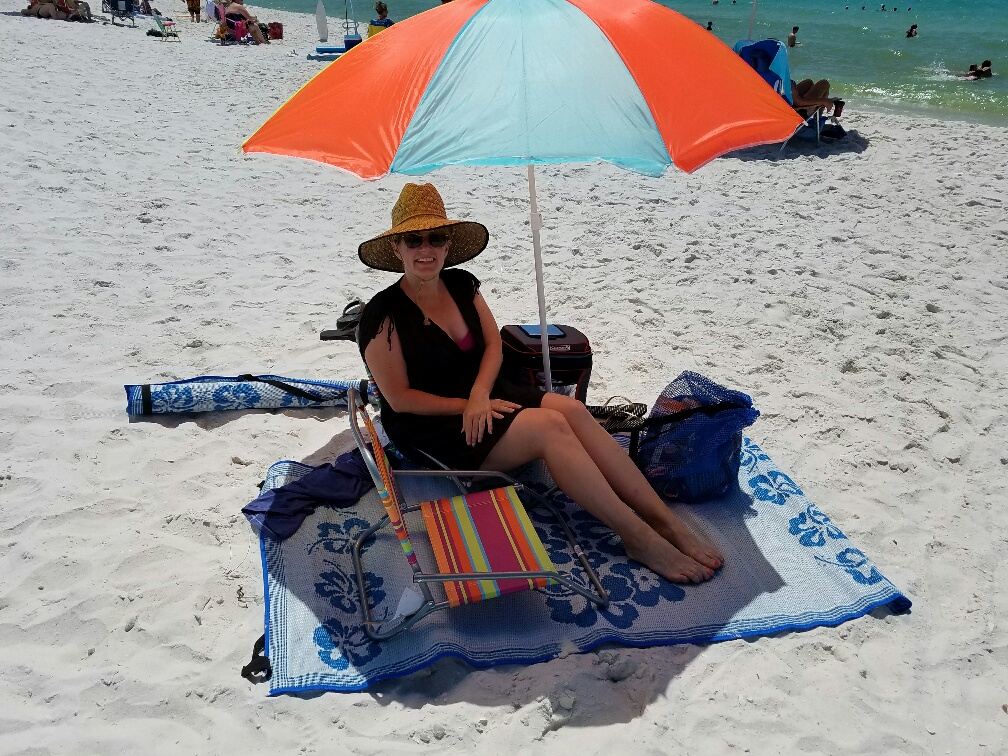 Properly outfitted, we setup beach camp. Since Navarre beach is so much less crowded than other beaches in the area, it was no trouble at all to find a spot near the water.
We alternated our time between the beach and the ocean. The water is very shallow even 100′ away from the beach. We didn't see any jellyfish, often the only real downside of the Gulf coast beaches. There were plenty of little fish that would take turns bumping into our feet if we stood still for very long.
As the 4th drew closer, the campground not only filled up, it took on a kind of frantic mania. The kind only truly seen by people who know they have a scant few days before returning to the real world so therefore must cram in as much fun as possible lest they waste their vacation. Having been one of those people for whom a few days away from the demands of work was precious, I understood completely.
Thousands of these people descended on Navarre, just as they do to many coastal beach towns during holidays. Sure, Navarre might be less known than Destin, but its far from UNKNOWN.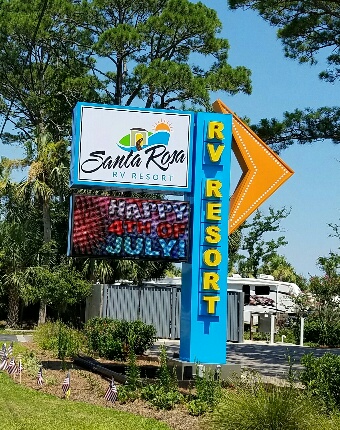 Every spot in our campground filled up, and the ratio of full-timers/retirees to families-on-vacation shifted dramatically in favor of the latter. The once-quiet park became a behive of activity and the desperation of "having a good time" set in.
In their excitement to have a good time, the people next to us locked themselves out of their 5th wheel, and then became so desperate that eventually the Sheriff had to send a deputy to calm the situation, even though they weren't really bothering anyone as far as we could tell. But they couldn't afford to miss out on "having a good time." They left the morning of July 5th.
The pool was occupied from dawn to dusk, both in the water and on the deck. Fishermen lined up along the fishing pier. People of all ages and all sizes in bathing suits and flip-flops walked back and forth on the access roads hurrying between pool and barbeque grills. More than a few took shortcuts between the parked MoHos, setting up tiny turf wars as the occupants of those sites tried to defend their tiny rented kingdoms from the intruders.
Little children in various states of dress scurried everywhere, most sopping wet in spite of their parents' futile attempts to keep them out of the water. Almost as soon as the kids were washed up and put into fresh clothes, they were soaked again. The water, being less than 50′ away, was simply too close a temptation to be avoided for long. By the end of the evening, parents were reduced to hoping the water was from the pool and therefore fresh and not from the Sound and therefore full of sand.
Not all of the kids were adventurous. We watched a young mother with her 3 or 4 year old toddler walking down the beach. The little guy was obviously one of the 21st century "indoor kids" because he was not comfortable on the beach. He wasted no time reminding his mother of that fact. At some point his mother found a hermit crab in its shell and that was all it took. He ran screaming back toward the pool and to human-manicured safety.
Outside our little campground universe the rest of the world was just as frantic. First responder sirens raced by like it was Saturday night on 8th avenue in New York City. The supermarket was packed with people in beachwear buying hot dog buns and cases of flavored beer, complaining about the long lines. Gas stations were lined up and pumps were full almost as if the 1970s were back and rationing were in place. The swimwear and sunscreen section of Wal-Mart looked like a mob of sunburn-fearing looters had come through.
Nowhere was the frantic energy more in evidence than in the bridge to Navarre Beach. The road is the only access to and from the Santa Rosa barrier island and the Gulf for miles, and it is a single lane in each direction with a stoplight at one end and a 4-way stop at the other. The bridge is about a quarter of a mile long although it seems longer. What normally is a lightly-trafficked bridge became a bumper-to-bumper traffic jam on the outbound side for about 3 hours each morning and on the return side each evening.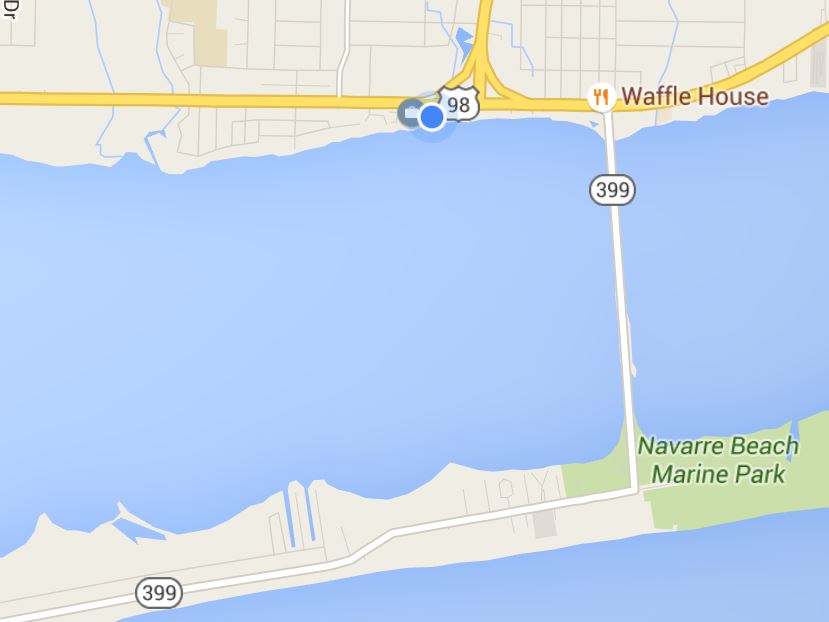 Even the infrastructure was not immune from the situation. We came back from the beach on Sunday and just as we pulled in we heard our generator fire up? Huh?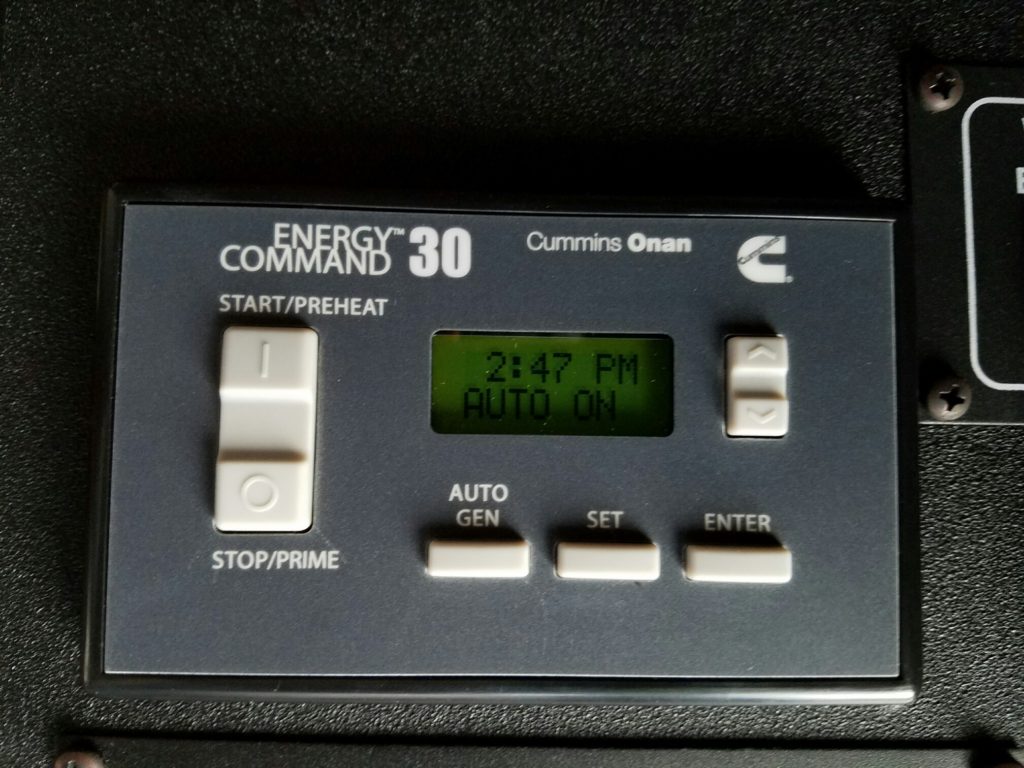 I keep our generator set to "auto on" which means it will activate if main shore power is disconnected and either the ACs try to start up OR the house batteries drop below a certain voltage. I'm not as worried about the house battery voltage. The house batteries will run for a day or more with no problem, and I keep them full of water and charged up.
No, what I am worried about is the interior temperature. The ACs will not run off the batteries. Without the ACs, the inside of the MoHo is just like a car left in the sun. Which is to say it rapidly heats up and will cook our little birds in no time. The generator is the fail-safe that is supposed to come on and keep that from happening even if we lose power. Or so we hoped. We had never tested it.
Well, we got our test.
Power had indeed gone out. After a few hours of generator time word came from the office of "some problem at the city"and the power was restored. The repair crews did such a good job restoring the power that it failed again about an hour after it was restored. We were told this time that a transformer had failed, but a replacement was being installed. If the second repair didn't work, we were told, a larger transformer would be required. We waited, listening out our generator drone on, for another few hours. Finally, power was restored for a second time.
By this time, it was Sunday night and temperatures were falling. I was pretty sure the problem was simple – the campground was full to capacity and everyone was just drawing too much power. Between the roof ACs, the TVs and microwaves and electric water heaters and iPad chargers and refrigerators chilling beer and hamburger meat, the campground circuits were not up to the job. I figured the second repair would last until Monday mid-day and if we got past that point, then I judged the repairs might actually hold.
Well, Monday mid-day came and I was about to relax when I heard our generator fire up.
The new transformer had melted down and once again repair crews had to come out a 3rd time. This time on the 4th of July. I can only imagine what that repair bill looks like. Fortunately, they had a larger transformer ready to go. I think they knew this would happen
Unfortunately, this repair was a bigger job than the first two and fix took another 4 hours. Temperatures, figuratively and literally, were rising all over the campground. The people who only had a few days to get their perfect vacation logged were especially upset. So were the people in trailers without generators, or the ones whose generator was in their vehicle. I felt sorry for them. For us, it didn't really matter much other than we could hear the slight hum of our Onan generator and we were burning through our diesel fuel.
All told, we ran our generator about 7 hours and I was sure glad to have it.
The final repair was completed around 6pm on the 4th. If it had taken longer, I do believe that chaos would have broken out. Even so, tempers were high. The entire weekend was building up to the evening fireworks, and those who had to "have a good time" sure didn't want a lack of electricity creating a black mark on their weekend.
We walked to the water side of the resort to watch the fireworks out over the sound around 8:30pm to look for a spot. As we walked past one of the older guys who works at the campground we saw his wife was actually holding him back by his belt from literally punching out one of the guests. Something about the guest's dog going on the grass. I didn't want to hang around and find out more details.
Not being in a mood to hit anyone, and fortunately having no one angry with us, we picked out a great spot on the grass and setup our REI camp chairs along the waters edge. All around us were other RV'ers, a mix of fulltimers and families. The families were doing what families usually do at times like these, which is try to hold the family together for the special moment. The older kids who just wanted to text their friends and the younger ones who were too young to appreciate fireworks made it tough for parents.
But the moment wasn't lost on all of us. The weather was perfect and so was our vantage point. Its hard to imagine a better place to watch fireworks. The fireworks being launched from a barge less than half a mile away lit up the water of the Sound with reflections of the light show like it was glowing. And I was reminded that even in these crazy political times and among all the uncertainty, Americans are still pretty damn lucky.
Tuesday morning saw about 20 of the 88 spots vacate. Rig after rig pulled out, heading down the road or heading back home. For once, we were glad to hear engines firing up early in the morning. Whether or not the travelers put enough vacation points on the scoreboard to return home as winners – or loosers – of the vacation game, time was up and the clock run out. For better or for worse, whatever they had accomplished – or not accomplished – would be their final score for 4th of July 2016.
By Tuesday night, the campground itself was like a parent exhausted from a day of taking kids to the beach – it collapsed on its virtual self and passed out into a dreamless sleep.
The moment had passed.
Which means the pool is open!!! Yeah!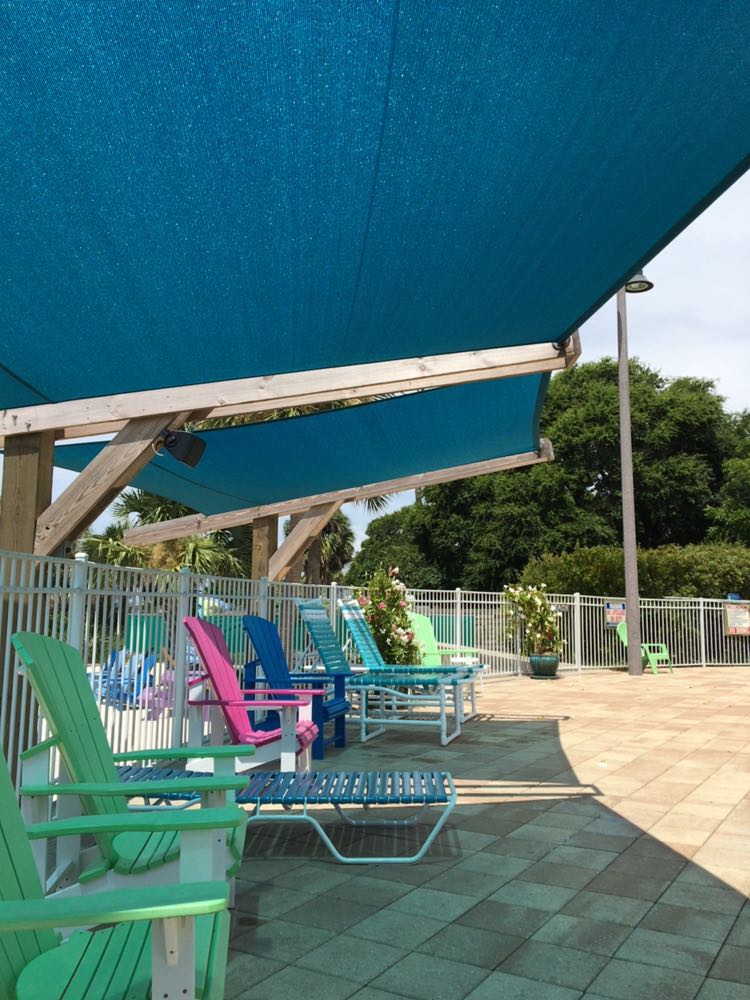 Heather and I headed to the pool the next day with a good book and enjoyed the peace and quiet. We had the place to ourselves for most of the time we were there.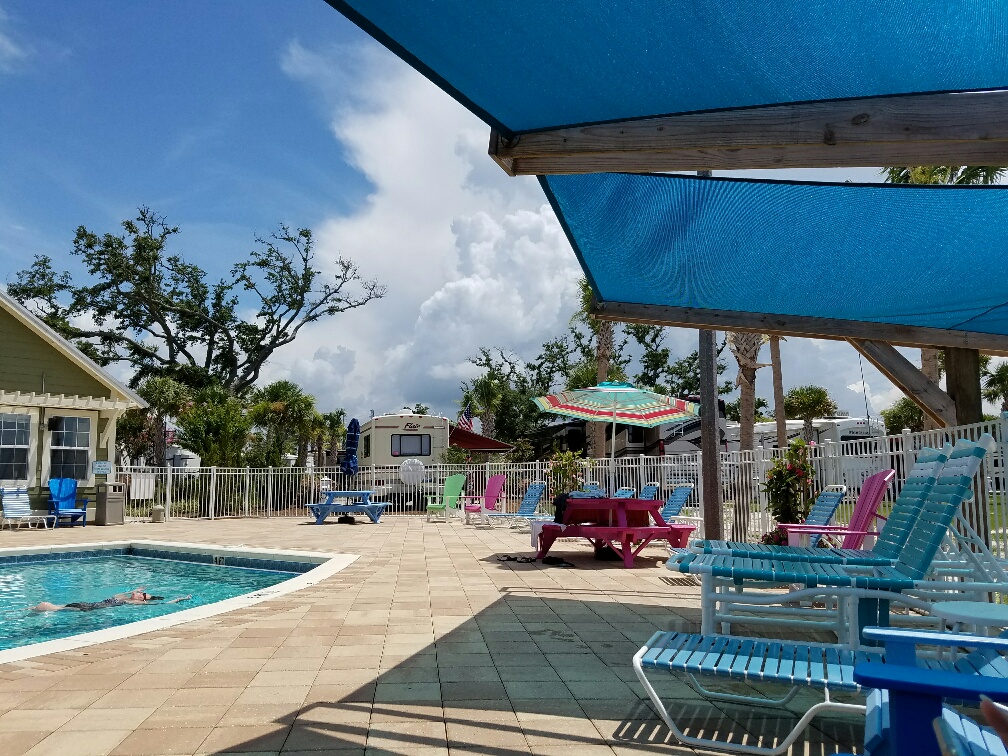 We sat under the blue awnings in the shade and read for a while, enjoying the beautiful weather. Behind us, Santa Rosa sound and the now empty Navarre beaches were calling. Maybe tomorrow.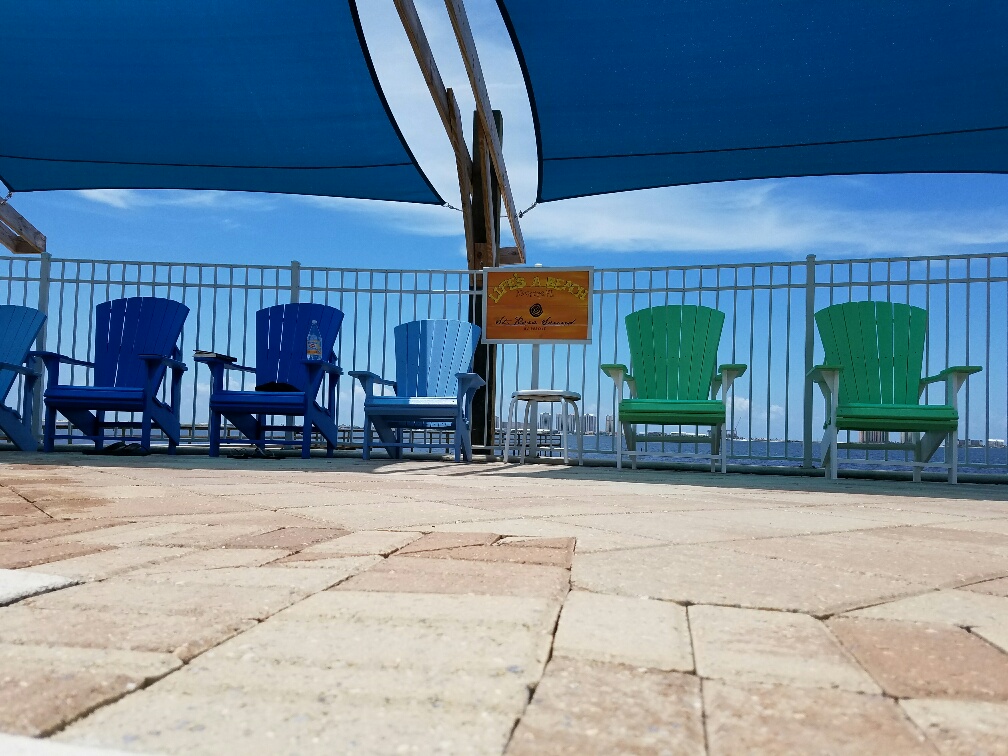 We decided we needed to get into the pool before heading back to the MoHo. The water was perfect. I need to find out what the temperature was, because someday when I have a pool I want it to be this temperature.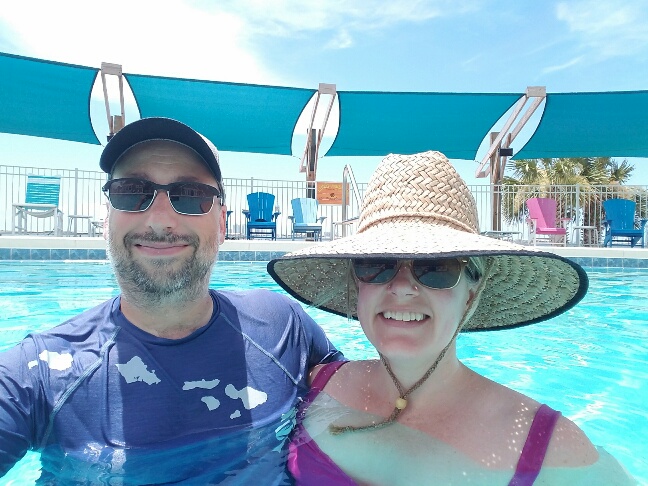 All told – we had a great 4th of July weekend at Navarre. And I have a new perspective on vacations. Until we picked up to live MoHo, I was one of those frantic people with just a few days in which to score a win in the vacation game. Many people have told us that we're on permanent vacation, but I think that's not quite right. Living MoHo is has elements of that, but done properly, it is a different game entirely.